The Cozy, Homey, Intricate Illustrations of Jan Brett
Rebecca Rego Barry on the New Exhibition at the Fenimore Art Museum in Cooperstown, NY
Jan Brett's world is warm and fuzzy, much like the cherished object in her famous picture book, The Mitten, first published in 1989, in which several woodland animals snuggle into its wool interior until its owner comes looking for it. But her books' homespun contentment belie the craftsmanship and research that underpin them—that's one of the takeaways from an exhibition of 70 paintings from her children's books on view at the Fenimore Art Museum in Cooperstown, New York, through May 16.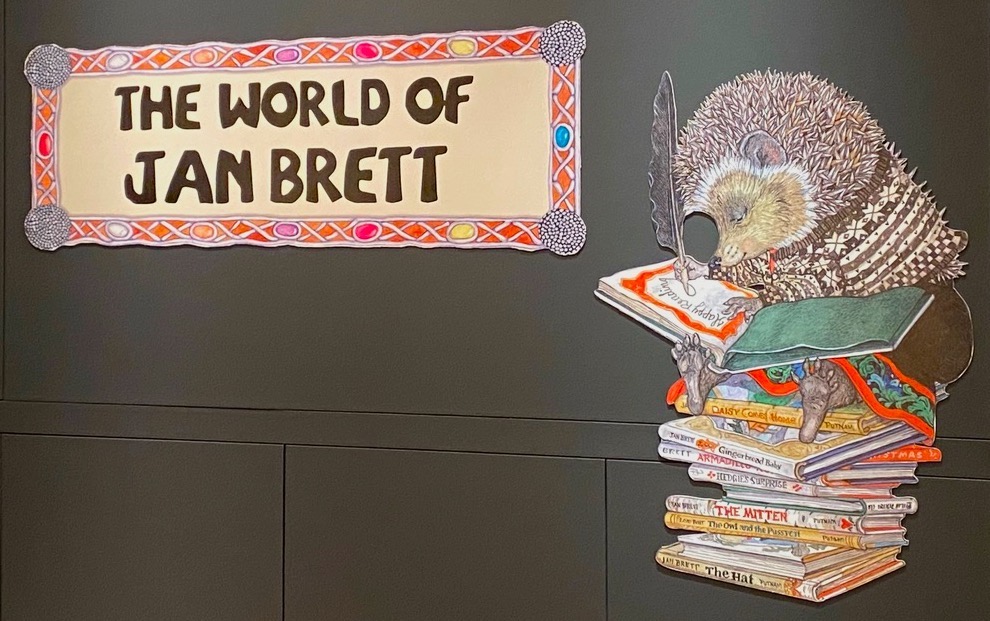 Working in watercolor and gouache, Brett has illustrated dozens of children's books since the late seventies. According to her publisher, she has 34 million books in print. Some are retold folk tales, like The Mitten or The Turnip (2015), or adapted fairy tales like Cinders: A Chicken Cinderella (2013), but many are her own original stories, including my personal favorite, Mossy (2012), about a turtle in a museum who grows a garden on her shell. (Artwork from both The Turnip and Cinders are part of the current exhibit.)
"After I come up with a book idea, I decide if the characters will be compelling enough for me to want to paint them for an entire year. A year is how long it takes me to illustrate my book," Brett writes in the exhibition's introductory panel.
The ideas, she reveals in another descriptive panel, derive from "weird thoughts" and listening "to the stories your friends tell." For example, the seed for her 2014 book, The Animals' Santa, was planted when she heard a tale about trying to catch Santa with a bear trap. That led to some research on Native American porcupine quill embroidery—she loves decorative needlework—which then featured as elaborate borders in the finished product, a story that ponders the same question that many young children have about the legendary Christmas character. Brett's distinctive borders and graphic side panels are hallmarks of her illustrations, and they help beginning readers by foreshadowing events.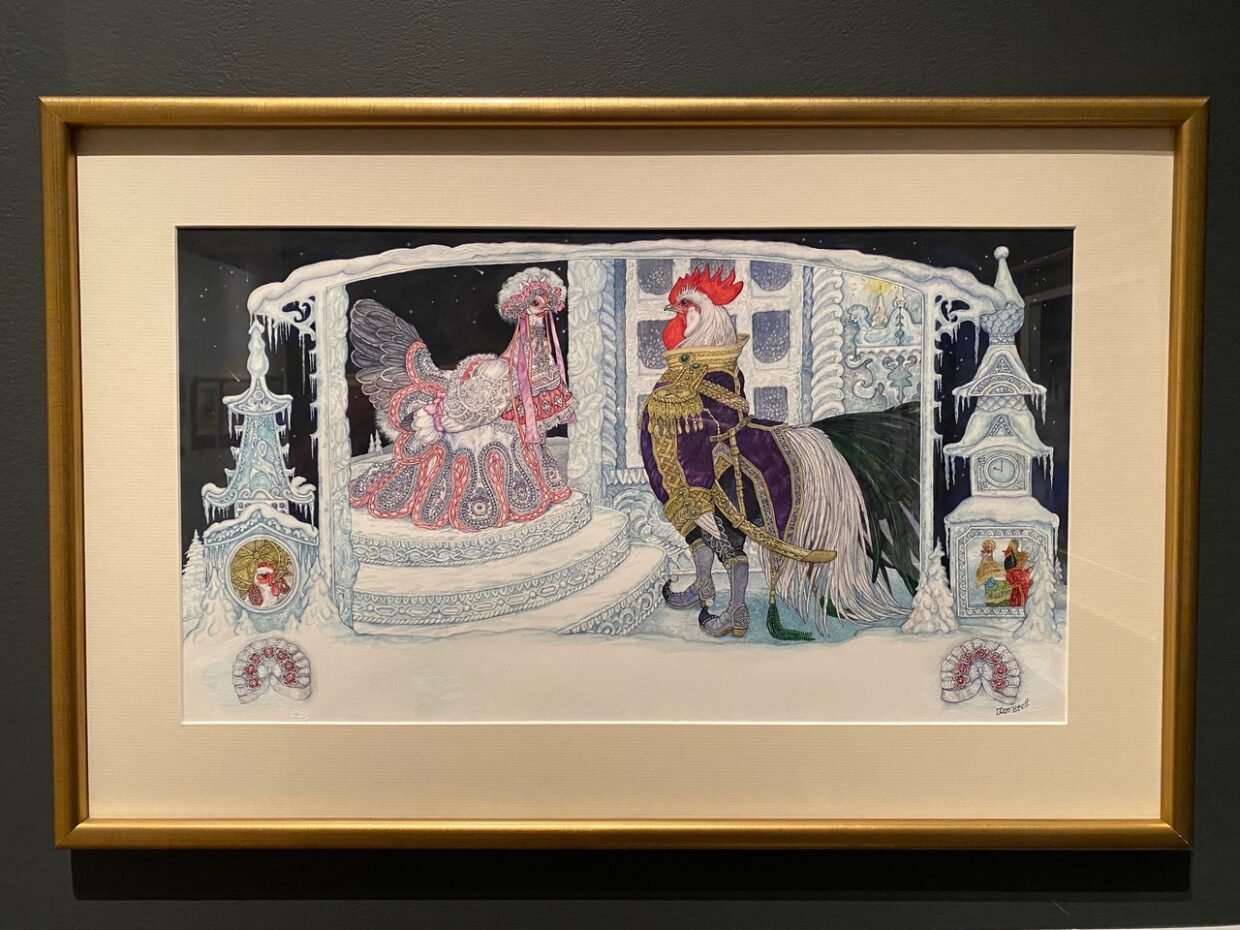 "The thing I was drawn to was the detail in her work. There's so much detail in all the paintings and she does wonderful, intricate borders," said Chris Rossi, director of exhibitions at the Fenimore. "To see the level of study that goes into it, and then how she rolls that into the stories and into the illustrations, it's just fascinating. I love her work, and I've got a lot of respect for her techniques."
Research trips have also played a major role in Brett's book creation. She and her husband, Boston Symphony Orchestra bassist Joe Hearne, have traveled extensively—Norway, China, the Arctic Circle—to chase a story. Several are highlighted in the exhibition. For example, a trip to the Monteverde cloud forest resulted in The Umbrella (2004), a lush portrayal of the creatures who live in the Costa Rican biological preserve. There was so much green to be seen, she notes, that she had to buy every shade of green watercolor paint she could find:  emerald, winsor, sap, olive, green-gold, cobalt green, viridian, and terre verte. Then she mixed more herself.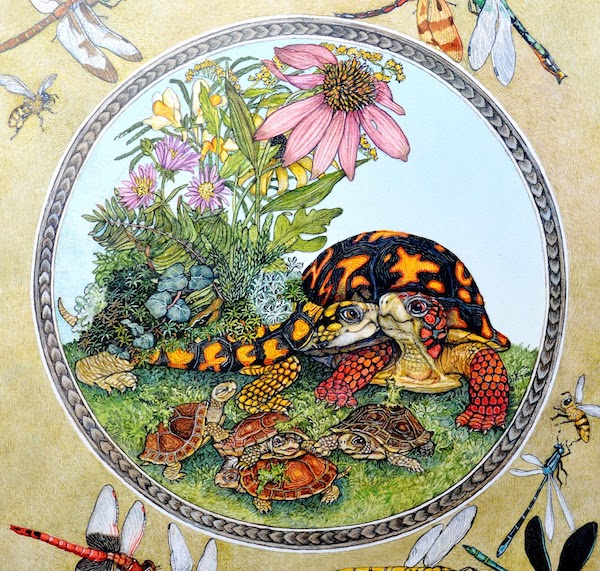 Another journey brought them to Botswana to observe honeyguide birds and lions for Honey… Honey… Lion! (2014). Brett also incorporated the baskets there, handmade from fan palm, into the book design.
Closer to home, Yellowstone National Park inspired, of all things, a hedgehog named Hedgie who wants to be an astronaut. "When I was little, I liked to draw imaginary planets," Brett writes in the exhibition label for Hedgie Blasts Off! (2006). That enduring fascination with space exploration—coupled with an imagination that would connect a sputtering geyser named Big Sparkler, aliens, and animal scientists—results in a story that Rossi called hysterical, adding, "[Brett] understands children. I guess that's it at the end of the day."
Hedgie, who reappears in 2018's The Snowy Nap, is the curator's professed favorite and an adorable mascot for the Fenimore installation. Sitting atop a stack of books, he greets arriving visitors. "I think people are looking for something uplifting and the exhibit is just a joy," said Rossi.
Fans will have another chance to see Brett's artwork in an exhibition that debuts at the Norman Rockwell Museum in Stockbridge, Massachusetts, on November 13. Brett, who just last week received the Regina Medal, an annual award given by the Catholic Library Association for "a continued, distinguished contribution to children's literature," will also release a holiday-themed picture book, Jan Brett's The Nutcracker, this fall. 
Like Beatrix Potter, Brett's cozy anthropomorphic style has endeared her to generations of readers, but beyond the cute badgers and bears is a precision born of meticulous research and devotion to her craft. When she wanted to draw a specific chicken from Guilin, China, for her book Daisy Comes Home (2002), she flew there and stalked the correct breed.
"Every illustration has a dozen stories behind the brushstrokes. I share a wonder at the beautiful complexity of the world around us, especially the textures and nuances of color," she writes. "The descriptive illustrations that I make are the part of a children's book that I feel I can communicate the best."
---