The Coming-of-Age Memoirs That Helped Me Write About My Life
Christine S. O'Brien on Six Stories of Resilient Children
I grew up in New York City, living in our exclusive Dakota Building apartment with my rageaholic, volatile, movie-producer father and my controlling, brittle, depressed, beauty-queen, Illinois farm-raised, mother. My book, Crave, a Memoir of Food and Longing is about the rigid, blended vegetable, cleansing diet, called the Program, which my mother instigated in our household after her two hospitalized breakdowns and a year in bed. It's also about the constant hunger my three younger brothers and I endured while being forced to adhere to my mother's regime of blended salads—and little else—three times a day for our formative years, and about the sense of deprivation that resulted. Later, after I become an adult, the long-term results of that deprivation led to a crisis that threatened everything I loved most. Fortunately, after much anguish and searching, I was able to find balance in my life: balance in my relationship with food and balance in how I look back at my experiences.
While I couldn't escape the challenges my turbulent family life posed while growing up, I did find relief as I lost myself in my favorite books. For me, books were a doorway into other worlds, places that took me far away from my real life. Reading was a lifeline.
The narrators in each of these coming-of age-memoirs share their experience of hardship but also of triumph as they ultimately overcome the challenges in their lives. Navigating the threshold between childhood and adulthood is a dangerous endeavor, even in the best of times. I find such comfort in reading books like these, they remind me that I am not alone. My hope is that Crave gives my readers this same experience of shared challenge, a reminder of our own resiliency, and hope.
*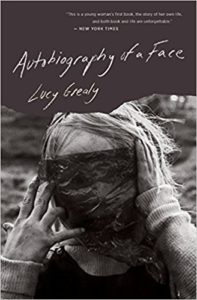 Autobiography of a Face by Lucy Grealy
I read this memoir in my MFA program and felt swallowed whole by the intensity of Grealy's story, and by her writing style, which invites her readers into her most intimate thoughts. Though her circumstances are very specific—Cancer and disfigurement—they also feel utterly relatable as we follow her journey after she is diagnosed with a potentially terminal cancer at age nine, has a third of her jaw removed, and begins a painful circuitous trek towards healing and self-acceptance. Along the way she falls in love with words, a love she uses to craft her fascinating, compelling, tragic, and ultimately transcendent, story.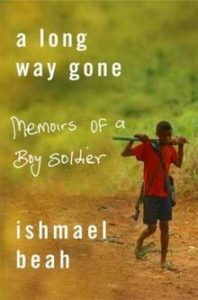 A Long Way Gone by Ishmael Beah
In 1993 Ishmael Beah, age 12, sets off from his village in Sierra Leone with his brother and friends to another town, a day's walk, to perform in a talent show. The civil war that has been raging on the outskirts of his awareness suddenly becomes real. The theme of innocence lost runs through Beah's depiction of a world turned upside down as he is forced to become a child soldier. A naturally happy person, Beah's overriding question—Can we remain happy in the face of tragedy?—gets answered in unexpected ways.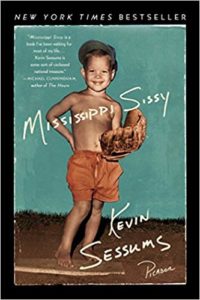 Mississippi Sissy by Kevin Sessums
Kevin Sessums grows up gay in the South in 1960s, in a conservative family and an equally conservative town. When his friend, mentor, and roommate Frank Hains is murdered, it is Sessums, still only a teenager, who finds the bludgeoned body. Reliving his father's death, which occurred when he was a boy, Sessums sinks into a feeling of nothingness, a despair he can't shake. Weeks later, he reads Eudora Welty's eulogy to Hains which pays tribute to the late columnist's love of the arts and his "unusual gift for communicating his pleasure in it to the rest of us." As Sessums reads the last line in Welty's eulogy over several times, "We are grateful," the nothingness lifts. He leaves for New York city to begin his own career as an editor, journalist and author.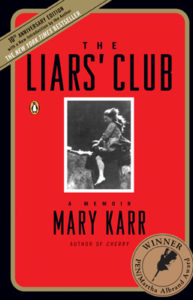 The Liar's Club by Mary Karr
Mary Karr grows up with a psychotic mother and an irresponsible, though charismatic, father. This is a story of two sisters forced to contend with parents who are not only more childlike than parental, they are also dangerously negligent. When Karr's mother appears in the doorway wielding a glinting butcher's knife as she and her sister cower under a blanket, Karr and her readers, both, realize that the undercurrent of parental instability that has been running through the story has become one of deadly threat. Karr's microscopic attention to detail, her wit, her ability to bring a moment to life, had me dog-earing every other page of this gorgeous memoir.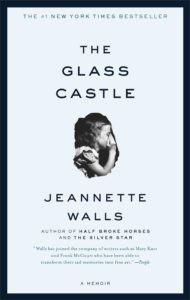 The Glass Castle, by Jeannette Walls
This quintessential difficult childhood memoir, told without a hint of whining, astounded me when I first read it. If anyone has reason to whine, it's Jeannette Walls, who grew up homeless and at the mercy of parental eccentricity that bled into mental illness. Despite her parents' flaws and destructive choices, Walls renders her parents in a loving light and invites the reader in as the family journeys through the desert in Southern Arizona and Walls' childhood stopping in dead end towns in California, Nevada and Virginia. Walls and her siblings eventually make their break, one by one, to New York City, where Walls must ultimately figure out what exactly home means to her.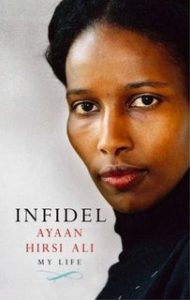 Infidel by Ayaan Hirsi Ali
At the beginning of this memoir, Hirsi Ali, age five, is reciting her Somali lineage, counting back 300 years as her grandmother warns her about the dangers of forgetting her lineage, "'Get it right,' my grandmother warns, shaking a switch at me. 'The names will make you strong. They are your bloodline. If you honor them they will keep you alive. If you dishonor them you will be forsaken. You will be nothing. You will lead a wretched life and die alone. Do it again." This grandmother also tells fairy tale-like stories in which the moral is: be smart, be courageous, be resourceful. This is a tale of a dutiful little girl who finds all these qualities inside herself in the midst of hardship and violence, and fulfills her familial destiny as a leader as she finds her voice and power in defending the rights of Muslim women. Hirsi Ali is the heroine of her own journey as I felt, growing up, I was of mine. I appreciated and cheered her on as I experienced her strength in the face of near annihilation, and her ultimate triumph.
---