The Child-Poet Genius of Brooklyn
On the Prodigious Poetic Talents of Nathalia Crane
Nathalia Crane didn't just type when she sat down at her typewriter in the book-strewn Brooklyn apartment where she lived with her father, Clarence, a war veteran in his fifties, and her much younger mother, Nelda, who had married him straight out of high school. She beat time with her foot and sometimes took a hand off the keys to slap out a rhythm. Her usual good cheer disappeared, her father said of the frail, big-eyed child who at nine had begun to compose her poems this way. "When she is writing she becomes a different girl," he told a reporter after her first book of startlingly accomplished poetry, The Janitor's Boy, came out in 1924, the year she turned eleven. "She frowns and is concentrated and will not permit any one to interrupt her."
Most young bookworms—off in a corner, eyes glued to the page—don't churn out pages themselves. But the small child who does is bound to pique curiosity. Nathalia's parents assumed she was blissfully unaware of it, but she belonged to what one critic called a "renaissance of creative genius in girlhood" as the 1920s arrived.
Many adults sat down at their typewriters to muse about this "epidemic," the term that often surfaced in the press. All across war-weary Europe, the poet and anthologist Louis Untermeyer noted as the decade began, prodigious child artists—working with paints or in clay, or with words on the page—were suddenly winning praise. He was especially excited to see that "America has rushed into the fast-filling breach" with young writers, mostly female. He was also pleased to note that scientists were perplexed by the phenomenon. No "army of professional educators, statisticians, eugenists [sic], psychologists," bent on early testing and accelerated training, could presume to chart this fresh form of genius. Child writers, then as now, came trailing clouds of imaginative spontaneity their elders could only envy. Untermeyer joined a chorus of calls to draw sustenance from these creators and their wonder-tinged creations. Communing with them was a cure for what ailed a disenchanted age.
Straightening up the family's Flatbush apartment one day in late 1922, Nathalia's mother threw some stray typed pages into the trash she sent down the dumbwaiter—only to be met by wails from Nathalia, then nine, in search of her "songs." The household did not come to a stop. Nelda Crane told her daughter, with an apology and a little impatience, to put away stuff she wanted to save. She had been aware that Nathalia was spending lots of time taptapping behind her bedroom door. Whatever she was up to seemed to make her feel better, so Nelda hadn't paid much attention. This was her husband's terrain, though his style of doting wasn't finely attuned either.
Nathalia's father had taught her to type before she entered first grade at seven, not long after he had returned from the Western front, where he had been wounded and gassed; that was the last in a long string of combat adventures that had begun with his enlistment in the Spanish-American War a decade or so out of high school. Along with the typing lessons, Nathalia got endless stories. Clarence Crane was an avid raconteur, and though his wife probably didn't need to encourage father-worship in their only child, who would blame her if she did? Nelda, still in her twenties, was no doubt thrilled to cede her place as his rapt listener. In an ornate monotone, often by candlelight, Clarence regaled his daughter with tales of battle and aired an autodidact's old-fashioned opinions on poetry and a generally dim view of the modern world, along with a fervent belief in the superiority of women. He also read poems aloud, rarely venturing past Kipling. And he answered the constant questions of an unusual child drawn to unusual books. Nathalia wasn't an avid reader in general (and initially not much of a student), but she adored her two-volume Standard Dictionary of 1895. Her next favorite was Johnson's Universal Cyclopedia of that same year, missing two of its eight volumes, those covering F through Mos.
When Nathalia brought two new poems to her father a few days after her mother's faux pas, he was very impressed, as he told it, but wanted a more expert view. He suggested she send them to an editor at the Brooklyn Daily Times whom he knew vaguely from his short stints at various copy desks before reenlisting when the United States entered the First World War. There was a flurry of attention at the Times, and Nelda started sending out more of Nathalia's work, some of which was apparently published without further fuss. So a year later, when Edmund Leamy, the poetry editor of the New York Sun, accepted a poem that Nathalia was said to have sent on her own, he had never heard of her. He assumed the author was an adult. After all, in his experience, no "child would ever submit any work from his or her pen without adding the words 'Aged __ years.'" And "The History of Honey," rhythmical and ingeniously rhymed, bore no obvious literary mark of immaturity. Nor was there girlish handwriting to supply a clue. When Leamy invited this new contributor named Nathalia Crane to drop by to confer about another poem and have lunch, he mistook her mother for the poet. Flustered to learn that "Miss" Crane was the "little, long-legged, bright-eyed child," he forgot about the promised meal, as Nathalia noted years later.
To dip into the start of Nathalia's 24-line iambic meditation on an old book about ancient Chinese reverence for honey is to see why Leamy was disoriented:
"The History of Honey"—by an aged mandarin,
And I bought it for the pictures of the burnished bees therein.
For the dainty revelations, masquerading up and down,
For the odor of the sandalwood that talked of Chinatown.  
According to the mandarin, the Oriental bees
Were the first to hoard their honey in the mountain cavities.  
Several couplets on, she swerves from history into a weird little flight of spirituality:
Imprisoned in this honey, aging as the aeons wane,
Are the souls of all the flowers, waiting to be born again:  
Every lotus, every poppy, every tulip, every rose.
And those who sip the honey slip beyond all human woes,  
Dream again of youth's digressions, index misty ways of joy,
Turn unto the pagan pastimes of Confucius—as a boy.
And she closes with a faintly titillating return to her mandarin:
But the mandarin, he made no map, contented in old age
To draw the clinging love scenes of the bees on every page.  
There he found an inspiration antedating all the Mings,
And he got the ancient essence of the very sweetest things.  
If anything, such a "rhythmical, lilting production," as Leamy described it, suggested an old-school writer—perhaps a grizzled poet with a collection of rare books and a habit of couching sexual themes in birds-and-bees style imagery. It didn't sound like the work of a cutting-edge young modernist, experimenting with new forms and frankness. It was utterly different from the juvenile poetry then enjoying a vogue, Hilda Conkling's bucolic free verse, which her mother, the poet Grace Conkling, wrote down as she uttered it.
An editor of the Brooklyn Daily Times had been as astonished as Leamy was that a young girl had produced the poems he had received. One of them, "The Janitor's Boy," was chosen as the title piece in Nathalia's first book, which came out in 1924. It was the work she was asked to recite for the rest of her life. The childlike poem—with a jaunty echo of "The Owl and the Pussycat" in its ballad stanzas and theme—had an undercurrent that didn't seem entirely innocent:
Oh I'm in love with the janitor's boy,
And the janitor's boy loves me;
He's going to hunt for a desert isle
In our geography.
A desert isle with spicy trees
Somewhere near Sheepshead Bay;
A right nice place, just fit for two,
Where we can live alway.
Oh I'm in love with the janitor's boy,
He's busy as he can be;
And down in the cellar he's making a raft
Out of an old settee.
He'll carry me off, I know that he will,
For his hair is exceedingly red;
And the only thing that occurs to me
Is to dutifully shiver in bed.
The day that we sail, I shall leave this brief note,
For my parents I hate to annoy:
"I have flown away to an isle in the bay
With the janitor's red-haired boy."
Nathalia was dealing in fantasy, but it wasn't the usual juvenile kind, with talking animals or fairy rings. Her themes were sex and class. And her assured way with rhyme and meter was astonishing, but disconcerting, too. Her predecessors so far, including Daisy Ashford, the terrible speller, had been quaintly unpolished when it came to form. Prowess like Nathalia's didn't just burble up from the unconscious—or could it?
The Janitor's Boy strayed from innocent female terrain, too, though much more tamely than Edna St. Vincent Millay had four years earlier, titillating readers in the dawning Jazz Age with "My candle burns at both ends," and more. It was no surprise that Nathalia's book provoked a gut response very different from Amy Lowell's beautiful-natural-and-true test of genius: How unusual! How unnatural! was the tenor of the reception. No one was yet saying, How implausible! But Nathalia had critics on edge. One reviewer emphasized the "lack of childishness" in The Janitor's Boy. "Strictly speaking, there is not a purely child-poem in the book." Others were relieved to find intermittent silliness, as in another bee-related effort, which ended "I sat down on a bumble bee, / But I arose again; / And now I know the tenseness of / Humiliating pain." But they, too, were taken aback by perceptions of a sort that didn't seem associated with a child's directness of vision or immediacy of emotion. "The work was alternately juvenile and mature, frivolous and profound, absurd and mystical," Louis Untermeyer, one of the earliest champions of Nathalia's genius, wrote later; "it was a mixture but not a fusion."
There was a precedent of sending children's work into the world with an expert chaperone. Nathalia's debut had three, all awkwardly promoting her while doing their best to protect her. In his foreword, the poet and soon-to-be Saturday Review editor William Rose Benét's assessment was in tune with Untermeyer's view, though more stringent. He dismissed much of her work as proving "nothing except that she is a little girl with a lively fancy." But he saw glimpses of "the thing we call poetry" in her instinct for metaphor and memorable phrasing. Above all, he was struck by the depth of Nathalia's thought in several poems. Her repertoire extended beyond Ming culture and erotic shivers to aesthetic ruminations. Benét singled out these couplets from "The Blind Girl":
In the darkness who would answer for the color of a rose,
Or the vestments of the May moth and the pilgrimage it goes?
*

In the darkness who would cavil at the question of a line,
Since the darkness holds all loveliness beyond the mere design.
"These lines and the meditation from which they spring were the spontaneous phrasing and the natural meditation of—a child of ten," he marveled. ". . . Strange insight for a comparative infant!"
Benét thought it unlikely that "she can possibly realize the philosophical implications of her best poems," but that didn't detract from their power. He wasn't about to predict her future, which was also the message of Nathalia's two other chaperones—Leamy of the New York Sun, who wrote an afterword, and a reporter who met her early on and contributed a testimonial. She was a little girl who played with her dolls and with the janitor's boy, and who wrote when and what it pleased her to write. How refreshing in a jaded time. She should be left alone to continue to do just that, wherever it led. It was clear they were crossing their fingers.
A year and a half later, in September 1925, shortly after Nathalia's twelfth birthday, her second book of poems, Lava Lane, came out. This time the work stood alone, accompanied only by an advertisement that announced she had been invited to be an honorary member of the British Society of Authors, Playwrights, and Composers, presided over by Thomas Hardy. It was a distinction, her publisher claimed, shared by no other American poet since Walt Whitman. The news made headlines. So did reports that Nathalia's father might be absconding with sizable royalties. Corrections to both soon appeared. Sales of the two books hadn't earned anyone a fortune. And Nathalia wasn't being specially celebrated. It turned out that Clarence Crane had merely paid the standard dues to join a group that otherwise had no admission criteria. "Looking shyly out at the world," the Brooklyn Daily Eagle noted of Nathalia, "there was a wistful and haunting quality to the child's face that went directly to the heart."
Nathalia's publisher, Thomas Seltzer, removed the honor from ads, but by November he had a better—and accurate—claim to generate publicity: this fascinating young talent had become the post–Daisy Ashford "Literary Storm Center." Open the new book to the title poem, and the vocabulary was already staggering: cicatrix, peris, ferneries, parasangs, fane. The biblical and historical allusions piled up quickly: Bel and Balthazar, Theban pylons, lines like "I am an ancient lady / Cross-legged upon a dais / Reading of Cleopatra, / Lesbia, Phryne and Thais." Could an eleven-year-old—whose teachers said she wasn't remarkable, and whose parents, one article noted, hadn't gone beyond high school—really have written these poems? The same article quoted Nathalia's own publisher saying, "I am as much mystified as anybody. Nathalia Crane is either a miracle or she is the most colossal hoax in history." Or perhaps there was a third alternative. "Sometimes I wonder if Nathalia Crane is not a medium." Seltzer emphasized that he refrained from grilling this fragile girl on the sources of her more gnomic creations, for fear of making her "self-conscious." That, all agreed, was fatal to innocence.
__________________________________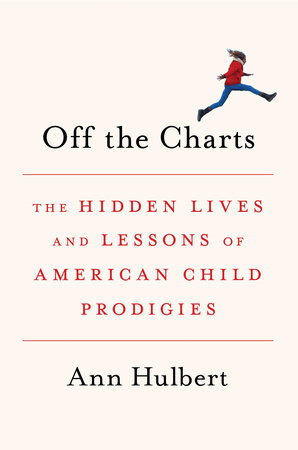 From Off the Charts: The Hidden Lives and Lessons of American Child Prodigies, by Ann Hulbert, courtesy Knopf. Copyright 2017, Ann Hulbert.
---