The Boston Bookstore with a Focus on Writers of Color
An Interview with Roxbury's Frugal Bookstore
Frugal Bookstore, located in Boston's Roxbury neighborhood, was founded by Clarrissa and Leonard Egerton with a focus on books by authors of color.
What's your favorite section of the store?
My favorite section is African American Studies/Autobiographies because I like reading the history of the African Americans in this country and the real lives of the people who came before me.
What would you say is your bookstore's specialty?
Our specialty is that the books in our store are predominantly written by authors of color. Our diverse selection is a good representation of the people within the community and those who come to visit.
What's your favorite book to handsell?
My favorite book to handsell is All God's Children by Fox Butterfield. I like to recommend this title because it traces the history and lineage for five generations of a young black man's family. It chronicles racism the family endured as well as the history of violence.
If you had infinite space what would you add (other than a bar/restaurant)?
I would love to add a mini stage area to host open mic nights and feature local musical talent. We would also add a designated space for author book signings and readings.
How do you use the bookstore to build community?
We partner with local organizations, we open up our store and allow use of the space for community forums, workshops and meetings.
What's your favorite thing to sell at the bookstore that's not a book?
Artworks and apparel designed and created by a local artist who has become a good friend over the years. His work includes designs specific to Roxbury, Massachusetts.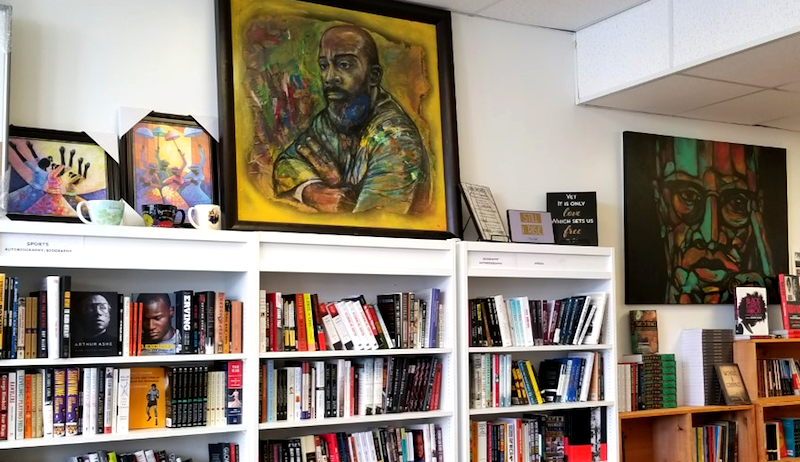 What's a bestseller that could only be big in your town?
Change of Change by Mel King. He's an activist and advocate, he was the first African American to run for mayor in Boston, and his book chronicles the history of the black community in Boston.
Tell us about your most memorable author event.
Our most memorable author event was having the former governor of Massachusetts, Deval Patrick, sign copies of his autobiography A Reason to Believe: Lessons from an Improbable Life. We had a line of customers out of the door who were excited to take pictures and have him sign their book. There were security agents all around, but the best part was that Governor Patrick was laid back and down-to-earth.
What's a children's book that made you cry/that you think all adults should read?
The Giving Tree by Shel Silverstein is a book that all adults should read. It's a story that teaches a lesson about love, selflessness and friendship. A highly recommended book for all ages.
---