The Booksellers' Year in Reading: Part 1
We Asked the Best Readers We Know What Books
Stayed With Them This Year
I'm biased, but I think that booksellers are the most generous, thoughtful, and devoted readers we have. Generous, because they read with one eye always on other readers, often making mental lists of specific people to recommend certain titles to.
Thoughtful, because we are not algorithms supplying a "you liked this, you'll like that" equation; rather, we ask questions, we try to get to the heart of why you liked a specific book, and offer suggestions based on that.
And devoted, because who reads more than booksellers? Even in a small store, like the one I own in Point Reyes, our booksellers have read several hundred books this year. That collective experience informs decisions about what we stock and, by extension, what we sell to readers hungry for something that speaks to them.
For these reasons and more, I am excited for what I hope becomes an annual tradition on Lit Hub, a series of recaps from booksellers across the world about what books struck a chord with them in the past year. Below is part one of four, coming out between now and the New Year.
–Stephen Sparks, Point Reyes Books (and Lit Hub contributing editor)
*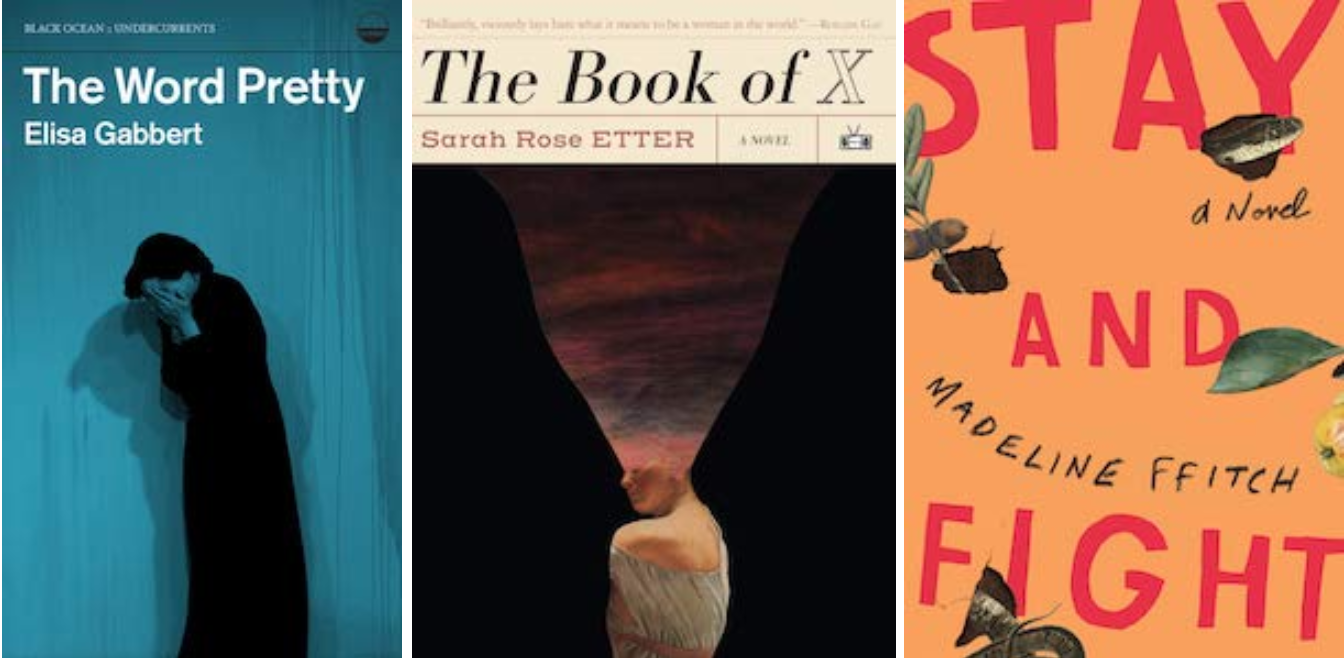 Joshua Bohnsack, Volumes Bookcafe 
One of the most depressing parts of working as a bookseller is trying to keep up with new releases and contemporary classics. It's part of the job, but limits the amount of what I passionately want to read versus what I want to read to be able to sell or promote. I'm constantly afraid I'll fall behind on recommendations, so I started utilizing audiobooks from the library and ALCs from Libro.fm to up the amount of books I could take in. I'm a slow reader, so whenever I'd go on a run, I would listen to books that I couldn't find the time to read otherwise. Of course, it made for an awkward few hours listening to "The Part About the Murders" in Bolaño's 2666 on my go-to running trail. While I've been a devotee of indie presses, audiobooks gave me the opportunity to read outside my small press comfort zone.
I'm an avid story collection reader. Some of my favorites this year were Ghost Engine by Christian TeBordo (Bridge Eight Press), Sweet Home by Wendy Erskine (Stinging Fly Press), and Wild Milk by Sabrina Orah Marks (Dorothy). These collections pushed back against form and structure, and I'm a sucker for a good, weird story.
As I finished my MFA this year, I spent a lot of time working on a novel for my thesis, so I tried to read a lot of novels to figure out just what a novel is. I noticed some of my favorites of this year could fit the elevator pitch of "feminist wilderness novel" (but so much more) including The Book of X by Sarah Rose Etter (Two Dollar Radio), Hard Mouth by Amanda Goldblatt (Counterpoint), and Stay and Fight by madeline ffitch (FSG). I learned a lot about interiority and style from Halle Butler's The New Me (Penguin) and Chia Chia Lin's The Unpassing (FSG). We put out our first novel on my small publishing company, Long Day Press, which was Chase Griffin's Florida-man oddity, What's On the Menu? which pushed me to reconsider how to work with book design in a longer format than the chapbooks we usually publish. I think I read more novels this year than ever before.
Article continues after advertisement
Trick Mirror by Jia Tolentino (Random House) was the big book that lived up to its hype this year. For customers who enjoyed it, I like to suggest Andre Perry's Some of Us Are Very Hungry Now (Two Dollar Radio) as a follow up. Though they are quite different books, they both address contemporary American life in fascinating ways. The other personal essay collection that followed me all year was The Word Pretty by Elissa Gabbert (Black Ocean). It'll make you rethink language, as a close second to the strange little revised edition of Understanding Molecular Typography by H.F. Henderson (Ugly Duckling Presse). This abbreviated textbook convinced me letters are alive, and each word is a moral dilemma. If I never finish my novel, I'm blaming it on Henderson.
Some of the best work I read all year were pieces in literary magazines. When I'm browsing another store, I always try to pick up an issue of something that looks interesting. Lit mags are like mixtapes from the editors. It's encouraging to see a customer pick up a lit mag, and maybe find their new favorite writer, and isn't that a reward of the job?
Joshua Bohnsack is the assistant managing editor for TriQuarterly, founding editor for Long Day Press, and received an MFA from Northwestern University. He is the author of Shift Drink (Spork Press 2020) and his work has appeared in The Rumpus, Hobart, SAND, and elsewhere. He lives in Chicago where he works as a bookseller.
*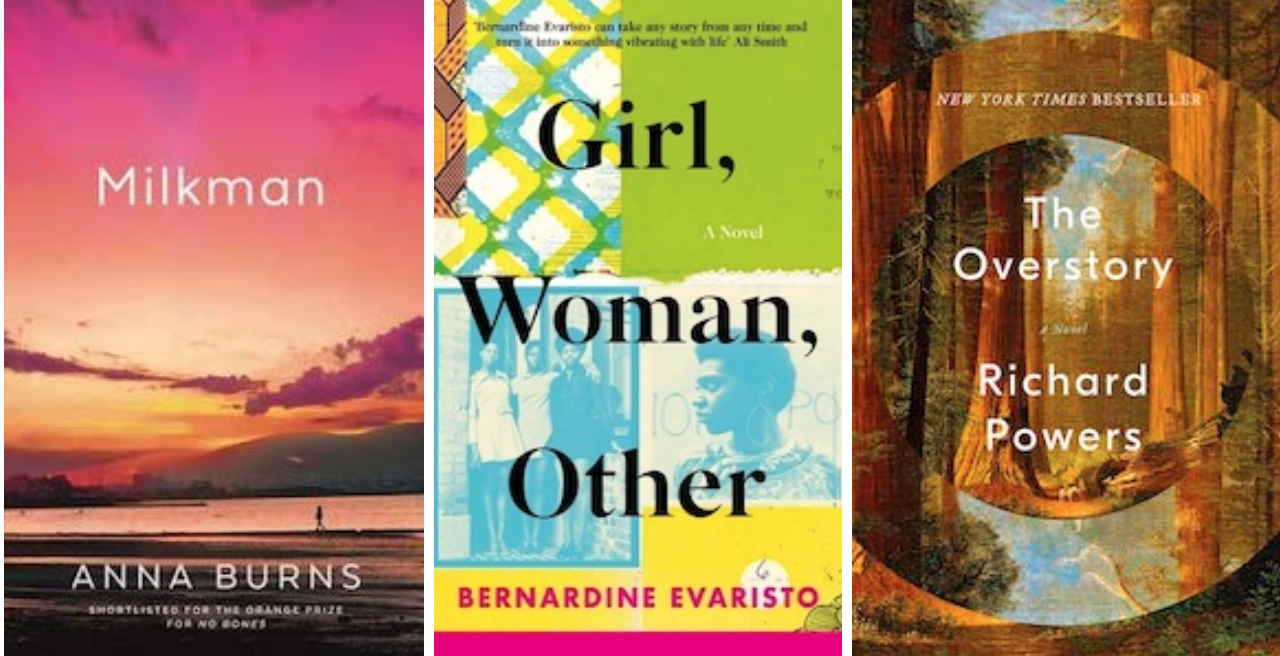 Lewis Buzbee, bookseller emeritus
A couple of months ago, a good friend—novelist and voracious reader—posted a lament about the state of the novel today. They found the novel wanting and pale, and wondered if the novel's relevance had ended. I had to disagree, and most vehemently. My own novel reading over the past year had been filled with astonishing new discoveries, a raft of them.
So I countered my friend, social-medially, with a short list of novels I'd found audacious in their talent, as well as urgently relevant to our confusing times. I remember that Richard Powers's The Overstory topped that list. My friend e-paused, reconsidered. Yes, we finally agreed, the novel was, today, thriving and vibrant and abundant.
The novel, of course, has been declared "dead" or "superfluous" for a long time. In the 19th century, the sudden popularity of the bicycle was believed to be the death knell for the novel, as well as all reading. In the early 1960s, op-eds in magazines and newspapers declared the novel long past dead, around the same time they said the same about God. In the 1990s, non-fiction, especially the memoir, was deemed superior, the novel's more credible sibling. Then of course came the smartphone, the machine that launched a thousand laments. And yet the novel survives, and based on my reading from last year, thrives.
Here are a few—and only a few—of the novels I read last year that gave me great pleasure and changed how I saw the world.
The Overstory by Richard Powers. Powers turned the question upside down, not, what can nature give me, but what can I give nature? My view of the world had not been so transformed since I read The Grapes of Wrath when I was 15. I had heard about The Overstory, naturally, but it wasn't until a great stack of the paperback appeared on the front desk of my local shop that I snatched it up.
Girl, Woman, Other by Bernadine Evaristo. A swirling, almost Dickensian look at a dozen or more Black British women that is hilarious and heartbreaking, and offered a glimpse of life I'd not encountered. The world got bigger after reading this. When it won the Booker Prize, a stack of this beautiful paperback appeared on the same corner of the front counter where I'd found The Overstory. I submitted to that seduction in half a second. It wasn't the award, it was the book and its placement.
Milkman by Anna Burns. This unsettling account of life under "The Troubles" redefined that place and time for me, but Burns's amazing prose, as if the language were turned inside out to reveal its eventual clarity, showed me how many ways there are of naming the world. This hefty and gorgeous paperback appeared on the feature table just inside the shop's entrance, the first place my eye travels when I visit.
The Life and Adventures of Joaquin Murieta by John Rollin Ridge and America Is in the Heart by Carlos Bulosan. These overlooked—and unknown to me—classics of California literature sat side by side over shelf talkers on a table deep in the store. I've read an enormous amount of California lit in my life, but both were new to me, and both refreshed my sense of the scope of my state and its history. It was the shelf talkers that did me in. And the reading of the Bulosan led me to find Elaine Castillo's America Is Not the Heart, a riveting story of immigrant life in the Bay Area. One book so often leads to the next.
Each one of these novels—and the many more I haven't included—opened up the world for me, showed me the familiar in a new light, and the strange with bright clarity. Each of these novels became, as Steinbeck once wrote, "a wedge in [this] reader's brain."
But here's what else these books have in common. I bought them all at my local bookshop, Green Apple Books on the Park in San Francisco. No, it's better than that. Not bought them at the bookshop, but because of the bookshop. These were not novels I'd set out to find; they were novels that the bookshop set in front of me. And of course, when I say the bookshop did all this, I mean the booksellers.
Two social inventions, the novel and the bookshop, both of them declared dead quite often, still work together to keep this reader from complacency, to keep this reader engaged in the world. It's what they do.
Once upon a time, I managed two Bay Area bookshops, Upstart Crow in Campbell and Printers Inc. in Palo Alto, both of them, alas, gone now. After that, I was the northern California sales rep for Chronicle Books, and happily visited bookstores every day. I'm the author of The Yellow-Lighted Bookshop.
*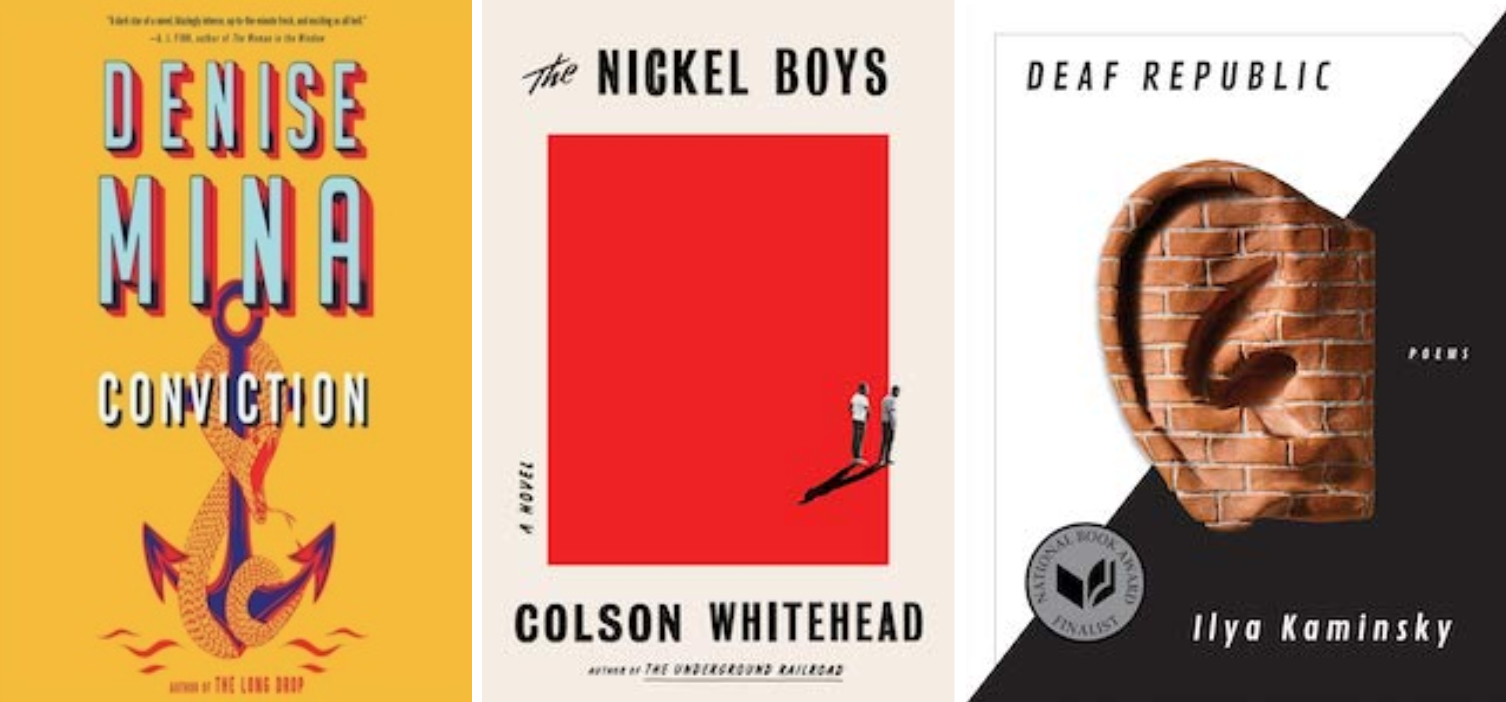 Danny Caine, Raven Bookstore
One thing about having your first child is your reading habits need to be reinvented. In part, it's a matter of simply having less time to read. But it's also a matter of being more tired or distracted when you do have time to read. So I found myself searching for books that absolutely commanded me, demanding my attention and refusing to let it go.
The two books that did that most effectively were Colson Whitehead's The Nickel Boys and Ilya Kaminsky's Deaf Republic. They're both books that find a range of feeling in their tragic stories: funny, devastating, ironic, bitter, elegiac. They're both books I'm still thinking about long after I finished reading them (I actually read The Nickel Boys twice because I had to see how Whitehead pulled off that ending).
Another place I turn for books that will grab ahold of me and not let go is mysteries, and the two best mysteries I read this year were Attica Locke's Heaven My Home and Denise Mina's Conviction. I've long admired mystery writers who are interested in making compelling political statements with crime fiction. Mina and Locke both do it with aplomb in their smart and thrilling mysteries.
Speaking of smart, this year produced some amazing memoirs that pushed the limits of what memoir could do. The Beautiful Ones by Prince, based on the 28 handwritten pages of memoir Prince wrote before he died, starts with those pages and becomes not a memoir but a book about the act of remembering. It's gorgeous. Carmen Maria Machado's In the Dream House experiments with a different genre in each of its dozens of chapters. Further, footnotes identify folk tale tropes in Machado's affecting story. In this way, Machado's memoir also interrogates the very notion of memoir, presenting both the story and the story of making the story. This year, my son began to do this thing where he'd pull a bunch of his board books off the shelf and make a pile, basically burying himself with books. If I had to bury myself in books from 2019, I'd start with these six.
Danny Caine is the owner of the Raven Book Store in Lawrence, Kansas. He's the author of the poetry collections Continental Breakfast and El Dorado Freddy's, as well as the zine How to Resist Amazon and Why. In 2019, the Midwest Independent Booksellers Association awarded Danny the Midwest Bookseller of the Year award. More at dannycaine.com.
*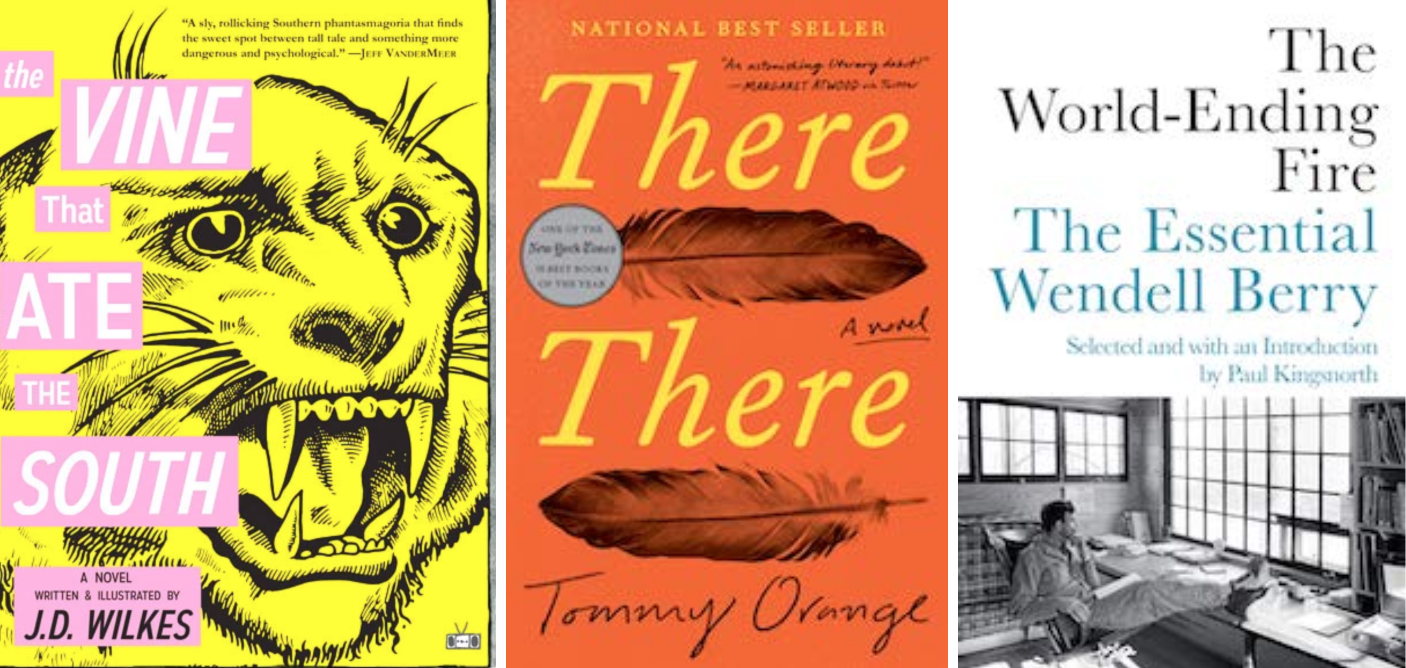 Gary Lovely, The Book Loft
This was a great reading year for me, though it didn't seem long enough and almost never does. I started the year reading Jack Davis' Pulitzer Prize-winner The Gulf: The Making of an American Sea (Liveright/W.W. Norton, 2017). Davis' historical telling of the Gulf of Mexico is an absolute must for anyone remotely interested in environmental history and conservation. In what seemed like an endless year of natural disasters, the environment played a key-role in my reading for the year.
Like most Kentuckians, I obsess over Wendell Berry's work like scripture. This year, I've read through The World-Ending Fire (Counterpoint, 2017) twice and have probably hand-sold at least one copy per week since doing so. In this book of essays spanning from 1968 to 2011, Berry speaks on the importance of the independent farmer and his life in Port Royal, Kentucky. I should also mention that his wife, Tanya Berry, has a forthcoming book of photographs in 2020 (For the Hog Killing, University of Kentucky Press ). Of Berry's collection, I also read Think Little, The Art of Loading Brush, and A Small Porch: Sabbath Poems 2014. A Small Porch contains what is now my favorite poem by Berry.
You don't know the day until
You've seen the last of it
Reddening the hill
And rising into night
As for poetry, I would be remiss if I didn't mention Darren Demaree's newest, Emily as Sometimes the Forest Wants the Fire (Harpoon Books, 2019). I launched Harpoon Books last year as a project of The Harpoon Review and this is the first release. I've admired Darren's work, especially his "Emily As" series for a long time and this book was an absolute pleasure to work on.
As for fiction, I loved The Vine That Ate the South, by J. D. Wilkes (Two Dollar Radio, 2017). Wilkes, fellow Kentucky Colonel and frontman for rockabilly band The Legendary Shack Shakers seems to be good at everything, especially spinning together a perfect southern gothic tale. The Vine That Ate the South follows two western Kentuckians on a hunt for the haunted Kudzu House, whose vines swallowed an elderly couple whole. If you love folklore, this one is a must.
Most recently, I listened to There There by Tommy Orange (Knopf, 2018) as my fist toe-dip into Libro.fm, the audiobook company. Orange has a way of writing death that is unlike anything I've read or listened to before. The audiobook cast was fantastic. I can't recommend this book enough.
Other great reads from this year:
Ghosts in the Schoolyard by Eve Ewing
They Can't Kill Us Until They Kill Us by Hanif Abdurraqib
Grand Union by Zadie Smith
Diary of a Bookseller by Shaun Bythell
Gary Lovely is the founder of Harpoon Books, an independent publishing company based in Columbus, Ohio. He is currently the Marketing Manager for The Book Loft of German Village in Columbus, OH and sits on the review board for Trillium Publishing, an imprint of Ohio State University Press.
*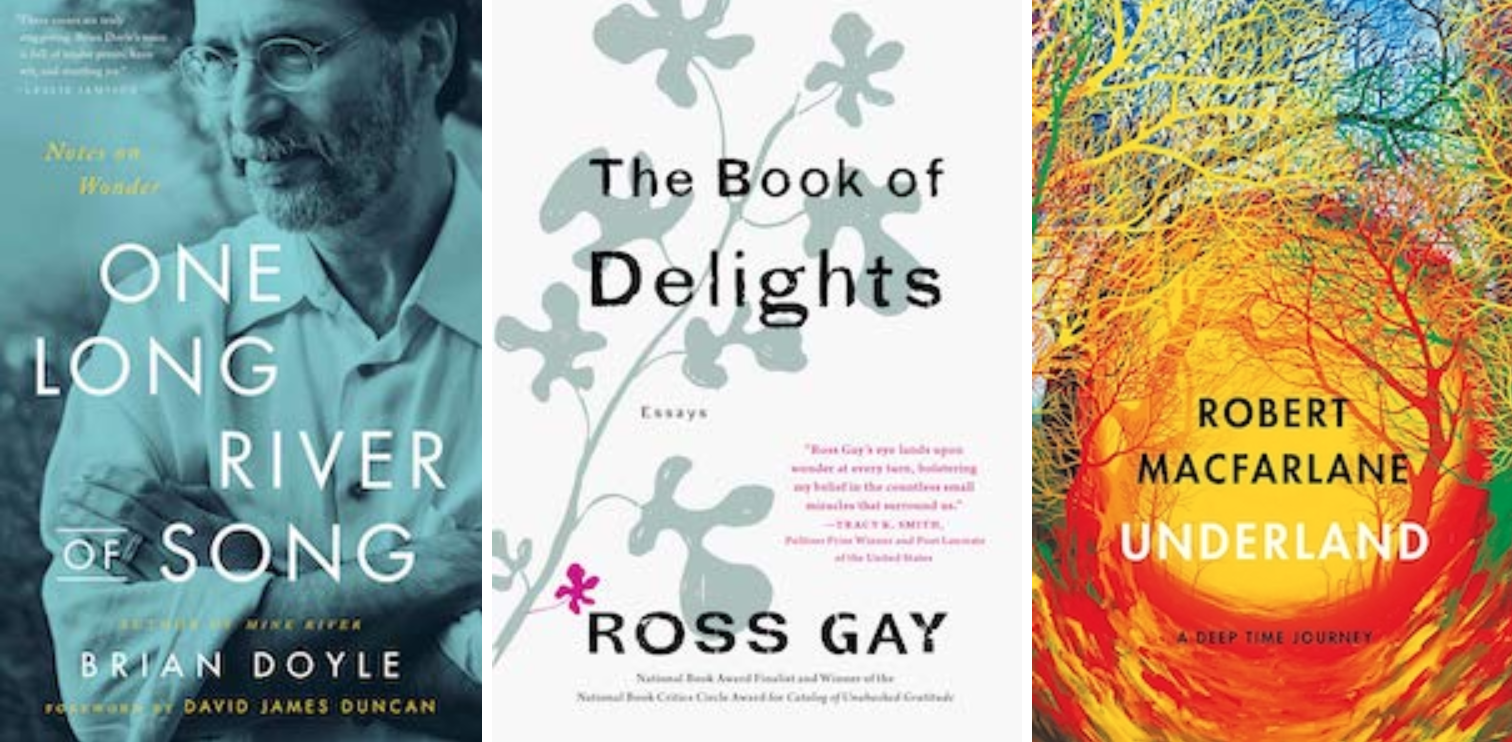 James Crossley, Madison Books
This was a year full of good reading, but I will always remember it, at least in part, as the year of what I wasn't able to read. After more than a decade as a bookseller, I helped launch a brand-new store in 2019 and have been managing it since its spring grand opening. It's been a fantastic experience, but a hectic one. By all means, open a bookshop of your own in 2020 if you can, but don't plan on having more time to read than you did the year before.
Still, I have a long list of favorites, starting with what was hands-down the best non-fiction book of 2019, Underland by Robert Macfarlane, as beautifully written as it is important for what it has to say, which is a great deal about the human relationship with the earth, past, present, and future. As a glass half-empty kind of reader, I was also stunned to be stunned by two books about joy that didn't cloy. The essay collections One Long River of Song by Brian Doyle and The Book of Delights by Ross Gay may not have turned me into an optimist, but god, I love them both.
My year in fiction was dominated by Lucy Ellmann's brilliant Ducks, Newburyport. By now plenty of people have had a chance to weigh in on this weighty novel, but I went all-in on it from before the beginning. I read it pre-publication, praised it to the skies, and was proud to see that my little blurb made it into the final version. Not bad to see a Madison Books credit in print before the store was even six months old.
This isn't to slight my other favorite novels of 2019. Let's see, those would be Lost Children Archive by Valeria Luiselli, Deep River by Karl Marlantes, The Heavens by Sandra Newman, Lanny by Max Porter, Women Talking by Miriam Toews, and The Nickel Boys by Colson Whitehead.
Those are only the ones written in English. Special mention goes to the great translated works I ran across this year: Three Summers (written by Margarita Liberaki/translated by Karen Van Dyck), Optic Nerve (Maria Gainza/Thomas Bunstead), The Dreamed Part (Rodrigo Fresan/Will Vanderhyden), Drive Your Plow Over the Bones of the Dead (Olga Tokarczuk/Antonia Lloyd-Jones), Baron Wenckheim's Homecoming (Laszlo Kraszhnahorkai/Ottilie Mulzet), and EEG (Dasa Drndic/Celia Hawkesworth).
Wait! I still have to tell you about some SF and fantasy! Ted Chiang's Exhalation, Jo Walton's Lent, Helen Phillips's The Need, and Jeff VanderMeer's Dead Astronauts. And John Crowley, whose name I like to throw around whenever an otherwise pointless discussion of
"Who's America's Greatest Living Writer?" breaks out, published not one, but two books. Both collect his briefer writings, Reading Backwards (his nonfiction) and And Go Like This (his short stories).
You have room for at least one more, I know you do. It's just a sliver, but it slides in like a knife: Ilya Kaminsky's Deaf Republic.
James Crossley has been a bookseller of one kind or another for over two decades, working at one point for the largest retailer around and now as the manager of one of the smallest, Seattle's miniature but mighty Madison Books.
*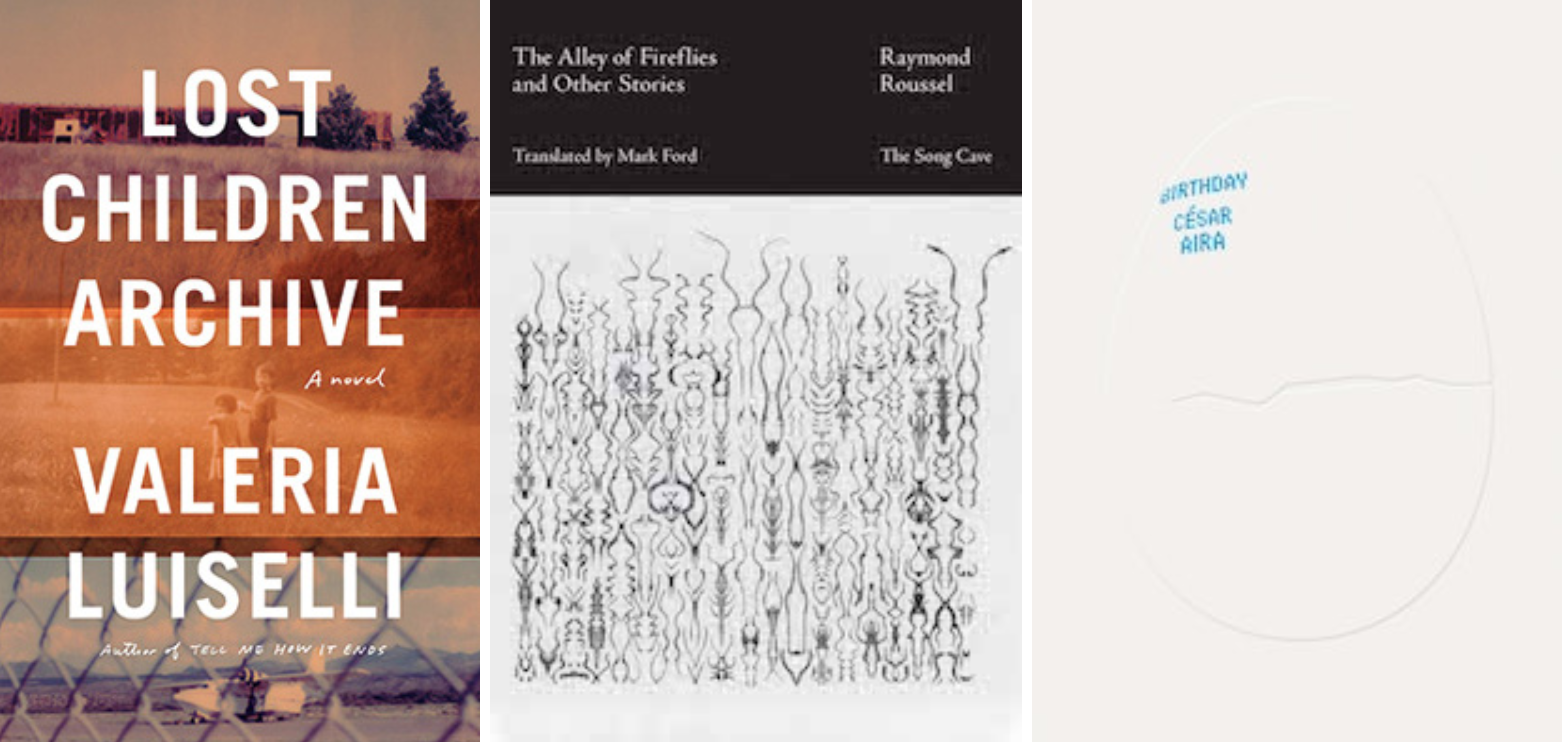 Jarrod Annis, Greenlight Bookstore
On the eve of a new decade, amid the rising tide of best-of lists, I found myself thinking about this last year in particular. There have been years where I pushed myself to read everything—especially as a bookseller—so that I could keep current and be ready to predict all the year-end roundups. The last year was not one of those. I was looking for something different this year, maybe solace, maybe something else, but it was a year of looking for things. I read books about the fluidity and flaw of memory. I read books about landscape—urban and rural, preserved and decaying. I read about imagined lives and the persistence of language and art.
Cesar Aira's Birthday (New Directions) and Renee Gladman's Morelia (Solid Objects) are two very short books—both great—dealing with the recovery of something misremembered, begging the question of what even existed in the first place. These are prime examples of why Gladman and Aira are two of my absolute favorite minds at work today.
I'd been meaning to read Song of Solomon (Vintage) for years, and Toni Morison's passing this year finally got me there. An unfortunate impetus, but an incantatory read. I also took time to appreciate Morrison's legacy as an editor, revisiting Gayl Jones's Corregidora (Beacon Press) and Henry Dumas's The Echo Tree (Coffee House Press).
Amid a year of great titles from Chantal Ackerman, Merce Cunningham and Hannah Brooks-Motl, the Song Cave released The Alley of Fireflies, a kaleidoscopic head-trip of shorter works by one of literature's all-time greatest kooks, Raymond Roussel. Made me wish I'd had this book before wading into the all-out delirium of his novels.
I feel I'm always made better when a new Valeria Luiselli makes it into the world, and The Lost Children Archive (Knopf) was no exception. A recasting of the American road novel, Luiselli sets out new paths and routes through a landscape of love and crisis too long perceived as familiar, where readers can lose themselves only to find others.
Sweet Days of Discipline (New Directions), People in the Room (And Other Stories), Forever Valley (University of Nebraska Press) [sorely in need of reissue, btw], Berg (And Other Stories), Malina (New Directions) and Ice (Penguin Classics) were all novels of such exacting interiority and tension that it felt like reading strange, arty thrillers. More than that, they are exercises in the power of tone, each of them diamond-precise in their own right, perfect for anyone eagerly awaiting the next dose of Clarice Lispector.
I'm continually floored by the ongoing NYRB Classics reissue of Sylvia Townsend Warner's books, and The Corner That Held Them, didn't disappoint. A quiet book set in a convent amid the Black Death, it's a historical novel that manages to illustrate the constancies of humanity throughout time.
I always read a little SF&F, for good measure; I found myself returning the eerily prescient Philip K. Dick, this time with Now Wait For Last Year (Mariner Books), Philip K. Dick's romp through intergalactic corporate psychotropic warfare, time travel, and the binding ties of love and obligation. This abutted Solaris, Gene Wolfe's Shadow of the Torturer, and Samuel R. Delany's Dhalgren—a beloved intermittent and perennially in-progress reread.
I took a short detour into the delightful mirco-genre of fictional biography and enjoyed Marcel Schwob's Imaginary Lives (Wakefield) and Fleur Jaeggy's Three Possible Lives (New Directions) thoroughly. Reveling primarily in the minor figures of history, each of these read like fairy tales, or parables of lives and times other than our own.
Hilda Hilst's Of Death (co-im-presS) and The Nioque of Early Spring by Francis Ponge (Song Cave) were two of my standout reads as a BTBA judge, but the two poetry books that stayed with me this year were Asyia Wadud's Syncope (Ugly Duckling Presse) and Train Ride by Ted Berrigan, both memorials, Wadud's a eulogy for the unnecessary casualties of borders, and Berrigan's an out-of-print paean to transit and absent friends.
I thought a lot about seasons and weather, their effect on particular landscapes, and the desire to know those landscapes. I found myself reacquainted with everyone's favorite woodland curmudgeon, Henry David Thoreau, via his journals, which are unequivocally better than any assigned reading—a revealing of wonder, above all other things, at that most precarious intersection of science and art. It was in this light that I read one of my favorite books of the year, Underland (W.W. Norton) Robert Macfarlane's sojourner-as-psychopomp study on deep-time amid the myriad pasts and possible futures of Earth and humanity; he's a writer I'll follow wherever he chooses to go. He's also a generous writer whose freely espouses his influences, setting me on a path toward such masterstrokes of nature writing as The Peregrine (NYRB Classics) and the gorgeous new edition of Nan Shepherd's The Living Mountain (Canongate).
I read the reissue of Val Wilmer's chronicle of the free jazz movement As Serious As Your Life (Serpent's Tale) which is a great book about devotion to craft and art. Along those lines, Dorothea Lasky's Animal (Wave Books) is a book I'd been waiting for a long time, and one of my favorite meditations on creative thought and process, and all the spaces in which we can find to access it.
There were also two great books that came out which had their beginnings on the now sadly defunct website The Toast: Mo Moulton's The Mutual Admiration Society (Basic Books) is a group biography and renegade queer history following Golden-Age detective novelist Dorothy L. Sayers and her college writing group from the Oxford quadrangle as they forged lives for themselves in the fraught, pre-feminist landscape of interwar England. The other was of particular interest to me as a high-functioning luddite, Gretchen McCulloch's Because Internet (Riverhead Books) a study of post-internet language and linguistics which drives home the fact that we've just lived through one of the most explosive and innovative periods in the development of language EVER.
Though it's always a strange exercise in time to catalog anything that's happened over a finite period. Though unsure of what I was looking for when the year started, that particular line of horizon, literary and otherwise, has been set a little further into the distance than it was before. And isn't that the idea, after all?
Jarrod Annis is a writer and bookseller living in Brooklyn, where he manages Greenlight Bookstore in Fort Greene. He is a board member of the Community of Literary Magazines and Presses, and has served as a poetry judge for the Best Translated Book Award.
*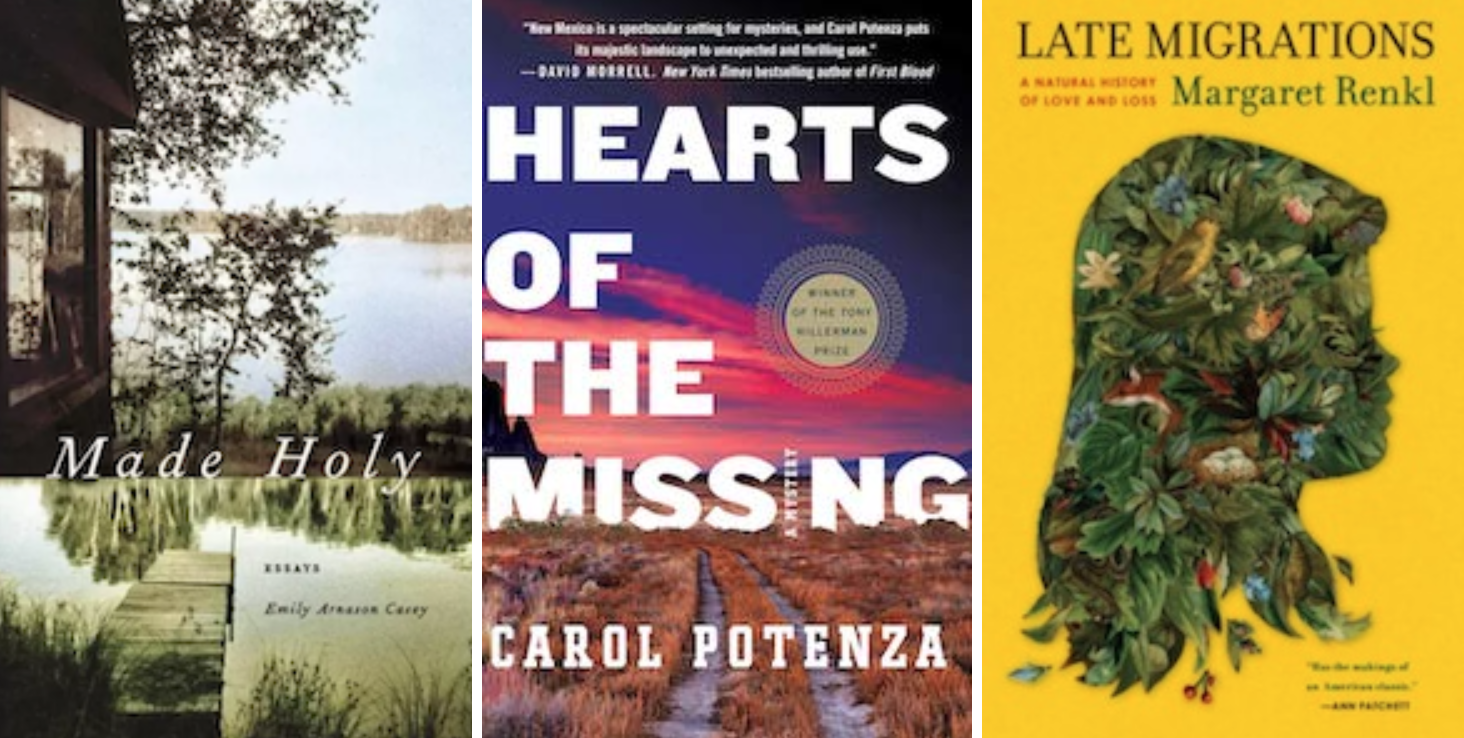 Jenny Lyons, Vermont Bookshop
Working at a bookstore, I get to see all the new books as they come through the door. And literally, no pun intended. I want to read them all. I genuinely choose books to read by how they look and feel. A striking book jacket can draw me in quite easily. That is how I discovered Margaret Renkl's Late Migrations: A Natural History of Love and Loss (Milkweed Editions). What a treasure. I was captivated by the astonishing vignettes she created in just a few short sentences; mere fragments conveyed a lifetime. And then to find her brother was the artist behind the flora and fauna collage illustrations in the book, in color mind you, and the gorgeous silhouette of a child's head gracing the cover.
I write a weekly book review for our local paper, and a good portion of my year is reading is directed by that, but fortunately it allows me entry into a variety of genres, otherwise I would just read literary fiction. I discovered Carol Potenza's Hearts of the Missing (Minotaur Books) this way, looking for a mystery to review. Set in New Mexico and involving the disappearances of Fire-Sky natives, it is her debut novel, winner of the 2017 Tony Hillerman Prize, and it really deserves to be more widely read, and I do hope it is the first in a series.
I also seek out books by Vermont authors, and I was rewarded when, having booked an event for Emily Arnason Casey, I picked up her collections of essays, Made Holy (University of Georgia Press). What amazed me about this book was the freshness and originality of the styles and structures she utilized while she also evoked such a strong sense of nostalgia for a childhood passed. Really honest, authentic writing.
And then I am not sure why I came to this book, it could have been on the recommendation of a trusted editor, but I was nearly overwhelmed by reading Solitary (Grove Press), the life story of Albert Woodfox, one of the Angola prisoners who was wrongly convicted for killing a prison guard and subsequently spent over 40 years in solitary confinement. Anyone who reads this humane account will not be able to regard prisons or punishment in the same way again.
Finally, I should add, in light of the season, the very intelligent writer Jon Clinch has created another deft re-imagining of a significant literary figure in his new book, Marley (Atria Books), as in Jacob Marley, partner to Charles Dickens' Scrooge, in this telling the person responsible for making Scrooge the way he is, but also the person responsible for summoning the ghosts of Christmas past to try to help Scrooge redeem himself before it's too late.
Jenny Lyons, marketing manager at the Vermont Book Shop, has been bookselling, here and there, since the 1990s. A book lover since she was able to read on her own, many decades ago.
_______________________________________________
Part two in this series will appear Friday the 27th.
---