The Best of Genre + The Best of Literary Fiction = Awesome
Benjamin Percy On Finally Realizing the Kind of Books He Wanted to Write
Vampires, dragons, and robots with lasers for eyes. These were the literary stars of my childhood. Their stories were unified by the same pattern: they began with a bang—hijinks ensued—and then the hero overcame some villainous force to win love and a heap of treasure. Books were portals meant for escapism. Suck me into the tornado, hurl me through an intergalactic wormhole, drag me down the rabbit hole, and then please, quicken my pulse for the next three hundred to seven hundred pages.
I had no patience for anything that did not meet these criteria. This narrow-mindedness extended to any creative discipline. In college, I took a class called "A History of Art and Architecture," and during the lecture on Jackson Pollock, I was fool enough to throw up my hand and ask how a bunch of splatter could be considered art. "Who's it about? Where's the story?" I said in an auditorium of several hundred students. "What distinguishes that from garbage?" At that moment I think every single one of them muttered under their breath that I was an idiot. The professor smiled at me sadly and thanked me for my opinion before changing the slide and continuing her lecture. This is one of those memories that, years later, still haunts me at odd times—when I'm driving a nighttime highway or soaping my armpits in the shower—and I cringe as if I have just bitten into tin foil.
I did not fare much better in my creative writing workshop. On the first day, the professor toured us through the syllabus, listing off due dates, required readings, finally announcing that there would be no genre submissions. Then he asked if we had any questions. His shaved head and expressionless face made him look a little like a mannequin.
"What do you mean by no genre?" I said.
He leveled his dead gaze at me and said, "I mean no genre. No vampires, no dragons, no robots with lasers for eyes. Do you understand?" He took off his glasses and scanned the room. "Does everyone understand?"
I didn't. With complete earnestness I asked, "But what else is there?" and in response he gave me the same pitying smile as my art professor.
* * * *
When people ask if I grew up a reader, I say yes, but not the type of reader they imagine: a small scholarly child with glasses perched on the end of his nose, making notes in a leather-bound journal, licking the pad of his finger to turn the pages of Ulysses, The Grapes of Wrath, To the Lighthouse. I grew up on pop lit. A book was never far from the hand—balanced on my nightstand, shoved into a back pocket, tucked into the glove compartment of the truck—but usually it was a broken-spined mass market paperback with an embossed title.
I lived on twenty-seven acres of woods in the Willamette Valley—and then a jungley hillside in Oahu overlooking Kaneohe Bay—and then a spread of land in Central Oregon surrounded by sage flats and horse ranches. Always the country. I didn't play sports, not until middle school, and I didn't have any neighborhood pals.
Okay, there were the Marshalls. Many in central Oregon grow alfalfa for cattle, but the Marshalls cultivated, on their five acres, perfectly manicured grass. Not to sell and not to play on. The grass seemed to exist purely to mow and water. Their mother answered the phone "Heaven-O!" (because she didn't like saying hell). A birthday party consisted of a living room piano recital and Bible reading followed by fudgecicles. By the time I was in sixth grade—after I had exposed them to the "black magic" of the film Big Trouble in Little China and gotten busted for smoking cigarettes and shooting rocks at cars with my slingshot—they were forbidden from playing with me. So I was on my own. And after completing my father's list of chores for the day, I was able to spend my time as I wished. I would duck under barbed-wire fences, build rock dams in rivers, knock together tree houses with wood stolen from construction sites, and read.
And I read a lot. A book or two a week. Westerns by Zane Gray and Louis L'Amour. Spy thrillers by John le Carré and Ian Fleming. Techno thrillers by Tom Clancy. Mysteries by Sir Arthur Conan Doyle and Tony Hillerman. For a long time, fantasy obsessed me. If it had a dragon on the cover, awesome. If it had a dragon and a sword, even better. I delighted in The Hobbit and The Lord of the Rings, of course, but so did I read The Wheel of Time series and Dragons of the Autumn Twilight and all the Forgotten Realms novels about Dritz, the dark elf who wielded twin scimitars and traveled with a black panther. I pleasured as much in the sword and sorcery of Conan novels as I did their covers, all of them featuring some variation of the impossibly muscular Cimmerian strangling a demon with one hand and clutching a woman with the other, her nakedness barely contained by wisps of silk, chains of silver.
But horror, more than any other genre, caught me repeatedly in its black spider web. I'm talking about Peter Straub, Richard Matheson, Dean Koontz, Anne Rice, Robert R. McCammon, Shirley Jackson, John Saul, Dan Simmons, and Stephen King. Their hundreds of thousands of pages I read in a panic. You know how certain settings sizzle with a kind of electricity? Old churches. Graveyards. The elbow of a river. The top of a mountain. For me, the horror section in Powell's Bookstore is sacred ground.
My grandparents lived in Portland, so every few months, we'd cram into the truck and growl over the mountains for a visit. We had no local bookstore—outside of the sad, little WaldenBooks in the Bend River Mall—so the Powell's visit took a lot of time and strategy. This was our literary haul for the next two months. We had to choose wisely.
For those who have never visited, the downtown Powell's takes up a whole city block. A giant concrete split-level sarcophagus of books. There is a ghost that haunts the water fountain. An urn of cremated remains that moves from room to room. The shelves spill books, used and new, and the aisles buzz with the kind of diversity you'll only find at the DMV: dudes in suits and dudes in mud-caked cowboy boots, a woman with dreads and a woman with a tiara and a woman with bright blue hair. A carnival of wonders for a kid from the boonies.
We would push our way through the 10th and Burnside doors, and the smell of paper and ink and glue (and oftentimes patchouli) would result in a sensory overload. I would feel jittery and starved. I cut through the Blue Room (which I loved, too, but always thought of as English class, home to all of the serious lit-a-ra-ture) and slowly, slowly made my way through the Gold Room, home to all the sci-fi and fantasy and thrillers and horror novels.
The smell there—sort of mildewy earthworm meets mottled paper—is one of my favorite smells. The horror aisle is shadow-soaked, far from any window. Over the next few hours I would pull down books and read them cross-legged on the floor and build a dark tower of paperbacks, the greatest treasure of my childhood.
I remember the first moment terror enchanted me. I was a kindergartener at Crow Elementary School, and in the library one day I pulled off the shelf the Universal Studios Book of Monsters. I flipped through its pages, studying the stills from Frankenstein, Dracula, The Mummy, The Wolfman. I lingered on the image of Lon Cheney, Jr. with his fanged underbite, his hoggish nose and shag carpeting hair, so long that it burned into my memory and haunted me later that night, when I cried out for my parents and could only fall asleep trembling between them. I knew terror—but I also knew the spike of adrenaline that came with it. The very next day at school I returned to that same corner of the library and cracked the book again, an addict seeking another hit.
I read novels for the same kind of thrill—to escape, to supplement the boredom of one life with the excitement and dagger-sharp danger of another. Sometimes the worlds merged. I would crawl through a drainpipe and imagine myself one of the children in Stephen King's IT. I would place a pencil on my desk and bring my fingers to my temples and focus for an hour, trying to move it with my mind, trying to channel the telekinetic powers of Carrie. I once stayed up all night—with my sheet wrapped elaborately around me like a cotton shield, a porthole for my mouth the only part of me exposed—because I was convinced the shadowy mass in the corner of my room was the creature from Dean Koontz's Watchers.
This is why I treated the Marshalls less as people and more as characters in a horror story I was building. Because I wanted to keep living the nightmare. The Marshalls were innocents. They could listen to U2—and no other contemporary rock—because of its Christian themes. They were forbidden to play Ghost in the Graveyard—a game of tag played at night with flashlights—unless we renamed it Baby in the Carriage. So I made a hobby out of ruining them. I told them a shadow-man, no doubt a demon, lived in our chicken coop. I taught them every swear word I knew. I read them the pinkest, sweatiest sex passages from the Clan of the Cave Bear novels. I dared them to smoke cigarettes, to drink the soda and eat the candy they weren't allowed—and then I wondered aloud what their parents would think if they discovered their wrongdoing. I was painfully bored, obviously twisted, and already practicing, I now realize, for a life as a writer. I identified the flaws, the weaknesses of my characters—and exploited them—like a thumb digging into the rotten spot of an apple.
I'm sorry to say that my sister suffered terribly. I would toss spiders in her hair, leap out of closets with my hands made into claws. I would shut off the lights when she was in the bathroom. I would creep up behind her in a demon mask and tap her on the shoulder and when she twisted around she would scream and then laugh and then hit me.
She had a collection of troll dolls. The ones with the bug eyes and the wild hair. And I would move them around, sneaking one under her pillow, another in her sock drawer, another into the cereal box so that it would tumble into her bowl, and when she asked if I did it, I would give her a dead-faced look and say, "What are you talking about?" One time I snuck into her room late at night and rearranged the troll dolls, all twenty of them, in a line next to her bed. When she woke the next morning she found them staring at her, one of them carrying a note that read, "BAD DREAMS," with the R and the S backwards (for trollish authenticity).
I invented an elaborate mythology about the roof people. They were lost souls, I said, caught in a kind of purgatory. They lived in attics and on roofs. They were jealous of the living, and if they could find ways to trick us, to hurt us, they would. At night I would crawl out onto the roof and scratch at her window and then scramble back to my room so that I was innocently sitting at my desk by the time she arrived there in an angry panic. I take it as a point of pride that she slept with the lights on until she turned twenty-seven.
Life became a campfire story. I lost myself to books and movies, and even when I climbed out of them, their shadows stole across my life. Indeed, I pursued archaeology as a possible career purely because I fell in love with the Indiana Jones movies. I owned a fedora and a leather jacket and a satchel in which I kept bones and arrowheads and precious stones. I even bought a bullwhip and would practice snapping Coke cans off fenceposts. Then I spent a summer scouting rock art sites for the Oregon Museum of Science and Industry—and another summer excavating a Paiute village with the University of Oregon. But there were no rolling boulders, no booby traps or car chases, no Nazis to do battle with, no lost Ark of the Covenant waiting for me. There were certainly no beautiful women. There were snakes; I killed many of them with spears and ate their rubber-bandy meat and kept their rattles for charms. But the glare of the sun on my back as I hunched over a patch of sand and scraped through inch after inch of it only to discover a bone chip took its toll. The dream dissolved.
I went through a mild crisis, uncertain what to do with my life, and during this time I retreated to the woods. This was the summer of 1998, when all of my college buddies went off to New York internships, and I worked at Many Glacier Lodge at Glacier National Park. I was the gardener, a curious thing to be at a national park, and aside from dead-heading geraniums and mowing the lawn, there wasn't a lot to do, so I spent most of my time on the clock sneaking into the women's dormitory and reading books and dreaming up stories in my toolshed. I had a leather-bound journal that I filled with my barbed-wire handwriting.
Most of these stories concerned bears. I saw them everywhere. When I mowed the lawn, I would count ten, twenty, thirty on the hillsides surrounding me, browsing for huckleberries. When I walked back from the employee bar at night, I would go stock-still and wait for the dark shape—the size of a VW bus—to trundle its way past me. When I camped in the back-country, I would grip my knife and feel terror at the huffing noises outside my tent. We clapped and sang songs when we hiked. We carried pepper spray, which most people called seasoning, whenever we left blacktop. At the start of the summer, when I first stepped off the train, lugging my duffel, a ranger greeted me with the news that one of my colleagues had died. A mother and her cubs had mauled him, eaten him, leaving behind only his spine and his boots (with the feet still in them). These same bears would stalk my roommate for ten miles, charging him and then turning away at the last second. They were later hunted down, the mother killed and the cubs relocated. Bears haunted me. I dreamed of them—fighting them, escaping them, succumbing to them, becoming them—with the same sort of imaginative energy I once applied to archaeology, and I drew from this dark well of experience when writing both my first novel, The Wilding, and my third, The Dead Lands.
But at this time, I was just playing around, dreaming with my eyes open—about bears and about a woman, a waitress who worked at the same lodge. She was five years older than me, a blue-eyed farm girl from Wisconsin. Every day, I wrote her a poem or a letter and snuck it into her employee mailbox. Sometimes I would spend the majority of my shift thinking about what I would write for her, pushing words around in my head. One day, when we were watching the sun set over the Rockies, she said, "You should become a writer," and I said, "Okay."
It was as though she had given me permission, clarified an impulse I hadn't been able to acknowledge or believe in, and I fell in love with her at the same time that I fell in love with the idea of devoting myself to the page. More than a decade later, you could say it's all been an attempt to impress a pretty girl, my then girlfriend, now wife.
* * * *
That was why I signed up for that first creative writing workshop, and soon enough I understood what my dead-faced professor meant when he said, "No genre."
Through his workshop—and the many workshops I took in the semesters to follow—I fell in love with writers I didn't know existed, the writers that now fill my own syllabi. Flannery O'Connor, Sherman Alexie, Tim O'Brien, Raymond Carver, Alice Munro, James Baldwin. Take a look at the standard table of contents in any short story anthology—I hadn't heard of any of them and I sought to remedy my ignorance. Every semester, on the first day, I heard the same warning, "No genre." Now I knew what the professors meant, and I no longer cared, because I was caught in the tidal swirl of literary short fiction and devoted myself to reading and writing it exclusively.
Sentences were now more than vehicles for information; I pleasured in the arrangement of their words and read them aloud as if they were songs. Structures did not march forward with a chronological doggedness; they were cyclical or modular or framed or even arranged backwards. Characters no longer acted purely in the service of plot; they flirted their way into digressions, lingered in conversations and on windowsills, and in doing so became more than puppets, but as alive as anyone I knew.
I used to take pride in how quickly I could read. Because I was committed to story, to discovering what happened next, I turned the pages so swiftly they made a breeze on my face. In college, for the first time, I deliberately slowed down. Because despite all the books I had gobbled up, I didn't understand the careful carpentry of storytelling. Reading became less of an emotional experience and more of a mechanical inquiry. I kept a pen in hand, scribbling so many notes the pages of my books appeared spider-webbed.
I finally understood my high school English teacher, Mrs. O'Shea. She did her best to teach me, and I did my best to resist her. I remember, when we were reading The Awakening by Kate Chopin, we got into a prolonged argument about symbolism. "The seagull doesn't mean anything," I said. "It's just a seagull. It's there for beach ambience."
I came across an essay a few years ago called "How We Listen to Music" by the composer Aaron Copland. He identifies three planes of listening. The first, the sensuous plane, is the simplest. "You listen for the sheer pleasure of the musical sound itself." I think it's safe to say that this is the way most people dial in to the radio—when blasting down the freeway or washing dishes in their kitchen—for background noise, something to tap their feet to, a way to manipulate their mood, to escape. I think it is also safe to say that this is the way most people read. Stories and music have that same potent, primitive force. We bend an ear toward them as distractions from the everyday.
The second plane he calls the expressive. The listener leans forward instead of leaning back. They discern the expressive power of the notes and lyrics. Are there Satanic messages and Lord of the Rings references nested in "Stairway to Heaven"? What does Bob Dylan mean when he sings, "Woozle wazzle weezel whoa"? What is the piece trying to say? What is the piece about?
The third plane most listeners are not conscious of, what Copland identifies as the sheerly musical. The way music "does exist in terms of the notes themselves and their manipulation." The rhythm, the melody, the harmonies, the tone colors—the principles of musical form and orchestration—what you can only identify through training and deep concentration.
Not all at once, but slowly, slowly, like a snake shedding its skin, I broke through each of these planes as a writer by first becoming a strenuous reader, able to engage with a text with critical literacy. Whereas before, I was committed purely to the sensuous, I could now recognize the larger orchestration of notes, the mechanics of the component parts. I understood that the seagull was in fact much more than a seagull—so that I am now able to bow my head and say, Mrs. O'Shea, I'm sorry.
Years passed. I sold many of my dragon and ghost and robot books back to Powell's and used the in-store credit to fill the empty space on my shelves with Andrea Barrett and Joan Didion and Rick Bass and Harry Crews. I entered graduate school. I woke up every morning before dawn to write. I fell asleep every evening with a book on my chest and ink spots on my sheets. I began to publish regularly in small literary journals.
And then one day I realized I was bored.
* * * *
In 2003, when I was muscling my way through grad school, Michael Chabon edited a book called The McSweeney's Mammoth Treasury of Thrilling Tales. All of the stories—written by Aimee Bender, Dan Chaon, Kelly Link, Stephen King, Elmore Leonard, and many others, a fine mix of so-called "literary" and so-called "genre" writers—leaned into daring plots and narrative action, battling back against the current trend toward stories that were "plotless and sparkling with epiphanic dew," as Chabon writes in his introduction.
Sherman Alexie wrote about zombies. Jim Shepard wrote about a giant shark. Kelly Link wrote about witches. Rick Moody about drugs that sent you back in time to relive memories, Nick Hornby a magic VCR that fast-forwarded into an apocalyptic future. I was spellbound. Not because the stories are earth-shakingly good (though some are), but because Chabon ganged together all of these heavyweights and asked them to write the kind of stories that made them want to become writers in the first place.
When I imagined my own name on the table of contents, when I wondered what kind of story I would have written for Chabon, I felt a surprised recognition, as if I had flipped open an old photo album and spotted an image of me I forgot existed. This was what I wanted to do, this was the kind of writer I hoped to be, but somewhere along the way I lost the path. My classes, while very valuable to me, taught me to fetishize sentences and theme and character. Nobody ever used the word "plot," as if it were something rank or forbidden. And nobody in my workshop ever snuck a zombie or a zeppelin or a giant shark into their stories for fear of being labeled genre, the ultimate insult in so many creative writing programs.
I then read Chabon's epic Pulitzer Prize-winning novel The Amazing Adventures of Kavalier and Clay—a wonder of escapism that held nothing back, its language as magically exuberant as the plot that revolved around comic books, Nazis, golems, Antarctic battles—I understood him as a writer who transcended boundaries.
These days, literary fiction is largely owned by the academy, and academics are obsessed with taxonomy. Go to the Associated Writing Programs (AWP) conference some time if you want proof of this. Most of the panels consist of people trying to figure out what to call something—postmodernism, new masculinity, magical realism, post-industrialism—Midwest writer, mother writer, Asian writer, Caribbean writer, war writer—and whatever that label might require. I know it makes people feel better in a neat-freaky sort of way. Like balling their socks and organizing them in a drawer according to color. And I know it's a talking point, a frame for discussion. But really, you nerdy fussbudget, when you start to worry over whether someone is literary or genre, or literary crossover (whatever that means), you are devoting valuable brain energy to something that ultimately doesn't matter. These are phantom barricades that serve only to restrict.
What is Michael Chabon? What is Margaret Atwood? Or Kate Atkinson? Or Cormac McCarthy? Or Octavia Butler? Or Peter Straub, Larry McMurtry, Ursula K. LeGuin, Tom Franklin, Susannah Clarke? Or, or, or? You could argue these writers into several different corners of the bookstore, and the same can be said if you look even further back—before the rise of the creative writing program—at the canonized likes of Shirley Jackson or Raymond Chandler or Ray Bradbury or Nathaniel Hawthorne or Henry James. If I am going to align myself with anyone, it's them. And anyone else who makes an effort to be both a writer and a storyteller, someone who puts their muscle into artful technique and compulsive readability.
Realism is the trend. That's what Chabon helped me realize. That's what the academy—the institutionalization of creative writing—has forgotten. Look back on the long hoof-marked trail of literature. The beastly majority of stories contain elements of the fantastic. It's only very recently that realism has become the dominant mode. And that's changing. Thanks to people like Chabon, who has been a cheerleader for plotted fiction, for more hybridized vigor and playfulness, and thanks to the rise of writers like George Saunders and Karen Russell and Kevin Brockemeier and Kate Bernheimer, who are neither fish nor fowl, both literary and genre. Call it the Avengerization of literature.
* * * *
In fifth grade, for Christmas, I gave my teacher a Mason jar full of neon-green ectoplasm dotted with plastic spiders. Her desk was festooned with glittery gift bags, ribboned boxes, a fruit basket padded with cotton balls meant to look like snow. I did not wrap the Mason jar, so Mrs. Hen knew what she was getting, but still she asked me, "What is it?"
"It's a jar full of ectoplasm," I said this proudly. "With spiders." At home, on my bedside table, I kept my own jar, and every night I would hold the goo up to my lamp and make it glow, rotating it in my hands, studying the dark matter speckling it. I considered it pretty much the coolest thing ever, right up there with my Tales from the Crypt comic collection and the poster on my door of an alien tearing through a door.
Mrs. Hen picked up the jar, tipped it at an angle that matched her cocked head, and together we shared a quiet moment as the ectoplasm oozed and found a new shape. A bubble burped from its bottom. "It's so . . ." Mrs. Hen said, and that's all she said, because the bell rang and she stood from her desk while I scurried to mine.
If the bell did not ring, if that moment in time extended itself another few seconds, what might Mrs. Hen have said? It's so . . . extraordinary? beautiful? arousing?
I like to think so. I like to think she still has the jar on display, maybe in some prized location, the fireplace mantle, the centerpiece at the dining room table. But I know better. I know, in all likelihood, she would have said, "different."
The jar was different. I was different. This is a word I hear often in the Midwest—in response to a film, a book, a spicy dish of food—their meek way of saying, "Not good, weird, abnormal."
Sometimes people ask about my parents. As if I grew up in a cobwebby Victorian with bats in the attic and chainsaws in the basement. As if I were a product of them, like Eddie Munster or Pugsley Addams. But this is not the case.
If I am a product of anyone, it is writers like Ray Bradbury, Octavia Butler, Stephen King, Richard Matheson. Whether parents or gods, they are legion, storytellers with marred minds that begat altered realities more compelling and somehow truer than life. They were different, and I read them in the poorly lit corners of libraries and I read them in bed when storms boomed outside, sometimes spending more of my daydreaming in a book than engaging with the world. Their pages were like holographic chambers full of dragons, ghosts, aliens that became my reality, rewiring my brain to celebrate and anticipate the fantastic.
When hiking in the woods, I would strike a tree with a stick three times and tell my sister that was how you called Bigfoot. When playing on the beach, I imagined the long tuberous seaweed as the tentacles of a kraken. When eating at a restaurant, the waiters and the chef became cannibals who in the kitchen kept a storage locker full of bodies from which they hacked steaks and chops. I am different, and it is this difference that compels me to propose an aesthetic barometer. Let's call it the Exploding Helicopter clause.
If a story does not contain an exploding helicopter, an editor will not publish it, no matter how pretty its sentences and orgasmic its epiphany might be. The exploding helicopter is an inclusive term that may refer, but is not limited to giant sharks, robots with lasers for eyes, pirates, poltergeists, were-kittens, demons, slow zombies, fast zombies, talking unicorns, probe-wielding Martians, sexy vampires, barbarians in hairy underwear, and all forms of apocalyptic and post-apocalyptic mayhem.
I'm joking, but I'm not. I'm embracing what so many journals and workshops seem allergic to . . . Go ahead. Complain about genre. You're allowed. The worst of it features formulaic plots, pedestrian language, paper-thin characters, gender and ethnic stereotypes and a general lack of diversity. I, too, cringe and stifle a laugh when I read lines like this one: "Renowned curator Jacques Saunière staggered through the vaulted archway of the museum's Grand Gallery."
But while we're at it, let's complain about literary fiction. The worst of it features a pile of pretty sentences that add up to nothing happening. Maybe a marital spat is followed by someone drinking tea and remembering some distant precious moment and then gazing out the window at a roiling bank of clouds that gives them a visual counterpoint to their heart-trembling, loin-shivering epiphany.
It's easy to grouse and make fun. Flip the equation and study what works best instead. Literary fiction highlights exquisite sentences, glowing metaphors, subterranean themes, fully realized characters. And genre fiction excels at raising the most important question: what happens next? What happens next? is why most people read. It's what made us fall in love with books and made some of us hope to write one of our own some day, though we may have forgotten that if we've fallen under the indulgent spell of our pretty sentences.
Toss out the worst elements of genre and literary fiction—and merge the best. We might then create a new taxonomy, so that when you walk into the bookstore, the stock is divided according to "Stories that suck" and "Stories that will make your mind and heart explode with their goodness."
So many years ago, I was lucky enough to study under Barry Hannah, whose voice in person and on the page was equivalent to a jazz saxophone on an ear-burning riff. On the final day of workshop, I asked him if he had any parting wisdom, and he licked his lips and narrowed his eyes and gave me the best advice of my life: "Thrill me."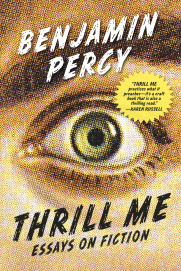 From THRILL ME. Used with permission of Graywolf Press. Copyright 2016 Benjamin Percy.
---