The Best Books of 2021 You May Have Missed
Bethanne Patrick Recommends Some Under-the-Radar Must-Reads
I've been writing this column for seven years, now, and it never gets old for me. Getting to sift through each previous month's fiction titles is the best kind of treasure hunt, always rewarding and sometimes astonishing. For the second year in a row I'm gathering up my favorites from the previous 12 months. I won't insult any of the books I've chosen by claiming the ones here are "best," but I will say that to be labeled one of my favorites they have to be books that have stayed with me, continued to resonate—which really is the "best" kind of literature. See you in 2022, and happy holiday reading to all.
JANUARY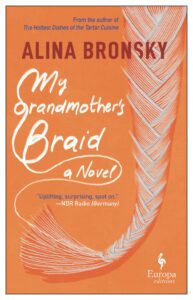 Alina Bronsky, translated by Tim Mohr, My Grandmother's Braid (Europa Editions) 
Bronsky had me on her first page, with the sentence, "I was nearly six, and I knew a thing or two about love." When Max, who lives with his grandparents in a German home for refugees, sees that his grandfather has fallen hopelessly in love with their neighbor Nina, he and the reader both know that chaos will ensue. Max's titular grandmother is unforgettable, and not because she's a sweet old lady. More like a nasty old lady, who hates Jews: "Not because of Jesus of anything. I have genuine, personal reasons." This, despite gaining refugee status by claiming to be Jewish.
Although My Grandmother's Braid starts out with the acerbic comedy of The Hottest Dishes of the Tartar Cuisine, Bronsky's bestselling debut, it morphs into something richer and sweeter. That doesn't mean happier, not with Bronsky, but in this book the theme of survival sends small shoots toward the future.
FEBRUARY
Aliya Whitely, The Loosening Skin (Titan Books)
Whiteley's work technically falls into a category called "weird fiction," and if you don't know what that is, that's OK, because some of its creators don't, either. It can be defined as a mode of speculative fiction in which some transgressive element is introduced. Think China Miéville, Jeff and Ann VanderMeer, and Karen Joy Fowler, but also think Poe, Lovecraft, du Maurier, and many others. In any case, the British Whiteley here introduces us to a society where humans regularly moult. Celebrity bodyguard Rose Allington has a rare disease in which her "moults" come more quickly than most, and that's difficult, because each time you shed your skin, you lose the previous one's attachments and memories. Rose's former client Max has started taking Susuctin to prevent moults. When one of his previous moults turns up on the black market, he turns to Rose to. . . save his celebrity skin.
MARCH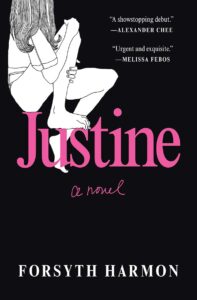 Forsyth Harmon, Justine (Tin House Books)
Forsyth Harmon's illustrations that grace the pages of Melissa Febos's wondrous Girlhood also feature in this, Harmon's debut novel about 1990s Long Island girls. Her eerily accurate but also slightly askew sketches of Diet Coke cans, bikinis, and Danone yogurts tubs add a great dimension to the coming-of-age narrative, rarely matching up exactly with events but haunting every step of protagonist Ali's way. The Justine of the title is another local teenager who works as a supermarket cashier; from the blondish roots of her black bob to the tips of her skinny toes, her spooky qualities attract and repel so fiercely that Ali immediately applies for her own job as a cashier. She starts to hang out with Justine, learning the other girl's shoplifting secrets (put your old shoes back in the shoebox and walk out of the store like you mean it) and anorexic metrics (keep calories below one thousand per day and consume mostly protein). Finally, a book about remembering your first serious crush that's not about fulfilling any cishet tropes.
APRIL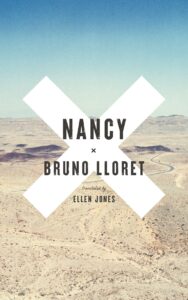 Bruno Lloret, translated by Ellen Jones, Nancy (Two Lines Press)
Lloret's debut, published in 2015 when he was just 25, won the Bolaño Prize, deservedly so, because the eponymous narrator's urgent voice combined with the author's experimental forms make Nancy a must read. Riddled with cancer and heavily medicated, Nancy has returned to her home in Chile to wait for death. But her consciousness has other ideas, returning her far back to a time in her life when joy was like ripe fruit within reach of her able fingers. Her memories arrive less like stream of consciousness than like moments of elimination (at one point she urinates for "three whole minutes, nonstop"), sometimes stopping at her alcoholic husband's actions, sometimes at her awful mother's abandonment of her family, sometimes at her father's bolting with a pair of Mormon missionaries, sometimes going on and on about pain and loneliness but always with an edge that reminds you while Nancy may be dying her memories and experience are real.
MAY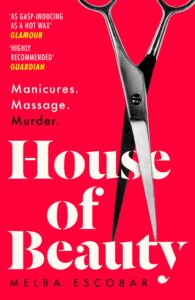 Melba Escobar, translated by Elizabeth Bryer, House of Beauty (Fourth Estate Books)
"No matter where I've travelled, I've always been someplace else," says the half-French Claire, who lives in Bogotá, but at 59 has wearied of her city. When she meets Karen, a masseuse at The House of Beauty in Bogotá's exclusive Zona Rosa neighborhood, she becomes fascinated by the younger woman's story—which at first encompasses them both in their views of Colombian standards of femininity and beauty. Soon, Claire hears about how much Karen and the other technicians at The House of Beauty (which one Doña Fina has run for 45 years) know about their clients. Not just who has hair extensions or a set of moles, but who is cheating on their spouses, who has money troubles, and much more. When Karen becomes the last person to see a teenaged girl who winds up murdered, more than waxed skin comes under scrutiny. This international bestseller is worth its hype, a gutwrenching look into a country teeming with corruption, but also with humanity.
JUNE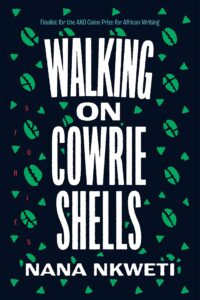 Nana Nkweti, Walking on Cowrie Shells (Graywolf Press)
Walking on Cowrie Shells is one of those books that has been on every most-anticipated list. It was a finalist for the Caine Prize. It has blurbs from Karen Russell, Andrew Sean Greer, Carmen Maria Machado, and Yaa Gyasi. So why haven't you read it already? Probably because you were too busy skimming all those Beach Reads lists (and, guilty, since I wrote at least two of them). Toss aside your easy, breezy summery paperbacks and pick up this one, instead. Nkweti is a Cameroonian American writer whose debut stories invert genre, plot expectations, and even reality as she juggles zombies, mermaids, grifter teens, and a graphic novelist attending Comic Con with, I risk the cliché to add, the greatest of ease. And although she's got serious writing chops and serious subjects to deal with, Nkweti is incredibly funny, almost effortlessly funny, the kind of writer you'll follow through despair and loss and grief and much, much more.
JULY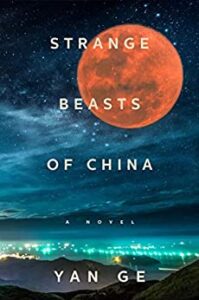 Yan Ge, translated by Jeremy Tiang, Strange Beasts of China (Melville House)
Another oddity for the literary taste buds involves another fictional city, in this case Yong'an, in China. Narrated by an amateur cryptozoologist, we learn that she's finding out more about the city's fabled beasts, who are sorted into nine different groups: Sorrowful Beasts, Joyous Beasts, Heartsick Beasts, and more. Each chapter begins as taxonomy, with descriptions of a particular beastly physique, qualities, likes and dislikes (the Sorrowful Beasts are partial to vanilla ice cream and tangerine pudding, e.g.), and then turns into a story about a human encounter with one of the beasts. If the categorization and repetition involved seem a bit jejeune, consider that the author was just 21 when this, her second novel, was published in 2006 in China. Such is too often the fate of literature in translation, especially literature as lively as this, that portends authorial growth and mastery. When will we get to read the next Yan Ge novel? She's now written thirteen of them!
AUGUST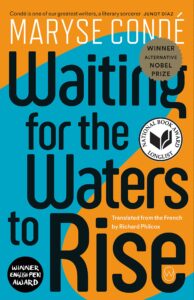 Maryse Conde, translated by Richard Philcox, Waiting for the Waters to Rise (World Editions)
This book comes from the esteemed winner of the 2018 Alternative Nobel Prize, and it's just plain ridiculous that she isn't up for a "real" version thereof. Condé, who is from Guadeloupe and writes in French, has won many other awards for her novels examining race, gender, colonialism, and more. In this, her 18th novel, the protagonist is Babakar, a doctor living alone in Guadeloupe who dreams of his childhood in Mali. When he becomes the guardian of a little girl whose mother died in childbirth, they fly to that mother's home country of Haïti where he hopes to help the child Anaïs find family. Babakar, a Haitian man named Movar, and a Palestinian man named Fouad all begin to search for Anaïs's kin in a story as much about what is possible between cultures as what is desperate about Haïti.
SEPTEMBER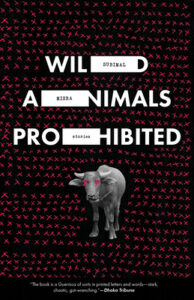 Subimal Misra, translated by Venkatasmar Ramaswamy, Wild Animals Prohibited (Open Letter)
This collection of stories from the 1970s and 1980s offers readers in English the sublime chance to read Misra's work. An artist who called himself an "anti-writer," Subimal Misra broke as many narrative rules as he possibly could, not simply to challenge literary convention, but to challenge societal injustice. Things happen quickly in his stories. A character who might seem jovial and sympathetic does something casually cruel without breaking stride. Someone watching another person suddenly inserts himself in her life, grotesquely but involuntarily.
However, Misra has declared "The emphasis is not on what I say, but how I say it," and it's through his many kinds of narrative pastiche and college that he draws readerly attention to the darkest edges of his concerns. One story uses reportage, another plays with font size, still another employs the heightened language of women's magazines to remind readers of the hypocrisy built in to society when it comes to femininity. Devotees of experimentalism will easily see Misra's homage to Godard in these stories. What's less easy to see and perhaps more important is Misra's anger at how easily those with resources ignore those who lack them.
OCTOBER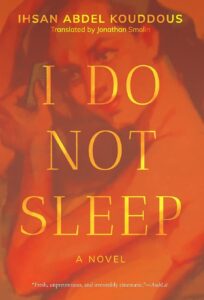 Ishan Abdel Kouddas, translated by Jonathan  Smolin, I Do Not Sleep (Hoopoe Editions)
This shouldn't require much more introduction than "This is the Egyptian Lolita" because, when Kouddous released it in the 1950s, that's how it was received. Both novel and film adaptation caused an uproar, with the narrator Nadia's look back at her 16-year-old revenge behavior scandalous. However, Kouddous's prose deserves more than simple comparisons to Nabokov's. Ihsan Kouddous, trained as a lawyer and employed as a journalist, wrote fiction about the Arab world way ahead of its time, pared down and powerful (he argued for a new literary Arabic that would eschew formalities and flourishes). His Nadia reminds me of Marcy Dermansky's Bad Marie, of Leila Slimani's The Perfect Nanny, of Ottessa Moshfegh's Eileen, of so many women whose function as unreliable narrators is more about the patriarchy than about them—yet those women still have so many flaws.
NOVEMBER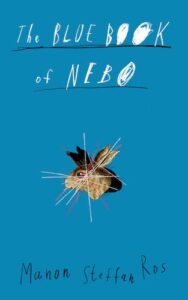 Manon Steffan Ros, The Blue Book of Nebo (Deep Vellum Publishing)
The Welsh novelist Manon Steffan Ros has won almost every prize her country has for writers, and won some of them more than once; her new The Blue Book of Nebo won the 2019 Wales Book of the Year in three categories, after garnering the 2018 National Eisteddfod Prose Medal. Ros asks, in Nebo, what happens to human relationships after a nuclear disaster? Her protagonist Rowenna has survived along with her son Dylan, in a secluded corner of rural Wales. As they gain strength and new skills, the balance between the parent and child changes—especially when a new baby, Mona, arrives. The title refers to a notebook (named after their town) in which mother and son record their thoughts and observations, a kind of dystopian closed-camera device. As 2021 draws to a close, a year stranger than most of us thought it would be, Ros's quiet faith in quiet things, like cooking and mending, has appeal.
DECEMBER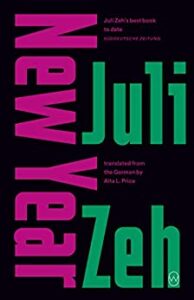 Juli Zeh, translated by Alta L. Price, New Year (World Editions)
How could I resist a book you might have missed in December with the title New Year? The prolific and award-winning German thriller novelist Juli Zeh places readers in Lanzarote, The Canary Islands, on a New Year's Day when a man named Henning is out for an athletic bike ride. On reaching the Femés pass, a combination of untreated anxiety, middle-aged life stressors, and a strange coincidence lead Henning to a triggered memory about childhood. The eeriness of the landscapes' familiarity and the trauma of what nearly killed Henning and his sister highlight how difficult it can be to integrate past pain into adult existence. It's a tale of psychological dread that nonetheless retains visceral unease, and a terrific read for a winter's day when you feel completely safe and warm at home.
---