The Art of Belief: On Talking to the Dead in Lily Dale
Laura Maylene Walter Considers the Future of the Living
In June 2017, I made a day trip to the Lily Dale Assembly, a spiritual healing community in western New York where mediums work to dissolve the barriers between this world and the next. I went for my writing. I went for the memory of my mother. Most of all, I went to explore the limits of my own skepticism and belief.
Lily Dale lies on the east bank of the Upper Cassadaga Lake, a tiny community of Victorian homes roughly an hour's drive from Buffalo. A few hundred people live in Lily Dale year-round, but it's the summer season that breathes life into this place of the dead. That's when more than 20,000 visitors—pre-pandemic, at least—descend upon the grounds to attend workshops, religious and healing services, public demonstrations, and private sessions with mediums who claim to communicate with spirits.
An invitation from the nearby Chautauqua Institution to teach a writing workshop brought me to the area for the week, but it was my novel, Body of Stars, which was still in progress at the time, that pushed me to set foot on the Lily Dale grounds. In Body of Stars, the patterns of moles and freckles on women's bodies foretell the future. The professionals who interpret the future from those markings are concentrated in a particular city district, so I saw parallels between my invented world and what was happening at Lily Dale.
Admittedly, fortunetellers and mediums are not synonymous—Lily Dale is all about connecting with those who have passed, while my novel is about the future of the living—but there were enough similarities to pique my curiosity. I wanted to walk the Lily Dale grounds and imagine I was entering the world of my novel, a place where the impossible is made real. And to explore Lily Dale fully, I'd have to go all in. I'd have to pay someone to tell me of my dead.
*
The Lily Dale Assembly website denies responsibility for the fees charged by its onsite mediums or for the "usefulness" of any reading made on the premises. Mediums are registered in Lily Dale but otherwise operate independently, and clients are encouraged to research mediums first to find the best fit.
Despite this guidance, I elected not to do much research or make an appointment in advance. I wanted to stay anonymous to ensure the medium I hired couldn't look me up and pull information from the many personal essays I've published online (a process known as a "hot reading"). I settled for strolling the streets of Lily Dale in search of someone available to take walk-in clients. As it was the week before the official start of Lily Dale's season, I had to wander for quite a while in the June heat.
A few hundred people live in Lily Dale year-round, but it's the summer season that breathes life into this place of the dead.
Finally, I found a medium who was not only available but who had an advanced degree in counseling, which meant I could convince myself I was shelling out $85 for a half hour of therapy rather than chicanery. I scrawled my first name on the sign-in sheet and sat in the waiting room. I was thinking of my mother, who'd been dead for sixteen years at that point. She would have loved Lily Dale. If she were still a part of the earthly plane, in fact, she'd probably look around that medium's house and say to me: What took you so long?
The medium finally appeared and led me into her office. She was in her fifties, with neat gray hair, pink nails, and a prominent amber ring on her right index finger. She looked like someone I'd meet for coffee to discuss books or writing. I sat in a plush armchair, my gaze going to the tissue box in a pretty cloth cover by her side. That was something people often did while visiting mediums—they cried. I'd read about it in online testimonials.
The medium put a fresh disc into a CD player to record the session, a "gift" that was included in my fee. And then she began.
*
In the years since my mother died, I have talked about her and written about her, but I generally don't share this: She believed in the spirit realm, that the veil between the living and the dead could be thin or even nonexistent. Now, I worry how her fascination with psychics, spirits, and mediums makes her sound. I want to protect her, especially since she's no longer here to speak for herself.
My mother was sharp and funny, independent and ambitious. She earned a master's degree in music education and embarked on a teaching career in New York while the rest of the young women from her tiny Pennsylvania coal-mining town married immediately after high school. My mother didn't marry until she was twenty-eight, an age she claimed classified her as an old maid in her world. She stopped working to raise children, but she never stopped learning. She pursued her interest in writing by studying craft, learning about publishing, and drafting novels. Only months prior to her death, when she was freshly divorced and ready for a new career, she completed the prerequisites to begin a master's program in psychology.
Today, I attribute not only my work ethic and tenacity to my mother's influence, but also my views of religion and even my skepticism. When I was a teenager, she started questioning why she worshipped as she did. She determined that she was only Lutheran because her parents were before her and theirs before them. She began exploring other religions, and in the process, she showed me that the strongest form of belief benefits from intention and self-examination.
Lily Dale is all about connecting with those who have passed, while my novel is about the future of the living
And yes, she was also drawn to the unknowable and was fascinated by psychics, mediums, and New Age concepts. Perhaps this was why I wrote a novel where the future is foretold through the bodies of women, even though I don't personally believe in fortune telling and I think most psychics mislead people for profit. Through fiction, I could I subvert my own skepticism and seek mystery and magic.
*
The medium mentioned my mother five minutes and thirty seconds into the reading. It's right there on the recording: "Is your mother a spirit? Is your mother passed? Because your mom is stepping in," she told me.
For a fleeting moment, I looked over at the box of tissues and wondered if I might need them after all. Maybe something extraordinary was about to happen in that room. Maybe, against all odds and reason, my mother was there in spirit form, waiting to talk to me.
That moment passed as the medium described my mother and our relationship in vague generalities. Nothing felt specific or true. I found myself wondering how many women around my age came to Lily Dale because they'd lost their mothers. Maybe I was marked. Maybe that loss was written all over my face or in the way I carried myself, everything about me screaming motherless. Why else would someone pay nearly three dollars a minute to listen to a woman pull stories from the air?
In the end, the medium mostly told me about myself. She claimed I'm prone to déjà vu, that I contain wisdom beyond my years, that I value truth, and that I'm empathetic, intentional, and strong—broad, flattering compliments that could probably apply to most people, especially those who seek out spiritual guidance at Lily Dale.
Throughout the reading I remained quiet, not wanting to offer much to help the medium craft her story, but I did reveal a few things. I shared that I worked for a public library, which led the medium to assume, incorrectly, that I worked in public services—a detail she structured much of her reading around. When she learned that I'm a writer, she presumed I was so inexperienced that I needed "a good seminar on publication." I didn't explain that I taught writing and publishing workshops, or that I'd recently signed with a literary agent, or that I was sitting in that room because of the novel I was determined to make my debut.
Still, there was that startling moment in the beginning when the medium brought up my mother. Maybe that was my problem. I didn't believe, I didn't believe, I didn't believe—until a tiny, tentative part of me wanted to.
After the reading, I stepped back into the summer heat, my complimentary CD in hand, and wandered the grounds in a melancholy fugue. I felt embarrassed for seeing a medium, and then I felt ashamed of that embarrassment because it seemed elitist. I was also frustrated that I couldn't discuss any of this with my mother. She was frozen as the person she'd been at the time of her death all those years ago, without the ability to evolve or grow. I had no way of knowing whether her views on mediumship would have changed, or even how she would have framed what this belief meant to her.
The medium mentioned my mother five minutes and thirty seconds into the reading.
Above all, I felt lonely. It was lonely to lack the comfort that would come from thinking my mother had crossed over to communicate with me. Things would be better and easier if only I could believe.
*
When I drove away from Lily Dale that day, I reentered not just the realm of the living, but the world of writing. In the week to come at the Chautauqua Institution, my workshop students and I would discuss story structure, character, plot, and creation. We'd talk about belief not as something implausible but rather as a fundamental part of our reading and writing lives. Most of all, we'd face the challenge of making our fiction feel real on the page—realer than real, even. To be experienced as truth.
Now, as Body of Stars finally enters the world, I view novel writing as an act of belief. This process demands faith not only in a fictional universe, but in the wildly unlikely possibility that the manuscript will ever amount to anything. To draft the first words of a novel with the hope that it might one day find a readership can seem as fantastical as speaking to spirits. But at least I don't have to be a skeptic in fiction. In fiction, I can make the art of predicting the future a tangible reality, and in the process, I can discover visceral emotional truths.
In fiction, I can conjure my dead mother if I wish. I might place her in the same room with me, perhaps in a medium's office in Lily Dale. I can watch as my mother leans forward to whisper into the medium's ear. What is she saying? In the room I hear nothing, but in my imagination she is right there. I craft her like words on a page. I believe in her as I believed in my own writing during those years I labored over my novel and its landscape of impossibilities—a novel that only now, after much effort and hope and faith, exists as a physical object I can hold in my hands. As something in which to believe.
__________________________________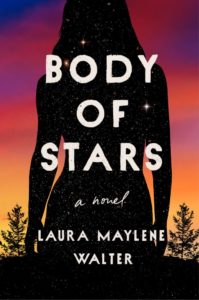 Body of Stars by Laura Maylene Walter is available now via Dutton Books.
---