The Annotated Nightstand: What Parini Shroff is Reading Now and Next
Zadie Smith, Susan Choi, Lily King and More
Parini Shroff's debut novel The Bandit Queens tracks its protagonist Geeta, a woman jilted by a crappy husband who left her without reason or his future destination. All he left her with was debt and suspicion. Geeta is simultaneously made victim and empowered by the subsequent rumor that she made him disappear, killing an abusive man who had made her life terrible. The difficulties of the gossip of mariticide in a small community are perhaps self-evident, but the benefits less so.
Mainly, the rumor helps maintain Geeta's sense of liberation—her business thrives as people are afraid to cross her, no man asks her to marry him. Yet, after a few years, the women in her village who struggle with similar domestic circumstances come to Geeta in the hopes she will train her murderous capacities onto their own horrible husbands. As one woman states, "we're middle-aged housewives. Who's more invisible than us? We can get away with murder. Literally." While set in rural India, the concept applies largely worldwide. Things, perhaps unsurprisingly, get more complicated despite this rationale for simplicity of the task at hand in conjunction with the women's visibility and role in society. A murder goes awry, bootlegging rings, betrayals. Behind all this looms the legend of the Bandit Queen, a figure whom Geeta reveres—a woman defined by narratives of injustice and revenge.
As the Publishers Weekly review states of The Bandit Queens, "Shroff deals sharply with misogyny and abuse, describing the misery inflicted as well as its consequences in unflinching detail, and is equally unsparing in her depictions of mean-girl culture in the village. Readers are in for a razor-stuffed treat."
Shroff tells us, "At times I give myself 'reading anxiety': there's not enough time to read every title I want to, therefore I shouldn't re-read a book. But there is cozy safety in returning to a beloved world, and there is adventure in experiencing a new one. These titles are a mixture of both. History, division and connection (especially in generational stories) fascinate me. And when an author pens dialogue that is doing double—even triple—duty, I return to those pages again and again to dissect and enjoy and learn."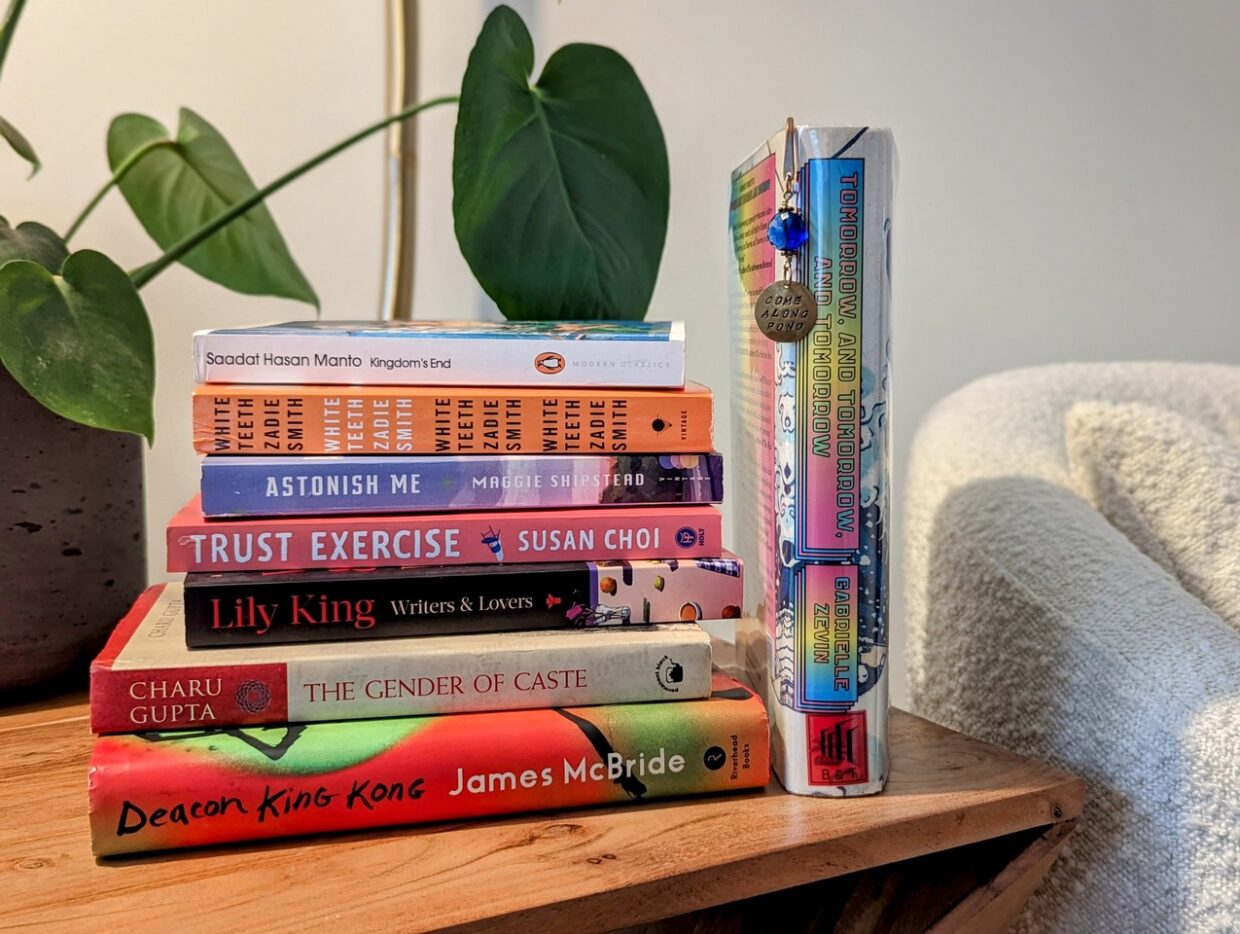 Saadat Hasan Manto (trans. Khalid Hasan), Kingdom's End: Selected Stories
Manto is one of the most famous writers in Urdu of the last century. He born in Punjab, India and eventually living in Pakistan after the partition in the late 1940s that created the two nations, Manto was actively against the partition and wrote of the social landscape and violence he believed the division created. He never faced punishment in these cases, save for one that culminated in a fine. Manto is known for several charges for obscenity for his writings, as he attended to concerns of sex work as well as sexual slavery. He said of his work, "If you find my stories dirty, the society you are living in is dirty. With my stories, I only expose the truth."
Zadie Smith, White Teeth
It still blows my mind Smith was only 25 when her first novel was published, much less when she wrote it. I remember reading what I then thought was an essay but now realize is a craft lecture by Smith in The Believer a while after White Teeth came out. This image has stuck with me, fifteen years later: "I think sometimes that the main reason for writing novels is to experience this extraordinary four and a half hours after you write the final word. The last time it happened to me I uncorked a good Sancerre I'd been keeping and drank it standing up with the bottle in my hand and then I lay down in my backyard on the paving stones and stayed there for a long time, crying. It was sunny, late autumn, and there were apples everywhere, over-ripe and stinky."
Maggie Shipstead, Astonish Me
Catherine Taylor's review of Shipstead's second novel in The Gaurdian states, "Shipstead delivers a melodrama that takes place in the all-consuming world of 1970s ballet. The events—a defection to the US and the broken hearts and more mediocre talents left in its wake—span nearly 30 years in less than 300 pages. Shipstead's astute, nimble writing barely misses a beat, any plot implausibility amply compensated for by her serious addressing of a devotion to artistic endeavour that crosses generations and captivates opposing individuals."
Susan Choi, Trust Exercise
The 2019 National Book Award Winner, Trust Exercise follows two artist teens who seem destined to be together, then it seems that this was just a story written by one of the teens as an adult—then actually someone else entirely. Sophie Gilbert in The Atlantic writes, "Trust Exercise is an elaborate trick; it's a meta work of construction and deconstruction, building a persuasive fictional world and then showing you the girders, the scaffolding underneath, and how it's all been welded together. It's also a work that lives in the gray area between art and reality: the space where alchemy happens."
Lily King, Writers & Lovers
King's novel follows a woman, Casey, in late 1990s Massachusetts. Casey and the characters of the novel are largely marked by loss (Casey the death of her mother, a love interest by the death of a child, another the death of a wife, another the death of the sister). How the characters connect because or in spite of their grief pushes the narrative along. How Casey pursues or is pursued by men, as well as how she pursues her dreams of being a writer, define the dimensions of the book.
 Charu Gupta, The Gender of Caste: Representing Dalits in Print
The jacket copy for this vital work of scholarship states, "Caste and gender are complex markers of difference that have traditionally been addressed in isolation from each other, with a presumptive maleness present in most studies of Dalits ('untouchables') and a presumptive upper-casteness in many feminist studies. In this study of the representations of Dalits in the print culture of colonial north India, Charu Gupta enters new territory by looking at images of Dalit women as both victims and vamps, the construction of Dalit masculinities, religious conversion as an alternative to entrapment in the Hindu caste system, and the plight of indentured labor."
James McBride, Deacon King Kong
It's hard to put down a copy of a book that is as thrilling on a sentence-level as McBride's Deacon King Kong. "Bad luck seemed to follow the baby wherever he went. . . . At age three, when a young local pastor came by to bless the baby, the child barfed green matter all over the pastor's clean white shirt. The pastor announced, 'He's got the devil's understanding,' and departed for Chicago, where he quit the gospel and became a blues singer named Tampa Red and recorded the monster hit song 'Devil's Understanding,' before dying in anonymity flat broke and crawling into history, immortalized in music studies and rock-and-roll college courses the world over, idolized by white writers and music intellectuals for his classic blues hit that was the bedrock of the forty-million-dollar Gospel Stam Music Publishing empire, from which neither he nor Sportcoat ever received a dime."
Gabrielle Zevin, Tomorrow, and Tomorrow, and Tomorrow
As with Choi's Trust Exercise, Zevin's novel Tomorrow, and Tomorrow, and Tomorrow follows two teens through young adulthood (though, blessedly, never a romantic relationship). Sadie, the genius, and Sam, the self-proclaimed sidekick, bond over videogames and making them together. The complications, however, do begin to accrue. As Tom Bissel writes in the New York Times Book Review, "This being the world—the video game world, especially—it's Sam whose work receives the lion's share of cultural and critical attention, despite Sadie's arguably greater contribution." What makes TaTaT special is it doesn't follow the obvious arc. Even though Sam convinces Sadie to make the protagonist a "he" so the game will sell, "[Zevin] draws out this long process of creative usurpation as being no one's fault in particular, and even takes pains to show Sadie's complicity in her own erasure. In a word, it's complicated, as most matters of artistic collaboration are."
---