The Annotated Nightstand: What Courtney Maum is Reading Now and Next
Featuring Rebecca Solnit, C.K. Chau and Colleen Hoover
There is something particularly compelling about horses, and we struggle to pin it down. They are special enough, at least, so that we've made it illegal to eat them in the US. There's a kind of majesty, power—these words that seem specific but also largely unhelpful at capturing the nuance of the feeling.
I read an article a few years ago about a rider who trained a horse owned by someone else, despite the owner thinking the horse wasn't going to develop all that well. Together, the horse and rider broke a previous champion's records in competitions. "I literally did the final bit [of one competition] with tears rolling down my face, because he is the sort of horse that gives you everything," the rider said. "He gives you everything, and I can feel the partnership and the connection. He is, like, with me."
Beryl Markham writes of this too, in West with the Night, regarding training racehorses. One breaks a record while running on injured legs hampered by a previous trainer. She writes of this race, "I see her sweep the final furlong on swollen legs, forging ahead, feeding [another horse] the dust of her hooves."
This interest and investigation into how horses can "give you everything" and be "with you" is, in part, what novelist Courtney Maum considers in her memoir The Year of the Horses. Driven largely by severe insomnia and depression that won't let up despite success, security, the trappings of a "happy" life, Maum finds herself riding horses to help chase the depression away. Riding is often "referred to as 'stealth therapy,'" she tells us.
This is largely because the horses recognize and reflect the emotions you carry. If you're stressed and anxious, the horse senses it and sends their version of that body language back. And there can be a danger there, especially if you're riding fast or far. "If you aren't calm, the horse won't be, either," Maum explains, "and denial doesn't get you far with a herd animal." When talking on the Between the Covers podcast about writing the book, Maum states, "all I was thinking about was it is interesting that at 40 years old, I'm a fearful person, struggling with anxiety, and galloping in an arena with five other people on horses at 30 miles an hour after a fall, and falling quite a lot is helping me. That's interesting." Her personal experiences are laid out alongside the history of horses and women, illustrating how the past echoes into the present.
Maum tells us, "My TBR desk pile is a spicy mix of books I'm reading for research for a fiction project, books I've been asked to blurb, books by friends (congratulations, friends!), books that I'm reading to help me find new and more positive ways of thinking about a racehorse I rescued last year who is proving really challenging to rehabilitate, and the Colleen Hoover is for a book club that I started with a writer friend for the sole purpose of trying to understand the 'CoHo' phenom."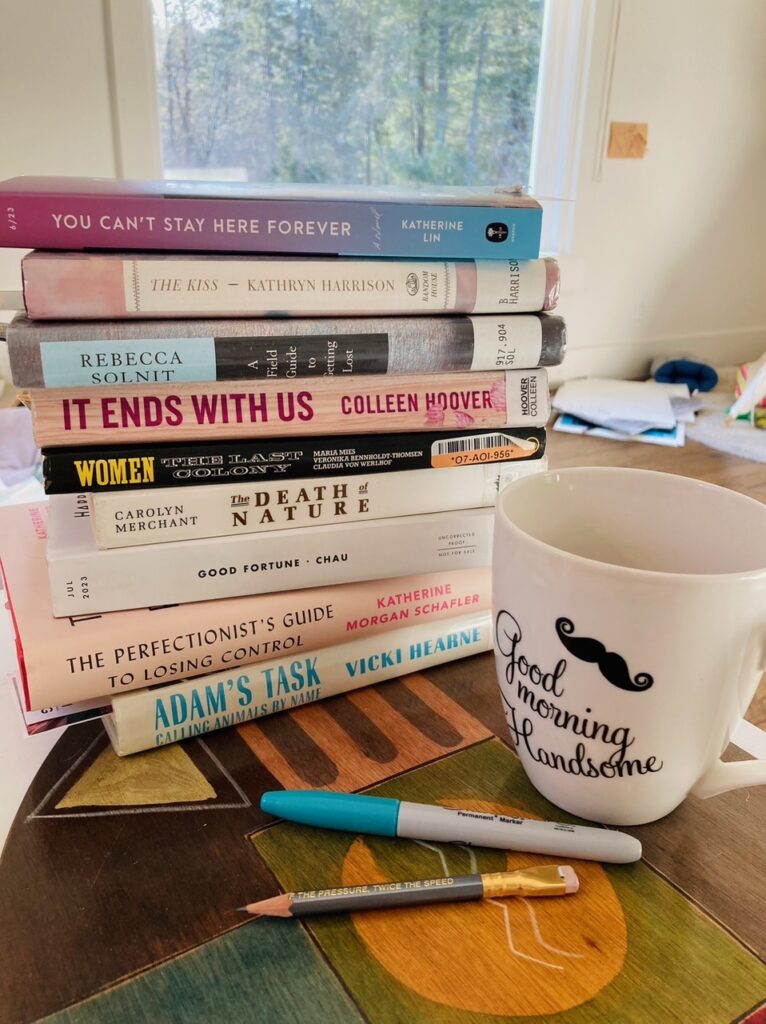 Katherine Lin, You Can't Stay Here Forever
This book isn't due out until June, so there's not too much about it that I can find. But the jacket copy makes it seem like an exciting debut: "Just days after her young, handsome husband dies in a car accident, Ellie Huang discovers that he had a mistress—one of own her colleagues at a prestigious San Francisco law firm. Acting on impulse—or is it grief? rage? Probably all three—Ellie cashes in Ian's life insurance policy for an extended stay at the luxurious Hotel du Cap-Eden-Roc in Antibes, France.
Kathryn Harrison, The Kiss
The Kiss describes a woman's experience of the phenomenon of genetic sexual attraction, which quickly turns into horrifying abuse from her father. Susan Cheever in the New York Times Book Review states, "The story of an intellectually powerful man and his consuming desire to ravish an innocent, almost preconscious, young woman (sometimes his daughter) has often been told—Zeus, Lewis Carroll and Humbert Humbert come to mind—but Kathryn Harrison turns up the volume, making this ancient immorality tale a struggle between good and evil, between life and death, between God and the Devil."
Rebecca Solnit, A Field Guide to Getting Lost
The writer and thinker (and regular contributor to LitHub!) has been a guiding light for many on everything from optimism to—in this case—the value of wandering and its many manifestations. In 2017, Solnit wrote an essay I returned to often in my mind entitled "The Loneliness of Trump." She described him almost as if he were a part of a fairy tale. "Once upon a time, a child was born into wealth and wanted for nothing," it starts. This jockeyed between literature and real-life experiences of her own. "[W]hen you are not willing to hear how others feel, what others need, when you do not care, you are not willing to acknowledge others' existence. That's how it's lonely at the top," she writes. "It is as if these petty tyrants live in a world without honest mirrors, without others, without gravity, and they are buffered from the consequences of their failures."
Colleen Hoover, It Ends with Us
When a book has over 2 million reviews on Goodreads and is clocking in at a 4.3-star rating, I can understand Maum's interest in trying to comprehend the phenomenon. In three years, the book sold over a million copies—and that was before the pandemic. At the beginning of last year, it was #1 on the New York Times best sellers list. In the novel, Hoover describes the complicated realities of a romantic relationship that becomes abusive—the cycles between tension, to terrifying rupture, to honeymoon, and then back again. Hoover explains: "I got the idea because of my mother's and father's relationship. She and he divorced when I was 2. I don't have a lot of recollections of what they went through, but I knew that he was abusive, and I never understood how it happened because she was such a strong and independent person. And I want to know how she got into that situation. I wanted to write the book from the perspective of my mother and how she went through it."
Maria Mies, Veronika Bennholdt-Thomsen, and Claudia Von Werlhof, Women: The Last Colony
I could find almost nothing about this book, a work from the late 1980s even the Internet has largely forgotten about. The WorldCat website, at least, gives us a taste from its table of contents. The titles are, in part: "PART ONE: Women's work and capitalism"; "Women's work: The blind spot in the critique of Political Economy"; "Capitalist development and subsistence production: Rural women in India"; "PART TWO: Colonization of women and nature"; "On the concept of nature and society in capitalism"; "PART THREE: Politics against women and women's struggles"; "The proletarian is dead: Long live the housewife!"
Carolyn Merchant, The Death of Nature
Considering the previous title has a section entitled "Colonization of women and nature," I can understand why Carolyn Merchant is also in this stack. I remember Merchant's thinking blowing my mind when I first encountered it. She writes, "The image of the earth as a living organism and nurturing mother had served as a cultural constraint restricting the actions of human beings. One does not readily slay a mother, dig into her entrails for gold or mutilate her body, although commercial mining would soon require that. As long as the earth was considered to be alive and sensitive, it could be considered a breach of human ethical behavior to carry out destructive act against it."
C.K. Chau, Good Fortune
Another novel that won't be out for some time—not until July. Pride and Prejudice is set in the modern moment and relatively different circumstances, with Darcy as, potentially, a kind of developer shark. The description tells us: "When Elizabeth Chen's ever-hustling realtor mother finally sells the beloved if derelict community center down the block, the new owners don't look like typical New York City buyers. Brendan Lee and Darcy Wong are good Chinese boys with Hong Kong money. Clean-cut and charismatic, they say they are committed to cleaning up the neighborhood. To Elizabeth, that only means one thing: Darcy is looking to give the center an uptown makeover."
Katherine Morgan Schafler, The Perfectionist's Guide to Losing Control: A Path to Peace and Power
The title of the book is pretty self-explanatory—but I was interested to learn about one of the people who blurbed it: Jean Kilbourne. Kilbourne did advocacy for media literacy, particularly regarding the ways in which women were displayed in advertising as shown in her docuseries Killing Us Softly: Advertising's Image of Women from 1979. Kilbourne says of Schafler's book, "A thoroughly original approach to this important topic. Grounded in research, the book uses stories from the author's years as a therapist to illustrate vividly that perfectionism is a phenomenon, not a disorder, and that it can be managed to increase one's power and joy. How I wish this book had been available years ago—it could have changed my life!"
Vicki Hearne, Adam's Task: Calling Animals by Name
The writer, poet, and horse and dog trainer's best-known book is Adam's Task, which attempts to illustrate the acumen of animals and their intelligences we largely don't recognize. In the Publishers Weekly review of the 2007 republication of the book, they write, "Through luminous anecdotes, she here develops rigorous and beautiful descriptions of the transactions between animals and people, what they entail and what the expectations-on both sides-are. Drawing on everything from Xenophon, Nietzsche and Wittgenstein to legendary Disney animal trainer William Koehler, Hearne anticipates the work of philosophers like Donna Haraway, but also provides of kind of training manual for the soul of anyone who has an animal or animals in his or her life."
---