The Annotated Nightstand: What Clint Smith is Reading Now and Next
Featuring Kwame Alexander, Ada Limón, Nicole Chung and more
Best known for his nonfiction book How the Word Is Passed: A Reckoning with the History of Slavery Across America, Clint Smith is a poet and writer for the Atlantic. How the Word Is Passed visits nine different sites that may, for one reason or another, give more depth of knowledge regarding the systemic brutality of enslavement in the United States, and how that impacts the modern moment. In the New York Times review of the book, Julian Lucas writes, "Never getting lost in his story's many thickets, Smith confidently interleaves the history of American slavery with his subjects' varied relationships to the institution's evolving legacy." The book won the NBCC Award for Nonfiction, and was a #1 New York Times bestseller.
Above Ground is Smith's second poetry collection, his first being Counting Descent—collection that tracks a kind of coming-of-age. Above Ground largely circles around being a parent, a complicated experience of persistent whiplash between wonder and terror in the best of circumstances. What gives Smith's fear a further dimension is bringing his two children into a life in the United States, and Black children at that.
As June Jordan states in her brilliant essay on Phillis Wheatley "The Difficult Miracle of Black Poetry in America," "America has long been tolerant of Black children, compared to its reception of independent Black men and Black women." This was published almost a decade before the murders of Trayvon Martin, Tamir Rice, the many Black children who are victims of police violence and whose names have made it into the national news. But Jordan's notion that there is greater tolerance of Black children than Black adults in this country still stands.
This is the humming terror behind many of the poems in Above Ground—what will happen to Smith's children through their childhoods, adulthoods, and how, above all else, to illustrate they are loved. In one poem, he describes grocery shopping with his infant child strapped to him. Caught up in the music over the speakers (Stevie Wonder), and apparently goaded by his baby, he begins to dance, "turn[ing] aisle seven into a medley of Motown throwback moves."
Eventually, he is soon approached by the manager who tells him, essentially, to stop. And yet Smith ends with, "we know we have put on a show the people will never forget," addressing his child directly. Considering the emotion the grocery clerk seems to want to conjure (at the very least, embarrassment), Smith's gesture back toward his infant and their love feels like a vital move.
Regarding his to-read pile, Smith tells us, "My to-read pile is a mix of galleys for books that are coming soon and books that have been in my queue for some time. I always try to have a mix of genres and subject matter (a memoir on grief, an examination on W.E.B. Du Bois's relationship to WWI, a YA book about basketball, a poetry collection from our US Poet Laureate, etc). I travel a lot for work and often do my best reading on planes and in airports, so one of these books is always with en route"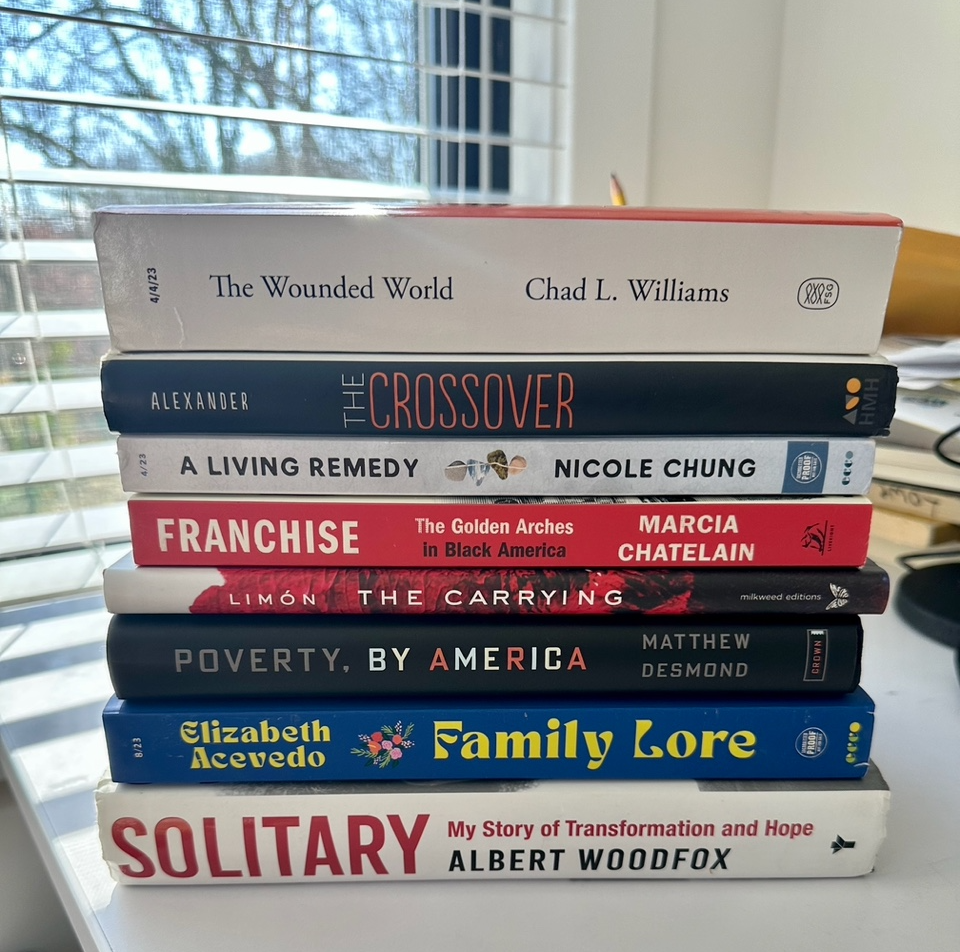 Chad L. Williams, The Wounded World: W. E. B. Du Bois and the First World War
The ways in which Black soldiers were (and are) used and misused in martial warfare by the United States is nothing new, but it was particular and novel during WWI. This book investigates this vexing history alongside W. E. B. Du Bois, who argued Black Americans should support the Allies. As the jacketcopy states, with this act, Du Bois "made a decision that would haunt him for the rest of his life. Seeking both intellectual clarity and personal atonement, for more than two decades Du Bois attempted to write the definitive history of Black participation in World War I. His book, however, remained unfinished. In The Wounded World, Chad Williams offers the dramatic account of Du Bois's failed efforts to complete what would have been one of his most significant works."
Kwame Alexander, The Crossover
The poet and children's book author Alexander marries the two pursuits in this Newbery Medal and Coretta Scott King Award Winning book. It feels apt another poet, Cornelius Eady, reviewed the book. He writes, "Josh and JB are twins, double trouble on the basketball court, almost 13 years old. When we first encounter them in Kwame Alexander's beautifully measured novel of life and lines, 'The Crossover,' they are deep into a year when everything changes. The story is written in verse, but have no fear: Here, poetry is in service to the interior and exterior worlds of Josh, who plays forward to JB's shooting guard."
Nicole Chung, A Living Remedy
When a book is on as many "most anticipated of 2023" lists as this one, you should sit up. From: Dallas Morning News, Today.com, Good Housekeeping, Time, The Rumpus, The Week, Salon, Seattle Times, Electric Literature, Bookpage, The Millions, Elle.com, Washington Post, Book Riot, LitHub, NPR's Here & Now, Ms. Magazine, Town & Country. The author of All You Can Ever Know tackles the issues of family from the concerns of illness and class—how when our loved ones are ill, particularly if they don't have supports like health care and liquid assets, they can get churned through a brutal system of "health" in this country.
Marcia Chatelain, Franchise: The Golden Arches in Black America
Chatelain won the Pulitzer Prize for History for this book in 2021. The Pulitzer committee states of Franchise, "From civil rights to Ferguson, Franchise reveals the untold history of how fast food became one of the greatest generators of black wealth in America. An estimated one-third of all American adults eats something from at a fast-food restaurant every day. Millions start their mornings with paper-wrapped English muffin breakfast sandwiches, order burritos hastily secured in foil for lunch, and end their evenings with extravalue dinners consumed in cars. But while people of all ages and backgrounds enjoy and depend on fast food, it does not mean the same thing to each of us. For African Americans, as acclaimed historian Marcia Chatelain reveals in Franchise, fast food is a source of both despair and power—and a battlefield on which the fight for racial justice has been waged since the 1960s."
Ada Limón, The Carrying
Limón, our current US Poet Laureate, has a recent excellent collection, The Hurting Kind. That said, The Carrying brought her a broader readership (and likely ferried her into her current position)—she won the NBCC for Poetry. Christian Wessels in The Kenyon Review writes of The Carrying, "Watching something grow in The Carrying becomes a life-affirming practice—a matter of ethics, an attempt to defy the ubiquitous death which pervades the news cycle, personal lives, as well as the imagination of this reader. Gardens, those cultivated spaces, feel sacred for this very reason. The poet knows another way to reaffirm life is write, to actuate the voices, names, and lives of those that can no longer (or never could) do so themselves."
Matthew Desmond, Poverty, By America
In 2016, Desmond won the Pulitzer Prize for his book Evicted, which followed eight families in Milwaukee through the wrenching experience of financial and thus housing precarity in the 2007-8 financial crisis. In her review in the New Yorker, Margaret Talbot writes, "'Evicted,' which won the Pulitzer Prize for general nonfiction, was almost universally acclaimed, praised especially for the vividness of its portraiture. So it's brave, in a way, that Desmond has chosen such a different approach for his bracing new book. Books about the poor are vital, he says; they do the important work of 'bearing witness.' But 'Poverty, by America,' he explains, is a book about how and why the rest of us abide poverty and are complicit in it. Why do many of us seem to accept that the problem is one of scarcity—that there is simply not enough to go around in our very rich country? Where there is exploitation, there are exploiters, and this time Desmond sees many more of them, including most of his prospective readers."
Elizabeth Acevedo, Family Lore
The National Book Award Winner for her 2018 book The Poet X—and the first woman of color to receive the Carnegie Medal for the same title, Acevedo has penned her first novel for adults. Julia Alvarez says of Family Lore, "Elizabeth Acevedo's Family Lore is a sweeping multi-generational story of a family of women whose special powers have helped them overcome personal, familial, and historical challenges that both bond them together and at times threaten to pull them apart but ultimately navigate them into the full abrazos of love. Acevedo is in full command of her special powers as a storyteller of compassionate, capacious and lyrical imagination."
Albert Woodfox, Solitary: My Story of Transformation and Hope
Woodfox was arrested and tried for a crime he didn't commit, along with another member of the Black Panthers, in 1972. He was put in a 6-by-9-foot cell for 23 of his 24-hour day. He endured solitary confinement off and on, in one of America's most notoriously brutal prisons, until his release in 2016. Ultimately, along with two others (the Angola 3), tried to bind together to maintain any sense of humanity in a place built to break them. Gabino Iglesias at NPR writes, "Solitary is a candid, heartbreaking, and infuriating chronicle of these years — as well as a personal narrative that shows how institutionalized racism festered at the core of our judicial system and in the country's prisons." Solitary was a finalist for the Pulitzer Prize and the National Book Award.
---