Terry McDonell Remembers Jim Harrison
"Eat or Die" Was His Motto
Jim Harrison's 2001 collection, The Raw and the Cooked, started as a column in the now defunct Smart Magazine which I founded in 1988. We had worked together before, and I asked Jim for anything he might want to contribute. He was already celebrated internationally as a novelist and poet of genius, but he said he wanted to write about food and the sad reality that "many of our failures in politics, art and domestic life come from our failure to eat vividly." He said "eat or die" was his motto, so why not.
He wrote about lunch at Ma Maison with Orson Wells in West Hollywood, cooking pasta puttanesca in the freezing Animas Mountains in New Mexico, and where to get the best fried bologna sandwich in Georgia. He wrote about his most extravagant meal in a piece that ran in the New Yorker in 2004. It documented a thirty-seven course lunch prepared by French chef Marc Meneau from recipes drawn from cookbooks published between 1654 and 1823. Jim's host and great friend, Gerard Oberle, was a notorious gourmand and dealer in illuminated manuscripts who was infamous for many excesses, like a dinner with fifty courses to celebrate his own fiftieth birthday. This time the fare started with a clear soup and ended with chocolate cigarettes leading into a medley of 7 deserts, and a "towering structure of every fruit imaginable, in every manner imaginable."
Jim's 70th birthday was significant gastronomical event as well, but it was private, except for the emails that went to some friends who would not be in attendance but would want to know that Mario Batali would be flying out to Patagonia, Arizona loaded with food and wine to prepare an appropriate meal.
Jim's 70th Birthday 'Festa'
December 11, 2007
Patagonia, Arizona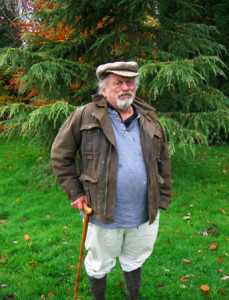 An extravaganza prepared by
Mario Batali
April Bloomfield
Adam Perry Lang
Guests
Linda & Jim Harrison
Philip Caputo
Laura Chester and Mason Rose
Jim Fergus
Jennifer, J.B. & Katherine Miller
Nick Reens
Johnna Turiano & Peter Lewis
Guy de la Valdène
TAPAS
Culatello
'Heart' of the Prosciutto
Alici marinati
Anchovies marinated and served with piquillo peppers
Devils on Horseback
Prunes marinated in black tea, stuffed with pickled pear,
wrapped in bacon and roasted
Chipirones
Baby squid and sweet prawns grilled, chopped, and marinated
with tarragon, chervil, bronze fennel, and shallot,
dressed in a prawn mayonnaise
Gougères
Gruyère and Parmigiana beignets
Morcilla
Pan-roasted blood sausage
Sobrasada
Soft pork sausage baked with quail egg
CENA
Insalata delle orecchie di maiale
Thinly-sliced pig's ear fried and tossed with red chard and curly kale,
dressed with a caper vinaigrette
Carbonara alla chitarra, tartufo bianco
Square-cut spaghetti tossed with guanciale, egg and Parmigiano-Reggiano,
served with shaved white truffle
Lasagna Bolognese
Pasta layered with meat sauce and beciamella,
served with shaved white truffle
Arista
Pork loin brined in cider, dusted with fennel pollen, and grilled with a quince glaze,
dressed with a black truffle vinaigrette
Finocchio alla Sambuca
Fennel bulb sautéed and flambéd with Sambuca and anchovy 
Mela cotogna arrosta
Quince roasted with sweet water and pink peppercorns 
Bleu de Basque
Ginger cake with whipped cream
VINI
2006 Tocai Friulano
Bastianich
2005 St.-Romain 'Sous le Château'
Christophe Buisson
2005 Bourgogne Vezélay 'Le Châtelane'
Domaine de la Cadette
2000 Fontalloro
Berardenga Fattoria di Felsina 3 liter
2005 Morellino di Scansano 'I Perrazi'
La Mozza   1.5 liter
1990 Brunello di Montalcino
Campogiovanni   1.5 liter
1937 Sauternes
Lur-Saluces Château d'Yquem
1937 Madeira 'Sercial'
D'Oliveiras
1935 Bas-Armagnac
G.-Joseph Laberdolive
When Jim sent the above menu, for what he called "Little Jimmy's" birthday dinner, he also sent a birthday poem:
On my 70th birthday reading Su Tung-p'o
in the predawn dark waiting for the first bird call.
"I'm a tired horse unharnassed at last," he said.
Our leaders say "connect the dots" but the dots
are the 10,000 visible stars up above me.
I loved that poem and noted that Mario had made sure that the Sauterne and the Madeira were from Little Jimmy's birth year.
---
Watch: A few months before Jim Harrison's death, Grove Atlantic associate publisher Judy Hottensen was able to spend the day with the award-winning writer.
---