Terrance Hayes Remembers Lucie Brock-Broido and Her Immortal Poetic Cats
"Cats purred seeking the contours of her language between their ears."
Lucie Brock-Broido, Born 1956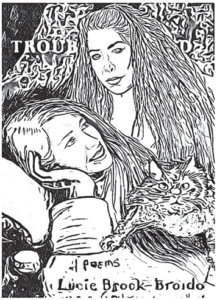 Sweet William, her immortal Maine Coon cat, claims all the cats left in Pittsburgh upon the take-off of Lucie Brock-Broido in the late Seventies, escaping smoke to smoke, were waiting when she returned to read poetry a rainy September evening in 2014. Sweet William communicates across time & space with all of Lucie Brock-Broido's cats. I am one of those cats. A few years before she became eternal poetry, I invited her to read for the first time in her career in her birthplace. The whole night I felt like I was apologizing & cursing the oversight of all the poets ever to purr in the city. The supernatural sunsets crowning the Appalachian foothills glittered on the rivers & all the cats of those foothills purred "ichor" instead of "blood" on the bridges of the city. Cats purred seeking the contents of her noctuary. Long live Jack Gilbert, Gerald Stern & Lucie Brock-Broido. Sweet William says the Maine Coon was incorrectly declared extinct about the time Lucie was born, but its origins are unknown. Cats purred seeking the contours of her language between their ears. Upon a recognition of her mortality, her cats devised strategies to keep her alive. Some took photos or wayward yard-long strands of her supernatural hair, some wrote memoirs about her care, some cats murmured on the bridges. I met her at one of those parties poets throw themselves when they are thrown together. "In the green rooms of the Abandonarium." In the green room of the garden party, in the green room of the robber baron's library. The Maine Coon is rumored to be the descendant of Marie Antoinette's orphaned cats & a colony of raccoons. Sometimes Sweet William says he is the bastard child of a Siberian ushanka & a Squirrel Hill shtreimel. When Lucie Brock-Broido read that rainy September evening four years before her passing, wisps of Vesuvian smoke stoked the overthrow of hair falling blonde upon her verbal okey-dokes, a wink & scope, smoke returning to smoke.
__________________________________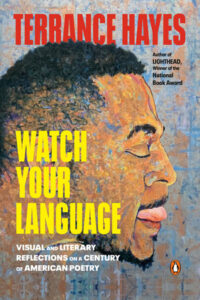 From Watch Your Language: Visual and Literary Reflections on a Century of American Poetry by Terrance Hayes. Copyright © 2023. Published by Penguin Books, an imprint of Penguin Publishing Group, a division of Penguin Random House, LLC.
---