TaraShea Nesbit on Reckoning With Ghosts, and Returning to the Same Story, Again and Again
"There is a backward-looking thing in all good stories and essays: a haunting."
We talk of plot and character as the two drivers of forward motion in stories and essays, but I'm growing more compelled to think there is a third thing, a backward-looking thing in all good stories and essays: a haunting. And since I started thinking about this idea I see haunting everywhere, like the palimpsest as a physical form on old buildings. I write research-based fiction often set in the past, because my interest in writing is how history haunts our present.
The more I read and write, the less I am interested in plot as an engine. The ineffable, the unexplainable, the mystery, which often produces a pleasing terror, and from that terror, reader's urgency to keep going down the dark alley. I love a story where the presence of the past will not go away, in part because that is our reality of memory, grief and trauma as a country—enslavement, interment, removal and murder—and as individuals.
I once heard Teju Cole describe, in the process of writing his novel, Open City, that he felt physically pursued by the narrator of his first novel for months after the book was completed. And then, when he finished the book, he experienced a sudden onset of partial blindness that struck him on the day he turned his book in to his editor.
Narrative pursues me, ghoul that it is, and I have come to understand that in many respects, try as I might to escape it, like a ghost, the same narrative preoccupations haunt me.  Perhaps you have experienced this to? I keep telling the same story, in many ways, over and over, though the characters—often from history—start out very different.
In my first novel, The Wives of Los Alamos, the book is narrated by a collective group of women, the wives of the atomic scientists, and in my second novel, Beheld, the main characters are women who were aboard the Mayflower. But it goes like this: a group of people in a small, closed-off community have it in mind to work for a greater good, but personal interest gets in the way—social striving, professional ambition—and the group loses sight, if they ever had it, of the importance to care for the whole. I didn't know why I kept writing this, but when it emerged again, from Wives of Los Alamos to the new novel, Beheld, I knew I had a problem. Or rather, not a problem, but a haunting.
*
What narratives pursue you? What story—or kind of story—do you keep telling?
One day in 1872, spirit photographer William Mumler claims a woman shrouded in a black veil came to sit before him. He did not know this woman. She said her name was Mrs. Lindall. She refused to lift her veil until the moments just before the photograph was taken. This is what Mumler claims to have found when he peered into the camera…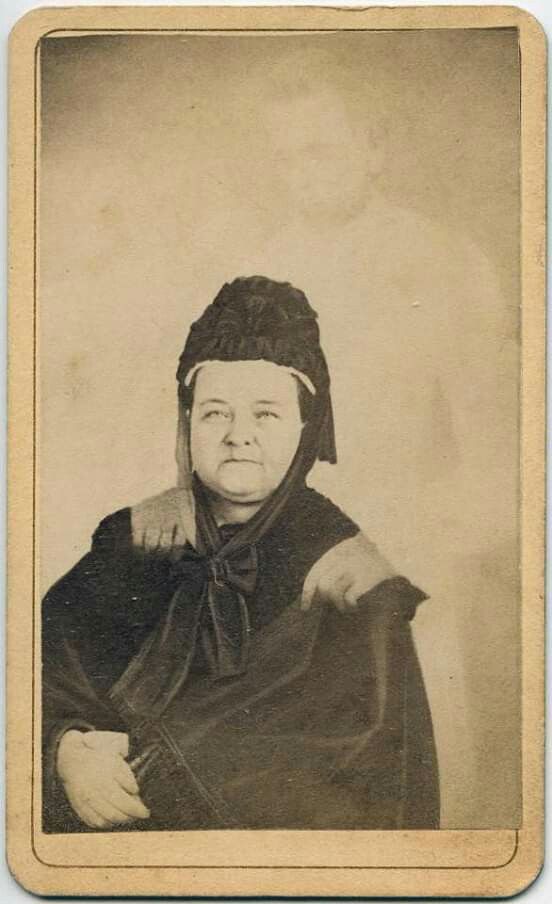 Mary Todd Lincoln, seven years after her husband Abe was shot. Three of her four sons were dead, each perished before turning eighteen years old. This is Mumler's most famous photograph, in part because it was the last photograph taken of Mary Todd Lincoln before she died, four years later. But what would make a woman, who followed the news of the court case of his confirmed fraud, still go to this spirit photographer?
Between the 1830s and the start of the first world war in 1914 was, according to genre historians like Jack Sullivan, the golden age of the ghost story. Spiritualism, the belief that the spirit of the dead have both the ability and the inclination to communicate with the living, was also at its peak. This is not surprising when we consider that America in the 1860s, in particular, was, not unlike today, a mournful country. Civil war and disease, childbirth a deadly risk—there were a lot of spirits that could float about. Mary Todd Lincoln wanted to be seen with the image of that which was always with her, but not spoken of. Was it her husband she hoped for in the image or was it to be again amongst her children?
And yet it is our haunting that ballasts us, weighs us, gives us action, motivation, character. Gatsby builds his house and life for Daisy, who is a kind of objective correlative for all that he cannot have, and could not have, haunted by the unobtainable. It is what novelist and nonfiction writer Lee Martin writes of when he speaks of his father, who lost both of his arms in a farming accident when Lee was about one. Lee went to live with his aunt and uncle until his father recovered, but when Lee returned, six months later, there was a new anger present in the house. His father's life was forever changed—his work life as a farmer, just the beginning—as, too, was Lee's and his mother's. Though I have not heard Lee speak of it this way, his writing is haunted by the unknowable question: how would our home, and my father, have been different, had he not lost both his arms?
A few years ago, I published the first essay I'd ever written about one of my own personal hauntings. When I was eight months pregnant with my daughter, I went to the hospital because something felt off. I could not name it. Different, or Off, is what I called it. The nurses and doctor monitored me for an hour, maybe longer. After an hour, the doctor came in, looked at the chart and said, Believe me. She's safer in there—at this she pointed to my stomach—than out here. Out here in the world she would have trouble breastfeeding and breathing. I was sent home. I questioned my perception. All available science disagreed with what I was feeling. The next day, early labor signs started. I went to my doctor and learned that my daughter, in utero, fully formed, at thirty-six weeks gestation, no longer had a heartbeat. Despite numerous rounds of subsequent tests, no one knows what happened.
What narratives pursue you? What story—or kind of story—do you keep telling?
I had my own kind of spirit photograph made, a postmortem painting from a photograph I took of her, one hour born and two days dead, lying in the heat warmer, which was, of course, turned off. But the haunting is below the trauma, beneath what we think is our haunting, sometimes.
I am not haunted by Margot, my first daughter. It is easy to say I am haunted by the undiscoverable reason why she died, and when I was pregnant with my second daughter, now a strong six-year-old, I was terrified it would happen again. But in Margot's death and in my grief, I learned something far more haunting about myself: I found myself wanting to get, of all things, the grief of my dead child right. To be sad, but not too sad. Able to go to the grocery store and say to the sales clerk, when she asked, How's It Going? be able to say, Good, or, if I was feeling self-righteous, Well. Man, I wanted to be good at grief. Because—and here I'm embarrassed to admit it, but I know if I am to exorcise it, I must—I wanted to be good at everything.
In the aftermath of this loss, I had to reckon with myself, this striving self which on charitable days I can see originated with class striving, but who needs to hold on to that now? My own want for the whole world to love me. For a kind of sick optimization of personhood. Still going to die.
Knowing the photograph was a fraud, Mary Todd Lincoln, and all of the sitters, were still keen to make some kind of connection to the unseen. It was a comfort to see that haunting she felt every day, to have it physically manifested.
In George Saunders' "Sea Oak," a male stripper is barely able to pay his bills on his meager shift pay and tips at Joysticks, a pilot-themed strip club. He lives with his extended family: a sister and her baby, a cousin and her baby, and his perpetually upbeat aunt, Bernie, who works long shifts at the drug store. Saunders sets his story almost entirely in Sea Oak, a subsidized apartment complex, and in Joysticks. It is the story of a family with limited options surrounded by violence and despair.
The main character crosses the field between the housing complex, the Fed Ex, and Joysticks with a briefcase, so that he can bring the strip club's toilet paper home with him. The narrator is aware of other strippers who expose themselves in the back rooms for extra cash, which is illegal and he therefore will not do. He seems to also have a moral stake against it. He has some dignity, and is following the rules, hoping to one day get ahead and get out of Sea Oak.
Gatsby builds his house and life for Daisy, who is the objective correlative for all that he cannot have, haunted by the unobtainable.
But then, he gets a call. His Aunt Bernie is dead. When living, Bernie said she was "just glad to have a roof over her head." But once she's dead, in the last 25 percent of the short story, things get weird. Bernie comes back to life or arrives as a ghost—it is a bit unclear. She has a message for her nephew.
"Look, show your cock. It's the shortest line between two points. The world ain't giving away nice lives. You got a trust fund? You a genius? Show your cock. It's what you got."
When I teach this story, writers are sometimes frustrated at this ghost/zombie Bernie who comes back from the dead. Until now things were pretty realistic. Yes, there was a TV show called "How My Child Died Violently" and a strip club called Joysticks, but that's very close to reality, a comic version, just slightly more heightened, which is what gives it humor.
Why create a ghost in a story that, until then, was simulating reality? Why bring Bernie back? As a ghost, Bernie is not passive nor positive. She is angry. She asks the narrator again and again, "Why do some people get everything and I get nothing? Why? Why?" Bernie is full of advice to her nieces and nephew, warning them against making the same mistakes she did. Some of the humor here is in the reversal, as the male is the one to make money by another's gaze, the body being all he has, as is the lot of poverty. And also, too, the uncharacteristic cursing and repetition, which occurs in the next paragraph: "'Show your cock,' she says, and dies again."
The ghost is a physical manifestation of an emotional unease and of a larger cultural haunting. In this case, the barriers to class ascension, to freedom. Saunders shows us how improbable it is to rise out of systemic poverty by showing us how the hardworking poor can believe in an American dream, and work diligently at their drug store job to attain it, but it would take a person returning from the dead with direct instruction, yelling, "Show your cock!" to catalyze a change in social and economic positioning for those living in Sea Oak. Which is to say, it is completely impossible.
We are backwards-looking creatures. We live in multiple temporalities at any moment and we are particularly present with our past. The sitters for the spirit photographs have asked to be seen with their representation of the ineffable. It makes sense to me that, even still knowing the images were false, as Mary Todd Lincoln did, people still wanted them. In the spirit photograph, as in the haunted story, the outer world is imposed on the inner state.
Works of art are also haunted by the ideal forms of which they are imperfect simulacrums and by what escapes representation. We keep writing and hoping we will, finally, get it right. And if we get it right, the ghosts will go away. But I found I didn't want this ghost to go away.
I finished the novel about women who are haunted. One woman, the governor's first wife, perishes when the Mayflower is moored off what is now Provincetown Harbor (true story). Perhaps she slipped, perhaps she jumped. The historical record is inconclusive. One woman longs for her best friend, that woman who died in the Atlantic. But I know, too, that the novel is haunted by my first daughter.
What we wish to have, what we pay for, in a spirit photograph or in a book, is the awakening of our haunted emotions. Whether it is a trauma that reasserts itself in the present, a grief brought to life, as in Beloved, or a group of grown men who collectively cannot forget the sisters that perished one summer when they were teenagers, as in The Virgin Suicides, every retrospective narration can be thought of as a story propelled by haunting.
In spite of it all, William Mumler, the first spirit photographer, maintained that he was "only a humble instrument" for the revelation of a "beautiful truth." Of course, he fabricated the ghosts in his images, but by using fiction he created a pleasing and true terror.
Instead of asking, What is your story or essay about? perhaps ask, to get to something deeper, What is your story haunted by?
---