Tana French on James Baldwin, Watership Down, and Hating Hawthorne
Rapid-fire Book Recs From the Author of The Searcher

Welcome to the Book Marks Questionnaire, where we ask authors questions about the books that have shaped them. This week, we spoke to the author of The Searcher (out this week in paperback), Tana French.
*
Book Marks: First book you remember loving?
Tana French: The Children of Green Knowe by Lucy M. Boston. A little boy goes to stay with his great-grandmother, in the house that's been their family home since the 12th century, and starts running into other children who lived there centuries before. I borrowed the book from the school library when I was seven, and spent the rest of my childhood looking for a place where time would crisscross like that.
BM: Favorite re-read?
TF: Watership Down. I must have read it a dozen times. The writing and the world-building, and the way he brings us into the characters' minds—which work very differently from our own—still blow me away. It's hard to share with other people, though, because it's so hard to describe. "This bunch of rabbits go looking to set up a new warren" just gets you a weird look, and doesn't come anywhere near doing the book justice.
BM: A book that blew your mind?
TF: A Brief History of Seven Killings by Marlon James. For me, one core point of the arts is that they give us a glimpse of the world through other people's eyes—they bring it home to us that every other person in the world experiences it differently, and that all those other experiences are as real and intense and valid as our own. James doesn't just create a wide variety of distinct voices; he grabs us and drags us into each character's mind, showing us with ferocious vividness how the world is an entirely different place through each character's lens. It's the kind of book where, when you come out of it, it takes you a few seconds to recognize your room.
BM: Last book you read?
TF: The Devil's Novice by Ellis Peters, one of the Cadfael mysteries. Over the last year and a half, I've been reading a lot of classic mysteries. I think it's because of the pandemic: I want a world where I know that the crisis will end, all the loose ends will be neatly tied up, and just about everyone will be fine.
BM: What book from the past year would you like to give a shout-out to?
TF: Pickard County Atlas by Chris Harding Thornton. It's a slow-burn mystery with a rich sense of place, vivid characters, layers of darkness, sharp glints of humor, and beautiful writing.
BM: A book that actually made you laugh out loud?
TF: You Look Like a Thing and I Love You by Janelle Shane, a short, smart discussion of artificial intelligence. Her neural net's efforts to come up with recipes cracked me up. (Aqua Bunny Cake? Eels in Silence?) The title is its idea of a pickup line.
BM: Favorite book to give as a gift?
TF: Amor Towles's A Gentleman in Moscow. It's a wonderful book at any time, and over the last year and a half it's had a whole extra layer of resonance. To a large extent it's about how people find ways to be happy, make connections, and make a difference in one another's lives, even during the strangest, saddest and most restrictive circumstances, when their worlds have been savagely transformed almost beyond recognition. I gave it to a lot of people during lockdown.
BM: Classic book you hate?
TF: Nathaniel Hawthorne's The Marble Faun. We had to read it in school. It's boring, it's pretentious, reading it is like being repeatedly whacked over the head with the world's most over-ornate metaphor hammer, but what really did it for me is this part where one character is presented as being angelically good for shunning her traumatized best friend because the friend gave some guy a look that somehow made him commit a murder. So many layers of WTF. I never throw books away, but I think I actually made an exception for this gem.
BM: Favorite book of the 21st century?
TF: This is a tough one, but if I had to pick, probably Michael Chabon's The Yiddish Policemen's Union. It's a wildly original alternative-history take on the noir genre, and I love everything about it: the vast, unfettered imagination, the expertise and joy with which Chabon uses language, the way he can make a character leap off the page with one perfect phrase, the way he switches effortlessly from laugh-out-loud funny to unsettling to deeply moving.
BM: Favorite book you were assigned in high school?
TF: It's probably a tie between two very different books: James Baldwin's The Fire Next Time and Pablo Neruda's Collected Poems. (My English teacher was amazing. Except for the Nathaniel Hawthorne thing.) The Fire Next Time was one of the first pieces of political writing I'd read, and the first thing to really bring it home to me that the political issues I heard discussed on the news and at the dinner table weren't abstractions separate from the day-to-day world: they had concrete, intricate, brutal implications for individual lives. Neruda's poems are just pure beauty.
BM: Book(s) you're reading right now?
TF: I'm rereading Louise Erdrich's Love Medicine. I love the way the different characters' stories are interwoven, so that the full story exists not in any one person's experience, but in the shared space among them all.
BM: Favorite children's book?
TF: I adore Mo Willems's Elephant and Piggie books. They manage to have great characters, great humor, and great stuff about friendship, all in simple pictures and very few words. My husband says they're Beckett for kids. I've read I Will Surprise My Friend to my kids at least a million times, and it still cracks me up.
*
Tana French is the author of seven previous books, including In the Woods, The Likeness, and The Witch Elm. Her novels have sold over three million copies and won numerous awards, including the Edgar, Anthony, Macavity and Barry Awards, the Los Angeles Times Award for Best Mystery/Thriller, and the Irish Book Award for Crime Fiction. She lives in Dublin with her family.
___________________________________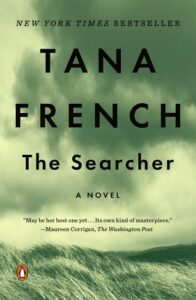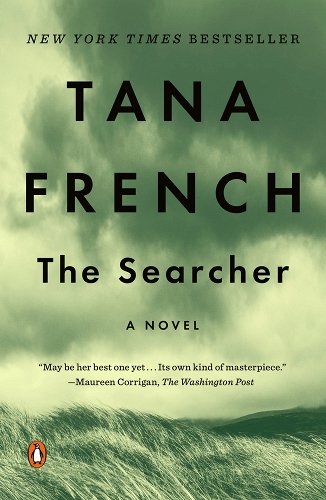 Tana French's The Searcher is out tomorrow in paperback from Penguin Books
*
---