T.C. Boyle on Surviving and Satirizing the Climate Crisis
Jane Ciabattari Talks to the Author of Blue Skies
T.C. Boyle lives in Santa Barbara, an area in California that has been steadily ravaged by extreme weather in recent years. His 2011 novel When the Killing's Done is set there and on the nearby Channel Islands and tracks a conflict set off by an environmental conundrum—the killing off of a predator species in order to preserve an endangered one—which triggered a real-life conflict in 2002.
In his satiric and provocative new novel, Blue Skies, which mirrors Santa Barbara's drought, wildfires and windstorms, he is once again skewering a contemporary environmental standoff modeled on real life events. Does he continually update the environmental crises around him to inspire his work?
"I do," he says. "If I feel helpless living a baffling existence on an unfathomable planet in an indifferent universe, my being cries out for redemption, for purpose, for hope, but climate change just compounds the uncertainty and existential misery of day-to-day life lived in this deteriorating shell of an animal body. If that seems grim, well, so it is. But I take great joy in creation and in the case of When the Killing's Done and Blue Skies, I experienced the intoxicating rush of going out in the field with the biologists and entomologists who are on the case even now. Nature. Dwell in it. Inhale it. Be it." In Blue Skies, he shows us how to do just that.
*
Jane Ciabattari: How have you managed your life and work during these past few years of turmoil and uncertainty?
T.C. Boyle: I was affected in the way of us all—withdrawn, gone deep inside, suspicious of the vast infected pool of my fellow Homo sapiens and sorely in need of company. I missed live music, I missed live literature, I missed the theaters and bars and restaurants. I became exhausted with Zoom. I wore the same clothes every day, day after day.
On the other hand, my essential life went on pretty much as usual, working at home through the meat of the morning and early afternoon, then going outside for hikes in the local mountains, walks along the beach, kayaking or reading in some secluded wild place where my only company was the dog and the omnipresent ticks (two cases of Lyme and two of the evil bacterial skin infection called cellulitis as a result of tick bites in the past three years; see below). Not that I'm complaining—somebody's got to feed them or they'd all die off.
JC: I'm curious how you came to the ironic title of Blue Skies (and your epigraph, the Irving Berlin song, "Blue skies,/ Smiling at me,/Nothing but blue skies/ Do I See"), which bounces along as an atonal chiming rhythm beneath the prose.
TCB: I love your characterization of the method here. Yes, this is the ironist's beat, a rhythm best hammered out on a cracked kettle (Flaubert: "Human Language is like a cracked kettle on which we beat out tunes for bears to dance to, when all the time we are longing to move the stars to pity"). As you may know, I never write anything unless music is playing in the background, both to inspire me and keep the beat going.
We consciously set out to do so, but some other force takes over once the process begins.
JC: As I was reading the opening chapter of Blue Skies, I had an involuntary shudder and thought, Chekhov's gun. If there's a snake in the bag then…as in, one must never place a baby Burmese python onstage if it's not going to strike. At what point in your writing process did you come to this choice?
TCB: From the outset. I have written of our relationship to the other species we share the planet with and always in a Darwinian way. My wife is a carnivore, dispensing with whole herds at her whim; I am primarily vegetarian (Quoth she: "I'm the top of the food chain and proud of it"). In the case of Cat Cullen and her frivolous purchase of an invasive reptile as a kind of fashion accessory, I really didn't expect good things to come of it.
JC: The family in Blue Skies includes parents Ottilie and Frank, a Santa Barbara couple attuned to reducing their carbon footprint; their son Cooper, an entomologist obsessed with the death of the planet, and daughter Cat, who is relatively clueless (eager to be an influencer, she decides to buy a snake to wear as "living jewelry" wrapped around her shoulders). How did you construct these parents and siblings? Are there "real" models? News stories?
TCB: A question that delves deep into the mystery of producing art. We consciously set out to do so, but some other force takes over once the process begins. Is it the universal unconscious? Does such a thing even exist? I hear a voice and I follow it. None of these characters is like anyone I know, but each shares characteristics of people I've encountered, and, in the case of the heroine, Cat, my daughter claims to recognize some aspects of herself—and her generation—in there. What do I say? Well, maybe—in the very smallest measure. Still, she is writing the screenplay. P.S. The story of the mother whose child is attacked by the pet snake derived from a news article a couple years back.
JC: On the West Coast, in Santa Barbara, you've got drought, wildfires and high winds; on the East Coast, in Beach Haven, Florida, you've got hurricanes, record rainfall, flooding, invasive species (like Cat's beloved Burmese pythons). How did you decide which locations to focus on in this story of ecological disaster, given the infinite number of possibilities?
TCB: The contrast between my locale—Santa Barbara—and the rising oceans and flooding in Florida provides the ironist with a ready-made scenario by way of settling into the grim reality of climate change we are all now forced to acclimate ourselves to. Blue Skies is a companion to my 2000 novel, A Friend of the Earth, which deals with global warming, floods, droughts (and even a pandemic) and projects twenty-five years into the future. That future is now. And so, with Blue Skies, I am assessing the results of that earlier scenario and imagining what's to come.
JC: What was your research process like? Did you try making (and eating) cricket-flour tortillas? Mescal-worm tacos? Is there a real-world model for the horrific Lyme disease complication Cooper endures? Have we experienced a global "bug apocalypse" yet?
TCB:I did attempt some entomological meals, but one of the multiple ironies of this book—and perhaps the motivating factor—was my discovery that the numbers of flying insects around the world have plummeted. Yes. Let's talk about the food chain my wife so cavalierly tosses off—things are more dire than most of us know (or care to admit).
As for Cooper's problem with cellulitis, a bacterial infection of the skin that can lead to necrotizing fasciitis and loss of limb—or life—I discovered this firsthand after a hike in the local mountains. I was the one infected in exactly the way Cooper was but I was lucky (and able to use telemedicine to my advantage, as I could not go into my doctor's office because this was at the height of the COVID-19 outbreak) in that my doctor was able to diagnose the problem and prescribe an antibiotic that—finally—beat it back. I was relieved.
Mounting disasters (and ironies stacked up like saucers) force the characters to confront their own actions and the hostility of their environment.
And, of course, immediately inflicted the infection on my character, who, after all, was dating an acarologist. As for the bug apocalypse, it is ongoing, but all is not relentlessly grim because nature holds infinite surprises: the monarch butterfly numbers are up the past two years, holding out hope that the species may survive after all. My advice to everyone reading this: plant milkweed.
JC: Your tone is dark, even bitter at times. Why choose a satiric approach?
TCB: This is my method, my worldview, my life. As my slacker character, Justin, says in the short story, "The Shape of a Teardrop" regarding his lawsuit against his parents for evicting him from his childhood room: "What I really wanted to sue them for was for having given birth to me in the first place, which had happened without my knowledge or consent and resulted in my having to live a shit life on a shit planet and all because they wanted to have sex…"
JC: Disasters strike this family, big time. As Ottilie muses, "Life went on, of course it did, no matter how many blows you had to take, and this was as bad as it got, this brought her to her knees." How do they manage to stay connected, despite it all?
TCB: Mounting disasters (and ironies stacked up like saucers) force the characters to confront their own actions and the hostility of their environment as it falls to ruin around them. This makes for the kind of comedy I most prize.
JC: There are moments when you shift the point of view to the natural world, creating an eerie counternarrative: Cat "didn't happen to notice what was going on in the terrarium because all that was so irrelevant in the face of this…." A primal scene is being enacted: Willie II, "the larger snake, the older one, the one with a brighter pattern, was in the process of unhinging its jaws and working the smaller one, Willie the First, into his alimentary canal." Cat never knows what happened to Willie the First. But we do.
TCB: I often work in a very close third-person in my fiction so that the reader is experiencing the story through the eyes and minds of the characters, yet it is a third-person narrative and I can step out for a bit and let the outside world intrude. My last novel, Talk To Me, brings this dynamic home all the more forcefully because I narrate portions of the book from the point of view of the protagonist, Sam, a chimp involved (involuntarily) in an experiment to teach another species our language. To imagine his thought processes and reactions was a joy to me.
JC: What are you working on now? And after that?
TCB: As you may know, I remain devoted to the short story as well as the novel, and have thus far always worked on a regular rotating basis—a book of stories, two novels, a book of stories—which allows me to address current issues in this madhouse world of technology and politics gone berserk both in short form and long. Since delivering Blue Skies, I have written half the next collection, which will appear after the next novel, if such novel cooperates and presents itself to me.
One of the new stories, "Princess," appeared recently in The New Yorker and another, "Sanctuary" (in which we encounter a woman in a MAGA cap), will be out imminently in Esquire. In the meanwhile, I have been doing research on the next novel, the writing of which has thus far proven elusive, so that daily I hover between anticipatory joy and the absolute overriding necessity of pulling Chekhov's gun out of the sock drawer. Just to see if it's still loaded.
__________________________________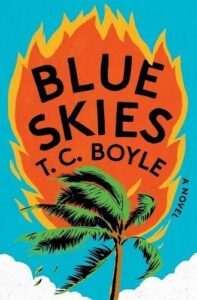 Blue Skies by T.C. Boyle is available from Liveright, an imprint of W.W. Norton & Company.
---