Sue Miller Loves Jane Eyre For All the Wrong Reasons
The Author of Monogamy Takes the Lit Hub Questionnaire
Sue Miller's novel, Monogamy, is out now, so we asked her a few questions about interviews, writing habits, and her favorite books.
*
Who do you most wish would read your book?
Hmm. An odd question, one that seems to suggest we write for mostly extra-literary reasons—to impress someone, to take revenge of a sort, to move in interesting social or political circles. But I have no particular reader in mind, and I don't wish one person more than another would read my book. If there is a wished-for reader, he/she is entirely imaginary, a kind of abstraction. A literary angel attentive to what I'm doing, where I'm heading, and how I'm getting there.
What do you always want to talk about in interviews but never get to?
Truly, I can't think of anything I yearn to bring to interviews. I've already written the book. But to turn the question around, the one thing I never want to talk about is how autobiographical any of my work is.
What time of day do you write?
I'm not a very disciplined writer, though when I'm really launched into a book, I become more consistent in my habits. Then, like most writers I know, I work best in the morning, before my brain is awash with the news of the next horror descending upon the world. It's harder right now to do that—you wake up and your brain is already awash with horror. Writing offers an escape from that, yes, but it's harder to push it all aside.
How do you tackle writer's block?
First, I try not to think of it as a block, but as a part of the process. So I make notes. Notes in language I'm not responsible for—it won't appear in the work—but which slowly make things clearer to me. Arguments with myself, as it were. You could do this. You can try that. What if you shifted this whole chapter to the middle of the book? He could be thinking of something else through this entire scene. What could that possibly be? And at some point, sometimes fairly quickly, sometimes not, I've figured out how to move forward.
Which books do you return to again and again?
This has changed often over time as I add a new book to the list and turn to the older ones less, but right now, among others, it's Helen Garner's The Children's Bach; Brian Morton's Starting Out in the Evening; Joan Wickersham's The News from Spain; and Richard Hughes's A High Wind in Jamaica. Plus anything by Penelope Fitzgerald or Alice Munro or Tessa Hadley. None of these is really a model for me—they all have very distinctive voices and concerns—but they make me feel how exciting fiction can be, and that nourishes me.
Which non-literary piece of culture—film, TV show, painting, song—could you not imagine your life without?
Music. Music is a necessity. Though never while I'm writing. Annie Fischer playing Liszt. Murray Perahia playing Schumann. Billie Holiday or Wesla Whitfield or Jane Monheit . Fats Waller. Otis Redding. Hymns. Sacred music. Gospel music. Rhythm and blues. Jimmy Reed. Lightnin' Hopkins. Yoyo Ma playing the Bach cello suites.
What's the best writing advice you've ever received?
It's not really advice, except implicitly, but a friend once quoted the writer Mary Carter—the older Mary Carter—who apparently said that writing a novel is like knitting an argyle sock the size of a football field. It seems to me this is as much a description of process as it is of the product, and it's often been helpful to me to think of it. The slow knitting together of words into a pattern. The connection of this pattern to another, over and over (those diamonds!)—and finally, the sock (the novel, short story, whatever). The sock which needs to be greater than the sum of its parts. Which needs to be another thing entirely, actually.
What was the first book you fell in love with?
It was Jane Eyre. For all the wrong reasons. Are there wrong reasons for loving a wonderful book? Yes. There are. I was twelve and it made me cry. Every time. And I read it over and over. Really, until it stopped making me cry.
I wish I could say that I noticed the steady thrumming of the prose, or the story of the slow making of a self from the most unlikely materials, but I didn't. Then. Not until I started to read it over and over again, later.
Name a classic you feel guilty about never having read.
Moby Dick. Actually I have read it. In high school. And that may be part of the problem. It wasn't a very good high school, and as a group, we were not up to it. It seemed to me the teacher gave up on us fairly early in the game, too, and so we more or less hopelessly dragged ourselves through it, some more draggy than others. I know it's important to American literature, and I know it's a mark of intelligence, of erudition, to have read it, to be able to speak intelligently about it. But every time I start it—and I've started it often over the years—I'm returned to that classroom, to all of us defeated students, to our bored teacher. And I stop.
Is there a book you wish you had written?
There are so many books I admire, many passionately. But I don't ever wish I'd written them. I couldn't have written them. They've been written by another writer, another sensibility, another way of using language, another way of making meaning. I'm stuck with what James called my donnee, if that's not too grand a name for it. No doubt it is.
__________________________________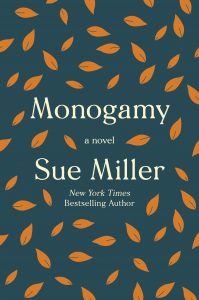 Monogamy by Sue Miller is available now from Harper. 
---