Steve Inskeep: The Rise and Fall of American Adventurer and Politician John Frémont
The Author of Imperfect Union Answers a Few Questions from Lit Hub
We asked writer Steve Inskeep (who knows a thing or two about interviews) a few questions about his new book Imperfect Union (Penguin Press), an engaging history of the adventures of John and Jessie Frémont, who navigated both the reaches of early American empire, and the just-as-dangerous back rooms of the nation's capital.
*
Lit Hub: Despite having his name on towns, rivers, trees, and just about everything else he came near, what happened to John Frémont's celebrity? This was the man deemed "one of the three most important world historical figures since Jesus Christ," in an 1850 magazine article!
Steve Inskeep: He did not finish well. After the extraordinary years from his twenties to his mid-forties, the erratic side of his character betrayed him. He quarreled with Lincoln in the Civil War, which wasn't good for anybody's historic reputation. He then lost his fortune after the war.
Also, a large part of his reputation was built on his role in the events of "Manifest Destiny," which many Americans today view with ambivalence if not complete disapproval for seizing native and Mexican land and displacing or killing many of the people on it.
LH: Speculative history: How does the course of American history change if John C. Frémont wins the 1856 presidency? Does it?
SI: The South said in both 1856 and 1860 that if Republicans won they would secede from the Union. They actually did this after the Republican win in 1860, so it is reasonable to speculate they could have done it after 1856. The Frémonts had an idea that their Southern family connections could have helped them preserve the peace, but that sounds a bit dreamy. It is possible that the North could have gone to war under a President Frémont, who was no Lincoln. After the war even some of his former supporters considered this possibility and shuddered.
What set apart John Frémont from his peers was his persistence. He went West again and again.
LH: Jessie Frémont seems decades ahead of her time. What would she be doing in the current moment? Would she herself be running for office, or was she dispositionally a behind-the-scenes type?
SI: She never admitted to ambitions to be out in front. But her actions showed her nudging her way there. She could have run for office in a later age. But it is worth recalling that in her time she also held to her traditional assigned roles as wife and mother; she would have been struggling to balance her multiple roles as so many modern women do.
LH: Did Frémont ever voice any feelings about the displacement of Indigenous Americans, outside or beyond the orthodoxies of the time?
SI: No. Not really. It is true that he acknowledged an injustice was done to Indians—that the government routinely made treaties to give Indians benefits in exchange for land, and broke all the terms except for taking the land. He was progressive in this view. He employed many Indians on his expeditions. But his writings suggest he thought of them in patronizing or racist terms, as "savages" in the way of civilization.
LH: As you point out, Frémont's timing was good and/or lucky—exploring the west just as the country turned its collective gaze toward the Pacific—but what were the characteristics or qualities that set him apart from his peers?
SI: His persistence. He went west again and again. He went beyond his orders, beyond what duty or his ambition required of him. This was a reason for his success—and also for his failures, when his efforts went wrong and the persistence became stubbornness as he refused to change course. It was this quality that led to his court martial of 1847-1848, as well as his disastrous expedition of 1848-1849, when he persisted in the snowy San Juan Mountains and many of his men died.
—————————————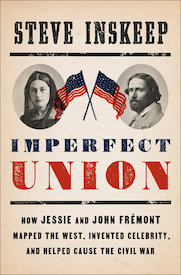 Steve Inskeep's Imperfect Union: How Jessie and John Frémont Mapped the West, Invented Celebrity, and Helped Cause the Civil War is now available from Penguin Random House.
---