Stephanie Land on the Routine That Helped Her Write Her New Book in a Month
The Author of Class Takes the Lit Hub Questionnaire
Stephanie Land's new book, Class: A Memoir of Motherhood, Hunger, and Higher Education, is out today, so we asked her a few questions about her routine, writing advice, and how she deals with writers block.
Who do you most wish would read your book?
Anyone who has authority over a person who works for wages that aren't enough to pay their living expenses. Legislators who cry out "work requirements" whenever people try to pass bills to increase income limits for Medicaid, or to increase the amount people receive for food, and when they talk about continuing child tax credit payments. Elementary school teachers and parents who have the privilege to be involved with the PTA. It's unfortunate that most of those people have their minds made up over who is "deserving" of assistance. But, honestly, the type of people who separate people in poverty to "deserving" and "undeserving" won't see that I was "deserving" and definitely won't read a book I've written about my experiences.
How do you tackle writers block?
I was completely blocked for two and a half years with this book. I took online classes through Corporeal Writing with Lidia Yuknavitch. I tried hiring a book coach—who fired me after three sessions, but not before adding that she's "not a therapist." I don't remember what prompted me to, but I called my friend Erin Khar and told her everything, desperate for ideas, and we started the "Not Writing Club." It became a space for a group of women memoirists to, basically, vent about all the things that barged in on the space we fought to maintain for (at that time) a hopeful glimmer of creative process. There's no way I would have been able to write my second book without their support.
What's the best or worst writing advice you've ever received?
Best: "The not writing is just as important as the writing." — Walter Kirn.
Worst: Anyone who discourages a person from trying to get paid what they deserve for what they've written.
What part of your writing routine do you think would surprise your readers?
I am very, very good at getting organized and making schedules and coming up with a routine. While I might follow that routine for a few days, or *just* long enough to make a reel of it for TikTok, it fades almost immediately. I physically wrote Class in 31 days, which is probably the most extreme example of my writing process (and one I promised my best friend to never ever do to myself again): I mentally chew on things, attempt to digest them, chew them some more, and regurgitate them onto the page. It's messy and fast and I spend months editing it (I did the same thing for Maid, but in at least twice as many days) but I had to learn how to write that way as a single mom who had limited time to sit down and produce, so I guess that's the process I am stuck with.
Who is the person, or what is the place or practice that had the most significant impact on your writing education?
Mr. Birdsall, my fourth grade teacher, forced us to write all year. We kept journals and wrote countless short stories, essays, and book reports. We even wrote stories about everyone in the class when their birthday came around. I hated it, but then it was the only thing that made sense, and I knew I was a writer. After the series from Maid came out, someone saw that I'd listed him in the acknowledgments and connected us through Twitter. We talked on the phone and I asked him what gave him the idea to force a bunch of ten year olds to write so much, and he said he'd gone to a conference that summer where the focus was to teach kids how to process their world through writing. He said, "but for you, it really clicked. You didn't just understand the assignment, you needed it."
If you weren't a writer, what would you do instead?
I really, really miss being a barista. I have no doubt I would own some kind of coffee shop where other writers could work and then read or sing what they've written out loud and there wouldn't be any blenders in sight.
__________________________________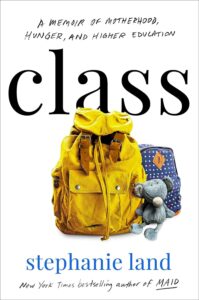 Stephanie Land's memoir Class: A Memoir of Motherhood, Hunger, and Higher Education, is available from Atria/One Signal Publishers.
---