Stacey Mei Yan Fong on Doing What You Want in Your Own Kitchen
In Conversation with Christopher Hermelin on So Many Damn Books
Stacey Mei Yan Fong drops into the Damn Library for a slice of pie and a pie-inspired cocktail and lots of impassioned talk of pie and souvenir strategy and some of the stories behind the pictures in her cookbook 50 Pies 50 States. Plus, behind the scenes of morning shows! And Stacey introduces Christopher to the joys of John Waters through his memoir Carsick. Have a slice!
Subscribe and download the episode, wherever you get your podcasts!
*
What'd you buy?
Stacey: a cool vintage cartoon volcano shaped pitcher, 2 Linda Ronstadt records, 2 Johnny Cash, a Dolly Parton greatest hits, The Chicks – Wide Open Spaces
Christopher: Let's Go Let's Go Let's Go by Cleo Qian, Lush Lives by J Vanessa Lyon
*
Recommendations:
Stacey: Sierra Ferrell's In Dreams, Ryan Duggan's work like this dog poster
Christopher: Carly Rae Jepsen's Psychadelic Switch, There is No Anti-Memetics Division by QNTM
*
From the episode:
Christopher: Talk to me a little bit about recipe testing when when you were becoming a home baker. Did you ever make things that you were like, "Whoa. That did not work."
Stacey: 100%. There were lots of pies that were disgusting. So before I started the project, I actually baked my way through the Four and Twenty Blackbirds Cookbook. I was, you know, 25 in New York, which is kind of a terrible age to be in New York. But I had gone through a rough spot and my best friend Patrick bought me the Four and Twenty Blackbirds Cookbook. And so I decided to Julie and Julia and bake my way through it.
But before I could do that, I had to learn how to make pie crust, which I know is a thing that's, like, very intimidating for a lot of people. And there was a lot of bad pie crust where I was like, Oh, this is so tough. Ooh, this is disgusting. Once I got that mastered, like, everything else felt more achievable. And there was definitely some weird flavor pairings where I was like, Oh, this is not going to work. And things that changed from the original project to the cookbook. But yeah, at the end of the day, like, even bad pie is still good. You can just heat it up and put some ice cream on it and a lot of your sins are covered.
Christopher: I was thinking about how I tried to do a Julie and Julia as well with The Pie and Pastry Bible by Rose Levy Birnbaum. And it starts with pie crust. Like you make a bunch. It's like the Mr. Miyagi, wax on, wax off. It's like, if you want to make a pie, you're not going to do anything without making good crust first, Which is. You know, of course. Like, that's not quite insight.
Stacey: But I feel like in the cookbook, I also say it's totally fine to use store bought, because it's one of those things where, if it really stresses you out, don't do it. Like, why are you bringing more stress into your life over pie? Do you know what I mean? Like, that's so, so silly. And Sandra Lee made an entire career out of making things semi-homemade. You're allowed to use a store bought pie crust.
Christopher: I love that. Yeah, I think that's a nice energy to be bringing to the space, because people get very serious about just shortening or just butter, all of those things.
Stacey: Yeah. Do what you want, like the police aren't going to come and get you. You know what I mean? Like, you do whatever you want, it's your kitchen and it's like, that's how I kind of felt when doing the pies for each state. Some people might not agree with what I did, but this is like, my journey. If you don't agree, I'd love to know what you would have done instead.
Christopher: It's been out for a bit now. Have people been sending you pictures of their pies? Have you been seeing them?
Stacey: Yeah, that's the part that's been the most like… I feel like the perfect word is "tender." Like, it's so it's so wild to have been making this thing in a vacuum. And it was already really crazy to see all the pies being made at the shoot for the cookbook. But then now that, like, actual people are making it, it's so, so special. 

Like this bookstore in Nashville, they had their cookbook club, and it was based on my cookbook cookbook. 12 people, or however many ladies that were in the cookbook club, each made a pie. They each picked a state from the from the book and cooked it. And seeing all of them all together. On the table. That made me very emotional, you know? 

I mean, it's so cool that people like this. That sounds so lame. "People like this." But people are like, "I want to try making that." Like one of the ladies made the Cheerwine Pulled Pork Pie with the Fried Hushpuppies for North Carolina. And like she wrote me later, "This Cheerwine barbecue sauce is going to be in my wheelhouse, like, forever." Because you might not make the whole pie again, right? But if you take one element of it that you found cool, that maybe you'll use in a different way, that's also very special. It's all been very wholesome.
*
From the Damn Bar: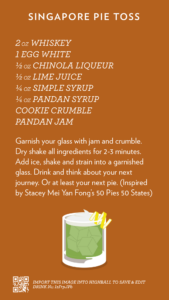 ---