Sophie Ward on Jane Eyre, Macho Sluts, and To Kill a Mockingbird
Rapid-fire Book Recs From the Author of Love and Other Thought Experiments

Welcome to the Book Marks Questionnaire, where we ask authors questions about the books that have shaped them.
This week, we spoke to the author of Love and Other Thought Experiments, Sophie Ward.
*
Book Marks: First book you remember loving? 
Sophie Ward: Trubloff, The Mouse who wanted to play the Balalaika by John Burningham.
BM: What book do you think your book is most in conversation with? 
SW: Labyrinths by Jorge Luis Borges.
BM: A book that blew your mind?
SW: The Color Purple by Alice Walker.
BM: Last book you read?
SW: Sad Little Men by Richard Beard.
BM: A book that made you cry?
SW: Jude the Obscure by Thomas Hardy.
BM: What book from the past year would you like to give a shout-out to?
SW: Mr Wilder and Me by Jonathan Coe.
BM: Classic book on your To Be Read pile?
SW: The Charterhouse of Parma by Stendhal.
BM: What's a book with a really great sex scene?
SW: Macho Sluts by Patrick Califia.
BM: Favorite book of the 21st century?
SW: The End of Mr Y by Scarlett Thomas.
BM: Favorite book you were assigned in high school?
SW: To Kill A Mockingbird by Harper Lee.
BM: Book(s) you're reading right now?
SW: In The Dream House by Carmen Maria Machado, The Night Watchman by Louise Erdrich.
BM: Favorite children's book?
SW: Jane Eyre by Charlotte Bronte.
BM: Book you wish would be adapted for a film/tv show?
SW: Embassytown by China Mieville.
*
Sophie Ward is an actor and a writer. She has published articles in The Times, The Sunday Times, The Guardian, The Observer, The Spectator, Diva, and Red magazine, and her short stories have been published in the anthologies Finding A Voice, Book of Numbers, The Spiral Path, and The Gold Room. Her book A Marriage Proposal: The Importance of Equal Marriage and What it Means for All of Us was published as a Guardian short eBook in 2014. In 2018, Sophie won the Pindrop short story award for "Sunbed." She has a degree in philosophy and literature and a PhD from Goldsmiths, University of London, on the use of narrative in philosophy of mind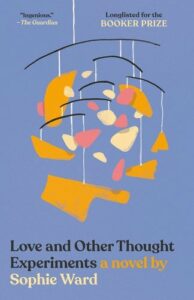 Sophie Ward's Love and Other Thought Experiments is out this week from Vintage
*
---