Socially Accepted Gaslighting: How White Feminists Too Often Perpetuate Racism
Jessie Daniels on the Dangerous Myth of "Colorblindness"
"Talking about white women just divides us" is something that white people, and especially nice white ladies, say to me often. This ignore-it-and-maybe-it-will-go-away approach to race doesn't work and, in fact, plays into another kind of racism known as "colorblindness." White people who were raised in households that valued colorblindness might have been taught that even mentioning race was rude, socially unacceptable, and to be avoided at all costs. But there's evidence that this isn't the best approach.
We know from child development researchers that even children as young as two years old recognize and respond to racial differences. And researchers have also demonstrated that being able to talk about race and racism actually fosters a decrease in prejudice among children. So, not talking about the social fact of race and racism amounts to a kind of gaslighting, a denial of what is plainly evident in the social world around us. Some of the most ardent proponents of the idea that talking about race is divisive that I've encountered are white feminists. It seems that when someone tries to bring up the issue of race and racism within feminism, they are accused of being "toxic" and of making people feel "awkward."
In 2011, writer and critic Emily Nussbaum celebrated the feminist blogosphere in New York magazine: "Freed from the boundaries of print, writers could blur the lines between formal and casual writing; between a call to arms, a confession, and a stand-up routine—and this new looseness of form in turn emboldened readers to join in, to take risks in the safety of the shared spotlight." But by 2014, Michelle Goldberg, then a contributing editor at The Nation, wondered if the online version of feminism was over because of "toxic Twitter wars." To make her case, Goldberg pointed to the blowback received by producers of the #femfuture report following a convening at Barnard College in New York City. When the meeting and the report were criticized for being exclusionary, the organizers were hurt and some saw the criticism as disproportionate. Goldberg said that the report was "savaged as a cabal by white opportunists" and, later, that there is a "nascent genre of essays by people who feel emotionally savaged" by criticism from other feminists.
Perhaps Goldberg's use of the word savaged twice in the same article was a coincidence, or merely bad copyediting, but given that most of the critique of the #femfuture report, coauthored by two white feminists, came from women of color, it is worth considering that the word choice here has deeper meaning. It may be that white feminists feel particularly sensitive to any criticism, especially when it comes to matters of race. This is what researcher Robin DiAngelo has called "white fragility," a kind of hypersensitivity to any critical discussion of whiteness, and it stands in the way of actual solidarity. No amount of positivity, light, and love will help us defeat the patriarchy if white feminists can't tolerate being criticized.
*
THE BUILT-IN ADVANTAGE OF BEING A WHITE WOMAN
In the mid-1990s, I was working as a sociology professor when the rise of the popular internet changed the world as I knew it. I left my job in academia to work in the dotcom industry in 2000 and had a great time while the ride lasted. That bubble eventually burst, and I got laid off. My closest friend at that job, the only African American man at the company, also got laid off when the firm's payroll sluffed off about 330 employees over six months in 2001. Following the layoffs, I spent a year piecing together a living from three or four part-time gigs until I landed back in academia at a job with direct deposit and health insurance.
My friend, who had previously worked in journalism (which was also shedding jobs), struggled to find employment and hasn't worked in a full-time job since then. The last I heard about him, he was living in a homeless shelter. Although there are differences in education and job sector that shaped our dramatically divergent paths out of the dotcom bust, part of the reason I was able to recover from that job loss was because of the built-in advantage of being a white woman when it comes to getting and staying employed.
Recent employment and income data tell this story through numbers. According to the Economic Policy Institute, in 2017, the median annual earnings for full-time, year-round white women workers was just over $46,513. That is 21 percent more than the annual earnings of Black women, whose average was $36,735. Hispanic women earned even less, just $32,002 per year. And when you look at men's income by race, it tells a further story of advantage for white women.
When you consider that most white women who marry (95 percent) marry white men (89 percent), you can see that they have an added advantage because of access to the greater earning power of their partners. Again, according to the Economic Policy Institute, in 2017, white male full-time workers earned an average of $60,388 compared to just $42,076 for Black men and $38,876 for Hispanic men. And, if you take into consideration the disparity in access to the income of those male earners, it compounds the advantage. Black families, for instance, are more reliant on women's incomes than other families since about 80 percent of Black mothers are the sole breadwinners.
There's also a good bit of evidence that we, as white women, are the main beneficiaries of affirmative action policies. The Department of Labor estimates that six million white women workers are in higher occupational classifications today than they would have been without affirmative action policies. This pays off in dividends in the labor force and to (mostly) white men and families.
Although some people of color have been helped by affirmative action, data suggest that women—white women, in particular—have benefited disproportionately from these policies. In many ways, affirmative action has moved white women into a structural position in which they share more in common with white men than they do with Black or Latina women.
Even in the private sector, white women have moved in and up at numbers that far eclipse those of people of color. After IBM established its own affirmative action program, the numbers of women in management positions more than tripled in less than ten years; overwhelmingly, these were white women. Data from subsequent years show that the number of executives of color at IBM also grew, but not nearly at the same rate.
No amount of positivity, light, and love will help us defeat the patriarchy if white feminists can't tolerate being criticized.
Given these incredible employment gains by white women, it might seem logical that this demographic would be among the biggest supporters of affirmative action. This is not the case. White women often feel aggrieved because of these same policies.
After I finished my PhD at the University of Texas at Austin, I applied for a teaching position at a small college. When I didn't get that job, I was disappointed. The chair of the search committee, a white man, told me, I think in an attempt to console me, "Our hands were tied, we had to give it to her." The "her" he was referring to was the just-as-well-qualified woman of color who got the position. By telling me this, he was implying that affirmative action policies in hiring are unfair to white women and, specifically, that her hire had caused me injury. I can't know his intention in telling me this, but I do know that such stories are an invitation to racial resentment even as they obscure the many ways white women benefit from affirmative action policies, as when we get to count as diversity in an otherwise all-white-male company, organization, or institution.
When Abigail Fisher sued my alma mater, she claimed that UT had discriminated against her in the undergraduate admissions process. Her case went all the way to the Supreme Court. Since the 1970s, the most common plaintiffs in lawsuits against universities for discrimination in the academic admissions process have been white women: Abigail Fisher (Fisher v. University of Texas); Barbara Grutter (Grutter v. Bollinger); Jennifer Gratz (Gratz v. Bollinger); and Cheryl Hopwood (Hopwood v. Texas). Despite their incredibly privileged structural position within the United States, these white women still felt aggrieved because they assumed that if they didn't get into their top choice of school, a person of darker complexion and lesser qualifications had taken a spot that rightfully belonged to them. Fisher, like so many white women of her generation, seems to believe that her peers who are Black and Latina have it "easy" when it comes to getting into college, as if they only had to send in their photograph with their application to gain admission.
The popular culture narratives about affirmative action would have us believe that it is a system that offers unfair advantage to Black, Indigenous, or other people of color. Yet, the reality is that it's white women who benefit most, and it is advantage they pass on to their families.
__________________________________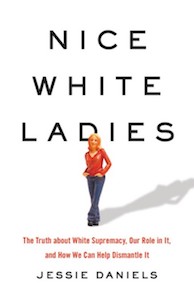 Excerpted from Nice White Ladies: The Truth about White Supremacy, Our Role in It, and How We Can Help Dismantle It by Jessie Daniels. Copyright © 2021. Available from Seal Press, an imprint of Hachette Book Group, Inc. 
---