So You've Decided to Write: Advice from a Great and Notorious Editor
Introducing a New Summer Series on Writing from Terry McDonell
There is nothing finer than deciding to write.
Depending on how well you write and how often you publish or change jobs or assignments, other writers come in and out of your life. Some of them are already famous and others will be soon, but celebrity doesn't matter because you know something together—the private thrill that comes from writing a clear and unique sentence. The craft of it. James Salter liked to "rub words in his hand, to turn them around and feel them."
Writing is exactly that, and there is no work like it because it is so complicated to know when you are done. Riffing about writing journalism, Renata Adler wrote, in her novel Speedboat, about giving "a piece of sugar to a raccoon, which in its odd fastidiousness would wash that sugar in a brook till there was nothing left."
 Editors can help with that.
Before I became an editor I had an intuition about what readers wanted: they wanted to read whatever I wanted to write. Sure they did. I just needed a little editing sometimes. Every editor I ever had, including the bad ones, were strict about pieces living or dying by their language—even if they couldn't write themselves, which of course they couldn't. That's why they were editors. Or so I thought until I met the editor who made me an editor.
His name was Bob Sherrill, and at 41, he was known in the magazine world to be at once crazy and shrewd and kind. He was said to be especially good with young writers, and was also known for out-dressing them in his white high-top Chuck Taylors with the fluorescent red laces (untied), his baggy blue-and-white seersucker suits and his black T-shirts, a green-and-pink silk bandanna around his neck and a Black Watch beret over his shaggy strawberry blond hair. Plus his Ray-Bans, rain or shine. Bob was colorful.
"Before Microsoft Word, stopping to count how many words you'd typed could be refreshing, like stopping to make tea or smoke a cigarette."
He was also a bit surreal, a flipped-out literary ice-cream man, but handsome too, and women liked him—I worked for him as a reporter at a start-up weekly called LA that we were saying was like, you know, "the Village Voice, but for Los Angeles." Bob never said that, though. He had come west on an "editorial whim" (his phrase) after some turbulent years in New York at Esquire, where he had "just tried to be helpful" (ditto) with that genre-cracking run of pieces that defined the New Journalism. Tom Wolfe, Gay Talese, Truman Capote, Norman Mailer—every writer in the country knew the growing roll call. Bob had edited all of them and liked to talk about how they got their story ideas.
"From editors, of course," he would say, riding shotgun with a Mexican beer between his knees, motoring around Southern California with one or another of the young writers who worked for him. Bob would never let you use eventful in a piece but this particular day was that for me, driving us both down the coast to a party in Dana Point where there would be journalists, maybe a couple novelists, and also people in the new MFA program at UC Irvine.
I knew Bob would be the center of the party as he always was wherever writers and alcohol came together. All the way down the Pacific Coast Highway we talked story ideas. Bob was warming up for the writers who would soon be circling for a chance to talk to him, all of them wanting to break trail for an assignment from Esquire, where he was still a contributing editor. Somewhere near Laguna Beach I said something about how anybody interested in journalism (like me) would want to read a piece about Bob himself, and what was about to happen to him at the party.
Bob had a way of cocking his head when he got a new idea. That's what he did then, and told me he thought I thought like an editor and we should both think about that. Think about me becoming an editor. "Think about monkeys jumping out of boxes," he said. "That's what good editors do." I had not heard that one but figured he was talking about jack-in-the-box surprises. I nodded. He cocked his head again. I waited.
"Plus," he said, taking another pull from his Tecate, "good editors never have to drive. You just have to be helpful."
I was far from imagining I would ever become what I thought of as a real editor, like Sherrill, let alone work at his hallowed Esquire, or edit Wolfe, Talese and Mailer. But that's what happened, and I met new writers and worked with them and picked up some editing tricks that seemed to amuse them.
Here's one: There is a word count at the top of this column because as an editor I always wanted to know how far my pencil would have to travel. This helped me evaluate pacing or the lack of it. Writers were sensitive to this once they found out how I worked, even if they weren't being paid by the word.
At all the magazines I edited (Rolling Stone, Esquire, Sports Illustrated, et al.), features were assigned at a specific length—usually 4,000 words—and most writers would take that over 3,000 and say they were close. Others would come in under 3,000 and say the same thing. It was mysterious why being direct about the number of words they were filing was so difficult but I am sure it had more to do with some kind of alchemy than lack of discipline. Before Microsoft Word, stopping to count how many words you'd typed could be refreshing, like stopping to make tea or smoke a cigarette. Now doing a word count can have a slot machine kick to it if you have the discipline not to do it every time you hit save.
None of this matters if the piece is good—and that's determined by voice and narrative, not length. Going long is always more ambitious and usually more fun. This was true before lengthy pieces became "creative nonfiction" or "narrative journalism," and it's true now that we've finally debunked the simple-minded web assumption that no one will screen-read anything longer than a news capsule. No writer I ever edited wanted to go short, anyway. Neither do I, but I also know that the best pieces seem to find their own length. That's the alchemy, and I will have more to say about it in upcoming columns on Lit Hub.
Perhaps I can be helpful.
__________________________________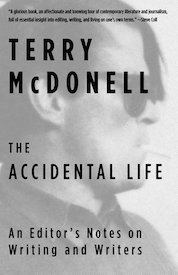 Adapted from The Accidental Life: An Editor's Notes on Writing and Writers, by Terry McDonell (who is a cofounder of this website), published this month by Vintage. TerryMcDonell.com.
---