So Many Damn Christmases
A So Many Damn Books Holiday Record
with Hosts Drew Broussard and Christopher Hermelin
This episode is taken from the recording sessions for the So Many Damn Books holiday album—entitled "So Many Damn Christmases"—and it includes four songs from the record! Three holiday classics with a bookish twist, plus one original Christmas tune that is sure to be an instant favorite for the whole family. Also, naturally, the guys talk about books, specifically best-of lists and the past decade in reading. Because of course they do.
Special thanks to Dani Lencioni, the Moose Masquerade Choir, Ethan Helm, and Andrew Sheron at Conveyor Studios for musical additions and assistance.
Some of the Best Books of the 2010s, per SMDB, in alphabetical order:
2 A.M. at the Cat's Pajamas by Marie-Helene Bertino
The Selfishness of Others by Kristin Dombek
A Visit From the Goon Squad by Jennifer Egan
The Wicked and the Divine by Kieron Gillen & Jamie McKelvie
Fates and Furies by Lauren Groff
The Magician King by Lev Grossman
The Magician's Land by Lev Grossman
NOS4A2 by Joe Hill
You Too Could Have a Body Like Mine by Alexandra Kleeman
Treasure Island!!! by Sara Levine
Tell Me How It Ends by Valeria Luiselli
Skippy Dies by Paul Murray
The Argonauts by Maggie Nelson
Made for Love by Alissa Nutting
Night Film by Marisha Pessl
Where'd You Go, Bernadette? by Maria Semple
Democracy May Not Exist But We'll Miss It When It's Gone by Astra Taylor
Trick Mirror by Jia Tolentino
Annihilation by Jeff VanderMeer
Paper Girls by Brian K. Vaughan & Cliff Chang
Saga by Brian K. Vaughan & Fiona Staples
Building Stories by Chris Ware
Sex Criminals by Chip Zdarsky & Matt Fraction
*
Some Thoughts on Best-Ofs:
Christopher: I feel like "best-of" is talking about the extreme, in a way. And the extreme reads are definitely exciting, but the stuff in between… you have to have something to bounce that off of. I don't know, the extremes… I mean, look at Twitter and social media. We've seen that it's bad, to only have the extreme reactions.
Drew: It's almost—okay, hear me out. Here's my proposal, to the world, for how we should do best-of lists going forward. Decade-best-of lists, I mean. You can do your year-end best-of lists however you want, put em out in October and fine.
But this decade thing. The books that came out this year, that we've only had maybe a year to sit with; how are you going to stack those up against something that came out in 2010 or 2011, that we've had nearly a decade to sit with? I think decade best-of lists should only come out for the preceding decade.
Christopher: So we should be choosing the best-of-the-decade for the decade from 2000 to 2009 right now.
Drew: Yes. I mean, right? I think it's a good plan. Don't know what that book would be, though.
*
Jingle Books (featuring the Moose Masquerade Choir, recorded live 12.15.19 at Conveyor Studios)
Jingle books, jingle books
Jingle all the way
Oh what fun it is to read
And get lost in books all day, hey!
Curled up on the couch
On a two book kind of day
O'er the pages turn
Crinkling all the way (skrtch skrtch skrtch)
Tea kettle bell goes ding
Pour in spirits right
What fun it is to read all day
With a toddy by your side
OH! Jingle books, jingle books
Jingle all the way
Oh what fun it is to read
And get lost in books all day
*
Give 'Em Books (for Christmas)
An original tune written by Christopher + Drew, featuring Ethan Helm.

*
This week's themed cocktail: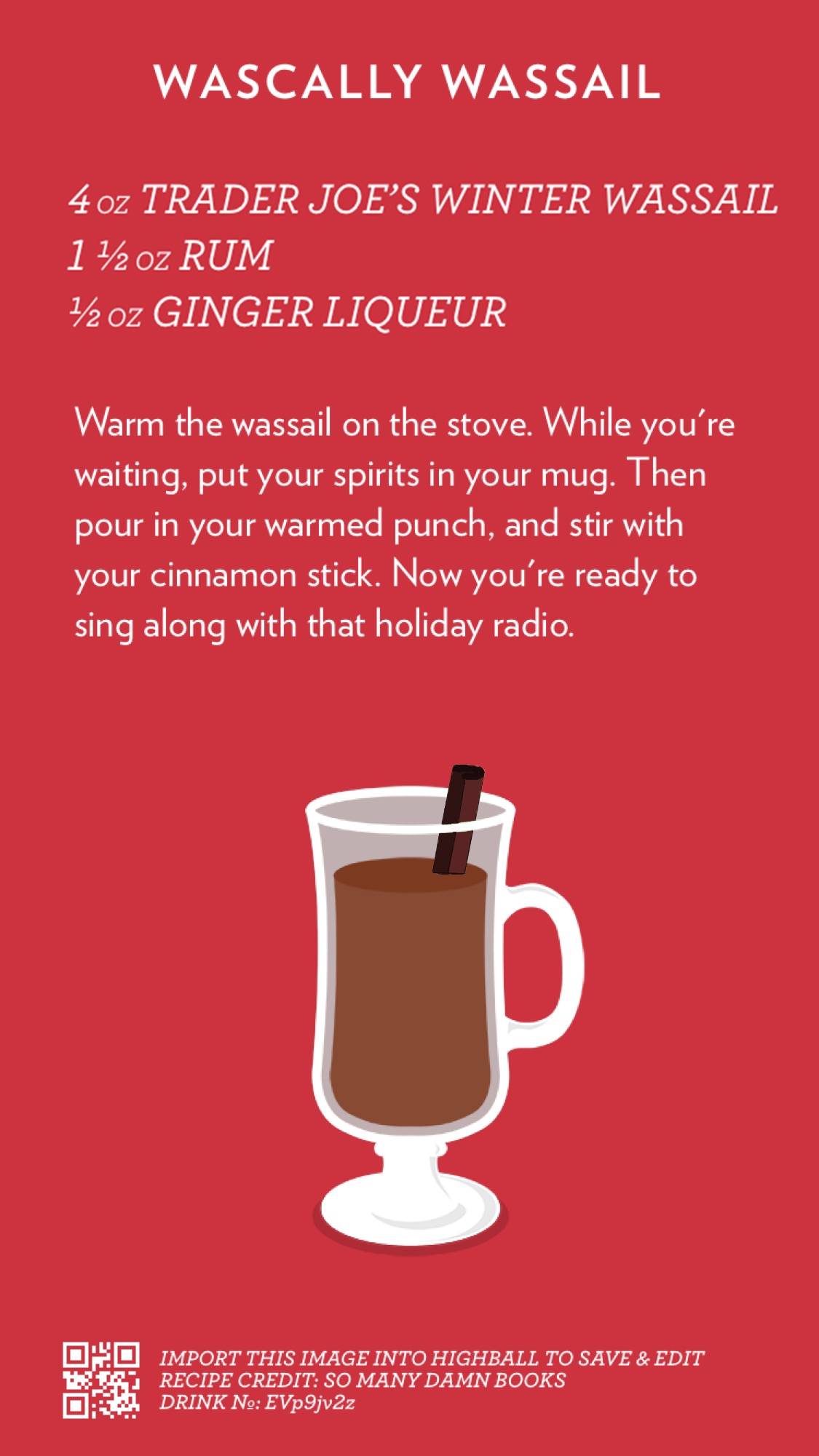 Music by: Christopher and Drew, the Moose Masq choir, Dani Lencioni, and Ethan Helm, along with Millstones for his Dance of the Sugar Plum Fairy (Electrohouse Remix) and O Tannenbaum recorded by Dan Lerch.
---