Sheep Shearing in the 21st Century: Craft or Career?
Peggy Orenstein on the Challenges and Changes to Contemporary Agricultural Work
It's not as simple as you might think to find a sheep to shear. For one thing, they don't produce fleece on demand. Shearing is seasonal work, and that season varies somewhat with geography and climate. In Northern California, where I live, it runs January to June. Any other month, you will be largely out of luck. Also, may I remind you, I was attempting this project during the height of the pandemic. It would have been challenging to find another person willing to stand six feet apart from me for an afternoon of any activity, let alone one involving a huge amount of sweat and heavy breathing.
Even under ordinary circumstances, learning to shear is tricky. There is only one annual five-day course offered in the entire state: in Mendocino County, a few hours north of my home in Berkeley. I'd tried to sign up for it before, but either it was offered when I was going to be out of town (because in the Before Times I was seemingly always going to be out of town), or the online registration closed too quickly.
In 2019, the class filled within two minutes. I don't know why all these people are so intent on stripping down a sheep; since there continues to be a critical shortage of professional shearers, I presume that most, like me, are crafters in it primarily for the experience.
Maybe that was another reason sheep shearing appealed to me: it is a job drifting toward extinction. As a writer of books—a trade that, in the modern world, seems to be going the way of the blacksmith, the lamplighter, the gandy dancer (the what, you say? Exactly)—I have a fascination with defunct jobs of bygone eras. In the U.S. there are fewer than five hundred professional shearers left for over five million sheep.
Maybe that was another reason sheep shearing appealed to me: it is a job drifting toward extinction.
The larger, commercial endeavors bring in crews from Central and South America or Australasia, but in those regions, too, the trade is in decline. Australia has only twenty-eight hundred shearers for roughly seventy-three million animals; there are apparently too many other ways to make a living that don't require bending over for eight hours a day while an ungulate kicks you in the face. During the pandemic, when travel was restricted, the shearer shortage hit a crisis. In Spain, farmers became so desperate that they petitioned the king to intervene with the government on their behalf, allowing them to charter a plane for shearers from Uruguay.
Given all that, automation would seem inevitable, even desirable, but so far all attempts to mechanize shearing have been a bust. A much-ballyhooed effort in the 1980s, the "shear magic," required an operator to stretch out a sheep's legs as if it were being rotisseried and strap it to a rack before two clippers dropped down from above, like scrubbers in a car wash, to strip it clean. The process not only looked traumatic for the animal, it took twice as long as hand shearing. Plus, the machine wasn't portable, so it couldn't be carried from ranch to ranch.
A decade or so later, something called "biological wool harvesting" also had a moment: ranchers would cover their sheep with what looked like giant hairnets, then inject them with a protein that would cause the fleece to break at the skin. After a month, they removed the net and, voilà! The wool fell right off. It sounded good, but the nets were fiddly things, and anyway, they only worked on smaller animals, so interest quickly faded.
Most recently, in 2019, an Australian tech company unveiled a pair of disembodied, robotic arms that eerily mimic a human shearer's movements. They've so far only been tested on life-sized 3D-printed sheep (designed, also eerily, to replicate the shape and contours of the real thing, except without faces or legs), but since the arms become "smarter" with each shearing, they may someday hold promise; certainly the plastic sheep seemed unfazed by the experience.
At any rate, the Mendocino class, like everything else, was canceled during the pandemic. There were a few courses still running in other parts of the country, but they were in places where too many people for my comfort did not believe Covid was real; besides, I wasn't eager to get on an airplane. To add to the difficulty, I was determined to learn from a woman. Thirty-some years ago, when I moved from Manhattan to the Bay Area, I briefly took up windsurfing: it fit my Hollywood-inflected vision of What One Does in Sunny California. I did not fully comprehend that San Francisco was in the chilly, northern part of the state, nor that the water in the bay typically hovers around fifty-four degrees.
My first time out, buffered by a neoprene wetsuit that made me feel like the Michelin man, I tried repeatedly to heave the sail out of the water. No luck. Female surfers don't have the upper-body strength to muscle the mast like guys can. But my teacher, also a woman, said she saw that as an advantage. We had to learn sooner to surf correctly, through balance and counterweight. Ultimately, she felt that made us progress faster. I suspected the same principle might hold true in shearing.
Shearing is one of the many vocations (like seafaring or stock trading) that, for generations, hung an invisible "no girls allowed" sign outside its clubhouse.
It turns out that while the number of women in the profession has grown over the past several decades, 95 percent of shearers are still male. In part, that's because the work is, indeed, so physically grueling: shearers are fond of saying that theirs is considered "the hardest job in the world," and that they burn five thousand calories daily. Marathon runners, by comparison, burn a piddling twenty-six hundred. Although I'm duly impressed by that information, the message clearly doesn't sink in, since I persist in believing that, as a woman on the south side of middle age, I will easily be able to do this thing. No problem, sign me up!
The job may also skew male because it's migratory work—small-flock shearers have to go to where the sheep are, driving thousands of miles a season, sleeping in cheap motels or the cabs of their pickup trucks. Shearers have the rugged, rambling reputation, if not quite the mystique, of cowboys. That lifestyle doesn't necessarily appeal to many women, let alone mesh with potential family obligations.
Really, though, the biggest reason for the gender disparity is that age-old combo of tradition and misogyny. Shearing is one of the many vocations (like seafaring or stock trading) that, for generations, hung an invisible "no girls allowed" sign outside its clubhouse, convinced that the presence of a coworker with a vulva was an existential threat to a precious way of life. Historically, in Australia, when a woman approached the shearing shed, whichever man spied her first would shout, "Ducks on the pond!" indicating that the other dudes should stop their presumably incessant cursing and spitting and, I don't know, comb their hair or pull their pants up to cover their ass cracks or hide their porn or some such.
Eventually, through numerous inquiries at local yarn shops and fiber studios, I found Lora Kinkade. A tall, broad-shouldered twenty-nine-year-old, with strawberry-blond hair cut in a chin-length bob, she has been a professional small-flock shearer for four years. She also manages an organic produce farm near Mendocino. Lora knew a ranch in Sonoma County raising some longer-haired sheep breeds that could stand a midseason trim. She would be pleased, she said, to give me a lesson.
__________________________________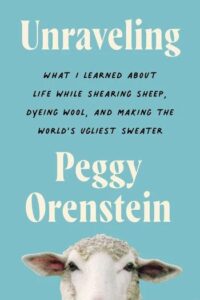 Excerpted from Unraveling: What I Learned about Life While Shearing Sheep, Dyeing Wool, and Making the World's Ugliest Sweater by Peggy Orenstein. Copyright © 2023. Available from Harper, an imprint of HarperCollins Publishers.
---