Seven Books To Help You Get Through Your Olympic Hangover
Kathleen West Recommends Chris Lear, Haruki Murakami, and More!
My 13-year-old son, Mac, is a pretty good hockey goalie who's having a pretty good season. I'm not sure how Mac developed a propensity to stop rock-hard projectiles with his scrawny little body, but he's undoubtedly skilled at the position. Because being a goalie parent is a special kind of hell (if Mac makes a mistake, the other team scores), It's lucky I love sports so much.
As a life-long runner, I'm willing to endure vicarious nerves on behalf of my children partly because of the entre sports provides to talk with them about resilience and disappointment. Recently on our morning commute, I sensed an opportunity. I'd suffered a writing-related setback I decided to share. "I'm fine," I told Mac, "but I'm bummed out." I modeled vulnerability, which is obviously gold-medal parenting. Next, I'd score again by letting my child be the expert: "So, how long do you let yourself wallow after a hockey loss before you make yourself move on?"
I'm not sure Mac looked up from TikTok as he answered. "I don't know, Mom."
"What do you mean you don't know?" I persisted. "Do you, like give yourself an hour to feel bad, or what?"
He shrugged. "I just don't lose."
I guess being a good goalie requires not only flexibility, agility, and courage; but it also depends on revisionist history and hubris?
For sure, athletes need something different and special to propel them to the Olympics, the world's biggest stage. In our family of sports enthusiasts, we watch with fervor. From biathlon to ice dancing to skeleton, we're totally in. And when it's over, here are some books I'll turn to (and force my children to read) to keep the Olympic flame alive.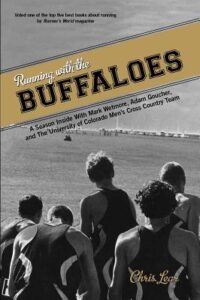 Chris Lear, Running with the Buffaloes
In this running community cult classic, Lear documents a full season with the perennial powerhouse UC-Boulder cross country team, their iconic coach, and a deserving national championship contender.
In addition to detailing the workouts and the lifestyle required to run at the top of the NCAA, Lear examines the team culture and the mystique of Coach Mark Wetmore. His high-mileage weeks lift some runners to the podium while leaving others veritably broken. Buffaloes is one of the few books my "reading is trash" seventeen-year-old has devoured.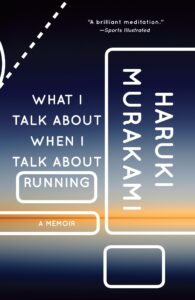 Haruki Murakami, What I Talk About When I Talk About Running
Most of us rank-and-file athletes will never be Olympians. Neither will Murakami, but that doesn't stop him from approaching his athleticism with a mix of compulsion and curiosity. I loved this funny, charming, and true meditation on running and writing. While he sometimes may wish he could, Murakami can't put his art or his sport on the shelf. There's always the next thing–the next accomplishment or finisher's medal–and it's both a pleasure and responsibility to carry on.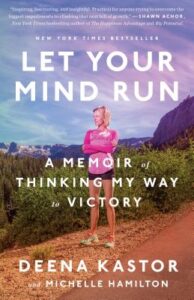 Deena Kastor and Michelle Hamilton, Let Your Mind Run
Kastor held the American women's marathon record from 2006 until January of this year. Her memoir, written with Hamilton, is about more than the broken tapes and Olympic moments of her storied career.
What stays with me is Kastor's realistic optimism and curiosity about her own mind. She details a process of accepting negative inclinations and then directing herself to "find a thought that serves you better." Even in my own modest athletic pursuits, I can see how this works: Acknowledge, "I can't hold this pace," and then move on to, "Let's just see if we can give it one more minute."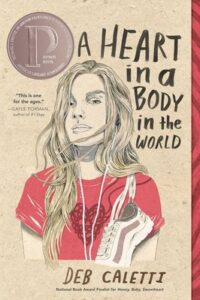 Deb Caletti, A Heart in a Body in the World
Lately, when people (mostly my students, who are juniors in high school) ask me for the impossible, a title of "my favorite book," I offer this one. It's not a "sports book" in the traditional sense, but it is about a person coming back to herself through movement.
Something terrible has happened to Annabel, and she can't process it. One minute, she's eating dinner with her family, and the next, she's running. She decides to run from Seattle to Washington D.C., and the fact that her family makes it happen for her is a testament to how much she needs it. This book is written for young adults, and I've thrust it into the hands of both of my teenagers at home.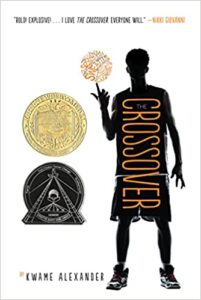 Kwame Alexander, The Crossover
I spent many years as a middle-school English teacher, and never once have I recommended a Kwame Alexander novel to a kid who didn't finish it. This one is an electrifying, heart-wrenching story about twin basketball players and their dad, a former NBA pro.  It screams to be read in one sitting, it's uber-accessible, and it compels the reader to evaluate the universal themes of family, consequences, identity, and forgiveness. Now that it's been out for eight years, there's a good chance the Olympics-obsessed kids in your life might not have read it yet.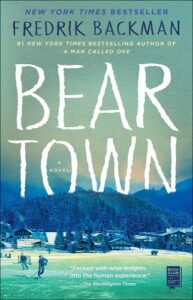 Fredrik Backman, Beartown
Backman's mega-hit hockey book is heavy with atmosphere, and the characters' secrets hole up beneath snowdrifts. The high school players in Beartown adore their coach and fiercely love the sport in ways that resonate with any athlete or sports fan.
The boys on the team face immense pressure leading up to a semifinal game, a matchup that will determine their own futures and the trajectory of the whole small town. And then something awful happens after the final buzzer, and I couldn't stop reading from there. It's intensely human and generous, and Backman inspired my own examination of the complexities of youth sports.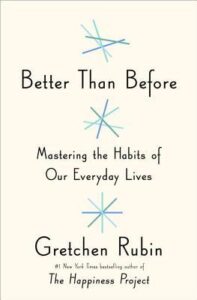 Gretchen Rubin, Better Than Before
More than self-help, Rubin dives deep on habits–formation, motivation, keeping, breaking, catching, encouraging, and enjoying. If you're looking to take up a new sport or dedicate more time to one you enjoy, Rubin says it's first important to understand yourself, and then to remove your obstacles to success.
This book is conversational and revelatory, and I keep coming back to it every time I want to achieve something new or important. Maybe it'll be just the ticket as you channel your Olympic energy into everyday life.
____________________________________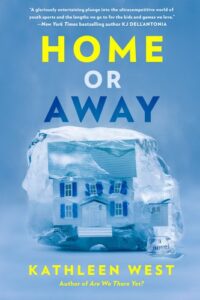 Home or Away by Kathleen West is forthcoming from Berkley Books.
---