Seeking Sanctuary from Electromagnetic Radiation in Green Bank, West Virginia
Stephen Kurczy Visits the "Log Lady" of the Quiet Zone
In the area surrounding the Green Bank Observatory in West Virginia, devices emanating radio frequencies are restricted. The region has come to be known as the Quiet Zone, due to the restrictions against cellular service, wifi, and other modern technology. Thousands live in the Quiet Zone. The following is excerpted from Stephen Kurczy's new book, The Quiet Zone, an exploration of the area and its residents.
*
Still in his pajamas, Bob Sheets turned on his kitchen griddle and whisked up a bowl of blueberry pancake batter. I had come to debrief. The Sheetses were becoming my guides to better understanding the Quiet Zone, and my head was spinning. I had come to Green Bank on the presumption that the less connected life was richer—which seemed to be bearing itself out. But I was also staring down a rabbit hole of alien hunters, government spies, and WiFi refugees.
Hovering over the stove, Bob chuckled as I said Green Bank reminded me of the fictional town of Twin Peaks from the 1990s television series. Both Twin Peaks and Green Bank were remote mountain towns with economies built around logging and lumber mills. Both towns had supernatural undertones, with government officials trying to communicate with aliens. The story of Twin Peaks was built around a tragic murder, and I was hearing that Pocahontas had its share of killings, some unsolved. Driving around the mountain roads, winding alongside ancient rivers that had eroded gorges into the landscape, with a dark forest on one side and green pasture on the other, I could hear the quiet around me, and it sounded like the foreboding, slinky, synthesizer-filled theme song to Twin Peaks.
"I think it has to do with the intersection of cultures," Bob said. He poured batter on the griddle. "We've got our mountain culture, scientific culture, and the wave of special people that have 'powers.'" He eyed bubbles forming on the pancakes.
"I haven't seen that show since I was seventeen," his wife, Elaine, chimed in. "I just remember the funky music. And the Log Lady." In Twin Peaks, a seemingly crazy woman referred to as the "Log Lady" believes she is the medium for a clairvoyant log that warns of unseen dangers. "We have our own Log Lady," Elaine added.
The Log Lady of the Quiet Zone lived a few miles away and had the mysterious power to "detect" WiFi, cell signals, and other forms of electromagnetic radiation. I was told I might find the Log Lady at church—perhaps the only church in America quiet enough for her to attend.
Pocahontas County had about three dozen active churches, approximately one for every 230 people, compared with a national average of one for every 1,000 people. The churches were community gathering places, and I'd found myself relying on them to better understand the area. Most were Methodist or Presbyterian. Some were Baptist and Brethren. Three were Catholic. And Wesley Chapel United Methodist Church, built in 1897 on a hillside about five miles from the observatory, seemed to be the designated church of the so-called electrosensitives.
Wesley Chapel was quiet both by law and by default. In addition to lacking cell service, the church had no plumbing and no telephone, simply because parishioners never bothered with the upgrades. Out back were two outhouses, each with a rickety wooden door, one labeled "Ladies" and the other "Gentlemen." In the front yard was a stone tablet engraved with the Ten Commandments. "Thou shalt not kill," it ordered. For Diane Schou, who felt that her life was physically threatened by the electromagnetic radiation from cell towers, smartphones, and even certain lights, the sixth commandment meant strictly enforcing the rules of the Quiet Zone.
The Sunday that I first entered the white clapboard church, sunlight poured in through four tall windows on either side of the sanctuary—fortunate, given that the lights were kept off for the electrosensitive congregants. I spotted Schou, a heavyset woman with gray pigtails, glasses, a floral-print dress, and a cane. Of eight congregants, she was one of three with electromagnetic hypersensitivity. I scooted into a pew.
Pastor David Fuller, a middle-aged man who wore a suit jacket and crisp dress shirt, nodded hello to me from the pulpit. This was the second of three churches that he preached at every Sunday; two of the three had fewer than a dozen congregants. It would have made sense to consolidate everyone into a single church, but people clung tight to their ancestral houses of worship. One congregant at Wesley Chapel would proudly tell me how his great-grandmother donated an organ to the church way back in 1898. It stood at the front of the sanctuary, never used.
After a few hymns accompanied by an out-of-tune piano, Fuller launched into a sermon about the church's responsibility to evangelize, which was something Schou knew about, as one of the world's most vocal evangelists for EHS. When I introduced myself to her after the service, she was hardly surprised that I'd sought her out. She'd already been interviewed by worldwide media, from Newsweek, National Geographic, and National Public Radio to Brazil's O Globo, Britain's the Guardian, and Germany's Der Spiegel. Media portrayed her as a canary for the health dangers of wireless connectivity. She had taken it upon herself to write letters to everyone from the chairman of the Federal Communications Commission to the president of the United States about her illness.
Schou was with two friends, Allan Clark and Jennifer Wood, who had also moved to the area because of their shared illness. Wood had long red hair and wore a dark dress. She'd lived in Green Bank for six years and said she walked barefoot around the telescopes daily, electrically "grounding" herself in nature and soaking up the quiet. Clark, chubby and middle-aged, had recently arrived from Missouri on the recommendation of a friend who'd seen the 2016 documentary Lo and Behold, in which Wood was interviewed. With a worn look on their faces and a desperation in their eyes, all three of them started telling me how they could feel electromagnetic radiation emanating from smartphones, radiating through walls, and assaulting them from all sides, making life unbearable in the outside world. Wood said she personally knew "at least one thousand to two thousand people" with EHS. Many, like her, experienced "pins and needles" in their heads when close to cellphones. In cities, Wood felt like her skin was "frying." She got vertigo around electric stoves and other electronics and developed a metallic taste when around power lines or cell signals.
"Four or five people have died in my arms from this—literally died in my arms," Wood said. "I can't stress enough how serious this is. You could be the one tomorrow to get this, and I'm telling you, if you get poisoned like this, your worldview will be 100 percent changed."
For most people, electromagnetic radiation is imperceptible and harmless. It radiates from almost every object, forming a chaotic mess of photons propagating through space at the speed of light. Strong doses can be dangerous. The Food and Drug Administration sets a limit on how much radiation can leak from a microwave oven, while also recommending that users not stand directly against the appliance. A single hospital CT scan is considered safe, but the American College of Radiology recommends limiting your lifetime total to twenty-five chest CTs because of the rising risk of cancer. On a more extreme level, the U.S. military's arsenal includes a microwave-radiation weapon that makes people feel like their skin is burning. For the electrosensitives, almost any dosage of human-made electromagnetic radiation could make them feel ill.
Schou believed that she was the first electrosensitive to arrive in Green Bank, in 2007. She estimated that more than one hundred people with EHS had since moved to the area from around the world, driving up housing prices and creating a market for "quiet" real estate. The Pocahontas Times regularly listed new properties with a "great location in the Quiet Zone," and the electrosensitives had come to make up about 10 percent of all home sales for Marlinton-based Red Oak Realty—on pace for about two hundred home sales in the decade after 2010. Every week, Red Oak Realty got two to five phone calls from electrosensitives looking to buy property. They often brought their own handheld field-strength meters to test noise levels around houses.
Schou invited me to talk more at her home a mile down the road. She moved slowly with the aid of a cane. We loaded into our cars and I followed behind her maroon Subaru Forester, past rolling farmland and forest, to her large brick house. A camper van with an Iowa license plate was parked outside. Along the driveway was a tiny red cabin. It was occupied at the moment by a woman named Julie with EHS. Two other sensitives were camping in Schou's backyard. Wood had also stayed here when she first arrived in 2011. Other people with EHS were known to simply park at the observatory and sleep in their cars until they were asked to leave.
Schou also owned a house across the street that she rented to families with sensitivity. She'd purchased it because the previous owner had WiFi and she wanted quieter neighbors. Several miles away, she oversaw a fourteen-acre wooded property, which was owned by a nonprofit 501(c)(3) she'd founded called Wave Analysis Verification Research (WAVR). It had two cabins without water or electricity. Schou hoped to develop WAVR into a full-service "resort" to host the sensitives who called her daily from around the world asking for help.
While not recognized as a medical disorder in the United States, EHS has some high-profile advocates. Jolie Jones, daughter of the renowned jazz musician Quincy Jones, claims to have developed EHS around 2008. Gro Harlem Brundtland, the former prime minister of Norway and former director-general of the World Health Organization, also believes she suffers from EHS. Jack Dorsey, the CEO of Twitter, reportedly owns a $5,499 electromagnetic radiation-blocking tent and feels better when he's "not getting hit by all the EMF energy." Jill Stein, the Green Party's candidate for U.S. president in 2016, said on the campaign trail that she opposed WiFi in schools on the grounds that "we should not be subjecting kids' brains especially to that."
EHS has gained wider prominence since the 2015 premiere of the AMC series Better Call Saul, which featured a character named Chuck McGill who wrapped himself in a silver blanket to protect himself from electromagnetic radiation and lived in a house disconnected from the electric grid. Schou called the show a "very good educational tool" based on the two episodes she'd seen. She apparently didn't know McGill was eventually revealed to be a hypochondriac.
Inside Schou's living room, a five-column bookcase held six rows of shelves overflowing with folders, binders, and stacks of paper. It was a library devoted to EHS. She pulled down a booklet titled Electromagnetic Sensitivity and Electromagnetic Hypersensitivity: A Summary. It listed nearly one hundred potential symptoms of EHS, including earaches, tinnitus, high blood pressure, low blood pressure, confusion, anxiety, depression, fatigue, memory loss, muscle weakness, restless legs, shiny eyes, dry eyes, allergies, hair loss, and pain pretty much anywhere in the body. It seemed like anything could be attributed to EHS. As mystifying as it all sounded, Schou claimed to speak with a degree of authority, as she had a doctorate in industrial technology from the University of Northern Iowa (which the university later confirmed for me). She regularly signed letters as "Diane Schou, Ph.D."
Schou's most telling symptoms of EHS had been hair loss, rashes, and headaches, which she began to suffer in 2002. "And I rarely had headaches [before 2002]," she said, "unless I ate ice cream really fast." At the time, she was living on a farm outside Cedar Falls, Iowa, with her husband, Bert, and their son, Paul. The company UScellular had recently built a cell tower near their home and, according to Schou, whenever she neared it she felt a "sledgehammer" of pain in her head. Her husband and son weren't bothered, so Schou concluded she was especially sensitive. She petitioned the U.S. government to investigate the tower, to no avail. To get away from the pain, she began sleeping in a homemade Faraday cage—essentially a box covered in wire mesh that helped block out electromagnetic radiation (not unlike that tent where Jack Dorsey takes refuge). Schou's cage was just big enough for a twin bed. Bert delivered her meals there. "I would have to leave occasionally so I could go to the bathroom or take a shower," she said.
Unless she wanted to live that way forever, Schou believed she had to leave Cedar Falls. She traveled across the country in the family Winnebago, logging thousands of miles as she searched for a place where she might feel free from pain. She and Bert visited an EHS sanctuary in Snowflake, Arizona, one of many communities that have cropped up around the world for people with unknown illnesses. But the high desert altitude didn't agree with Bert. She visited a remote island in Nicaragua where she felt better, but the language barrier was too challenging. She eventually met a forest ranger who mentioned a place in the Appalachian Mountains where cell signals were restricted. To Green Bank, Schou brought a new disease that most people had never heard of—though in time she would convince some locals that they, too, were sensitive. She purchased a burial plot in the cemetery behind Wesley Chapel, intending to live out her days in the Quietest Town in America.
While I was having a hard time understanding Schou's illness, I wondered if her reaction to cell service and WiFi was an intense manifestation of the kind of tech overload that we all experience at one time or another. Although she was an extremist, there was something very human about her search for quiet, as if hers was part of a bigger quest that spanned generations, civilizations, and belief systems.
___________________________________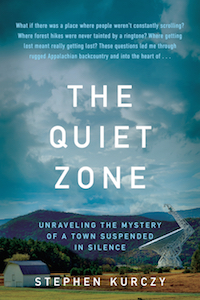 Excerpted from the book THE QUIET ZONE: Unraveling the Mystery of a Town Suspended in Silence by Stephen Kurczy. Copyright © 2021 by Stephen Kurczy. From Dey Street Books, an imprint of HarperCollins Publishers. Reprinted by permission.
---