Literary Hub is pleased to reveal the cover for Thunder Song, an essay collection from Sasha taqʷšəblu LaPointe—author of Red Paint: The Ancestral Autobiography of a Coast Salish Punk—coming from Counterpoint next spring.
Here's some more about the book from the publisher:
Thunder Song is a razor-sharp and clear-eyed meditation on what it means to be a proudly queer, indigenous woman in America today. Drawing on a rich family archive as well as the anthropological work of her late great-grandmother, Sasha taqʷšəblu LaPointe explores themes ranging from indigenous identity and stereotypes to cultural displacement and environmental degradation to understand what our experiences teach us about the power of community, commitment, and conscientious honesty.
Unapologetically punk, the essays in Thunder Song segue between the miraculous and the mundane, the spiritual and the physical, as they examine the role of art—in particular music—and community in helping a new generation of indigenous people claim the strength of their heritage while defining their own path in the contemporary world.
And here's the cover, which was designed by Nicole Caputo, with art by Maynard Johnny Jr.: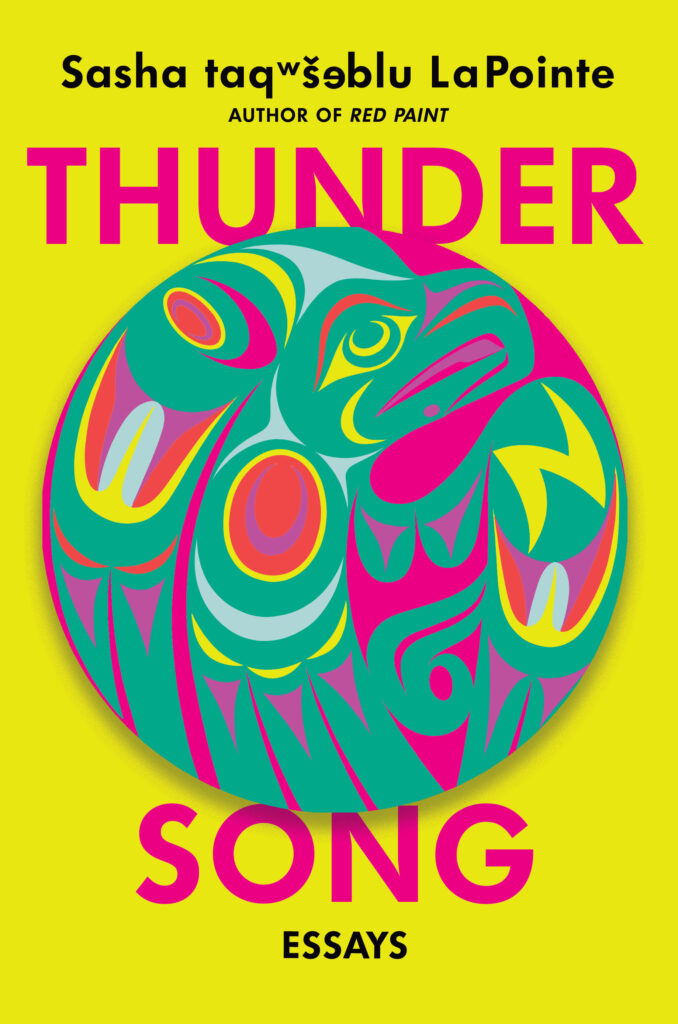 "Our first iterations of the cover featured photographs, closely following the cover aesthetic of the author's last book Red Paint but for this book of essays we were all in agreement that the photography was not quite as well suited," Caputo explained. "The team and I discussed using a Coast Salish artist and when we discovered Maynard's work the excitement was felt by us all. I had some specific pieces I thought could work well for Sasha's cover but upon contacting Maynard he mentioned one more to me: drum art featuring a female thunderbird with lightning held within the wing. The moving inspiration behind the creation of this artwork that Maynard also details here was so aligned with Sasha and her work. The strong bold type treatment, an adjusted palette of rhythmic bright neons and the clean design aligns with the hope, strong spirit, Sasha's punk background and heritage and the musicality of these beautiful and powerful essays."
"This cover is so completely stunning," LaPointe told Literary Hub.
I knew it needed to be bold, something powerful, and I knew I wanted to represent Coast Salish artwork, and Maynard's piece couldn't be more perfect! This piece truly took my breath away, and I feel honored to have it for Thunder Song. During our correspondence the artist shared with me a personal detail about this image, how it represents his lineage, specifically the strength of the women of his lineage, the thunderbird is feminine, and it made so much sense to me. The neon is a crucial and beautiful element too. I felt it was important to represent that bright, wild punk side, as well as my identity as a Coast Salish person. Because these essays come from all of me, I needed a cover that could show that. I'm so grateful for the folks at Counterpoint, for Nicole and Maynard, for this gorgeous neon dream cover.
"This design of a female Thunderbird titled Thunder Matriarch was mainly inspired by my granddaughter being born when I was creating the design," added Maynard Johnny Jr. "I've been blessed to learn and heal from my mother, my daughter and now my granddaughter, this design honors the strong matriarchs in my life and the matriarchs that guide our people to healing and positive lives."
Thunder Song will be published by Counterpoint on March 5th, 2024.