Seán Hewitt on Taking Refuge in The Legend of Zelda
"That pixelated landscape holds an electric key to my mind: it is able to renew my sense of wonder"
Induced, I think, through well-meaning children's books aimed at environmental awareness, as a child I had a curious nostalgia for times I had never lived through. Dear Greenpeace, about a whale beached in a garden pond, broke my heart; Enid Blyton's series The Faraway Tree, in which a group of children discover an enchanted woodland, and a tree that is a portal to other worlds, was read to us cover-to-cover over the course of a year in primary school; and a book I've since forgotten the name of, about the destruction of a wilderness, that I checked out of the school library so many times that, eventually, I was taken to one side, and it was suggested that I let other children read it too.
In all my awareness of extinction and the loss of beauty, there emerged a feeling of the time I lived in moving away, minute by minute, hour by hour, from an undisturbed, harmonious past: the snowy winters of the Victorian era; a vast, forested Britain full of wolves, bears, and danger; the unenclosed meadowlands of an older England. Every year was a year's more loss, a year's more corruption. One of my main symptoms became a hyperawareness of the weather.
Each October, around my birthday, I would notice if the leaves had turned color earlier or later than usual, and felt a deep unease when, each year, the autumn seemed to come later and later, so the atmosphere of my imagined perfect birthday—falling leaves, mists, crisp mornings, dark nights—began to slip out of place. And then, later in the year, I would watch out desperately for snow: the pinkening sky, the sudden uplift in temperature before the white downfall. If it came, I felt a relief, a soothing link with the past, as though some intervening years had collapsed, and brought me back to safety; but, more often than not, the snow never came. The seasons were out-of-joint; time was not to be trusted. I longed to move backwards, to slip into its more reliable past tense.
Then, one birthday, when I was nine years old, my parents bought me a video game, The Legend of Zelda: Ocarina of Time, for my Nintendo 64. Its bulky grey cartridge did not do justice to what was held, coded, inside. The game opens with Link, the protagonist, waking shivering from a harrowing dream. He is a boy without a companion, without guidance, alone in an unsettling, ruined world. The woods around him are thicketed in spider webs guarded by skeletal creatures; the doors are barred and locked; his fellow villagers shun and mock him; and the sacred being, the Great Deku Tree, has been overtaken by a parasitic decay. Our first task, we learn, is to awaken the god of the forest, to correct the fatal error: when we do, suddenly the world fills again with music, with birdsong, with the potential for joy and adventure.
I had found not only the world I wanted to live in, but also a world in which agency was given back me.
Zelda was a solitary game, made for a single player, which added to its sense of escape. In a way, it was like a book, in that its world was mine alone, so long as I was inside it. Then, I was the only person I knew who played Zelda, so it felt personal, like a fantasy world of my own. It was only much later that I learned it is often cited as the highest-rated video game of all time. My private kingdom must have meshed with innumerable shared human anxieties. I had found not only the world I wanted to live in, but also a world in which agency was given back me.
By playing an ocarina, by learning songs, I was given control over the weather, and over time. Art was a route to healing, and to change. I learned to tune into a pastoral reciprocity between myself and the landscape, the plants, the animals, wandering through endless uninterrupted fields, seas, cavernous and gloomy woods, caves, and temples.
There is apocalypse everywhere in the game: when time speeds forward, and the protagonist grows up, the world is changed into a nightmarish contrast with its rich virtual past. Hyrule, a prosperous kingdom, becomes a landscape of fire, full of ghosts, lava, and unruly weather.. We must turn back the hours, visit different seasons, must make night where day is, must see the new possibilities of each time to avert disaster.
As a young queer child, I often wanted to arrest the clock, or even turn it back. There was the environmental anxiety, but also a personal crisis too. The future was uncertain, dark: when I became an adult, I would have to come out, and then who knows what? Isolation, abandonment, a personal apocalypse of my own. So, week on week, month on month, I stared into the green, rich world of Zelda and made my way: moving time around, changing the weather, charting my way through a world that, as I learned more, could be re-enchanted, re-animated, saved.
Some days, you enter a pixelated pastoral: a fairy song plays through the world, and various creatures offer clues on your journey. The land is plentiful; the sun is temperate; the waters are clear and the rivers stippled with colorful fish. Other days, you're fully grown: the world is dark, or on fire: there is an electric storm gathering overhead, the rivers are empty, the ground is full of skeletons that emerge and take you unawares, shattering your innocent defenses. Still, when I was facing two apocalypses—one thankfully imagined, and the other very real—Zelda taught me not only the comfort of escape, the manipulation of time, but also the deep respect for the autonomous, enchanted, sacred natural world of the game.
Those years, I began to see myself in the (real) world as inhabiting an enchanted space. It changed the way I saw landscape and nature. The world was full of potential, of mystery, of shifts, of jewels and hidden wonder. Now, when the world is too much, too empty, too full of the future, I have found myself drawn back to it, as though it might be my own sacred text.
As global temperatures rise, and floods subsume villages, and winds batter the coasts with alarming regularity, or when my own future seems untenable, apocalyptic, I plug myself back in. That pixelated landscape holds an electric key to my mind: it is able to renew my sense of wonder, to re-set the way I move through the world, to make the whole place stranger, more fantastical, and make time seem, somehow, more manipulatable, opening up the bright, unlikely possibility of change.
__________________________________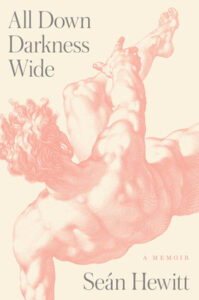 All Down Darkness Wide by Seán Hewitt is available from Penguin Press, a division of Penguin Random House, LLC.
---