Scholastique Mukasonga on the Power and Privilege in a Loaf of Bread
Childhood Memories of Life in Rural Rwanda
In Nyamata, bread was thought of as medicine more than anything else. A remedy given to gravely ill children, as a last resort, when all the other treatments had been tried—enemas, plants from the medicinal garden or the bush, drugs from the magendu, even rice and tea, those rare, exotic products brought by the white people and reputed to work miraculous cures. If none of those had any effect, if no improvement could be seen, then there was nothing more to give the little dying child but bread.
But there was no bread in Nyamata. You had to go and get it in Kigali, so Papa set off for the capital. It's not a short trip, two days going, two days coming back. In Kigali, Papa didn't go and buy bread from the bakery run by the Greeks. That bread was for white people and their houseboys, who lined up first thing in the morning for their bosses' breakfast tartines and brioches. Buying the Greeks' bread would have taken a good part of our earnings from the coffee harvest. Papa went to the market, where women sold bread they made themselves. Little round loaves, not much bigger than your fist, as pasty and sticky as manioc. Papa didn't haggle. You don't haggle over the bread that's going to cure your child. He bought four little loaves and started straight back for Nyamata, firmly hoping that precious bread would save the little patient.
*
One day, however, bread finally came to Nyamata. It was brought by Nyirabazungu, "the-woman-of-the-white-people," also known as Kilimadame, the Almost-Madame. As her name tells you, Nyirabazungu worked in Kigali among the Bazungu, the white people. She looked after Madame's children. But—if I can say this of a woman—she had more than one arrow in her quiver. The proof is that she had many children of unknown fathers, being raised by her aged mother in Nyamata. The villagers took a dim view of that, since such children are always thought to bring bad luck.
Article continues after advertisement
With all her many and varied activities, Nyirabazungu had managed to save up some money, which she used to come and settle in Nyamata. She caused quite a stir. The men, by which I mean the town functionaries and teachers with a little money, had eyes only for her. The upright mothers were offended by her freewheeling ways, which they predicted would soon endanger more than one household. We little girls wholeheartedly admired her walk and her dress. It was as if all of Kigali had found its way into our midst. Like her, we wiggled our little bottoms, which obviously couldn't compete with her prominent posterior. We envied her colorful pagnes, her high-heeled shoes. But there was no imitating the way she tied her scarf on her head, in a style called sinabwana, she-who-has-noman. Yes, that was her, Kilimadame, the Almost-Madame! Because while we were convinced that only a white woman could be called Madame, we Nyamatans could be proud: we had our own Almost Madame!
Kilimadame opened a shop on the market square in Nyamata, which like all the others sold beer—the incomparable Primus—and orange Fanta, lemon Fanta, packs of cigarettes, soap . . . But Kilimadame's shop, and this was a revolution in Nyamata, also sold bread. Kilimadame had learned to make bread by watching the women in the Kigali market. She built an oven behind her shop, and into its glowing maw she put the pallid little balls of dough that came out beautifully browned, the color of dry grass. Candida and I loved to watch as Kilimadame busily kneaded the dough, pulled it and stretched it, formed the little loaves. We weren't the only ones. There was always a crowd of children sitting around Kilimadame's oven, and when she took out the loaves they kept their eyes glued to that bread they wouldn't be eating, but whose sight alone transported them to another world, beyond the Nyabarongo, a happier world they couldn't be part of.
*
Kilimadame's shop prospered. It expanded, became a "hotel." In Rwanda a hotel isn't a place with rooms to sleep in; it's a bar that serves beer, brochettes, and even, from time to time, "civilized" food, which means food cooked with palm oil. The men of the village—the important ones—congregate there after dark. All evening long they tell and retell the same village tales, they discuss the latest news from the capital. Often it's boring. But if you really want to be a man, someone who matters in the village, you have to be there. Thanks to Kilimadame, Nyamata was making great strides toward civilization, but those innovations nearly shattered the solidarity the displaced community had so long shown, and introduced discord and suspicion even into the hearts of the families.
Among the displaced people, buyers of bread were of course few and far between. They were the teachers, and the ones—you could count them on one hand—who'd married their daughters to white people, and the ones who were lucky enough to have a son or daughter who'd stayed behind and found work. Proud were the children of those privileged few. They ate their loaves of bread in front of us all, slowly, taking their time, making a great show of chewing it, refusing to share or offer so much as a few crumbs to their friends, who, angry and miserable, pretended not to be watching.
Article continues after advertisement
On top of that, Kilimadame's hotel cast suspicion on all the men who volunteered to go sell a bundle of dry wood or a bunch of bananas in the Nyamata market. Would they really bring home all their earnings, as a good father must do, or would they waste a hefty share of it at Kilimadame's, drinking beer, eating a brochette for all to see, and maybe—the height of gluttony and selfishness—savoring a loaf of bread all alone! Stefania kept a close eye on the men of Gitagata. Some she placed in the shameful category of "gourmands," a deadly sin in Rwanda, especially for a man. "He's gone to eat bread at Kilimadame's again," she would murmur when she spotted a neighbor coming home from the market a little later than usual. For the women of Gitagata, "eating bread at Kilimadame's" implied a betrayal far more serious than anything the little spectators sitting around the oven could imagine.
*
As you might expect, a loaf of bread bought from Nyirabazungu, alias Kilimadame, became the ultimate reward for good schoolchildren. Reserved for the head of the class. The mothers took to selling whatever they could—bananas, beans, peanuts—and through countless privations saving up a little fortune that they always kept on them, in the knot of their pagne, awaiting the day when they would spend it on the loaf of bread that had become the only acceptable prize for the top-ranked student. No mama doubted, and Stefania least of all, that for one of their children that day would come. Their only fear was that several might win that title at the same time, in which case they'd never have enough to buy them each the loaf they'd rightly earned.
The rankings were solemnly announced at the end of each trimester. The ceremony was held in the grounds of the school, the grounds where the trucks had abandoned the refugees a few years before, the school where Stefania had given birth to Julienne. But on the day of the results everyone tried to chase away those ugly memories and focus all their attention on the teachers awaiting the sign from the principal, their lists in their hands. The teachers stood in the middle of the schoolyard, the children made a circle around them, the anxious, intent parents pressed in behind, the mamas fingering the clutch of coins and a few rumpled bills knotted up in their pagnes, hoping they would soon undo that knot to reward the son or daughter they'd placed all their hopes in, the fathers leaning on the sticks they'd often used to threaten their progeny if their name wasn't one of the first three to be spoken.
The head of the class beamed with pride, less perhaps because of the excellence of his grades than because he'd earned the privilege of buying a loaf of bread in Kilimadame's shop with the coins entrusted to him by his emotional, trembling mother. A swarm of children followed him, shouting. He sat down before the front door of his house, for all to see. Or else he chose some strategic spot, preferably a termite mound, where everyone could watch him, admire him, and particularly admire the little loaf he held in his hand for a long time before he dared take a taste. He ate it down crumb by crumb. But more than the doughy, bland bread itself, it was his schoolmates' admiration, heavily tinged with envy, that he most wanted to savor for as long as he possibly could.
*
I too earned a loaf of Kilimadame's bread. Once, just once. It was in my fourth year of primary school, when Rose was my teacher. No sooner had she spoken my name than I raced toward Mama, who wept with joy as she smoothed the wadded bills she'd been keeping in the knot of her pagne, and I literally flew over the little eucalyptus woods that separated the schoolyard from the market square where Kilimadame had her shop. But once I held in my hand that bread I'd so longed for, I found I couldn't eat it all alone, like a glutton; I tore off half for my mother and shared the other half with Jeanne and Julienne. My friend Candida, who for all her tireless work had never managed to earn the supreme reward, also got a little piece for herself.
*
Even in Kigali, among the evolved people, bread remained a very special thing. Students at the Notre-Dame-de-Cîteaux high school didn't get bread; instead, at breakfast, there was a maggot-riddled porridge. We only got bread once a year, on Saint Nicholas's day. Ah! Saint Nicholas's day! We looked forward to that day from the very start of the year. The boldest students asked the Sisters if Saint Nicholas's day would be coming soon. Who this Saint Nicholas might be we had no idea: for us, Saint Nicholas's was the day we got bread. And what bread! A brioche shaped like a little man was awaiting each one of us at our place in the refectory.
My persecutor, the head of our group, couldn't divide up the portions, and so that day, for once, I could be sure I'd get my share, exactly like everyone else's. Saint Nicholas's day! Some claimed to be sick a week before, since the ailing were given a larger share, and they could enjoy their little brioche man all alone in the tranquility of their infirmary bed. And all through the week before the big day, an aroma so delicious it kept us awake streamed from Sister Marthe's kitchen. Sister Marthe herself seemed to have taken on the golden tint of the brioches she was baking, as if her cheeks had been impregnated with the abundance of oil and butter flowing through her kitchen that Saint Nicholas's Eve, like the land of Canaan's milk and honey whose wonders were vaunted by the Fathers, the nuns, and Papa's Bible.
My one regret was that I couldn't bring a little piece of the Saint Nicholas man back to Mama and my sisters. The feast day was too far away from the nearest vacation for the brioche to last. All I could do was regale my little sisters with tales of Saint Nicholas's day's delights.
*
Imagine my surprise, on entering the School of Social Work in Butare, to find that the students got bread with their breakfast. So there was such a thing as the daily bread we prayed God to give us! So the Fathers hadn't been lying! How I regret having so soon been driven from that school in Butare, the only haven of freedom I knew in my youth! Never again do I want to see the image of my Hutu friends, boys from the public school, coming after me to kill me, me and my Tutsi schoolmates . . . But I've already written about that . . . I spent the week before vacation conscientiously saving up my shares of bread so I could take them home to Stefania.
On the day of our return to Nyamata, I had six loaves to put in my suitcase. I laid them in at the very bottom, under my pleated blue skirt and pink dress. It was Candida who gave me that dress, which she herself got from her big sister after much begging and blackmail. The pleated blue skirt I'd bought at the second-hand clothes stall in Kigali, with the money I'd made from my banana trees. Mama assigned each of her children a little garden plot, and the earnings from the harvest were our pocket money. That blue pleated skirt was like a dream. I'd seen one exactly like it on the Minister of Women's Affairs when she came to visit Notre-Dame-de-Cîteaux. She'd graduated from the School of Social Work, and one day I would study there myself, maybe I'd become a minister, so I needed a minister's skirt! That skirt cost me fifteen Rwandan francs, I think—probably less than a euro. I almost forgot: there was also a t-shirt with a drawing of a big-eared mouse. Only much later did someone tell me his name was Mickey. I'm not sure it was meant to be worn with the minister's skirt. I couldn't wait to get home and give Mama those six loaves of bread.
I never saw Stefania eat one of my loaves of bread. She took them from me like precious treasures, as carefully and reverently as the priest picked up the blessed host, and stored them away in the little suitcase her oldest daughter Judith had brought back to her from the capital along with a white nylon t-shirt like the one only the schoolteacher Patricia could afford. Glowing with joy, she told me, "This will be for the children."
And the children of Gitagata heard Stefania had bread . . . They would come first thing in the morning. And Mama told them: "Come, children, come and sit down next to me." She ran to her little suitcase and took out a loaf, often white with mold. "It's Moses's beard!" the children who went to catechism would laugh. Stefania brushed away the beard and handed around the bread. The white was streaked with dull green, which did nothing to spoil the children's excitement and gratitude. "Now," said Stefania, "it's time for school. Promise me you'll work hard." And sometimes the children came from far away, from Gitwe, from Cyohoha, from other villages, and they said, "Stefania, I got the top grade!" And Stefania would run to her little suitcase, where there was always another piece of moldy bread waiting.
*
At night, outside in the yard, my sisters and I looked up at the firmament. The firmament: that was a word we'd learned from the Fathers. I liked that word. I said it to myself again and again. For us, the firmament was the little flock of clouds floating around the moon, like gilded flakes. And those clouds of the firmament could only be the marvelous loaves of bread that were waiting for us in heaven, the heaven over our heads or the one the Fathers were forever telling us about. But in any case, we were sure that in heaven there was much more bread, and much better bread, and much cheaper, than at Kilimadame's.
___________________________________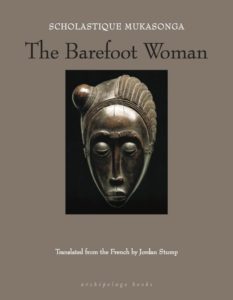 Excerpted from The Barefoot Woman by Scholastique Mukasonga. Translated from French by Jordan Stump. Used with permission of Archipelago Books. Copyright © 2018 by Scholastique Mukasonga.
---