Sarah Ruhl Tries to Look at Grief Through the Lens of Form
A Conversation with the Author of Love Poems in Quarantine
Sarah Ruhl is a playwright, essayist and poet. She is a MacArthur "Genius" Award recipient, two-time Pulitzer Prize finalist, and a Tony Award nominee. Her book of essays, 100 Essays I Don't Have Time to Write, was published by FSG and named a notable book by The New York Times. Her book Letters from Max, co-authored with Max Ritvo and published by Milkweed Editions, was on the The New Yorker's Best Poetry of the Year list. Her plays include For Peter Pan on her 70th Birthday; How to Transcend a Happy Marriage; The Oldest Boy; Stage Kiss; Dear Elizabeth; In the Next Room, or the Vibrator Play; The Clean House; Passion Play; Dead Man's Cell Phone; Melancholy Play; Eurydice; Orlando; Late: A Cowboy Song, and a translation of Chekhov's Three Sisters.
Her plays have been produced on and off Broadway, around the country, and internationally, where they've been translated into over fifteen languages. She has received the Susan Smith Blackburn Prize, the Whiting Award, the Lilly Award, a PEN award for mid-career playwrights, the National Theater Conference's Person of the Year Award, and the Steinberg Distinguished Playwright Award.  She teaches at the Yale School of Drama, and lives in Brooklyn with her family. Her newest book, Love Poems in Quarantine, is available now from Copper Canyon Press.
*
Lit Hub: Who do you most wish would read your book?
Sarah Ruhl: Anyone who has felt lonely or confused by time during the quarantine.
LH: What time of day do you write?
SR: I write between 10 am and noon, usually. I'm slow to wake up, then there's getting the kids out of doors for school, I warm up by answering emails, and by 10 am I'm fully caffeinated and ready to proceed. I used to write at night but now I find it keeps my mind too awake for sleep, so now I never write after dinner unless I'm under some horrendous deadline.
LH: How do you tackle writer's block?
SR: I tackle writer's block by not believing it. By believing that writing is always available to you if you sit your ass down and do it. Whether that day's writing is for the compost heap or the drawer is another question, but I do believe one can always write, and one can also always choose not to. Choosing not to write is different from being mysteriously blocked. So when my students are having trouble writing, I counsel them to not write for a while, go to see their favorite landscape—meadow, mountain or water, and then come back to their writing when it feels better to write.
LH: What's the best or worst writing advice you've ever received?
SR: Let's see… best advice from Paula Vogel: try not to look at grief directly, but to squint at it, through the lens of form… Worst writing advice… luckily, I've already forgotten it.
LH: What part of your writing routine do you think would surprise your readers?
SR: Maybe they'd be surprised by how heavily I rely on Yorkshire gold tea, as if it's a kind of essential food group for the mind.
LH: Who is the person, or what is the place or practice that had the most significant impact on your writing education?
SR: Without a doubt, it was Paula Vogel, a playwriting educator who has basically created a whole generation of playwrights. I had the good fortune to meet Paula when I was 20 years old, and she is still a primary reason why I continue to write plays.
LH: Which of your characters is your favorite?
SR: They are like children, I can't choose!
LH: What was the first book you fell in love with?
SR: The very first—probably Harold and the Purple Crayon. I loved the idea of making up the world with a drawn line as you walk along, drawing the moon in order to see it, and then dangle from it.
LH: Which book(s) do you reread?
SR: I reread Virginia Woolf, Toni Morrison, all my poetry shelves, and the Betsy-Tacy series by Maud Hart Lovelace.
LH: Name a classic you feel guilty about never having read?
SR: Okay, I admit it, I've never read The Remembrance of Things past.
LH: What book has elicited the most intense emotional reaction from you (made you laugh, cry, be angry)?
SR: I remember crying my eyes out when I read Where the Red Fern Grows as a child.
LH: How do you decide what to read next?
SR: I love a good long browse in a beautiful bookstore (thank God we can do that again, post-pandemic) or a recommendation from a good friend.
LH: What's one book you wish you had read when you were young?
SR: I am so grateful for all the books I read in my local library as a child, they were such bounty, such food for the soul, that I'm having trouble imagining a more helpful book that I didn't get a chance to read…
LH: What do you always want to talk about in interviews but never get to?
SR: I'm rather reserved, so there probably isn't a single thing I wished someone asked me about that they didn't already ask me. When an interviewer says, is there anything you wished I asked you? I always say no.
LH: Which non-literary piece of culture—film, tv show, painting, song—could you not imagine your life without?
SR: Schitt's Creek
LH: How do you organize your bookshelves?
SR: My living room books are organized by color, which seems a little vulgar, but my husband hates visual clutter, and I do enjoy the weird juxtapositions putting our books together, like the green DSM next to the green Peter Pan. (My husband is a psychiatrist.) My office books are organized in a more literary way, plays, by author, poetry by author, 19th-century novels, by author, etc. with a section devoted to literary talismans.
LH: What is your favorite book to give as a gift?
SR: When I give a book to a friend it is always tailored towards the recipient, so it's hard to say if there's a particular book I would give out universally. I will say that A Year With Rumi translated by Coleman Barks was one book I gave out like candy during the quarantine because I myself found it so helpful to order my days.
LH: What's a book you recommend to other writers?
SR: Rilke's Letters to a Young Poet.
LH: What is your favorite way to procrastinate when you are meant to be writing?
SR: Napping!
LH: If you weren't a writer, what would you do instead?
SR: I used to want to be a portrait painter when I was younger. Now I think I'd be a Buddhist nun.
_____________________________________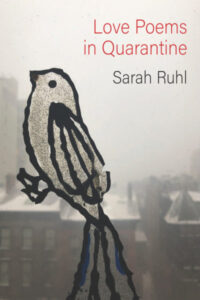 Love Poems in Quarantine by Sarah Ruhl is available now via Copper Canyon Press.
---