Welcome to the Book Marks Questionnaire, where we ask authors questions about the books that have shaped them.
This week, we spoke to the National Book Award-winning author of The Yellow House, Sarah M. Broom.
*
Book Marks: First book you remember loving?
Sarah M. Broom: Where the Sidewalk Ends by Shel Silverstein.
BM: Favorite re-read?
SB: One Hundred Years of Solitude by Gabriel García Marquez.
BM: What book do you think your book is most in conversation with? 
SB: Less a specific book, more a pantheon of writers and thinkers such as June Jordan, W.G. Sebald, Gayl Jones, Joan Didion, Gaston Bachelard, Toni Morrison, Nicole Krauss, Terry McMillan and many others.
BM: Last book you read?
SB: Eddie Glaude's wonderful Begin Again.
BM: A book that made you cry?
SB: Elizabeth Alexander's The Light of the World, which narrated my journeys through Spain last December.
BM: What book from the past year would you like to give a shout-out to?
SB: Saidiya Hartman's world-expanding Wayward Lives, Beautiful Experiments. 
BM: A book that actually made you laugh out loud?
SB: Kiese Laymon's Heavy. 
BM: What's one book you wish you had read during your teenage years?
SB: W. G. Sebald's The Emigrants and Austerlitz. 
BM: Favorite book to give as a gift?
SB: I Live in Music by Ntozake Shange.
BM: Classic book you hate?
SB: I don't hate.
BM: Classic book on your To Be Read pile?
SB: Want to re-read Melville's Moby-Dick and Camus's The Plague. Am now re-reading Ellison's Invisible Man.
BM: What's a book with a really great sex scene?
SB: Very few books do sex well, unfortunately.
BM: Favorite book no one has heard of?
SB: Louisiana by Erma Brodber.
BM: Favorite book of the 21st century?
SB: Beloved by Toni Morrison.
BM: Book(s) you're reading right now?
SB: Gwendolyn Brooks' Maud Martha and Magdalena J. Zaborowska's Me and My House: James Baldwin's Last Decade in France. 
BM: Favorite children's book? 
SB: Who's Got Game? The Ant or The Grasshopper? by Toni Morrison and Slade Morrison.
BM: Book you wish would be adapted for a film/tv show?
SB: James Baldwin's Giovanni's Room. 
*
Sarah M. Broom is a writer whose work has appeared in the New Yorker, New York Times Magazine, Oxford American, and O Magazine, among others. She is the recipient of the National Book Award for Nonfiction and the John Leonard Prize for Best First Book for her memoir, The Yellow House. A native New Orleanian, she received her Master's in Journalism from the University of California, Berkeley in 2004. She was awarded a Whiting Foundation Creative Nonfiction Grant in 2016 and was a finalist for the New York Foundation for the Arts Fellowship in Creative Nonfiction in 2011. She has also been awarded fellowships at Djerassi Resident Artists Program and The MacDowell Colony. She lives in Harlem.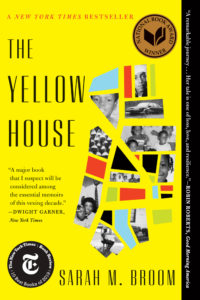 Sarah M. Broom's The Yellow House is out now in paperback from Grove Press
*