Rock, Pop, and the Development of Avant Garde Music After World War II
Experimental Music Blurred Divisions Between High and Low Art
Clive Bell, an early friend of Henry Cow in Cambridge who would develop into a gifted improviser in his own right, recalls the presentation of a new work for piano by Roger Smalley, the composer-in-residence at King's College, Cambridge, during their time there in the late 1960s. It began with the composer drawing complex mathematical diagrams on a blackboard for several minutes.
"And then he went over to the piano and played this completely wild piece that might as well have been totally improvised, as far as I was concerned," Bell recalls. "I just thought it was kind of hilarious, that all these diagrams led to this flailing, Cecil Taylor freak-out." Bell's experience represents an increasingly common one for listeners of his generation, especially those rooted in the recording-intensive traditions of African American music such as jazz and rock 'n' roll.
His ears moved transversally across relatively distinct historical networks by identifying shared musical properties such as intensity, gesture, and timbre, in spite of whatever formalisms might operate in the work of Smalley or Taylor. At the level of individual listening, Bell could draw musical connections that existed far more problematically in social space; the differences between a Taylor and a Smalley were forged and reforged by educational institutions, economic support networks, critical establishments, and performance contexts. 
As for Henry Cow, no amount of stylistic adventure could unseat them from their home genre formation. They may have engaged in open improvisation, but, as the critic Richard Williams noted at the time, "they only have the monopoly on it insofar as they're a rock 'n' roll band." But what drew this popular-music act together with colleagues such as Smalley, Souster, and the Art Ensemble into the space of "compatible but not the same"? Many things, but I would like to begin by taking note of the cohesion of a popular music aesthetics and intellectual vernacular, first with bebop in the early 1940s and then, more quickly, with rock in the 1960s.
These discourses established new frameworks of judgment for musics entwined in the commercial marketplace, distinct from numerical popularity and long-standing taste formations perpetuated through the educational institutions of the ruling classes. Popular music aesthetics did much more than invert or blur the line between high and low culture. Instead, it provided the grounds for a thorough fracturing of those two positions into a new, intricate system of orders and relations.
In rock alone, artists could stake their status claims on the poetic and moral gravitas of folk (Bob Dylan), the virtuosity of jazz soloing (Cream), the ambitions of Western classical music (Emerson, Lake, and Palmer), the political stridency of free jazz (mc5), or the shock tactics of the avant-garde (Velvet Underground). In other words, many different high positions opened up in the rock field within a few short years (all buttressed by the privileges of white masculinity, as the above list makes clear).
The one that occupies me here nudged rock tropes toward a kind of expanded experimentalism that was gathered around spontaneity and held in common with art-music and free-jazz networks. 
Divisions played out among critics, too. The first wave of highbrow commentary on bands such as the Beatles struggled to place them in relation to the legitimated, timeless works of the Western art music canon. Tony Palmer, for example, wrote, "Pop music, if it is ever to achieve any respect at all, has to be made to stand on its own feet alongside such as Schubert and Beethoven." But even by the time Palmer published this condescending caution in 1970, younger critics were comparing new rock laterally to the work of John Cage, Cecil Taylor, Karlheinz Stockhausen, and Morton Feldman.
For example, Ian MacDonald's comments about the tape experiments of one band, Faust, indicate this transverse perspective as well as a certain exasperation with the superseded judgment of the older generation of critics, such as Palmer or the Times' William Mann. He wrote, "The fact that hardly anyone in the world has found a theory and an integrated role in music for electronically-produced or altered sound except this German rock group is much more of a cultural vindication for our music than William Mann's acceptance of Sergeant Pepper—because here rock has outstripped mainstream music, not imitated or genuflected to it, as Tony Palmer believes it should."
The cross-fertilization of experimental musics surged in the second half of the 1960s.
These feral high musics grew wild, feeding on LP records and reproducing by the same means. Accordingly, any account of advanced music making after World War II has to leave what Richard Taruskin would call the "literate tradition." In Chris Cutler's schematic history of musical memory systems, recording passed through an initial stage of commercial exploitation by the capitalist entertainment industries before its specific aesthetic and social possibilities were explored by later artists.
These musicians—a stylistically diverse wave that would stretch from the Ronettes to Merzbow, rooted in practice-based and phonographic aesthetics—would probe different qualities of working-class, immigrant, and rural musics waxed in the first decades of the century: an expressive egalitarianism, collective compositional process, and precise timbral and rhythmic variation. 
With recordings, these exchanges could take place through the ear, upending many established structures of training and accreditation. Recalling his youthful audition of records by the Shadows, Cutler points out, "Every small thing they do is a huge thing if you don't know [music theory], so it was exactly geared to the perceptive level of people of my age and generation, who hadn't learned music, hadn't been taught to play an instrument, who weren't musicians."
Masami Akita attempted to create "Merzbow music" for the first time after having his mind blown by Pierre Schaeffer and Pierre Henry's Symphonie pour un homme seul on the radio, and former underground rock musicians constitute the "the main forces" in contemporary Chinese sound art, according to sound studies scholar Jing Wang. The examples are endless: Olivia Block, Kaffe Matthews, Otomo Yoshihide, David Grubbs, Ikue Mori, Chris Watson, Maria Chavez, Jessica Rylan, Kim Gordon, Christian Marclay, and many others came to the innovative forms of postwar experimentalism from popular musical practices thoroughly imbricated with the recorded form.
In doing so, they extend the lateral and processual movements of what Georgina Born calls "the jazz assemblage," one of the many ways in which the social histories of Afro-diasporic folk and popular musics have suffused global sonic production in the postwar period. Moreover, the vinyl LP recording tends to encourage promiscuous listening practices in its standardization, and the very abjection of popular music in its early history has also helped it to absorb materials and techniques from other traditions once alternative systems of evaluation began to emerge in the second half of the 20th century. 
The cross-fertilization of experimental musics surged in the second half of the 1960s, owing not only to the many flavors of cultural accreditation acquired by rock or the proliferation of new musics available on LP. These years also saw musicians in the post–John Cage and post–Ornette Coleman networks looking outward for kindred spirits, assimilable strategies, and unprecedented collaborations.
"Any person in today's music scene knows that rock, classical, folk and jazz are all yesterday's titles," Coleman wrote in the liner notes to 1977's Dancing in Your Head. "I feel that the music world is getting closer to being a singular expression." Although persistent (and novel) asymmetries in prestige and resources would continue to disenable that singular expression, the late 1960s moment differed substantially from earlier ones such as Third Stream, because the latter, as George E. Lewis explains, "failed to realize or support the complexity of black musical culture's independent development of a black experimentalism that, while in dialogue with white high culture, was . . . strongly insistent upon the inclusion of the black vernacular."
Furthermore, Lewis continues, the post-Coleman developments "challenged the centrality of pan-Europeanism" to the existing definition of experimentalism, advancing in its place a notion of experimental music that was becoming creolized. In the emergent British arrangement that set the terms for Henry Cow's activities in the mid-1970s, jazz-affiliated experimentalism was supplemented and twisted by one associated with rock; sharing roots in black vernacular music making, both contributed to the creolization named by Lewis. 
__________________________________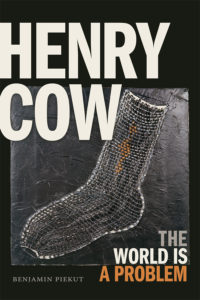 From Henry Cow: The World Is a Problem by Benjamin Piekut. Used with the permission of the publisher, Duke University Press. Copyright © 2019 by Duke University Press.
---