Remembering Joan Bingham
Friends, Colleagues, and Writers Honor the Co-Founder and Executive Editor of Grove Atlantic 
Joan Bingham was a good friend, a hard-working colleague, and a wonderful partner in Grove Atlantic. Starting with a phone call in the spring of 1992, she set in motion the events that led to the merger of Grove Weidenfeld and Atlantic Monthly Press to create this mid-sized independent literary publishing house that has variously been called a dinosaur or a unicorn, and is probably a bit of both. Along with Ann Getty and our other shareholders, Joan made it possible to publish with passion and conviction and without regard just for the bottom line. The path of an independent publisher is challenging. Through nearly three decades, Joan supported every effort as we tried to publish the best books we could find, hoping and believing that if we stayed the course, excellence would win out. Joan not only persevered with me and Grove Atlantic, she contributed significantly to our endeavor by bringing in world-class, award-winning authors like Kiran Desai, Kay Ryan, Juliet Nicolson and many, many others. As you will see in their memories below, her authors admired her enormously for her intelligence, style, and fervent belief in their work. 
When I came to Joan six years ago with the idea of the Literary Hub, saying that it needed to exist because we needed a space to bring together the wealth of discourse around books that was spread across the internet, she didn't ask me for a business plan but rather enthusiastically said let's go for it—and we did.
It is with great sadness that my colleagues and I say goodbye and say thank you Joan, for everything you helped make possible. We will carry on striving for excellence and staying independent.
–Morgan Entrekin 
* 
I loved Joan as a friend as well as an editor. She was kind, smart, sensitive and loved to laugh. She taught me a lot. What could be better in a friend or an editor? She was also adventurous and loyal—traveling with me to the Savannah Book Fair, for example, when I was semi-anxious about both airplanes and the deep South. Joan was multitalented—she had an artist's eye as well as a literary soul. She was a wonderful photographer and directed my author's photo session herself in her lovely light-filled apartment. We had bonded instantly as grandmothers in what seemed to be the very young world of publishing office staffs. We were both 1950s women to the core—but Joan was more up-to-date than I with her extensive sneaker collection that I teased her belonged in the Guinness Book of Records. We lived five blocks apart and would meet on Saturday mornings for editing sessions at her kitchen table often followed by an afternoon movie—we both loved popcorn and Merchant-Ivory costume dramas. Sadly, the movie theaters we frequented, whose patrons all seemed to be senior citizens, were killed by the pandemic and may never open again. I visited Joan in her apartment two days before she died, invited by her wonderful daughter. Joan was very frail but looked beautiful and at peace. As I typically jabbered away, she didn't speak. But she did say one word, "Yes," when I said that we had seen some good movies together. She was an entirely lovable person, a perfect editor, and my best movie friend. I miss her already. 
–Gail Lumet Buckley 
* 
I remember the road trip Joan and I took through the south for me to read from my first book at bookstores. She drove us from Nashville to Oxford, Mississippi. She took me to see Faulkner's house in the moonlight and to eat BBQ in Memphis. I was extraordinarily lucky to have her champion my books. When we went to the Booker ceremony together, she wore a tiara, like the Queen. That is how I will always remember her. Her tiara, her generosity, her wicked sense of humor.   
 –Kiran Desai 
*
Joan Bingham turned her enthusiasm for my poetry practical, forging power connections for it in worlds I knew nothing about, championing it relentlessly. She was a priceless friend to an outlier writer. 
New Rooms 
The mind must
set itself up
wherever it goes
and it would be
most convenient
to impose its
old rooms—just
tack them up
like an interior
tent. Oh but
the new holes
aren't where
the windows
Went. 
–Kay Ryan 
* 
Smart. Gracious. Stylish. Always up-to-date. Best of hostesses (and a great cook!). Fierce in political discussions, wide-ranging and catholic in book discussions, Joan Bingham was kind enough to publish two volumes of my plays at Grove—as meaningful a publisher's name on a title page as "In St. Paul's Churchyard" was to Shakespeare's contemporaries. Joan also kept those two volumes in print long after their natural shelf life, an act of true and pure publishing generosity. But such was her commitment to authors. I am deeply and eternally grateful, and will miss her personally for as long as I myself am on this mortal shelf. 
–David Ives 
*
Joan was so many things to me. In the 1990s she was my exuberant colleague at Grove Atlantic when I was working there in publicity and rights and she was an indefatigable champion for her authors. A few years later I realized why those lucky writers valued her so much when I became one of them myself. Her enthusiasm for every aspect of a book's progress from inspired editorial shaping to firm views on jacket image to securing reviews and eventually to a prominent position on a bookshop shelf was tireless. Her love of good writing and of good stories, her absorption in history, and in particular British history even stretched to re-issuing my grandmother's long out of print life of Joan of Arc. She was an anglophile through and through. 
But it was not in either of those remarkable, professional capacities that I valued her most, but in her friendship. She had an intense way of listening, head to one side, a softness of voice that belied an unwavering, even steely loyalty to beliefs and to people she held dear. Whether meeting in New York, Washington, Nantucket, London or Sussex, and running in greeting towards one at a tilt, she extended her generosity and warmth not only towards me but also to my young daughters. With her hands ever-gesticulating to make a point, her eager pronouncement of one's first name being code for "tell me everything," Joan's voracity for news, argument, enlightenment, fun and
 gossip was as infectious as her lovely, distinctive laugh. There was also an endearing shyness about her, a sort of vulnerability that made one wish to take care of her, to protect her from any more sadness. As personal tragedy disrupted the harmony of her life too often, her love for her family intensified. She once wrote to me when her adored granddaughter was aged 13 that "Diana is the best company. There is no one I would rather be with." Not so long ago, on the way home from the Union Square Café after a last, laughter-filled lunch with Joan, so stylish in her velvet coat, her silk scarf tied as ever with such youthful panache, I found myself thinking exactly the same thing. 
–Juliet Nicolson 
 *
Joan loved to be among people who were making a difference. She loved writers who fell into that category and also writers who didn't but whose work she believed in and championed with enthusiasm. Enthusiasm, despite the sorrow that good fortune tends to attract, was Joan's tru
mp card. Her eyes flashed with It, her voice with its "I've got a secret to tell you" ring to it, never aged. And when she gave a party you wanted to be there—for the fun of it, for the high purpose of it and for the sense of being in the middle of a life being conducted at a higher pitch. Joan led a high-pitched life and from where I sat, I saw someone who worked extremely hard at it.  She used every gift she had as well as she could. At the end of one's life what better tribute can be paid. I will miss her.     
–Phyllis Theroux 
 * 
Joan Bingham was a sparky, colorful and passionate champion of her authors. She cared about you professionally and personally and was always game to hear about what you were working on next. I count myself lucky to have been discovered by Joan, when she brought my first book across the Atlantic.   
–Alice Greenway 
* 
Dear Joan, we'll miss you so much! What a warm, gracious pres
ence in the Grove Atlantic offices, for as long as I've been going there. A great spirit, strong, generous, devoted to book publishing, to all Grove's editors and staff, to the writers. She had the most effusive, widest, welcoming smile, I'll always see it. 
 –Francisco Goldman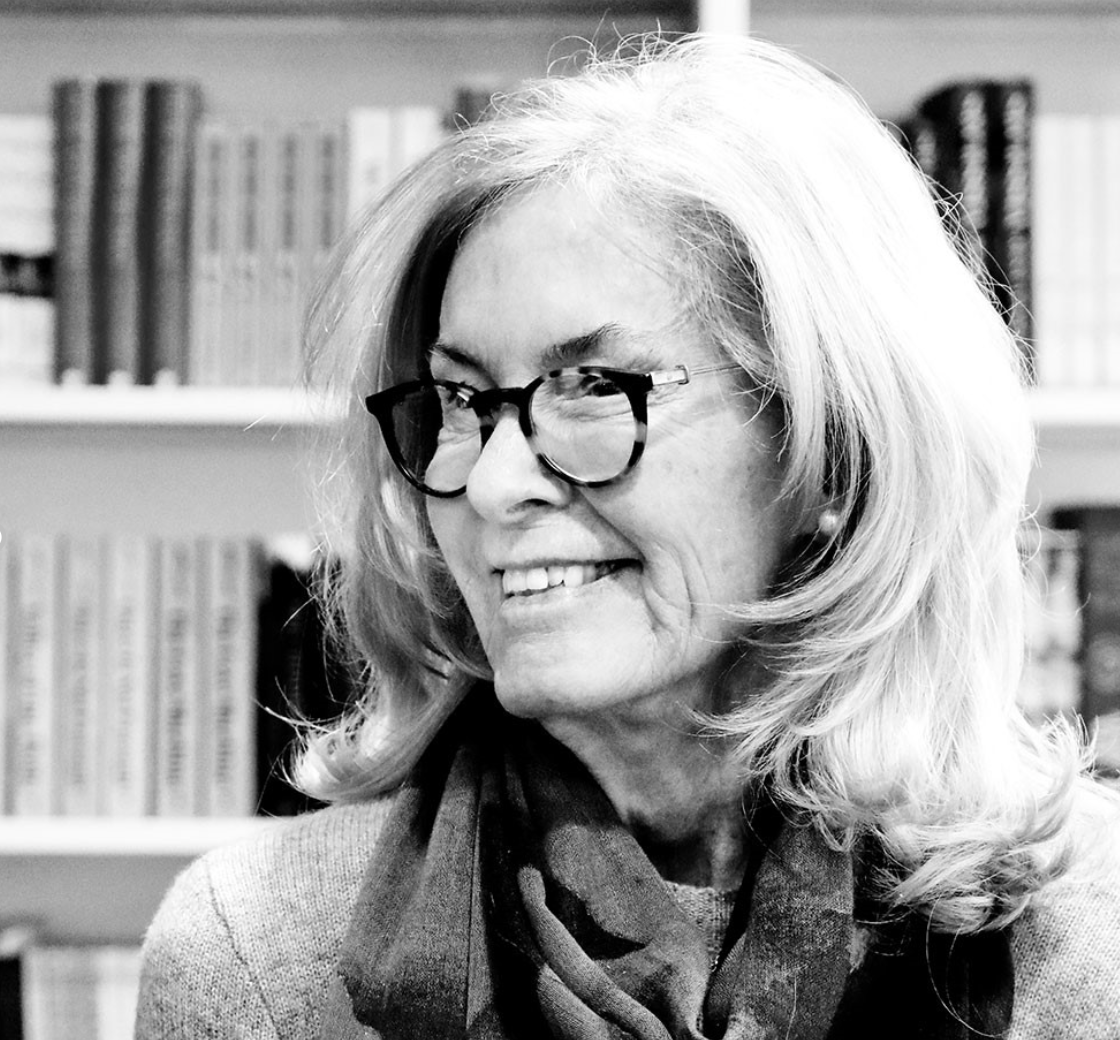 * 
It was Joan's laugh that had me at our very first meeting back in 1993 when she joined us to make the Grove Atlantic family. Among her innumerable attributes—way too many to mention—her laugh was brilliant, contagious. It was smart. It was loud, booming, and loveable. It often was sarcastic, knowing, deeply intelligent. Often it was sneaky, seeing deeply inside someone's psyche. Many times, it was just plain amusing. Poking fun, having fun, smiling. If you were worried about something, Joan figured out a way to make you smile. She brought with her a light that shone warmth—and if you felt the least bit negative, or confused—her light cleared it up. 
 –Judy Hottensen
 *
Joan was my first boss in publishing—I started out on a shared desk working for her and another editor while being the Grove receptionist—and it feels like she helped raise me, in a way. Joan was a demanding boss, and she took great pleasure in bringing young people into the industry. If you met her high standards, she loved to let the veil drop and meet you with a confiding tone, giving you a juicy tidbit that hinted at the publishing world that awaited those who earned it. She taught me to be confident in my own opinions, once asking about a submission, "Does it give you that…  acquisitive feeling?" As I grew up at Grove, I was honored to count her as a friend, and there was no one so passionate about her books and authors, no one who thrived on meeting the challenges of independent publishing and made you care about the books and ideas that were important to her. And she was a generous colleague—her cheerleading for my successes and support at more difficult times, her way with a wicked bon mot, were part of what made Grove such a warm place, and I always knew when she recommended a book to me it would be something special. 
Joan was also a passionate citizen. Deeply devoted to reading and publishing history, she was also determined to affect it. Just as she opened her home to authors and publishing colleagues, she hosted candidates, argued her case ardently, and prodded us all to help get out the vote. I know she would have been so thrilled to see the amazing turnout in the election, and would have been out dancing in the streets with the rest of New York City. 
 –Amy Hundley 
 *
The pleasure of working with Joan Bingham was, for me, equaled by the joy of knowing her for even longer. I feel very privileged to have experienced her in both ways: the passion, energy, and intelligence she brought not only to her own books but also to those of so many others; and the intellectual curiosity and moral certitude that was front and center in every conversation with her. I will so miss that dual dose of Joan's spirit, but I will always treasure being exposed to it. 
–George Gibson 
 *
When I think of Joan, I immediately think of her laugh, her style and her immense curiosity and verve for life. She was also a woman who knew what she wanted and was relentless, especially if you worked in publicity. I loved talking movies, books and especially politics with her, but the number one thing I will always remember her for, is her cheerleading for all of us at Grove. She will be dearly missed. Lucky for us we still have the books she ushered into the world. 
–Deb Seager 
* 
Joan Bingham was a force of nature. Her boundless enthusiasm, intellectual curiosity and dedication to excellence in publishing was inspiring. I met Joan when I was still at university thanks to my friendship with her daughter Clara. Joan had style, panache and boy could she rock a mini-skirt. She was generous with her time and advice when I became a literary agent in my thirties and I, knowing few publishers in the early years, would take refuge at the Grove booth at Frankfurt. Joan was brave. She was determined and she persevered. And, when she laughed (or should I say cackled) the atmosphere around her expanded and the light appeared brighter.  
–Stephanie Cabot 
*
Apart from being sparkling company, insatiably curious, redoubtably elegant and fun to gossip with, Joan brought something different and refreshing to the publishing world. Coming to it later in life, she approached it with the unjaded enthusiasm of someone who simply loved books and reading, so she was immune to the cynicism to which those of us who have grown up in the business are sometimes prone. And she was always full of ideas for new books. At a party at the end of last year, already rather frail, Joan was nevertheless forthright in her insistence that I should find her an author who could write a revisionist history of the Norman Conquest. In common with another publishing legend, Felicity Bryan, who also started her career in newspapers and sadly passed away this year, Joan had to overcome her unfair share of tragedies, and it was their boundless optimism and lust for life that spurred both of them. In Joan, publishing, 14th Street and the Upper East Side has lost one of its most original, generous and brightest filaments and they won't be the same without her.  
–George Lucas
*
The Race for the Triple Crown was really my first book. I had a horrible effort in 1988 which I learned from but it was traumatic enough to keep me out of bookstores—literally and physically—for 12 years.
But in 1999, I had landed in NYC for the NYT and on the horse beat. I was jazzed enough to bang out a proposal. I spent a day delivering it by hand to four or five editors including Joan. I don't know what I was thinking. I never got past security at any of the places. But by the time I got home I had a message from Joan—remember this is before cell phones.
To paraphrase Jerry Maguire, she had me at "Hello." Her passion and knowledge of the culture brought much to the book. We talked chapters and for the first and only time in my book-writing career during the editing process, she made me come down to Grove, had an office for me and we did the edits and rewrites together in ten days or so. It was old-school Maxwell Perkins.
Six books later, I know I learned more from her about the story telling of book length narratives. She was a remarkable editor and person.
–Joe Drape 
 *
I first met Joan over 25 years ago and it's been nearly as long that we've worked together.  Smiling, graceful, warm and exuding a youthful energy, she was an irrepressibly enthusiastic colleague. I'd either sink into her comfy office couch or she would perch on a chair in mine and I always knew we were in for a good, laughing long chat. Joan was insatiably curious, fun-loving and full of eager questions, always gathering and learning and sharing stories. She was the most elegant guest at our wedding, her date the dashing Ash Green. She gave us sets of Joan Platt dishes for our first apartment. She came bearing peonies and a buttercup, soft onesie when our first child was born. She was, hundreds of times over, the glamorous host of our most cheerful Grove dinners for authors and booksellers in her gorgeous, white, square, book-shelf lined homes. Traveling with Joan to Book Expos, Frankfurt and London was an adventure. 
Wise and wide-eyed, she loved to partake in all the publishing parties and dinners.  She loved Christmas and gave us tissue-wrapped L'Occitane hand creams and pearl-handled knives for cheese. She loved my eggnog. Last Christmas, Joan appeared Santa-like in our conference room bearing giant bags of chocolate-laced popcorn for every one of us. Her excitement at each of Grove's successes, her forceful determination on behalf of all of her authors, her love of history, her political engagement. I'd pass Joan twice daily hiking the four flights of stairs in our Union Square offices. She introduced me to Pilates. She was as elegant in her black-tie suits as in her colorful, All Star sneakers she was proud to share with her granddaughter, Diana. I will miss our cab-rides to and from galas and convention centers and most recently to the Center for Fiction for the memorial for our art director Charles Rue Woods. I am grateful for our last round table lunch on her birthday, books piled neatly and high on every surface of her sun-filled living room, such style and grace in every corner of her life. We will miss her so. 
If you'd like to share your own memories of Joan, please contribute them here in "Comments."  
–Elisabeth Schmitz
__________________________________
 Head here for more on the life of Joan Bingham (1935-2020).
---