Remembering Bo Huston, Who Bore Witness to the Peak of the AIDS Crisis
"I'd be thrilled to be known in fifty years' time as a minor gay writer from the 1990s."
In the final years of his life—a cruel phrase, really, as he only lived to 33—the writer Bo Huston made several trips to Zurich for experimental AIDS treatments. In his downtime there, between appointments, he read Christopher Isherwood and Patricia Highsmith, slept, and went for walks to fill the days.
Huston had left Ohio years earlier for Hampshire College in Massachusetts, but the New York demimonde of nightclubs and public baths, the random assignations, and the louche and fearless personas men honed in pursuit of them was irresistible. He enrolled in film school at New York University in the early 1980s, that most consequential decade for the community he found a home in, and took up work as a typesetter. It was also in New York that he became addicted to heroin, and he left the city for Rhinebeck, New York, with hopes of kicking the habit. He left the East Coast for good in 1987 for San Francisco. In 1988 he was diagnosed as being HIV positive, and he resigned from his job in advertising, an event that set in motion his life as a writer.
From the time of HIV's appearance to the end of 1988, more than 82,000 cases were reported in the United States. Of those 82,000 individuals diagnosed, more than 61,000 had died. Huston might've assumed a one-in-four chance of living with HIV. But even those odds reflected a best-case scenario of five years. At a Christmas party the previous year, he'd met the man of his life, Dan Carmell. "Dan, by his presence, confirms my presence," Huston wrote prior to his death. "My alliance and exchanges with Dan complete my picture of myself." The following June, the year of his diagnosis, he had his 29th birthday.
*
AIDS represents a pervasive sense of urgency in my life: if I am terminal, if my time is limited, if my competence, longings, affections, motivation are all unpredictable, I push harder. I want my book published now, before I am too weak to read. I want to paint my apartment now, while I can still balance on a ladder. I want sex with some cute guy today, before this pastime has left the realm of my desires. Ironically,  two  books  are  done,  the  apartment  is gleaming white, I cannot possibly count the nameless trysts . . . and I'm still here, still racing.
Huston wasn't the first writer to hear he was unlikely to live long enough to finish his work. He wasn't even the first writer of his generation, or his circle of friends. If he'd looked to the past for examples, there was the English writer Anthony Burgess, who famously received a brain-tumor diagnosis at forty and was told he had a year to live. Burgess set to writing, intent on leaving something to support his wife and children. The resulting manuscripts—five novels' worth, including one entitled The Doctor Is Sick—formed the foundation of his career as a writer. But Burgess far outlived his doctor's prognosis, dying at seventy-six.
At the time of his diagnosis, Huston had published film reviews and short fiction, but his first book, Horse and Other Stories, didn't appear until 1989. His early work established his affinity for lyrical, compressed stories about young, gay men making lives for themselves in the face of familial and societal pressures. His second book, a novel called Remember Me, appeared in 1991, and another novel, The Dream Life, followed in 1992. A fourth and final book, The Listener, was published the year after his death. Four books in five years, and work left unfinished. In an interview with Andréa R. Vaucher, Huston said, "My main resentment about working and starting to get published and successful and having AIDS, has been the fear that I'm not going to get to mature as a writer."
Bo Huston had remarked that he'd be thrilled to be known in fifty years' time as a minor gay writer from the 1990s.
However, Huston found one of his work's recurring concerns in living with AIDS. It's possible he felt like the writer Andrew Holleran, who notes in his 1987 essay "Reading and Writing" that "I was so worried that the subject would repel readers (I still assume this, since I, too, am a reader and that is my reaction) that I discussed it only when I had to; eventually, just as the dictatorial cruelty of AIDS touched everything, it seemed I had to, all the time." Yet Huston couldn't, and didn't, share Holleran's sense that "Literature could not heal or explain this catastrophe … Novels weren't needed … To attempt to imagine such scenes seemed impertinence of the worst kind."
Huston had remarked that he'd be thrilled to be known in 50 years' time as a minor gay writer from the 1990s. He'd shown promise and at times something finer, a light touch, a talent for crafting memorable sentences, and a sophisticated grasp of the relationships that occupy the centre of our lives. Extravagant claims for his work won't stand up, but he wrote far too well for us to dismiss him altogether.
*
Someone asks, what is your novel about? Togetherness, I answer.
You could argue that Remember Me is one of the "tentative first novels from defunct presses" that Sarah Schulman calls an artifact of the years predating anti-retroviral treatments in her book The Gentrification of the Mind. It's a dark novel, inward-looking, and perhaps unbalanced, in that it's short on the anger and outrage that also attended the losses of those years. The reviews upon its release were unenthusiastic. Huston took the book's reception badly, and perhaps he had a legitimate gripe. One of the most prominent notices, in Publishers Weekly, took time out of a capsule treatment to note that "the narrator graphically describes his anonymous homosexual encounters, including a visit to a 'porno place,'" which seems a demerit in the writer's estimation and exaggerates the book's sexual content besides.
Remember Me is a slim, lyrical novel set in a fictionalized Rhinebeck, New York, though Huston offers so few particulars that the setting could as easily be a provincial town in France. "This town is nestled between two small hills along the river," Huston writes. "Patches of green and brown are threaded by the railroad tracks. The tiny houses, a steeple, a train station, a whitewashed flagpole in its center make it seem like a toy town that one need not take too seriously."
The unnamed narrator and his friend Charlotte have static lives, a static life together. They've known each other since childhood, and she nurses the scars on her legs from burns that were the narrator's fault years earlier. This, plus her psychic aversion to dealing with the outside world—the noise and motion, the unfamiliar people—consigns her to day upon day at home, working on her "projects." She bounces from poetry to short stories to collage, completing nothing she undertakes.
Huston's fondest wish has come true: his books are available in libraries in the US and abroad.
The narrator fares better in his attempts as a writer, but the small press interested in his novel goes out of business before he's completed their recommended edits. Like Charlotte, he's locked within himself by a mixture of personality, experience, and, in his case, socially stigmatized illness. He's profoundly isolated, has almost no physical contact, even in memory. He has little emotional connection either, apart from Charlotte and their codependent bond.
For all the darkness, though, and all the stasis, there's something seductive about the voice, style, and slant of the narrator's mind. The prose has the cadence of an elegant translation, the directness and definite pronouncements one might find in Marguerite Duras. And it is a translation of sorts, of the spectre of death, filtered through the sensibility of a young and previously healthy individual. The narrator's illness is more a looming dread than a conglomeration of symptoms. When he has a serious health scare late in the novel, a sudden fever brought on by an infection that lands him in the hospital for several days, the episode reads as a sharp increase in the threat level he faces.
*
Remember Me is part of the mosaic of literary responses to the HIV/AIDS epidemic, one worthy of a place of honor. So many of those books are forgotten now—the carefully honed stories of Allen Barnett's The Body and Its Dangers, a virtuoso performance that was both a debut and farewell. Christopher Coe's Such Times, which makes an anonymous hand job in its latter stages both elegiac and valedictory. The soaring romanticism of Robert Ferro's Second Son, in which Mark Valerian, the second son of a large family, unexpectedly falls in love while both he and his new partner attempt to manage the same life-threatening illness. Ferro forgoes mention of AIDS entirely, "for fear," as Holleran recalls, "of letting this virus reduce his writing, too, to an aspect of the plague." James McCourt's Time Remaining, which the writer Michael LaPointe said in a 2018 New Yorker piece "glimmers heroically" in its portrayal of the irreverence and resilience of a pair of drag queens (Miss Mae Mae and Odette O'Doyle) coping with the loss of all the other members of their troupe.
Other books remain in print: Allan Gurganus's Plays Well with Others, its humor balanced so deftly against racking loss, its protagonist, Richard Hartley Mims Jr., seeking solace in isolation, having moved back to North Carolina and away from all the pain he'd experienced in New York. And there's Felice Picano's Like People in History, with its large canvas and delicate weave of events, following a pair of cousins as they live through everything from the repression of the 1950s to the free-for-all of Fire Island in the 1970s and the urgency of AIDS Coalition to Unleash Power (ACT UP)–style activism, which anchors a significant scene in the novel. These books and others like them form a multifaceted picture of the pain, loss, and waste of those early years of the plague and of the impossible pressures and constraints facing writers who responded to the crisis in real time.
As for Huston, he wrote to the end, or as close as he could get to it. Thomas Avena recounts their final phone exchange in his introductory essay to Life Sentences. "I won't be around much longer," Huston tells him and says they should finish their edits. "I said that I had always admired him," Avena writes, "that his last novel, The Dream Life, was a perfect work, seamless. We went carefully over the edits."
The Dream Life remains in print. It's the only one of Huston's books that is, although there's a viable case to be made for reprinting each of the three out-of-print titles. Yet Huston's fondest wish has come true: his books are available in libraries in the US and abroad. It's gratifying to think that, like Remember Me's unnamed narrator writing his novel about togetherness, Huston can be together with readers more than a quarter-century after his death. Those who encounter his work today may be unable to remember him—much of his generation, sadly and unjustly, is already gone—but it's not hard to imagine a young, hungry writer feasting on his books, wondering what might have been while savoring the writing Huston left behind.
__________________________________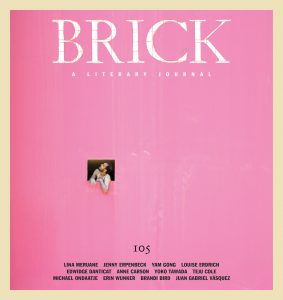 This piece is excerpted from Brick.
---