Rediscovering Lou Gehrig's
Lost Memoir
Alan D. Gaff on Reading the Story of a Legend Nearly a Century Later
Throughout the 1920s, Lou Gehrig was one of the most famous men in the country. He was cementing his reputation as a baseball player of true greatness. Lou, "the Iron Horse," showed up every day and played his heart out. His gentle charm and home run hitting made him a star at a time when the country was hungry for them. The Roaring Twenties positioned baseball at the heart of the nation's collective consciousness, and the Yankees were at the top of the American League. In the seven years since Babe Ruth had joined the team in 1920, they had finished first four times and had won the 1923 World Series.
American society following World War I had been transformed. A modern world awaited. Sensationalist newspapers stuffed with game play photographs exploded in popularity. Radio broadcasts that aired sporting events in addition to news, music, and variety shows expanded across the country. This was an era of ostentatious displays of individualism. It seemed as though everyone wanted to contend for fame and recognition. Men and women went to extraordinary lengths to set records, especially in sporting contests.
Sports fandom was shifting toward a glorification of individual players and their statistics. This intersection of sports reporting with a hero worship of athletes presented opportunities for entrepreneurs to step forward. The pioneering sports agent Christy Walsh led the way. Walsh had failed as a cartoonist and advertising executive, but hit the big time in 1921 when he became Babe Ruth's agent.
In this new age of celebrity, fans wanted a peek into the lives of their sports heroes. To satisfy this desire, Walsh invented a new way for readers around the country to follow their favorites without actually attending games. On March 19, 1921, he announced the formation of the Christy Walsh Syndicate. While Walsh would manage every aspect of Babe Ruth's finances, his specialty was selling newspaper columns under the bylines of famous athletes. Eschewing game coverage, he formed a stable of ghostwriters, employing some of the most notable sportswriters of the day, to write and sell columns and sports memoirs to newspapers across the country. Walsh concentrated on signing personalities and journalists who could churn out material in the fields of boxing, football, and baseball, with the athlete, the ghostwriter, and him sharing the revenue.
The Christy Walsh Syndicate had a powerful influence on America's sports pages. Ruth, Ty Cobb, and Walter Johnson flooded the nation with memoirs in the form of newspaper columns. In 1927, Walsh saw a chance to capitalize on another star. He set out to profit from a relative newcomer to the New York Yankees by inking an agreement for young Lou to furnish a memoir of his baseball life.
All that year, Gehrig had been in what was styled as a home run derby with his teammate Babe Ruth. Since hitting fifty-four homers in 1920, an extraordinary total because the player in second place hit only nineteen, Babe's prodigious blasts had lured fans to the ballparks in droves. Until Gehrig emerged as a serious competitor, no one had stepped forward to challenge Babe. Christy Walsh framed this as a modern David versus Goliath baseball story. Christy predicted that a memoir written by Lou would be an immediate hit.
Lou's memoir ran serially under the title Following the Babe, since he hit in the cleanup position behind Ruth in the Yankees' lineup.
Gehrig was a different type of player. He didn't share the boisterous personality of his legendary counterpart Babe Ruth. One interviewer wrote of Lou, "He was simply a very ordinary, good human being; a man whose only inheritance was unusual physical strength, a capacity for hard work, a willingness to sacrifice and learn." Lou was never a showman and had no intention of becoming one. He shunned the limelight. Family, especially his mother, meant everything to him, more than any laurel. A modest and shy gentleman, Lou enjoyed being alone—taking long walks, riding roller coasters for hours, reading anything from Tolstoy to the funny papers, and playing with his dog.
Given that New York City was saturated with coverage of the Yankees and Babe Ruth, Walsh looked farther west and contracted with the Oakland Tribune and the Pittsburgh Press for Lou Gehrig to pen his life story, which would subsequently also appear in the Ottawa Daily Citizen in Canada. Lou's memoir ran serially under the title Following the Babe, since he hit in the cleanup position behind Ruth in the Yankees' lineup.
Most famous athletes talked with sportswriters who acted as ghostwriters, turning their conversations into entertaining newspaper columns. So it is likely Lou had some help with his series. Sportswriter Ford Frick would claim that he assisted Lou in writing his 1927 World Series columns, but never professed to helping with Following the Babe. No matter who wrote down the words, there is no doubt that Lou's memoir came directly from the heart.
The Oakland Tribune proclaimed: "For the past decade, every boy in America has dreamed of being a second Babe Ruth—few daring to voice aloud such a fairy-tale ambition—and none, save one, attaining even the remotest approach to the King of Swatdom. But that one, 'Columbia Lou' Gehrig, in the space of three short years, has swatted his way from the sandlots of New York to the very bailiwick of the mighty Babe!" Editors promoted the inspirational angle of Lou's story: "Gehrig tells his story of dreams come true—high school victories, college glory, and big league fame—in a manner that will inspire every boy and parent in the land."
Tribune readers learned of the impending serial on August 10, 1927, when a photo of Lou and "Ma" Gehrig appeared in the sports section. Lou—hair immaculately groomed, dressed in white shirt and bow tie, and wearing an apron—appears to be helping his mom dry dishes in the family kitchen. A caption noted that when not assisting his mother and "not hitting home runs or otherwise disturbing the peace of mind of rival pitchers, he is kept busy preparing articles for Tribune readers."
Lou Gehrig's memoir was forgotten, buried in the mists of time, and largely overlooked by baseball historians and Gehrig biographers.
Following the Babe appeared on August 18, with plans for thirty installments. All went as scheduled until late that month when the newspaper admitted, "Lou Gehrig has been so busy trying to catch up to Babe Ruth that he is late with this week's installment of his life history." On the thirty-first, editors announced, "According to word received today, Lou will not have another chapter ready until next week, and then his story will appear only three times a week instead of daily." Two days later, they proclaimed that Lou was "back on the job again," along with a news flash that the famous slugger would provide articles on the upcoming World Series. All went according to plan until mid-September, when Gehrig's articles began to appear out of order and one just disappeared, leaving his life story one short of the projected thirty chapters. To meet his looming deadlines, Walsh arranged for sportswriter Ford Frick to assist Lou in writing his World Series columns.
Lou Gehrig's memoir was then forgotten, buried in the mists of time, and largely overlooked by baseball historians and Gehrig biographers. When I discovered these columns while researching another topic, there was no doubt they needed to be brought to the public's attention. This sensational discovery is a unique opportunity for the world to be reintroduced to one of its most famous sportsmen. Told in Gehrig's own voice, these stories will transport fans to a bygone era of baseball. Readers will learn of his upbringing and struggles as he learned to hit and field in high school and college. Upon joining the Yankees in 1923, Lou stood in awe of established stars, many of whom offered advice that advanced his career. By the 1927 season, Lou Gehrig was being mentioned in the same breath as Babe Ruth, Ty Cobb, Rogers Hornsby, and Tris Speaker.
This version of Following the Babe has been slightly modified from its original newspaper format, with columns being consolidated into logical chapters and spelling standardized. The Oakland Tribune's version of Following the Babe has been adhered to because it's the only complete run of the three accounts. Obvious typographical errors have been corrected, and a few commas have been inserted for clarification. Except for these minor changes, this narrative is just as it was originally published during the 1927 season.
Reading Gehrig's life story ninety-three years after it first appeared is a real treat for baseball fans, whether they are Yankees lovers or not. This is a glimpse into an era peopled by men who have been forgotten or remain in the public eye only through their mythic status. Gehrig describes them all with the same gusto, whether Hall of Famers or journeymen, relating anecdotes that make long-dead ballplayers come alive. Following the Babe is a chatty memoir that gives fascinating insights into the greatest baseball team of all time, the 1927 Yankees, also known as Murderers' Row. It also serves as a Horatio Alger story, relating how a poor kid from Yorkville in Upper Manhattan grew up to become a world-famous athlete.
Lou's love for baseball is infectious. As he once described his connection to the game, "The smack of a ball in a fielder's glove, the crack of a bat against the horsehide, and immediately the game gets me. The crowds, the color, the feeling of expectancy, the umpire with his mask and chest pad, the windup of the pitcher, a fast throw, a slide for base . . . the whole thing, and every bit of it gives me a thrill."
His records speak for themselves: American League Most Valuable Player Awards in 1927 and 1936; Triple Crown winner in 1934; Sporting News Most Valuable Player Awards in 1931, 1934, and 1936; enshrinement in the National Baseball Hall of Fame in 1939. Lou won the nickname the Iron Horse for playing in 2,130 consecutive major-league games, a record that would stand until 1995.
Lou Gehrig's remarkable achievements came not from a God-given natural talent but from a dogged determination to better himself and a passionate love for the game. In Gehrig's mind, there was no substitute for hard work. He devoted every day of his life to self-improvement. Noted for his strength and stamina, he resonated with fans on an unusually personal level, in the words of Jack Sher, "immortal because somehow he managed to touch and soften the heart of everyone who heard his name."
There is a real poignancy to this tale. Six feet tall, with the legs and arms of a heavyweight boxer, Lou was one of the most powerful men to ever play the game. Sadly, he is now remembered more for his premature death than for his storybook career. In 1939 Lou was diagnosed with amyotrophic lateral sclerosis, a degenerative neuromuscular disorder that slowly robbed him of his famed strength. That malady is now commonly known as Lou Gehrig's disease. After wasting away for two years, Lou drew his last breath on June 2, 1941, seventeen days short of his thirty-eighth birthday. When Lou Gehrig died, something beautiful left this world. His memoir stops with the conclusion of the Yankees' 1927 World Series win. The brevity of the story makes it all the more powerful.
__________________________________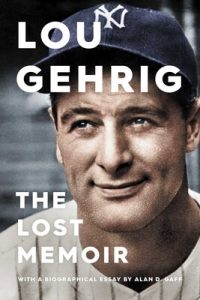 From Lou Gehrig: The Lost Memoir by Alan D. Gaff. Used with the permission of Simon & Schuster. Copyright © 2020 by Alan D. Gaff.
---