Reckoning with the History of Medical Racism: A Reading List
Dolen Perkins-Valdez Recommends Books That Spotlight the Colonization and Control of Black Bodies
When Covid-19 vaccines were released in early 2021, I worried about folks in African American communities. Would they trust that the government was being honest about the safety of the vaccine? Although I had read the studies and knew the vaccine was safe, I understood the history of medical racism in the United States and the distrust it had fostered among many African Americans. Growing up, I'd listened as a beloved aunt of mine, a registered nurse for nearly forty years, professed her dislike of hospitals. Even Black medical professionals were not immune to this distrust.
Fortunately, African Americans are resilient survivors, so eventually most chose to receive the vaccine. But that does not change the fundamental history and generational fallout. My Dad graduated from Tuskegee in the late 1960s, and he often recounted the story of the Tuskegee Syphilis experiment, a government-funded medical study that went on for forty years and allowed nearly 400 Black men to needlessly die before being exposed. After the men died, the government then autopsied the bodies in the name of further "study."
I heard these stories from an early age, but it really struck home with me when I learned of another Alabama horror. J. Marion Sims, an early American physician, openly and publicly operated on enslaved Black women without their consent, developing very painful operational techniques—vaginal fistula repair among them—without administering any kind of pain medication. Sims went on to be lauded as the father of modern gynecology. But what about Anarcha Westcott, Betsey Harris, and Lucy Zimmerman, the enslaved women who sacrificed their bodies for "research?" As a Black woman, I wanted to know more about the kinds of medical injustices we had historically faced.
The more I researched, the more the path led back to our reproductive systems. From the commodification of Black babies in the capitalistic empire of slavery to the experiments on our most intimate body parts to the abortion wars that quietly attacked poor Black women, Black women's bodies have often been colonized and controlled. Not only were Black women deprived of the ability to make choices about motherhood, they were also denied the opportunity to raise their children in safe and healthy environments. When they did attempt to be good mothers, they were demonized.
I think it's important that we connect these fraught conversations about race and gender to the history of medical racism in this country. I wrote my newest novel Take My Hand because I believed there were too many people who did not know about the history of forced sterilizations among poor women of color. I read about these beautiful young Black girls in early 1970s who became the victims of the government's "good intentions" and I wanted to know how these injustices are allowed to occur in broad daylight. I am still wondering today, as we are now aware of recent forced sterilizations in California prisons as well as allegedly in immigrant detention centers.
If you want to learn more about this issue, here are the books I recommend.
*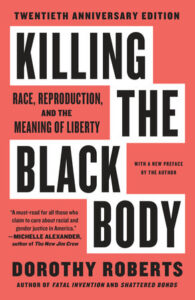 Dorothy Roberts, Killing the Black Body
The significance of this groundbreaking 1997 book cannot be overstated. With meticulous detail, Roberts outlines the history of reproductive racism in the United States. This book became central to discussions surrounding the injustices committed against black women's bodies and inspired many subsequent scholars and activists to take up arms. This is a must-read.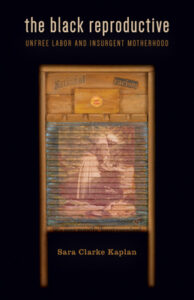 Sara Clarke Kaplan, The Black Reproductive: Unfree Labor and Insurgent Motherhood
Kaplan is the new Executive Director of American University's Antiracism Research and Policy Center, a position previously held by Ibram Kendi. This recent book brings a literary and cultural analysis to the history of reproductive injustice, by juxtaposing historical literary texts with contemporary narratives. I am particularly intrigued by how novelists have contended with this racialized and gendered history.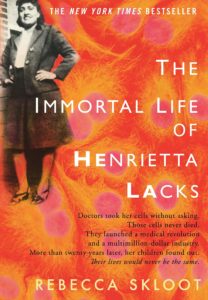 Rebecca Skloot, The Immortal Life of Henrietta Lacks
There are some books you read that change your life forever, and this is one of those books. I can still remember my outrage and devastation to learn how Henrietta Lacks' miraculous cells were used around the world without her or her family's knowledge.  The story was astonishing enough in itself, but in Skloot's talented hands, it became a landmark book in the history of medical ethics.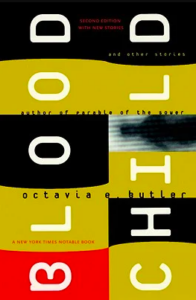 Octavia Butler, Bloodchild 
This 1995 story by acclaimed science fiction writer Octavia Butler features a young male Gan who must come to terms with carrying the eggs of an alien species.  After witnessing a emergency caesarean section on another pregnant male, Gan has second thoughts about becoming a "host." This story can provoke us to think about the ways in which women's bodies are colonized as reproductive vessels.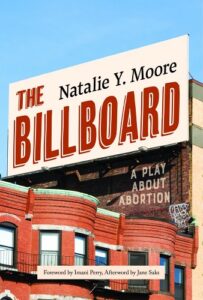 Natalie Moore, The Billboard
Moore is an award-winning investigative journalist for WBEZ Chicago, an NPR affiliate, who has penned her first published play, to debut at the 16th Street Theater in June 2022. When a City Council candidate puts up a billboard stating "Abortion is genocide. The most dangerous place for a Black child is his mother's womb," a Black women's clinic in Chicago's Englewood neighborhood responds with its own billboard:  "Black women take care of their families by taking care of themselves. Abortion is self-care. #Trust Black Women." The book version is now available from Haymarket Books.
________________________________________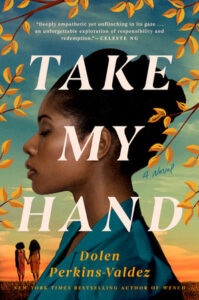 Dolen Perkins-Valdez's Take My Hand is available now via Berkley Books. 
---