Reading Across America: Storytelling on a Mountain and in Caves
Bringing Literature to Griffith Park, One of the Most Miraculous Spots in LA
Soon after I moved to Los Angeles in 2006 to attend CalArts, I went to the Griffith Observatory one night with my husband, and looking down at the sprawl of the city, billions of lights twinkling in the dark, I felt myself fall in love with LA and Griffith Park. I joined the Sierra Club night hikes through the park twice a week until I felt I knew the park and all its trails in light or darkness.
A couple of years after graduating, also while hiking, I stumbled across the Hidden Amphitheater. There was a podium and seating carved into a mountain, and I thought it would be a great place for a reading. At the time, I was intimidated by literary events, afraid of running into someone I knew and being asked what I had published lately, and ashamed of my job and lack of publishing credits. I wanted to start a series in the park I loved so much, but it felt overwhelming to do it alone, so I asked one of my favorite writers and friends from CalArts, Anne-Marie Kinney, author of the novel Radio Iris, to be my co-curator. She agreed, and we launched the Griffith Park Storytelling Series in 2011.
"I'd been hiking in Griffith Park forever, and it's one of the most gorgeous, miraculous spots in LA, a sprawling piece of wilderness in the middle of the city and its strange, wild, breathing center," Anne-Marie recalls. "The idea of starting a reading series there intrigued me. But I was not an outgoing person—I was a listener, a watcher. I had mild panic attacks every time I read my own work aloud. Why would I want to host anything? But I set aside my self-doubt and decided to give it a shot."
Griffith J. Griffith, a murderous man who nearly beat his wife to death, donated the bulk of the 4,310 acres of Griffith Park to the City of Los Angeles, under condition it be a public space, free to everyone. Located at the eastern end of the Santa Monica Mountains, the park is home to deer, owls, bats, coyotes, rattlesnakes, bobcats, hawks, and our own resident mountain lion, P-22. The Hollywood Sign sits atop Mt. Lee, the Observatory sits just below Mt. Hollywood, and from these two vantage points you can see panoramic views of Los Angeles.
Readings are almost always in bars or bookstores, places you can't bring a dog or a child. We wanted to get writers and an audience out into the park, under an almost always sunny and warm Los Angeles sky. We visited the Park Rangers' office and learned that we could host events in the park as long as they are free and open to all. So we looked for spaces in the park that are semi-private, accessible, and interesting, because the park itself is part of the experience.
We frequently have readings at the abandoned Old LA Zoo—it's almost always a great location, with good acoustics, and, most importantly, we can drive the chairs and tables right up to the entrance. We also love Bronson Canyon—more commonly known as the Batcave—where the original Batman TV series was filmed. Shielded from the sun, it's a cool, dry place with good acoustics, plus people love reading in and visiting a cave. Last year we rented a train car for a Halloween reading, and, among the scary stories people read, we heard Michelle Tea tell true ghost stories from her own life.
First we figure out a date when we're both free, maybe a couple of months in advance, then start comparing notes on writers we'd like to invite. There are a lot of back and forth emails about writers we've heard about who've written something we loved or were recommended to us. Then we think about who would work well together in a lineup and we see who is available.
We try to have a well-balanced lineup, including authors at different stages in their careers and students or former students of our alma mater, CalArts. We ask previous readers for recommendations. Sometimes we book people who've emailed us. We also try to have readers from diverse backgrounds.
Once the lineup and location are decided, we do our best to find out if there are scheduled events in the area so we can avoid a conflict. We rent chairs and bring light refreshments, though we don't serve alcohol (park rules). Everyone is welcome, and passersby almost always stop to join us.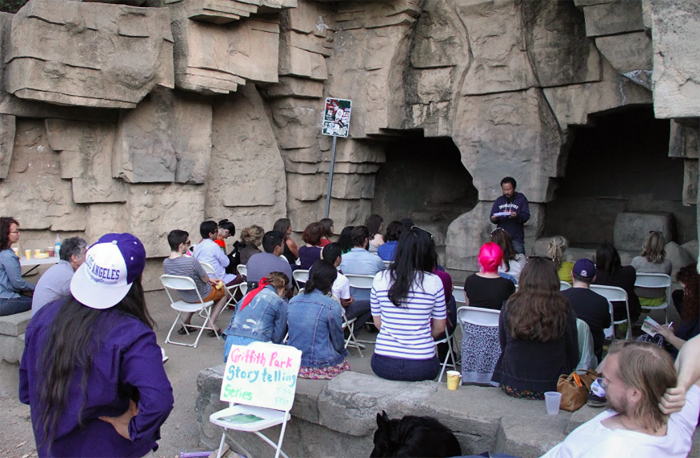 The vibe of the series is very different from ones held in bookstores or bars, or anywhere where complete silence is possible. In an outdoor series, readers tend to read pieces that are funny, easy to follow, short and engaging. We try to invite readers who are also good performers, who can project their voices and have a theatricality to their performance.
We think it's part of the experience if your attention is diverted to a hawk circling overhead, or the wind, or children playing, or dogs barking (the last two of which are probably members of our audience). Years before we had children of our own, we wanted the series to be accessible to parents with children and those who want to bring their dogs.
Once it's all planned, we start publicizing on social media and wait. On the day of the event, the adrenaline kicks in, while we run around erecting signs so people can find the spot and we arrange the chairs and refreshments. Our husbands assist by minding our children.
It doesn't always go smoothly. We've had a reading on the Observatory grounds interrupted by a bus of tourists and a reading at the Hidden Amphitheater disturbed by a group of 100-plus hikers. We've had to quickly relocate because of an impromptu rave. But we don't mind the chaos.
The place itself always has its own ideas. For our most recent reading, at the Old Zoo, we were nervously watching the weather forecast for days beforehand. It kept going back and forth on whether there would be rain. We decided to just go on as planned, advising readers and attendees to bring an umbrella. All day it was just cloudy. Then, as people started arriving, the sky cracked open and unleashed a deluge. We all stood there, laughing under our umbrellas, speculating on whether we should just hold the reading inside the dark, narrow enclosure. Then the rain stopped. Everyone pitched in to dry off the chairs, and our lovely, game readers provided a beautiful event in the cold, wet, empty park. There is a physical element to coming to these readings that can't be discounted.
When we both became pregnant around the same time, we hosted the series pregnant, and later, strapped with newborns. Since having children the frequency of the readings has dropped, but we still love watching our favorite writers read in one of the wildest places in LA.
---