Power and Resistance in the Catholic Church: A Reading List
Mary Jo McConahay Recommends Olga M. Segura, Katherine Stewart, and More
Writing a non-fiction book on a fast-moving and divisive subject like the powerful American Catholic hierarchy, as I did with Playing God, American Catholic Bishops and the Far Right, has meant reading hundreds of articles, podcast transcripts, court cases and pamphlets, not to mention doing interviews of all kinds. Now with the thrill of publication I realize that although I spent long months writing at my desk, I have been caught up in a whirl.
That is why, when I look back, those hours spent reading full-length books by good writers rise in my memory as the most pleasant, fruitful, and rewarding times. Only a book, with its relative length and complexity, has the potential to allow the author to dive deeply into a subject, and let you travel alongside until you find you've really learned something, and know enough to decide why you may agree or disagree.
Here are some that come to mind first, and warmly, despite their challenging subjects, challenges met by their authors with vigor and grace.
*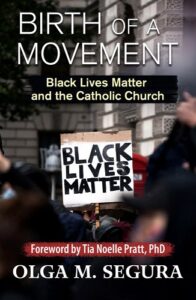 Birth of a Movement: Black Lives Matter and the Catholic Church by Olga M. Segura
Despite the church's history of neglecting Black Catholics, and scant attention to white supremacy, many individuals at the heart of the Black Lives Matter movement are Catholic. Olga M. Segura, a Black Catholic journalist, interviews several BLM leaders and weaves in history and current events, producing a powerful, unusual picture of the social activist movement. A year after protests against the murder of George Floyd rose across the country, the president of the U.S. bishops' conference called such solidarity movements an expression of "secularization" and "pseudo-religions" aiming to replace Christianity. The view is poisonous, and Segura's book is the antidote.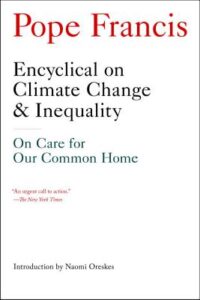 Encyclical on Climate Change and Inequality, On Care for Our Common Home by Pope Francis [Laudato Si']
You don't have to be Catholic to love the beautiful language of this teaching document. And you don't have to be an environmental activist to appreciate the pope's call for action to halt climate change and reform our consumerist ways. Pope Francis, a scientist before he became a priest, lays out the scientific and ethical rationale for saving the planet that has influenced world leaders and ordinary readers. Many things have to change course, he writes, "but it is we human beings above all who need to change," to develop an awareness of "our common origin, of our mutual belonging."
Most Catholic bishops in the United States, the biggest capitalist country in the world, have ignored climate change—when I saw the reports from data scientists to prove it, I fumed, because the prelates set the tone for much of what goes on in every parish in the country. This short book's Melville House edition (full disclosure: my publisher too) carries an incisive introductory essay by the Harvard science historian Naomi Oreskes, whose volumes written with Eric M. Conway, Merchants of Doubt (2010) and The Big Myth (2023), expose well-funded campaigns that deny the dangers of tobacco and climate change.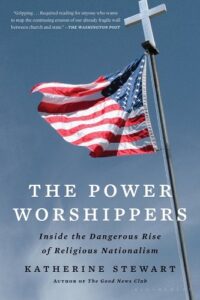 The Power Worshippers: Inside the Dangerous Rise of Religious Nationalism by Katherine Stewart
As I researched the role of U.S. Catholic bishops on the political scene for Playing God, I found that some of the best resources for my growing understanding of religious nationalism were about white evangelical Christians. The Power Worshippers stands out (another is Jesus and John Wayne, by Kristin Kobes Du Mez) because it shows in such granular detail, with profiles and narrative style, how "religion" for some pivotal actors is not about God or theology, let alone about the welfare of their fellow man (yes, we're usually talking about men here), but about power and money, and the will to enforce their own version of morality on the rest of us.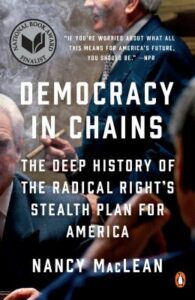 Democracy in Chains: The Deep History of the Radical Right's Stealth Plan for America by Nancy MacLean
Beginning Nobel Prize economist James Buchanan's influence on people resisting racial integration, Nancy MacLean lays out the landscape of a far right, decades-long, multi-billion dollar campaign to chip away at democracy and its safeguards for ordinary citizens by demeaning and reducing government authority. It is a tactic that rightist Catholic bishops used during the COVID epidemic for instance—I show it in the "Plague of Illusion" chapter in Playing God.
MacLean is a history professor who writes with the clarity of a good journalist. Her profiles of industrialist Charles Koch, who funds Catholic universities, and other actors show how they line their pockets while hobbling laws and even the Constitution for the sake of "religious freedom." For anyone concerned about the far-right drift of the country, this is a foundational book.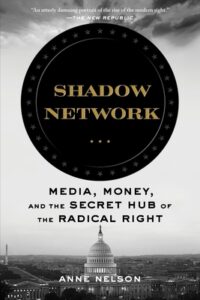 Shadow Network: Media, Money, and the Secret Hub of the Radical Right by Anne Nelson
Can a small group of ultraconservative Americans meeting occasionally, and clandestinely, at elegant venues, steer the political fate of the nation? The answer is yes, as journalist Anne Nelson demonstrates in her chilling profile of the secretive Council for National Policy. You will recognize many of their names—Koch, Mercer, Bannon, DeVos, Pence, the conservative Catholic judicial advisor Leonard Leo who engineered the Catholic majority on the Supreme Court. Others, rich and influential as they are, remained largely hidden from the public until Nelson ferreted out their machinations. The reader finishes this eye-opening investigation armed with vital information, and with what Christians may call righteous anger.
Dark Money: The Hidden History of the Billionaires Behind the Rise of the Radical Right by Jane Mayer
Nothing says influence like money, and from the Catholic Church to the Supreme Court to Congress, wealthy individuals have been able to steer the course of institutions to their liking. Nothing new, you say, though in a democracy at least we know where the money comes from. Not so. In her blockbuster, electrifying book—still the best on the subject—New Yorker writer Jane Mayer shows how untraceable "dark money" fuels legislation and government policy, facilitated by shady, complex networks whose legality is an outrage. As a journalist I have always admired the persistent reporting and deep research you know is behind Jane Mayer's writing, even though she never calls attention to it, or to herself. For me, she is a model of the form.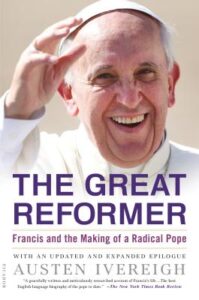 The Great Reformer: Francis and the Making of a Radical Pope by Austen Ivereigh
I'm glad that this was the first full-length biography I read of Jorge Bergolio, the Argentine who became Pope Francis in 2013, because the author clearly respects the pontiff—I do too—but also because Ivereigh seems to understand what makes Francis "radical," such as basing his pontificate more in the Gospel of a merciful Jesus than in doctrine or Canon Law, allowing him to open doors to LGBTQ persons, for instance ("Who am I to judge?").
I spent years reporting from Latin America and recognize how much of the way Francis tries to run the global church comes from his roots in Argentina, where he had to navigate his devotion to the majority poor in a volatile political situation. Francis is the first non-European pope in a millennium, and in the pages of Reformer I see how much the British Ivereigh, a fluent Spanish-speaker and long-time Catholic journalist, is able to connect with the issues most important to this papacy, like migration and the environment.
__________________________________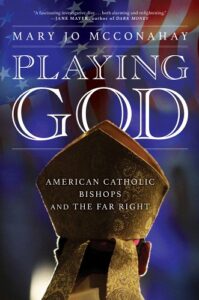 Playing God: American Catholic Bishops and the Far Right by Mary Jo McConahay is available from Melville House.
---