Poets and Revolutionaries: On Grappling with Lebanon's Descent to War
From Kim Ghattas's Cundill Prize-Nominated
Black Wave
Lebanon
1982-1988
We are from Beirut, alas, we were born
With borrowed faces and with borrowed minds
Our thoughts are born whores in the market places
Then spend their lives pretending to be virgins.
–Khalil Hawi, River of Ashes
In the summer of 1982, Beirut witnessed an invasion, a massacre, an evacuation. Ideas and ideologies died. And then came a black wave. But first, the Beirut of old had to perish. That summer, before he was forced to leave, Pakistani poet Faiz Ahmed Faiz wrote a farewell ode to the city that had sheltered him for five years from the wrath of the dictator at home, Zia ul-Haq. Faiz had arrived in 1978, three years into Lebanon's civil war. He had preferred it to the strangulating darkness descending on Pakistan. The darkness in Beirut was mostly made of gunfights and power cuts, which felt like mere interruptions to morning walks on the seaside corniche or coffee and cigarette-smoke filled evenings in the cafes of Hamra street, on the western side in Ras Beirut—literally Head of Beirut—the tip of the city jutting into the Mediterranean sea. Often likened to the Champs-Elysees, Hamra was more of a Greenwich Village, a place of intellectual and artistic experimentation since the 1950s, where each political or artistic trend had its cafe.
With the arrival of the Cold War to the shores of the Levant, ripping open Lebanon's internal cleavages, Beirut was slowly being torn apart, the ravaged downtown splitting it into east and west, Muslim and Christian. Despite the deadly daily fireworks, the city had so far maintained its status as the capital of Arab modernity, a shelter for exiles and emigrés like Faiz, a platform for debate. On Hamra street, vendors still sold newspapers and magazines printed by every single possible party or ideological camp in the region: pro-Iraqi, pro-Syrian, Nasserist, atheist or pro-Khomeini, communist or pro-American. The displays were a testament to an Arab world that still bubbled up ideas and dreams in a city that provided the liberty to think them, offering enlightenment at the crossroad between modernity and tradition. In a region that was now an authoritarian wasteland, Beirut, even at war, still offered freedom and ferment for intellectuals from Egypt to Pakistan.
____________________________________
Black Wave by Kim Ghattas has been shortlisted for the 2020 Cundill History Prize.
____________________________________
Faiz was deeply engaged in the Third World and revolutionary politics of that period and he became immersed in the Palestinian cause, writing odes to Palestinian guerilla fighters and dedicating one of his final collections to Yasser Arafat whose freedom fighters were murderous terrorists in the eyes of the US, Israel and others. In Beirut, Faiz became editor of Lotus magazine, a trilingual quarterly of international literature funded by the Soviet Union, Egypt, East Germany and the PLO. With his Arabic degree, Faiz was the first non-Arab editor of the magazine. He and his adventurous British wife Alys settled into a city that allowed them to defy Zia from a distance. For decades, Lebanon had lured not just revolutionaries but also poets, ideologues, artists and all types of opposition figures and plotters. A weak state was both a blessing and a curse. In Beirut, there was no dictatorship to muzzle opinions—or your guns. The war had made the small Mediterranean country even more of a haven, a live training ground with a casino and restaurants that still served smoked salmon and caviar during cease-fires. There were breadlines and economic hardship, massacres and literary conferences. Every spy agency was in town: the CIA, the KGB, the Mossad.
For decades, Lebanon had lured not just revolutionaries but also poets, ideologues, artists and all types of opposition figures and plotters.
Arafat, his men, and a plethora of Palestinian splinter factions were still running around like they owned half the country, the tentacles of their presence extending well beyond their staging post in the south on the border with Israel. Supporters of their cause in Lebanon were oblivious to this abuse of the country's sovereignty. Their foes were many; ruthless and bloodthirsty in brutal massacres to eliminate the Palestinian banner from Lebanon.
But first, in the summer of 1982, Beirut died. Emptied of its soul, losing its shine and whatever innocence had survived five years of fratricidal war. At eleven in the morning on June 6, hundreds of Israeli Merkava tanks and armored personnel carriers rumbled into Lebanon. "Operation Peace for Galilee" had begun. […]
At 10:30 that evening, one of Lebanon's greatest poets, Khalil Hawi, took a hunting rifle and shot himself in the head on his balcony in his home in West Beirut, near the sprawling green campus of American University of Beirut, where he was a professor. In the cacophony of war, no one heard the shot. A Greek Orthodox Christian, born in 1919 in Shweir, a small village in the Lebanese mountains, Hawi had written about love and desire but mostly about the yearning for political and cultural change in a region struggling to find a path out of setbacks and despair. The Arab renaissance, cultural and political, of the nineteenth and early twentieth century had faded into the distance. A reaction against the intellectual stagnation under the Ottoman Empire, a call for reform in the face of European military superiority, the awakening, al-Nahda, had produced endless literature and poetry, cinema and music, media, new approaches to education, but also modernist thinkers, secular and religious scholars, including modernist Salafists like Mohamed Abduh.
From Cairo, intellectual effervescence had moved to Beirut in the second half of the twentieth century. But no new, better order had emerged. There were many reasons why the period of enlightenment ultimately faltered, including colonial repression but also repeated American-instigated coups that helped bring strongmen to power across the Middle East. The political and cultural maturing of the region was repeatedly thwarted. Hawi's Nahda generation of luminaries was still hoping to provide a bridge to the younger generation to find their way forward, when he wrote his 1957 poem The Bridge:
They cross the bridge blithely in the morning
My ribs are stretched out as a firm bridge for them
From the caves of the East, from the swamps of the East
To the New East
My ribs are stretched out as a firm bridge for them.
But on that June evening, with Israeli tanks heading towards Beirut, Hawi had either concluded he could not be that bridge, or accepted that there was no New East. A deeply sensitive and brooding man, consumed by his poetry, he had embraced Arab nationalism and crashed in its failures. From disappointed grand Arab dreams to the torment eating his own country, Hawi was growing old and somber. At sixty-two, his heavy shoulders could not carry the final affront that was the idleness and powerlessness of Arab leaders in the face of an Israeli invasion. "Where are the Arabs?" he had asked his colleagues that morning on the campus of the university. "Who shall remove the stain of shame from my forehead?" Hawi was found the next morning, on his balcony.
As though they understood that the invasion was about to birth something even more alien to them than what they had seen so far, Hawi departed for the heavens while Faiz and Alys decided to return to the hell of Zia's dictatorship, spirited out of the besieged city that summer, leaving behind a love letter to the Beirut that the couple had embraced so passionately.
Beirut, jewel of the world
A virtual heaven on earth!
When the mirror of
Children's smiling eyes
Was smashed to pieces
These little stars now
Illuminate the city's nights,
And brighten the land of Lebanon.
Beirut, jewel of the world.
(…)
This city has been here forever,
Will exist forever
Beirut, jewel of the world
A virtual heaven on earth!
Beirut was hell on earth that summer. Faiz titled this poem "A verse for Karbala in Beirut," a tribute to a city martyred by injustice. Although he was deeply secular, Faiz was no atheist. He was spiritual in the practice of his religion; Islamic imagery and allegories permeated his writings. Unknowingly, his reference to the Iraqi city of Kerbala in Beirut foreshadowed the arrival of a cult of martyrdom feeding on the eternal mourning for Imam Hussein, the most revered imam in Shia Islam. Some believed this was the answer to Hawi's question about who would erase the shame from his forehead.
*
When Sheikh Sobhi Tufayli heard the news about the column of Israeli tanks crossing into Lebanon on that June morning, he felt neither fear nor foreboding—only excitement. He was sitting in the Damascus airport waiting for a flight to Tehran to attend a conference organized by the Revolutionary Guards and their Office for Liberation Movements. A heavy-set man in his mid-thirties, serious looking with full lips and a white turban, Tufayli, a Shia, hailed from the small village of Brital near Baalbek, in Lebanon's eastern Beqaa valley. Brital was always lawless, tribal and rebellious in an area famous for cannabis plantations. He had studied in Najaf for almost a decade with Mohammed Baqer al-Sadr, the founder of the Shia Da'wa party, the cleric who had endorsed Khomeini's wilayat and was executed in 1980. Tufayli had been in Najaf at the same time as Ayatollah Ruhollah Khomeini, along with other Shia clerics also from the Beqaa area. One of the younger students was eighteen-year-old Hassan Nasrallah, who would rise as a militant leader one day. Nasrallah was in awe of the ayatollah and his "radiant presence," a man in whose company "time and space no longer existed." Ever since returning to Lebanon, around the time of the Iranian revolution, the more senior clerics had been talking to the people around Khomeini about building an Islamic resistance against Israel. There had been various attempts but nothing concrete had come of it. Now, Tufayli was contemplating the possibilities that the invasion could provide.
_____________________________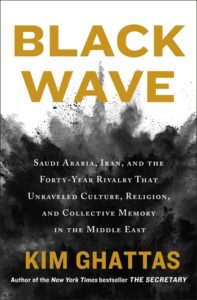 Excerpted from Black Wave: Saudi Arabia, Iran and the Forty-Year Rivalry that Unravelled Culture, Religion, and Collective Memory in the Middle East. Published by Henry Holt and Company.  Copyright © 2020 by Kim Ghattas. All rights reserved.   
---