Philippe Petit Meditates on His Life Walking the High Wire
Glimpses of the Finite and Infinite, As Translated by Paul Auster
Alone on his wire
Up above, about to begin a long acquaintance with his new territory, the high-wire walker feels himself alone. His body will remain motionless for a long time. Grasping the platform with both hands behind him, he stands before the cable, as if he did not dare set foot on it.
It looks as though he is idly basking in the setting sun.
Not at all. He is buying time.
He measures space, feels out the void, weighs distances, watches over the state of things, takes in the position of each object around him. Trembling, he savors his solitude. He knows that if he makes it across, he will be a high-wire walker.
He wants to line up his doubts and fears with his thoughts—in order to hoist up the courage he has left.
But that takes too much time.
The cable grows longer, the sky becomes dark, the other platform is now a hundred meters away. The ground is no longer in the same place; it has moved even lower. Cries come from the woods. The end of the day is near.
At the deepest moment of his despair, feeling he must now give up, the high-wire walker grabs his balancing pole and moves forward. Step by step, he crosses over.
This is his first accomplishment.
He stands there trying to absorb it, his eyes blankly staring at this new platform, while darkness skims over the ground.
With the tops of the trees he shares the day's last light, a light softer than air.
Alone on his wire, he wraps himself more deeply in a wild and scathing happiness, crossing helter-skelter into the dampness of the evening. He attaches his balancing pole to the platform before settling down at the top of the mast. There, in a corner of dark and chilly space, he waits calmly for the night to come.
*
Practice
The shock of it lasted several days.
Every morning he ran to his wire, leaping over the grass so the dew would not weigh him down. Distracted by so much happiness, he would let himself simply walk back and forth, again and again. There are those who think this coming and going will turn them into high-wire walkers. The true man of the wire, however, cannot accept this horizontal monotony for very long: he knows that the path he is about to take has no limit. In remembrance of his recent birth, he stops short and sets to work. Silent and alone, he brings to the high cable everything he has learned down below. He discards the movements space will not support and gathers up the others into a group that he will polish, refine, lighten, and bring closer and closer to himself.
You must leave the wire in triumph, not out of weariness.
Each day he adds another mastered element. Soon he goes out on his wire with only one goal: to discover new ideas, to invent a combination of unexpected gestures. He goes out hunting. And what he catches he hangs on his wire. Then he distracts himself with inconsequential walks, whimsical postures, exercises with no future, like a bear wallowing in his pool at the zoo. And if he loses his taste for movement to such an extent that he loses control, better that he should rest on the wire than stop and climb down. For you must reach some apex before stepping to the ground, no matter how small it is: your existence as a high-wire walker is at stake. You must leave the wire in triumph, not out of weariness.
Now that he knows how to go about practicing, each session will be longer, more fruitful, and the day will be meaningless unless it bears the shape of the wire.
Then the music starts!
For stimulation, he turns on the brassiest Circassian marches; he draws courage from Spanish bull-fighting music; and, with exquisite ardor, he surrounds himself with the sound of a full orchestra.
*
The wire walker at rest
At the time when wire walkers stretched their ropes between two X's of wood, one of the X's was always reserved for resting.
There was a simple hemp line stretched between the tops of the two beams, high enough for the dancer to lean the small of his back against it. It was covered by a large cloth decorated in the artist's colors and embroidered with fine gold threads. Leaning against it in this way, the acrobat could indifferently let his eyes wander down to settle on the rope.
As his name indicates, the wire walker of great heights is a dreamer: he has another way of resting. He stretches out on his cable and contemplates the sky. There he gathers his strength, recovers the serenity he may have lost, regains his courage and his faith. But weariness is necessary: you must not treat resting as an exercise.
Then be lazy—to the point of delirium!
Sit down. Fold one leg on the cable and then lean backward until your head touches it. A moment later the foot will begin to slide, and the leg will stretch out completely; the other leg will hang down and sway. Sometimes one hand lets go of the pole; sometimes it retrieves it. You want to feel the line of the wire. It will become your spinal column. Each passing second shrieks like a grindstone. An endless pain takes hold of your body and breaks it down muscle by muscle. If you resist and cross the threshold of what is bearable, the torture will extend into your bones and break them one by one across the wire. You will be a skeleton balanced on a razor blade. Beyond this limit, millions of terrifying enchantments await you. Beyond this limit, breath and confidence go together. And still further beyond, a patience without desire will give each of your thoughts its real density.
Then be lazy—to the point of delirium!
With your back on the wire, you feel the vastness of the sky. To be a wire walker in its profoundest sense means to leave the wire behind you, to discover the cables that have been strung even higher and, step by step, to reach the Magic Wire of Immobility, the Wire that belongs to the Masters of the World. The earth itself rests on it. It is the Wire that links the finite to the infinite: the straightest, shortest path between one star and the next.
Now close your eyes.
The cable is limpid. Your body is silent. Together, they are motionless. Only your leg quivers. You would like to cut it off, to turn your body into a single human wire. But already it no longer belongs to you, is no longer a part of you. Like the chess player who closes his eyes and sees a whole plain of black and white squares passing under his feet, you close your eyes and see only a magnificent gray wire.
The silent wind of your eyes inhabits it. A silence invaded by light.
Penetrate this luminosity by seeking out its source. Plunge down to find the place where nothing breathes, into the blackness that is hidden inside it. Keep going until you reach the other side of the light. It is a dazzling clarity, a clamorous splendor: wet, whirling, often colorless. As if through a black mirror, you will see a gleaming, untouched wire. That is the image you are looking for. It will quickly be jumbled together with the reworks of new impressions. Once this image has come, however, the high-wire walker can live in space. For whole hours, for portions of entire days, as if time had come to a halt.
No one else will ever notice.
You must throw yourself into this meaningless search for rest—without hoping for a result.
Here is the wire walker stretched out on his gigantic antenna, listening to the world. He can feel the noise of the city rise up to him; he can distinguish among the thousand sounds that ll the silence of the countryside. He starts at the whistling of shooting stars.
And all that puts him to sleep.
A deep breathing invades him.
Each time he draws in his breath, he hears noises; each time he exhales, he hears nothing. Then, during the space of several heartbeats, he forgets everything. He begins to snore. But between his sighs, what silence!
Below him, nothing. Neither dogs nor people. Nature has gone to sleep as well, so that the wire walker, balanced on his huge tuning fork, can at last begin to dream.
–Translated from the French by Paul Auster
__________________________________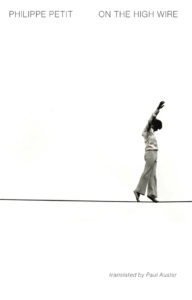 By Philippe Petit, from On the High Wire, copyright © 1985 by Philippe Petit, copyright © 2019 by New Directions Publishing Corp. Reprinted by permission of New Directions Publishing Corp.
---