Peter Turchi on the Power of the Literary Aside
In Praise of the Unexpected Path
The following first appeared in Lit Hub's The Craft of Writing newsletter—sign up here.
William Trevor famously described the short story as "the art of the glimpse," and compression is generally a virtue. But the most engaging and compelling short stories and novels are not necessarily the shortest or most direct. Clarity and directness appeal to our rational selves.
But fiction has an emotional component, one that often requires sidestepping the rational, disguising "the point" or the path to it. Humor and suspense depend on indirection, on the calibration of expectation and surprise, and they aren't the only effects best achieved by taking an unexpected path.
Digression is defined as a turning away or wandering from the main path of a journey. One could argue that The Canterbury Tales consists almost entirely of digressions, if one sees the main path as the journey of Chaucer's characters from London to the shrine of Saint Thomas Becket at the Canterbury Cathedral. To pass the time, they agree to a storytelling contest. If these were properly devout pilgrims, their conversation along the way should be incidental. But Chaucer makes the incidental the substance.
At the same time, because the narrative spine is the progression of the journey, he can do whatever he wants with the ribs. The traveler's tales are varied and, at least potentially, unpredictable, with no obligation to build on or respond to one another. The Canterbury Tales, like Mark Twain's "The Story of the Old Ram," is an example of curated digression. Chaucer's pilgrims get sidetracked in all sorts of ways, but Chaucer knows where he wants to take us, what he wants to show us not only in the individual tales, but in what they reveal about their tellers, and in how other characters respond.
Humor and suspense depend on indirection, on the calibration of expectation and surprise, and they aren't the only effects best achieved by taking an unexpected path.
Asides are essentially shorter digressions—as short as a word or a phrase, as long as a paragraph. While a digression might lead the reader to wonder when or even if we'll return to the apparent path of our narrative journey, an aside is more of a pause, or momentary diversion. Asides tend to take on a strategic function if and when they accumulate. As we'll see, their function can be tonal and rhythmic, they can amplify one or more aspects of the narrative voice, they can characterize, and they can even serve to underscore a story's central movement.
While a story's narrator is most often the source of asides—as in Jane Austen, Henry Fielding, Jorge Luis Borges, and David Foster Wallace—they can also be a function of character. In "Some Other, Better Otto" Deborah Eisenberg uses asides, initially, for comic effect. Otto is an attorney specializing in intellectual property rights. The particular nature and tone of Otto's nitpicking establish aspects of his character. As soon as we meet him, on the story's first page, Otto complains about an impending Thanksgiving dinner he's agreed to attend. His partner, William, responds indirectly: "I was reading a remarkable article in the paper this morning about holiday depression … Should I clip it for you? The statistics were amazing." Otto responds by attacking William's word choices: "The statistics cannot have been amazing, the article cannot have been remarkable, and I am not 'depressed.' " A few pages later, repetition encourages us to see Otto's focus on diction as a habitual defensive strategy. He and William are discussing the need to visit Otto's sister Sharon and make an effort to persuade her to go to the dinner.
"We could just go have a plain old visit, though. I don't know. Urging her to go to Corinne's—I'm not really comfortable with that."
"Oof. William, phrase, please, jargon."
"Why is that jargon?"
"Why? How should I know why? Because it is. You can say, 'I'm uncomfortable about that,' or 'That makes me uncomfortable.' But 'I'm uncomfortable with that' is simply jargon."
The aside may or may not distract us from the fact that Otto fails to acknowledge his own mixed feelings about Sharon, who he believes is both brilliant and possibly insane, or at least deeply troubled. What Otto doesn't say—but we understand—is that he, too, is deeply uncomfortable about approaching Sharon to attend the dinner. Later, when William suggests that "the desire for children is hardwired," Otto goes off on another antisemantic rant:
"Hardwired." You know, that's a term I've really come to loathe! It explains nothing, it justifies anything; you might as well say, "Humans have children because the Great Moth in the Sky wants them to." Or "Humans have children because humans have children." "Hardwired," please! It's lazy, it's specious, it's perfunctory, and it's utterly without depth.
Only later do we learn that William has wanted a child, but Otto does not. There are other examples of this particular sort of aside, William's aggressively refusing to discuss the content of a remark by debating its phrasing. They culminate in the final scene, when Otto and William are back home after the Thanksgiving dinner and Otto has managed to apologize passive-aggressively. William tries to calm him by saying, "Can it wait until tomorrow? I'm very tired, and you're obviously very tired as well. Try and get some sleep, please." Otto replies,
"Try and get some sleep?" "Try and get some sleep?" This is unbearable! I've spent the best years of my life with a man who doesn't know how to use the word "and"! "And" is not part of the infinitive! "And" means "in addition to." It's not "Try and get some sleep," it's "Try to get some sleep." To! To! To! To! To! To! To! Please try to get some sleep!
And with that he sits down at the kitchen table and begins to sob. The semantic asides function initially as comedy, and in a lesser story they might serve purely as entertainment, a bit of cleverness attributed to character that allows the writer to go on about the sorts of abuses of language writers like to go on about. Here, though, the asides ultimately serve not just to illustrate Otto's difficulty in engaging with others, his repressed sorrow, and his eventual breakdown; they also illustrate how, like Sharon, Otto lives on the brink of careful attention to the world and what the world defines as unsociable behavior.
The asides are varied—they aren't all about specific words—and they intensify, until at the end of the story what had seemed to serve as a secondary character trait becomes the most dramatic evidence of Otto's internal struggle.
_______________________________________________________________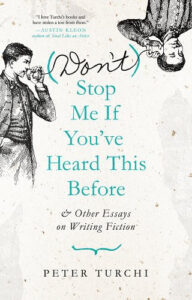 Excerpted from (Don't) Stop Me If You've Heard This Before and Other Essays on Writing Fiction by Peter Turchi. Reprinted with permission from Trinity University Press.
---