Paula Hawkins on Creating a Strong Story Structure
"Give yourself space for surprises."
This first appeared in Lit Hub's Craft of Writing newsletter—sign up here.
If character is the aspect of a story readers consciously cling to—the one they most clearly remember—then structure has a more subtle effect, yet it is key to what makes the experience of reading a novel satisfying. Do you need to use flashbacks, or separate out timelines? Is the narrative divided into sections, and what is the effect of this? I want to achieve a moment when it dawns upon the reader that the story is being told in this way for a very particular reason—a moment of realization that should make them sit back and smile and think, "Oh, I see. This is where she's taking me."
A strong structure is invaluable to a writer: it will help you through your story; you will start to know what needs to come next, what to reveal next, because it will fit into the framework you've been building. It becomes your guide, too. There's no handbook for this, no template. Every novel is different, and each has its own requirements. For me, finding the right way to tell a story is often the trickiest bit of the writing process.
In The Girl on the Train (Doubleday 2015), I had the gift of the commute—the perfect vehicle to give the early part of the novel a rhythm. As Rachel travelled back and forth every morning and every evening, I invited the reader onto the train to sit with her, and within a page or two they knew exactly where they were: sitting in a train carriage, running through the grubby outskirts of London, looking out of the window.
The construction of A Slow Fire Burning (Penguin 2022) felt quite different. I imagined the crime at the heart of this novel having the effect of a stone thrown into water, causing a ripple effect, and I tried to recreate that effect in some ways in how I told the story—in the way the characters were introduced and how they encountered each other. But it is notable that this ripple effect idea was not something I thought about at the beginning of the writing process.
When I wrote the early scenes, I had no idea what the novel would end up looking like. I think it's rarely possible to visualize the shape of your novel at its outset. But whether you are a writer who plots out each chapter in detail, the sort who starts out with no idea whatsoever where they are going, or you're somewhere in between, the likelihood is that at some point during the process (for me it's generally around half way to two-thirds through) you will have to draw up some sort of schematic to help with that visualization.
This might be as simple as a list of key points in a Word document; it might be a complicated hunt-the-serial-killer style board, complete with bits of string and photographs. When you stand back and look at this plan, it should help you notice patterns in your story, gauge the shape of your characters' arcs, and spot any imbalances there might be. Are there periods where the pace slackens? Are there sections where there is perhaps too much action? Sometimes you need to pause for a moment, allow the reader to take a breath. If your subject matter is very dark, you might want to allow some light in.
As I mentioned above, some people are planners and others are not; I think most of us are somewhere in between. Even if you are a plotter, my advice would be to leave plenty of room for maneuver, especially in early drafts. Give yourself space for surprises. I have always found that the best, most exciting, most joyful writing happens when I am in the thick of a novel, when my mind starts to make connections I hadn't conceived of at the outset, when twists and turns start to occur to me in a way they had not before, when suddenly the way ahead is clear and I start to understand more fully what the novel is really about. Don't plot so tightly that you do not allow yourself the freedom and excitement of a spontaneous twist in the road.
__________________________________________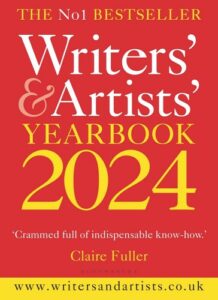 © Paula Hawkins 2023, first published in the Writers' & Artist' Yearbook 2024 (Bloomsbury, July 2023). Hawkins is the author of The Girl on the Train, Into the Water, and A Slow Fire Burning. For the very latest information on how to write and get published see https://www.bloomsbury.com/uk/discover/superpages/non-fiction/writers-artists/WAYB25 to get a 25% discount.
---