Paul Theroux on Writer's Block and the Books He Loves
to Reread
The Author of Under the Wave at Waimea Answers a
Few Questions For Us
Paul Theroux's new novel, Under the Wave at Waimea, is available now.
*
Who do you most wish would read your book?
The person I hoped would read my book and approve was Bill Finnegan, a powerful writer and just as powerful a surfer, and author of a classic surfing memoir Barbarian Days. I sent him a bound galley of Under the Wave at Waimea and he responded with praise—see his words on the jacket—and so my cup runneth over. Like getting approval from Henry Morton Stanley for my Dark Star Safari.
What do you always want to talk about in interviews but never get to?
Funny you should ask. I often think of all the writers I've known pretty well—some of them forgotten figures. VS Naipaul of course, but also Nadine Gordimer, Graham Greene, Angus Wilson, Peter DeVries, Jonathan Raban, William Styron, Yashar Kemal, Jan Morris, and many others. They are giants to me—but no one asks.
What time of day do you write?
I write every weekday morning until lunchtime, when I am fresh. And often in the afternoon away from my desk—scribbling at the beach. And sometimes in the evening before dinner.
How do you tackle writers' block?
Odd image "block and tackle"—yes, I've been stuck at times but I've felt that perhaps it was because I had nothing to write, no thoughts in my head, which is often the case—blocked writers might consider that: maybe you have nothing to say. In fiction, I've been stranded at the end of a chapter, say, and I think, "What next?" I usually go for a walk or a bike ride, and then I sit down and squeeze it out.
Which book(s) do you return to again and again?
Heart of Darkness, Death in Venice, Madame Bovary, Molloy, Elizabeth Taylor's (English writer) short stories, as well as VS Pritchett's, Cherry-Garrard's The Worst Journey in the World and a lot of the books I mention in my anthology The Tao of Travel.
Which non-literary piece of culture—film, tv show, painting, song—could you not imagine your life without? 
A set of three lithographs by Francis Bacon "Figures at the Base of the Crucifixion" that hang on my wall.
What's the best writing advice you've ever received? 
"Copy the whole thing out in long-hand."
What was the first book you fell in love with?
Miss Lonelyhearts by Nathanael West—brilliant, satirical, original, strange.
Name a classic you feel guilty about never having read? 
Conrad's Nostromo—people tell me it's great, and I love Conrad's other books, but I keep getting bogged down, and it seems turgid (and by the way Ford Madox Ford apparently wrote some of it when Conrad had writers' block).
_________________________________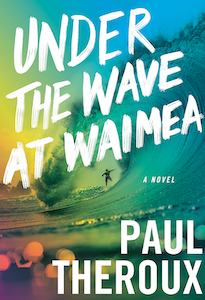 Paul Theroux's new novel, Under the Wave at Waimea, is available now.
---