Paul Auster on the Time He Met Samuel Beckett
"One remark speaks to the dilemma all writers must live with: eternal doubt, the inability to judge the worth of what one has created."
I moved to Paris in February 1971, a few weeks after my 24th birthday. I had been writing poetry for some time by then, and the road to my initial meeting with Beckett began with Jacques Dupin, a poet whose work I had been translating since my undergraduate days in New York. He and I became close friends in Paris, and because Jacques worked as director of publications at the Galerie Maeght, I met Jean-Paul Riopelle, the French-Canadian painter who was one of the artists of the gallery. Because of Jean-Paul, I met Joan Mitchell, the American painter he lived with in a house once owned by Monet in the town of Vétheuil. Years earlier, Joan had been married to Barney Rosset, the founder and publisher of Grove Press, and she and Beckett knew each other well. One evening, she and I happened to be discussing his work, and when she found out how important it was to me, she looked up and said, "Would you like to meet him?"
"Yes," I answered. "Of course I would."
"Well, just write him a letter," she announced, "and tell him I said so."
I went home and wrote the letter, and three days later I received a reply from Beckett informing me to meet him at La Closerie des Lilas the following week.
I can't remember what year it was. It might have been as early as 1972 or as late as 1974. Let's split the difference and call it 1973.
I saw him only once after that—on a subsequent visit to Paris in 1979—and over the years we exchanged a couple of dozen notes and letters. It could hardly be classified as a friendship, but given my admiration for his work (which bordered on idolatry when I was young), our personal encounters and fitful correspondence were exceedingly precious to me. Among a horde of memories, I would cite the generous help he gave me while I was putting together my Random House Book of Twentieth-Century French Poetry (to which he contributed translations of Apollinaire, Breton, and Éluard); the moving speech he delivered one afternoon in a Paris café about his love for France and how lucky he felt to have spent his adult life there; the kind and encouraging letters he wrote whenever I sent him something I had published: books, translations, articles about his work. There were funny moments as well: a deadpan account of his one and only stay in New York ("It was so damn hot, I was hanging onto the rails"), not to speak of the unforgettable line from our first meeting when, gesturing with his arm and failing to attract the waiter's attention, he turned to me and said, in that soft Irish brogue of his, "There are no eyes in the world harder to catch than a barman's."
All that, yes, but one remark from that afternoon at La Closerie des Lilas stands out from the others, and not only does it reveal much about Beckett the man, it speaks to the dilemma all writers must live with: eternal doubt, the inability to judge the worth of what one has created.
During the conversation, he told me that he had just finished translating Mercier and Camier, his first French novel, which had been written in the mid-40s. I had read the book in French and was unreserved in my enthusiasm for it. "A wonderful book," I said. But Beckett shook his head and said, "Oh no, no, not very good. In fact, I've cut out about 25 percent of the original. The English version is going to be quite a bit shorter than the French." And I said, "Why would you do such a thing? It's a wonderful book. You shouldn't have taken anything out." Again, Beckett shook his head. "No, no, not very good, not very good."
After that, we started talking about other things. Then, out of the blue, five or ten minutes later, he leaned across the table, looked me in the eye, and said, "You really liked it, huh? You really thought it was good?"
This was Samuel Beckett, remember, and not even he had any grasp of the value of his work. No writer ever knows, not even the best ones.
"Yes," I said to him. "I really thought it was good."
______________________________________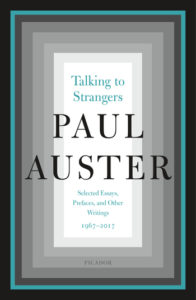 "Remembering Beckett." Excerpted from Talking to Strangers: Selected Essays, Prefaces, and Other Writings, 1967-2017 by Paul Auster. Published by Picador May 21st 2019. Copyright © 1982, 1992, 2003, 2010, 2019 by Paul Auster. All rights reserved.
---