Passing for White: A Literary History
Darryl Pinckney on the Life and Writing of Nella Larsen
In Nella Larsen's day, the theme of passing had been an obsession of American popular literature, of American culture and politics, since the mid-19th century. In most of the fiction by white men about passing, a black girl of tragic birth is compelled by circumstances to pretend to be white. Her beauty always makes an aristocratic white youth fall in love with her. On the verge of marriage, she confesses or is exposed. The white youth—and the white race—are saved. Usually, the deceiving black girl dies of fever or the like. She pays. The difference in how black writers of the same time handled the subject has to do with depiction of motive, sympathy for the black girl's predicament. When black women writers in late 19th-century black women's magazines dealt with passing in their fiction, the white suitor is given up not in the name of racial purity but for the sake of black pride. No more suicides over white men.
The white husband at the end of William Dean Howells's An Imperative Duty (1891) vows to keep his black wife's secret, but they move to Italy. Charles Chesnutt in The House Behind the Cedars (1900) introduces a character who convinces his sister to join him in his life of passing for white. Once he has got her across the color line, he disappears from the story. The sister is left to her inevitable romantic doom and we aren't told how her being exposed affects her brother. In James Weldon Johnson's novel, The Autobiography of an Ex-Colored Man (1912), the narrator, a successful businessman, looks back on his traumatic experiences as a black youth that led to his decision to pass for white. He is sometimes described as the first character in American fiction to get away with passing, though it is not the novel's intention to tell us what effect his confession has and on whom. In Nella Larsen's Passing, the black woman who has been living as a white woman does die, and yet Larsen's novel feels very unlike previous fictions concerning light-skinned black girls attempting to escape what it means for them to be black. Her refinement has much to do with a deep fatalism at the core of her work.
For a long time Nella Larsen was the mystery woman of the Harlem Renaissance. She published two novels, Quicksand (1928) and Passing (1929), and then nothing more was heard from her. She died in obscurity in 1964. Reprints of her slender, but unsparing novels of class and color consciousness started coming out in the 1970s. Critical studies of the Harlem Renaissance as well as successive biographies of Larsen have filled in most of the story of this elusive and fiercely talented figure.
Nellie Walker was born in Chicago in 1891. Her father, a black man from what was then the Danish West Indies, worked as a cook, and her mother, a white woman from Denmark, was a domestic and dressmaker. Her father vanished from the picture soon after her birth. Her mother quickly remarried, to a white Danish man, and gave birth to another daughter. Nella Larsen took her stepfather's name. In an increasingly segregated, racially tense city, the only neighborhood where the Larsens as a mixed-race family could find a place to live was in the red light district. Black people constituted no more than two percent of Chicago's population at the time. Larsen may have spent part of her childhood with relatives in provincial Denmark—she read and spoke Danish—but by 1907, when her family moved into an all white neighborhood, she was on her own.
Larsen's upbringing as the resented stepchild, the darker-skinned daughter whose existence perhaps burdened her otherwise loving mother would inform her fiction about women too dark to be white and too light to be black, women living between black and white, and culturally at home nowhere. Her biographers tell us that she tended to shroud her early life in mystery, ashamed of her lowly origins in the vice district and anxious that people would think her the daughter of a white prostitute. Yet Larsen's working class mother provided for her black daughter an education that her white daughter would never have.
However, Larsen's studies in Nashville, Tennessee at Fisk University came to an abrupt end after only a year. Though it catered to the children of the black bourgeoisie, Fisk reflected ideas about the education of blacks that prevailed when black colleges founded in the South after the Civil War sought to control as well as mold black people. Many were denominational schools that imposed severe restrictions on student behavior. Fisk had rules about the clothes and jewelry its female students could wear. Apparently, Larsen dressed in a way she should not have and was expelled. She would adore good clothes all her life. She spent the next three or four years in Copenhagen, but Europe was not really the answer to her question of where she belonged.
In 1912, Larsen returned to the US and began training to become a nurse at the Lincoln Hospital and Home in the Bronx, New York, an institution where the doctors were all white and the nursing school all black. After graduating in 1915, she took a position as head nurse at the Tuskegee Institute in Alabama, which had an even stricter atmosphere than Fisk. Larsen resigned in 1916, exhausted by the poor working conditions. Back in New York, having witnessed the Spanish flu pandemic of 1918, Larsen gave up nursing to become a librarian. In 1919, she married Elmer Imes, the second black person in US history to hold a doctorate in physics. They moved to Harlem and Larsen took a job at the 135th Street branch of the New York Public Library. After gaining a certificate from the Library School of the NYPL, Larsen worked as a children's librarian on the Lower East Side.
"Larsen may have spent part of her childhood with relatives in provincial Denmark—she read and spoke Danish—but by 1907, when her family moved into an all white neighborhood, she was on her own."
By virtue of her marriage, she was a member of Harlem's black professional class. She and her husband knew everyone who was anybody in Harlem. However, because of her low birth and mixed-race parentage, and because she did not have a college degree, Larsen was alienated from the life of the black middle class, with its emphasis on school and family ties, its fraternities and sororities. Yet she was well placed to catch the first stirrings of the Negro Awakening: the exhibitions, plays, concerts, and books. She drifted away from library work in order to write and in 1926 published her first adult fiction in women's journals devoted to the romantic short story.
Self-conscious among the Talented Tenth, some ten years older than Langston Hughes and his crowd—Zora Neale Hurston's friends didn't know that she'd lopped a decade off her age—Larsen was maybe more comfortable in Greenwich Village than she was in Harlem. She was drawn to the interracial bohemia frequented by Carl Van Vechten, the white writer and photographer whose controversial novel of 1926, Nigger Heaven, she defended to black people who felt he'd slandered the race by depicting Harlem life as a drunken orgy. But she herself was no celebrant of boldly proclaimed blackness and vernacular liberation. She also wasn't on the side of black critics who valued art and literature by blacks as the cultural arm of the freedom struggle. She would always be on her own, her own secret.
When Larsen wrote her first novel, Quicksand, what most influenced how she rendered her tale of a black woman struggling not to be imprisoned by insecure social circumstances was her reading of Henrik Ibsen and Jens Peter Jacobsen. The heroine of Quicksand is the child of a white mother and a black father who deserted them. Larsen kills off the mother pretty soon as well. Her heroine's experiences are clearly drawn from her own life, so much so that biographers have looked to the autobiographical elements of her novel for clues about Larsen's restlessness of soul—Negro education; teeming black Harlem; tolerant yet hurtful Copenhagen. It was daring to write about the sexuality of black women, and of single women in the city, but Larsen's message is bleak. Her heroine is broken by religion, marriage, and drudgery in the South. Quicksand was a kind of purge, a shedding of psychological burdens, preparation for the leap Larsen would make as a writer in the novel that swiftly followed. In Passing, Larsen would give a very worn racial subject defiantly modern treatment.
Passing is very interior: Larsen's recessive characters need a lot of explanation, and she was writing a Harlem novel of sensibility. Her view of Harlem differs from that of other novelists of her era who shared her subject, because she deals largely with parties in private homes. Her characters don't go to cabarets; her dances are club events. There is little of the street in her novel, and certainly none of the decadence behind the unassuming door, as in Van Vechten. It is a woman's view of Harlem, determined by where she, a nice girl, can go, and when and with whom. Larsen's control of her Harlem milieu of polite teas and tense cocktails is superb. She takes surfaces seriously: clothes, décor, the weather, faces.
Things, lovely things for their own sake, play an important part in Larsen's work. Her feminine sensibility found expression in women characters of terrible wariness and dread of social vulnerability. It shows in her dialogue, in the way the unspoken thought can undercut or contradict what is being said. The prose keeps a certain distance; the formality indicates Irene's armored personality. Larsen can keep up the tension in the ordinary because she never forgets the conflict between what a character would like to do and what she brings herself to do. The withheld thought is perhaps a feminine strategy in conversation, part of the training in how to defer, to make oneself agreeable, to keep things moving along. What goes unsaid is certainly a useful weapon in Passing.
By Larsen's day, passing as a theme had become yet another example of blacks knowing more about whites than whites did about them. As such, Passing is an unusual novel of urban manners, because the focus is not on how the passer is doing among whites, but rather on how black people who know this secret about someone behave toward that person in social situations, uptown and downtown. Moreover, passing was always dramatized as a class question. Why should I be a slave when I'm educated and white enough to be free? Why should I be curtailed when I am talented enough to be successful? No black character in American fiction has ever been portrayed as passing in order to live among poor white trash.
"[Larsen's] characters don't go to cabarets; her dances are club events. There is little of the street in her novel, and certainly none of the decadence behind the unassuming door."
Larsen's inspiration lies, in part, in the point of view. She frees herself from the conventions that had grown up around the theme of the person passing for white—by telling her story from the point of view of a witness, a black woman who knows another black woman who is passing. Irene Redfield is light enough to pass, but she is married to a restless Harlem physician, by whom she has two sons, a townhouse, a maid, and a cook. She passes when it is convenient for her, as when she is shopping alone and wants to have tea in a good hotel. Visiting her hometown, Chicago, she does just that and by chance meets a childhood acquaintance, Clare Kendry, whom she has not seen in twelve years. The novel concentrates on Irene's efforts to resist Clare's friendship, because, though she can never figure Clare out, she understands that Clare is a self-destructive person who can't make her point unless she takes someone else down with her.
Willful, pretty, motherless Clare was pitied in their old neighborhood, because her janitor father was a drunk. After he was killed in a saloon fight, Clare went to live with her father's relations in another part of the city. He was white, her mother black. Her visits to the old neighborhood lessened and then she vanished altogether. There were rumors, which Clare airily confirms. She has married a rich white businessman who does not know she is black; their daughter is in school in Switzerland. Irene's instinct is to stay clear of Clare, who has done this "abhorrent and dangerous thing." She tells herself that she is not a snob, that she doesn't care about "the petty restrictions . . . with which what called itself Negro society chose to hedge about itself," but she has an aversion to the "gossip and scandal" which Clare's presence in her life would expose her to.
However, she is strangely moved by Clare and agrees to call on her before she returns to New York. At Clare's hotel, Irene finds another old acquaintance. In a remarkable scene, Irene, a light-skinned black woman with a black husband, listens to two other light-skinned black women, one married to a white man who doesn't know she's black, the other married to a white man who does, discuss the strain of their pregnancies, their relief when their babies came out pale, and their fear of having more children, because they may turn out to be too dark. "They don't know like we do, how it might go way back, and turn out dark no matter what color the father and mother are." Irene informs them that her husband couldn't pass.
Matters worsen for Irene when Clare's husband, John Bellew, arrives unexpectedly. His nickname for his wife is "Nig." He teases her about having got darker since they married. "I tell her if she doesn't look out she'll wake up one of these days and find she's turned into a nigger." He roars with laughter, because he knows she's no "nigger"; he's met her white aunts. He assumes he's talking to white ladies. "No niggers in my family. Never have been and never will be." His tirade against "niggers" goes on and Larsen can do it all—Clare's innocence and composure, the comic discomfort of their old acquaintance, Irene's struggle not to betray her anger and therefore Clare. She remembers that Clare likes to take risks and doesn't consider the feelings of anyone else. But she can't understand why Clare has subjected the two of them to the insults of her husband.
Clare's letters pursue Irene, back in New York. She tells her indifferent husband, "It's a funny thing about 'passing.' We disapprove of it and at the same time condone it. It excites our contempt and yet we rather admire it." Clare comes to New York, and Irene continues to ignore her letters. But Clare is not to be denied. As soon as Bellew leaves on business, Clare appears at her door. "You don't know, you can't realize how I want to see Negroes, to be with them again, to talk with them, to hear them laugh." She never sounds more white. Once Clare has penetrated Irene's mahogany fortress there is no stopping her. The pace of the novel accelerates as Clare wheedles her way into Irene's parties and conquers her friends with her insolent beauty and spectacular clothes and glamour. Irene's circle is racially mixed, and not even the character based on Van Vechten can tell if she is or isn't one thing or the other.
Larsen shows Irene at first trying to protect Clare from herself, and her reckless game. Nervous about the excuses Clare gives her husband, Irene becomes a hapless conspirator in Clare's clandestine affair with Harlem. Then she shows Irene trying to defend her home against the assault of Clare's charm. The scene in which Irene realizes that her husband and Clare are having an affair is tersely told. "It hurt. It hurt like hell. But it didn't matter, if no one knew. If everything could go on as before. If the boys were safe." Bitter, robbed of her self-assurance, Irene has a moment of wishing she had not been born Negro. It was "enough to suffer as a woman, an individual, on one's own account, without having to suffer for the race as well."
Clare's husband has been closing in on her deceits. Irene has gone from hoping Bellew didn't find out what Clare was doing to desperately wanting him to know, without her being the one to tell him. But when he tracks Clare down at a Harlem party, and angrily confronts his smiling, uncaring wife, Irene sees the danger in letting him cast Clare aside. "It was that smile that maddened Irene." One moment Clare is there, "a flame of red and gold." She is leaning backward in a window; then she is gone. Bellew is like a beast in agony. The grief of Irene's husband tells her she has lost his heart.
Literary scholars have had much to say about Clare's death. A considerable body of critical opinion has wondered about the nature of Irene and Clare's relationship, whether it is not a lesbian attraction that Irene is fighting. Then, did Clare fall, accidentally, commit suicide from caprice, or did Irene push her, deliberately or somehow by unconscious reflex? George Hutchinson, Larsen's most recent biographer, has argued that the scene underscores the unreliability of Irene as a narrator. Not only does the reader see only what she sees, we know only what she allows herself to remember. Hutchinson contends that Irene's last thoughts in the novel are those of guilt, and that they betray her fear of being found out. The ambiguity is Larsen closing another door on us, but the ambivalence and irresolution at the end are also her way of eschewing the piety and morality that novels about passing usually convey in order to excuse having explored a prurient subject.
"Once Clare has penetrated Irene's mahogany fortress there is no stopping her. The pace of the novel accelerates as Clare wheedles her way into Irene's parties and conquers her friends with her insolent beauty and spectacular clothes and glamour."
Few writers of the Negro Awakening were able to sustain careers once the Great Depression took hold and the vogue for things Negro, as Langston Hughes called it, came to an end. The stock market crashed and that seemed to be it. As it turns out, scholarship tells us, black writers of the period we thought had disappeared often did try to carry on, but found their work rejected by publishers, while others who managed to publish made little impression. The times had moved on. The radical young black writers of Richard Wright's generation who were finding their voices in the late 1930s dismissed the New Awakening as an entertainment for a Jazz Age white audience. Some Harlem Renaissance writers looked back with the feeling that they had been part of a tragic failure.
In 1930, Larsen was involved in a plagiarism scandal, but nevertheless won a Guggenheim Fellowship and went to Europe. Her marriage was in trouble, and to judge from Van Vechten's diaries it was common knowledge in their circle. Her husband was a womanizer and some of Passing's gall may express something of Larsen's humiliation. In any case, life on Mallorca and in Paris was one grand social round. But when she came back to New York, things fell apart. The novel she'd written in Europe was rejected. Larsen was divorced in 1933. It seems she survived on alimony until her former husband's death in 1941, at which time she went back to nursing. She moved downtown where she lived, a ghost of the Harlem Renaissance, until her death more than two decades later. Her writing life had been brief.
She left the narrow world she wrote about, the world of blacks who appeared always to be dressed for a photograph by Van Der Zee. Friends like Van Vechten who wondered where Larsen went kept her lively letters and she turns up in many letters herself, such as the one Lorca sent home to his family in Spain from New York in 1929, in which he describes the black woman novelist he met, full of that "deep, moving melancholy that all blacks have."
__________________________________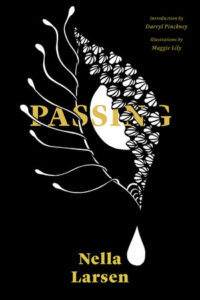 From the introduction to Passing. Used with permission of Restless Books. Copyright © 2018 by Darryl Pinckney
---