Pankaj Mishra on the Eternal Present of Amit Chaudhuri's The Immortals
"The novel instead seems to be seeking the unknown, a strange experience of fascination beyond language and representation."
The Immortals is one of the most mesmerizing novels I have read. It is also, for that reason, one of the most mysterious books I know. Set in a highly specific time and place—Bombay in the 1980s—and seemingly faithful to the conventions of realist prose-narrative, its overall impact, however, is auditory, quite like that of the tanpura, the instrument crucial to North Indian classical music: the sound, as Chaudhuri writes, "shocked you every time you heard it," "its four strings combining to create not only a single vibration, but a world" and, furthermore, "a world without time."
I must have read the novel six or seven times since its publication in 2009. But the sum of readings does not exhaust its fascination, or its mystery. On my first reading, the book touched me as only the memory of something personally experienced can: the growth and deepening of a young man's sensibility in late twentieth-century India, his quickening awareness of himself as a simultaneously free and elusive consciousness.
Nirmalya, the puritanical son of a corporate executive, enters the narrative sideways, after several pages that introduce us to a cast of singers from Rajasthan, members of a prestigious gharana of North Indian classical music now reduced to teaching "light" music to socially ambitious dilettantes in Bombay. Once he saunters into the novel, accessorized in long hair, khadi kurta and Will Durant's Story of Philosophy—his father's staff car, a Mercedes, follows him discreetly as he negotiates South Bombay's pavements—the narrative becomes largely an account of Nirmalya's impulses, accelerated by his personal discovery of classical Indian art and literature, towards intellectual and artistic asceticism, and their isolation and solitude in India's gaudy new landscape of aspiration and striving in the 1980s.
Chaudhuri reveals himself as a connoisseur of failure, of the dignity and nobility of artistic obscurity.
We see most of the novel's events and characters through Nirmalya's experience of them. This gives the work its remarkable unity of perception, the perception, fundamentally, of a captivated adolescent that touches everything with a shapeless depth and an unrevealed splendor. Thus, Nirmalya, shallowly and unsatisfyingly Westernised like his adolescent peers from Bombay's haute bourgeoisie, finds himself seized by a "powerful nostalgia, a thirst for another time and place almost." He starts to discover, in the Hindi film songs of the 1950s and 1960s as well as "the Indian poets of antiquity and thereafter, the court poets of emperors and mendicant singers who walked barefoot through the ancient kingdoms—Kalidasa, Kabir, Chandidas, Jayadeva," "the satisfaction, almost, of having invented that bygone world." He undertakes "the slow, private, educative process, full of humiliation and excitement, of identifying ragas; of mistaking one for another, of being moved by a melody he didn't know."
Finding inadequacy in his music teacher Shyam, he attaches himself to the latter's feckless brother-in-law, Pyarelal. Doggedly pursuing his private counterculture, Nirmalya eventually alchemises the adolescent postures of sincerity and authenticity into a serious—and the reader is led to believe—lifelong commitment, to the point where he turns into a young fogey, exhorting his singing tutors and musically gifted mother to embrace a music uncontaminated by market imperatives. In these unusual endeavors, his mother, whose voice "transported, somehow, to an earlier, to a better time," becomes an intimate ally, his father, shown ascending and then quickly descending the corporate ladder, a somewhat bemused enabler. The strongest resistance to him comes from the forces unleashed by the city's—and India's—social and cultural transformation in the 1980s.
During that decade, the old, quite strenuous system of transmitting expertise in classical music is breaking down, and both masters and disciples increasingly take short cuts to such lucrative musicals genres as bhajans, devotional songs and romantic ghazals ("their gorgeous banalities about drunken love, about heartbreak and desire, which inordinately moved husbands who seemed generally impervious to passion, and made them sigh"). Nirmalya himself is not wholly immune to "the pieties of the bhajan." Yet he has to reckon, while learning about the medieval mendicant-poet Kabir, with "a faux Kabir with great lung power," who sings with "his eyes bulging, his long hair falling smoothly round his face, bent over the harmonium, the whites of his eyes visible during moments of rapture." This figure is a blatant forgery, perpetrated by Shukla, the head of HMV's "light music wing," a kingmaker in the kingdom of easy listening. Yet before this ersatz saint-poet, "nouveau riche society ladies trembled; they thought, This is what Kabir must have been like, or Surdas; and they were transported to antiquity without having to vacate the present, or giving up their taste for Hindi film songs."
These cultural heralds of today's "aspiration nation" and "rising superpower" seek nothing more complicated than success: a pursuit that involves millions of women cultivating "the same thin voice, almost a metallic, machine-like whine" that belonged to Lata Mangeshkar, the "Nightingale of India." The gurus, lacking both steady income and confidence, have no choice but to cater to the wannabe celebrities; and the Shuklas stand ready to offer lucrative deals to the canniest among them. The Immortals is unfailingly acute on the crossbreeding between talent, private opportunism and philistine curation, and the resulting enigma of artistic durée—what gets noticed, what doesn't, and what explains the immortals. It is possible to read the novel as a careful sociology of art, incarnating Bourdieu's theory of taste as social weapon, which excludes the arduously achieved and the complex, and banishes the non-marketable artist to the anteroom of oblivion. Indeed, in his portrait of the musical family from Rajasthan in Bombay, who live in the shadow of a long-departed maestro, Chaudhuri reveals himself as a connoisseur of failure, of the dignity and nobility of artistic obscurity.
Given its close attention to the material—and materialistic—world, it is possible, too, to read, and savor, The Immortals as a social novel in which a corporate aristocracy, inconceivably perk-rich in a poor country but secretly cashpoor, is being overtaken by hard-nosed entrepreneurs as Anglo-America's main 1980s ideology of private wealth creation seeps into India. Nirmalya's father is aware of his precarious world being slowly dismantled: "Money was like a sea-breeze blowing inland; gentle now, but threatening to uproot everything. He, Mr Sengupta, had never really seen money except in its genteel aspects, had never seen its unbridled form; but he could smell its distant agitation." Chaudhuri records these early tremors from India's moral and political earthquake in varied settings: a new five-star hotel and a temple for culturally and religiously assertive Hindus in the steadily encroaching suburbs, music and dance concerts, a local train, and the wedding party at a fake village hosted by a new tycoon (glamorously haloed with rumors of criminality):
Chanchal Mansukhani stood, in black suit and dark spotted tie, welcoming the guests, smiling at them whether he recognised them or not, doing namaskar, sometimes taking the palms of their hands uninsistingly in his own, not holding them, but cradling them for a few moments.
With this proprietorial mode of greeting, India is moving very far away from the unaffected namaskar of a Bengali singer of Tagore's songs that Chaudhuri introduces early in the novel: "a gentle, ordinary-looking, bespectacled man who hadn't lost his air of small means and limitations" and whose "low-key modesty was more a sense of surprised, genuine gratitude at what luck had given him." While the painter increasingly favored by the rich is still "a gentle soul in a white sari with a green border, unsure of whether to maternally cherish or to broker her brood—the family of images—that surrounded her," Pyarelal, remuneratively showcasing classical dance and music at a five-star hotel, is settling into a posture: "Bowing, but gazing above the audience's heads, he did an elaborate namaskar, almost as much part of the performance as the dance itself."
Performance becomes almost an obligation for most of the novel's characters as the decade ends. Emancipated from traditional constraints, they avidly try out new roles ("Can't I be a singer? Can't it be me?") with wildly varying degrees of competence and plausibility—even Nirmalya briefly fancies himself marrying a lower-middle-class Muslim. There is a special frisson of recognition here for the Indian reader who lived through the 1980s in Chaudhuri's recounting of the pushy impresarios of bhajans and ghazals, aspiring actresses who know that dancing skills are the key to success in Bollywood, and the occasional political chancer, such as Hanuman Rao who commissions Nirmalya's music tutor to compose the soundtrack to a film titled Naya Rasta Nayi Asha ("a new road, new hope"), starring Rao himself as a peasant insurgent. (This minor episode can be seen as prefiguring the organized downgrading of Bollywood's actors by Narendra Modi, the aspiration nation's most garish and successful impersonator. Masquerading, whether in politics or cinema, has suppressed the obligations of talent and hard work and today infiltrates and coarsens all dimensions of public life in India.)
The Immortals is that rare novel that defines its own internal logic—and then triumphantly follows it.
For a relatively short novel, The Immortals contains a vast range of characters and locations from different classes and parts of Bombay. On each of them—a housemaid, a former babysitter with an uncannily beautiful daughter in films, a Malabar Hill penthouse, bohemian digs in Khar—Chaudhuri trains a gaze that can be dry but is always equanimous, and often tender; in one sense, this is the Bombay novel, denser with social implication and with broader egalitarian sympathies than such wrist-spraining claimants to the distinction as Midnight's Children, A Fine Balance and Sacred Games. His notations are precise—video libraries spring up "irrepressibly in the interstices of the new buildings" but have "brief and bright lives, like fireflies"—and often witty: Nirmalya notices "society ladies, saris dipping at the pelvis, the navel peering out with such a gaze of intimacy that he returned it in public." But the substance of the book is not social satire, delicious though it is, or even the birth of artistic talent in uncongenial settings. For one, Chaudhuri declines to linger on even the relatively big events—the illness and death of Nirmalya's guru, and his own exile as a student in England—that could have helped dramatize, as in Buddenbrooks, the tragic denouement of a business bourgeoisie.
*
Trying to grasp the truth of my experience of The Immortals, I have come to see the novel as markedly different from others, especially those it has been compared to. Unlike what its paperback covers claim, there isn't much of the Proustian about The Immortals. Though partly drawn from the author's experience, the novel is not an attempt to recover time lost from a vantage point in disillusioned youth or middle age. In fact, time is weirdly almost absent from a book so full of conventional referents to it, especially from the static moments—a walk, a reverie, an attempt to sing a monsoon raga—it describes in short chapters. The white spaces between the chapters might hint at something else that is happening, but the novel seems to repudiate a linear chronology. It has very few "scenes" of the kind novelists mount to emphasize themes and thicken plots. In any case, Chaudhuri always blunts anything overly sharp in his portrayals, and he is never interested in simply unfolding a story. Instead, as the novel proceeds, the scattered instants come to be embedded, little by little, into a whole—a slow, repetitive, tireless movement that resembles, in its depth and voluminousness, the sound of the tanpura.
Like the tanpura's sound, Chaudhuri's novel seems to exist in an eternal present—that might be the true meaning of its title. It explains the odd sensation I have had reading it: that the text, entrancingly repetitive, seems to be constantly effacing and rewriting itself, and the more you go forwards the more you seem to be going backwards. Indifferent to realist verisimilitude, or the usual circumstances in which human beings and things exist, the novel instead seems to be seeking the unknown, a strange experience of fascination beyond language and representation. It is as though Nirmalya's purist aesthetic has been incarnated in a pure novel, constituted by its intrinsic relations rather than anything external to it. And, perhaps, herein lies the source of its mystery and singularity: The Immortals is that rare novel that defines its own internal logic—and then triumphantly follows it.
__________________________________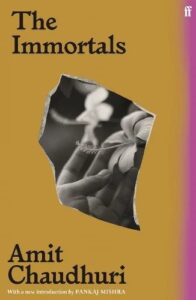 The Immortals by Amit Chaudhuri is available from Faber & Faber.
---