Our Own Inner World: Seven New Poetry Books for October
David Woo Recommends New Work by Diane Mehta, Adrienne Chung, Simon West, and More
"Do not despise your inner world," the philosopher Martha Nussbaum advises, recommending literature and the arts because they offer "a richer and more subtle grasp of human emotions and of our own inner world." The many ways in which poets construct their inner worlds and emotional lives are on pleasurable display in this month's poetry books.
Romeo Oriogun strips his eloquent verse of embellishment, as if the agony of exile has led him to a back-to-basics moral reckoning, since "only language can begin the restoration / of those pushed out of history." Diane Mehta employs a heightened diction ("lovepromises," "neighborhoodilogical malaise") that arises from her desire to capture "so many angled ways of being." Shane McCrae's style is plainspoken yet fractured and allusive, reflecting a difficult inner voyage to meaning: "How far we travel now to be / In the now impossible    presence of things…."
My colleague on the board of directors at the National Book Critics Circle, Rebecca Morgan Frank, will return in December to continue her admirable quest for the most exciting poetry books. Meanwhile, here are some of the inner worlds that I visited with pleasure and instruction.
*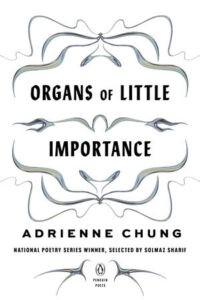 Adrienne Chung, Organs of Little Importance
(Penguin Books)
"If someone's not doing anything with his life and honestly says he's happy, who is Aristotle to say he's not?" With a sardonic wit and the kind of "perfect-SAT" intelligence that can lead to solipsism or worse, Chung, an American based in Berlin, dares the reader to draw the same glib conclusion as the ex-lover who tells the speaker to "stop thinking so much." Yet behind the façade of hip cogitation is a reticent yearning for authentic connection, as the poet confronts "the private, the public, the chthonic lore" of failed love and the meaning of life.
In poems ranging from a therapy notebook annotated with dream footnotes to a crown of sonnets that aches for a primal, lover's garden just outside the dungeon of selfhood, Chung assembles a bracingly funny and desolate debut.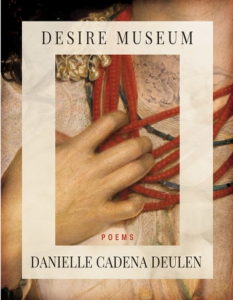 Danielle Cadena Deulen, Desire Museum
(BOA Editions)
The objects in Deulen's desire museum are less a gallery of stationary memories than an installation of changing perspectives on the ineffability of love: "lost sapphics" about women in the speaker's past, the transformation of the men in her life into a small son's imaginary tiger, "remixes" of phrases from beloved poems (Keats, Crane, Lorca), what it means for a dear friend to save one's life but be incapable of saving his own, "the vortex we make, how long we've circled // our own omission."
In searching, gainfully self-doubting poems, Deulen, a poet with roots in the Pacific Northwest and Mexico, reaches for "greenness, precision, a certain / grace in form," seeking to fix history—both personal and political—even as "it keeps moving through us."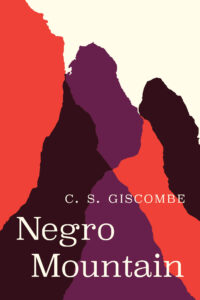 C. S. Giscombe, Negro Mountain
(University of Chicago Press)
"Negro Mountain," apparently named after a Black man who was killed during the French and Indian War, is the highest point in Pennsylvania and a central metaphor of this book, "a ridge on the same long plateau as the Endless Mountains," lyrically extended to include swaths of Black and North American history as well as themes ranging from friendship and mortality to Giscombe's understanding of his own unfolding consciousness. His journey is captivating, sardonic, entertainingly digressive, and luminous with thought, whether stopping to ponder the Black figure in Rousseau's painting Jaguar Attacking a Negro or spinning dream tales where he becomes a white man or "a woman in a prison camp."
If Giscombe considers "apparent and eccentric blackness" to be "the root of design," the artistry of his design shows how an individuated, "eccentric" blackness can envelop itself in something vaster. The lithe veracity of his writing, it turns out, is a testament to freedom—not the "white freedom" that he imagines in a dream, but the harder-earned cognitive liberty that comes from confronting the mystery of the journey: "Travel's enigmatic and we don't have to go to Negro Mountain to see that."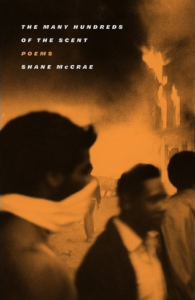 Shane McCrae, The Many Hundreds of the Scent
(Farrar, Straus and Giroux)
While the formative agony of McCrae's life and work, his kidnaping as a small child from his Black father by his white-supremacist grandparents, remains the subject of several poems here—"The shadow grows the way a child grows"—this spiritually questing yet earthbound collection seeks new visions of the poet's estrangement from home, nation, and a settled sense of self.
Along the way he alights on subjects as various as Penelope's slaves stuffing her loom with straw for burning or the English band Bark Psychosis creating its diffident, ethereal music ("a sound to which one wanders from / Life"). McCrae's distinctive style often employs a hinged syntax to synthesize multiple perspectives on memory and history: "Dying, I had been    taken from my life / My life I don't    remember once remembering…."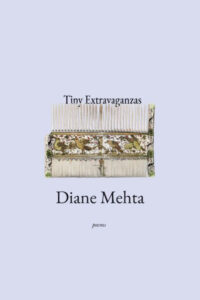 Diane Mehta, Tiny Extravaganzas
(Arrowsmith Press)
In meditations on "fortunate times / and quicksand feelings," Mehta, a poet in New York City, induces a staccato rhythm of poetic effusion, darting from insight to insight, with the graceful and erratic comportment of one "wandering by accident or design / a way to find your tongue." She probes the "curve and scaw of personality" through lively stylistic devices, like Hopkinsian neologism ("frazzle-heather," "spirit-drunk"), that reflect her vision of consciousness as "the smack of happening into."
The self-proclaimed tininess of her extravaganzas centers on personal experience but ramifies outward to propose an ideal of art as "love modeled in experience," especially the love for a son who—Mehta hopes, affectingly—"will have all my sentences reflected on him."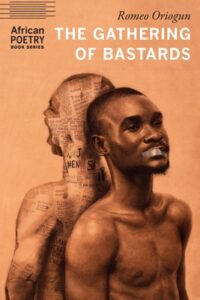 Romeo Oriogun, The Gathering of Bastards
(University of Nebraska Press)
Oriogun, a Nigerian living in Iowa, writes a plainspoken yet morally eloquent poetry that demands a readerly attention worthy of the poet's skill at "creating new worlds / in a strange land, rearranging tongues." He describes a double purgatory, the speaker caught between a homeland that both fostered and persecuted him—"I have committed no offence except / to love a man"—and a new country that both welcomes and estranges him.
If he can be disconsolate about his prospects—"Exile is the dying voice / of a wounded angel"—these graceful, moving poems, set in Nigeria and other parts of Africa as well as the United States, suggest how a truly self-possessed, artistic vision can persevere within the agony of exile and aloneness.
Simon West, Prickly Moses
(Princeton University Press)
Gazing at the icy water south of Tasmania—"[g]ormless, gelid, whole"—or his native landscape above Melbourne—"the Goulburn untangling / north to the Murray"—West finds inspiration for his gorgeously detailed poems in the figures and likenesses of nature: a eucalyptus twists "like wrist joints in an artist's portfolio," new growth catches "the light like a crowd / of scimitars in the breeze." The Australian poet's formally engaged, often rhyming verse—sonnets, couplets—reveals a mind nurtured in a Mediterranean climate of classicism.
Barely touching on autobiography (a lost father, schoolboy hazing), this collection gathers lyrical power in the quavering fronds and sequined, Roman pigeons of consciousness, where "the sound / and shape of words let slip new schemes of thought" until something rapturous appears, everyday psalms "to mark small victories."
---