One Challenge for Future Mars Explorers? Boredom.
Kate Greene on Idleness and Deprivation in Space
Perhaps nothing is more boredom producing than the monotony, idleness, and sensory deprivation endured when stranded for months on an ice floe in the Antarctic awaiting rescue. Such was the fate of Shackleton's adventure-seeking crew on that 1914 attempt to reach the South Pole.
In his diary, first officer Lionel Greenstreet wrote:
Day passes day with very little or nothing to relieve the monotony. We take constitutionals round and round the floe but no one can go further as we are to all intents and purposes on an island. There is practically nothing fresh to read and nothing to talk about, all topics being absolutely exhausted . . .
I never know what day of the week it is except when it is Sunday as we have Adélie liver and bacon for lunch and [it] is the great meal of the week and soon I shall not be able to know Sunday as our bacon will soon be finished. The pack around looks very much as it did four or five months ago . . .
Around the same time that Greenstreet complains of monotony, one of the expedition's surgeons, Dr. Alexander Hepburne Macklin, writes on idleness:
 I am absolutely obsessed with the idea of escaping . . . We have been over 4 months on the floe—a time of absolute and utter inutility to anyone. There is absolutely nothing to do but kill time as best one may. Even at home, with theatres and all sorts of amusements, changes of scene and people, four months idleness would be tedious: One can then imagine how much worse it is for us. One looks forward to meals, not for what one will get, but as definite breaks in the day. All around us we have day after day the same unbroken whiteness, unrelieved by anything at all.
More recently, in November 2011, the British explorer Felicity Aston embarked on a solo journey across Antarctica, skiing for a total of 59 days. The secret of her motivation, she told the Travel Bite website in 2012, was the simple act of following a routine, as well as a mix of more than 800 music tracks—although, by the end of it she was, she said, "bored with pretty much all of them."
Aston also described a visual monotony and social isolation she experienced while skiing that seemed maddening:
Because I had no one else to talk to I found that I started talking to the sun (as it was the only different thing in the landscape!), as if it was a friend accompanying me on the trip. Sometimes the sun would even answer back, asking why I was doing such a silly thing!
It's conditions such as these—monotony, idleness, tedium, sensory deprivation, loneliness—that concern NASA psychologists who want to send a crew to Mars. Using existing technologies, a trip to the red planet will take 200 to 300 days of travel. Most of the time will be spent inside a cramped capsule. There will be a communication delay with Earth of up to 24 minutes due to a span of hundreds of millions of miles. Real-time chatting or video calls with friends and family and mission support will be an impossibility—the limitation is the speed of light—that no new technology would be able to overcome.
Mars crews would likely need to operate with a high level of autonomy because of this communication delay. Many people believe autonomy, which implies freedom of choice, can stave off boredom. Indeed, work imbued with personal meaning can be a potential solution, but it can't fix everything.
In addition to the isolation and sensory deprivation, there will still be repetition of meals and routines and clothing and conversations between crewmembers. The workloads will still likely be full of tedium, with narrow margins for error. In short, a mission to Mars has the perfect ingredient list for boredom and disaster borne of boredom.
A trip to Mars, with its invisible technology and vast, unprecedented distance from home, could estrange or alienate a crew to an unprecedented degree.
Crewmembers aboard Antarctic exploring vessels need to climb masts, secure lines, and so on. And even if they're not involved in these activities, they likely at least feel the sensation of wind against their bodies and wood and ice underfoot, all tangible reminders of the passing of time and the harshness and dangers of the environment.
Mars explorers, in contrast, would live in a much smaller ship with far fewer sensory inputs. Technology, from propulsion systems to plumbing, would lay hidden behind panels, displays, and buttons. Time will more easily blur and dangers will be more difficult to sense.
When Shackleton's Endurance was trapped in ice, the crew could hear the creaking, whining, and eventual explosions of the wooden hull, leaving no doubt as to the seriousness of their situation. On a Mars-bound ship, danger might creep into crew consciousness with a blinking light or a beeping alert. To bored crewmembers, a system failure might present itself as something like an alarm clock feebly trying to rouse a person from the fog of sleep.
On the ISS, 250 miles above the planet's surface, astronauts spend much of their leisure time gazing at and photographing Earth. As a Mars-bound ship drifts millions of miles from home, this major source of interest and connection to humanity will recede into darkness.
A trip to Mars, with its invisible technology and vast, unprecedented distance from home, could estrange or alienate a crew to an unprecedented degree. Such a distance could produce an entirely new kind of boredom, impossible to imagine on Earth.
Or, it might not be so bad. In addition to selecting astronauts with sound minds, providing the crew with careful and considerate mission support, and enabling crew autonomy in work and leisure (such as with games and films), another way psychologists suppose NASA could beat boredom could be through interior design.
One suggestion has been to include a periscope inside a Mars-bound ship that could magnify an image of Earth for gazing. Another is to include a system that projects Earth images onto a screen, or a kind of holodeck, like the one from the TV series Star Trek: The Next Generation.
It could also be important for mission support to remind the crew, often and in varying ways, about the importance of the goal, for all humanity, of exploring Mars. The 19th-century philosopher Arthur Schopenhauer wrote in his essay "On the Vanity of Existence" (1851), "As things are, we take no pleasure in existence except when we are striving after something." This would seem to be especially true for high-achieving people such as those traditionally selected as astronauts.
__________________________________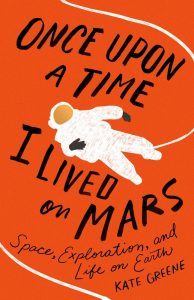 From Once Upon a Time I Lived on Mars by Kate Greene. Copyright © 2020 by the author and reprinted by permission of St. Martin's Publishing Group.
---