On Writing and Sweating: How a Boutique Fitness Class Fueled My Novel
Sheila Yasmin Marikar on Body by Simone and the Promise of Transformation
It was a photo of Taylor Swift and Selena Gomez. There were leaving Body by Simone, a sleek gym overlooking Santa Monica Boulevard, one morning in January, 2016 when a photographer captured them in their strong jawed glory, sweat mussing their ponytails to the degree that you could tell that they'd worked. They'd worked hard.
They were in a parking lot, sandwiched between black and beige sedans. They wore no makeup, as far as the naked eye could tell. The sun shone not at all. And yet, they radiated a glow that I felt through the screen of my computer in Hollywood, where I had recently moved, and where I had taken to scrolling the website of the Daily Mail in an attempt to understand my new home.
I didn't know a lot of people in Los Angeles. I didn't know, really, if I belonged. I wondered if doing the same workout as Swift and Gomez would imbue me with their confidence and poise—entirely assumed on my part, though, given their professional success, they seemed to have an abundance of both. I had yet to find a workout around which to structure my days, the glue that had held me together for more than a decade.
My fixation with working out started my freshman year of college, when logging an hour at the on-campus gym every morning seemed as vital as breathing. If I happened to oversleep (as college students are wont to do) I would skip class in favor of the elliptical. Nothing compared to the post-workout rush of endorphins, the feeling that I had done something good, in theory, for my body.
After graduating and moving to Manhattan, I joined New York Sports Club and latched on to various spinning and boxing instructors who seemed a cut above the rest. At first, work took precedence. I was a desk assistant at ABC News on the overnight shift; my allotted hours for sleeping, sweating, and generally having a life were noon to 3 a.m. After going "dayside," I commenced affairs with various fitness studios: Barry's Bootcamp, Yoga to the People, S.L.T., short for strengthen, lengthen, tone. In 2013, I quit ABC to pursue a freelance writing career and, shortly after, moved to San Francisco, where Core 40 became my new temple. When I headed south to Los Angeles, my obsession came with. Given my own insecurities and the burgeoning wellness movement, it grew teeth that gnashed.
Did I need to sweat in order to write? Technically, no, but the internal flogging that commenced if I did not work out at least once a day would take over my thoughts to the degree that it drowned out everything else. I would wake up at 5 a.m. to get a run in before an 8 a.m. flight to a reporting assignment. I'd tell a celebrity publicist that I unfortunately could not do an interview at noon on Wednesday because it conflicted with an "appointment," a.k.a., the teaching schedule of a Glendale Pilates instructor who I took pains to see four times a week.
Spurred on by that photo of Swift and Gomez, I did some research. Not only did Body by Simone offer individual classes, they also had an "8-Week Total Body Makeover Plan" that came with an unlimited amount of classes. "Whether you're getting bikini ready, shredding for the wedding or just wanting to cleanse and restart your system, Simone's 8-Week Total Body Makeover Plan is right for you," an employee replied, when I inquired, via email, about how much the plan cost and whether they offered a complimentary introductory session. $750, and no, they did not. "Is it possible to break up the price of the plan into installments?" I asked. Also, no.
Did I need to sweat in order to write? Technically, no, but the internal flogging that commenced if I did not work out at least once a day would take over my thoughts to the degree that it drowned out everything else.
Four trial classes ($20 each, a "special" for new clients) and a lot of self-rationalization later, the makeover had begun. "Before" measurements were taken. I was given a pamphlet of best practices (among them: "if you feel tired from all the exercise, take a nap"). At first, I felt silly, cardio-dancing to E.D.M. remixes of Rihanna and attempting bicep curls while bouncing on a trampoline. But I left each class sweaty and satisfied. The instructors got to know me. They called me "babe" and praised my progress. I felt wanted. I felt like I belonged.
Signing up for class, making it on time, and finding parking at one of the limited meters on the street outside or behind the Trader Joe's next door (the lot that Swift and Gomez used was only for "special" clients) took over my days. Plus, of course, the hour long workout itself, which doubled when an instructor turned me on to the concepts of two-a-days and back-to-backs. As I'd dash outside in the five minute interval between classes to put more money in the meter, I'd tell myself that I was making the most of the unlimited special, that I had to, given how expensive it was, that not taking two classes in a row would be wasteful. At least, on the days that I had nothing major going on. (I would structure my schedule so that I had "nothing major going on" between 8 a.m. and noon.)
Around week six, I met up with an acquaintance for lunch and mentioned the new workout that had taken over my life. "It really works," I told her. "I've lost, like, three inches from my waist."
"I would hope so," she said, forking up a piece of lettuce. "You're spending two hours a day there. If it didn't work, I'd be concerned."
In the moment, I felt defensive—well, yes, I was spending a lot of time working out, but surely there was something special about Body by Simone, about this "method," something that it had that other workouts did not. I wanted to feel like I had stumbled on something miraculous, a silver bullet that would not only help me unlock my best physical self but also give me the mental clarity to triumph in this new city… whatever that meant. Plus, didn't everyone in L.A. work out all the time? I liked working out! It was healthy! How bad could it be?
The reality was that I was recently divorced, in another relationship that sometimes seemed on the brink of imploding, and, when it came to making a living, utterly unsure of what I wanted to do. I had been a freelance journalist for three years and a full time one for eight prior to that. I wanted to put something into the world that would outlast the news cycle.
Six months before I "found" Body by Simone, I started the novel that would become The Goddess Effect. I got stuck around the 1,000-word mark. I didn't know how to write a novel, how to develop characters and plots. The lack of rules and deadlines, the freedom to do anything, the fact that I would have to write the entire book before I could get paid overwhelmed me to the point of writerly paralysis. It was easier for me to spend two hours a day working out (three, if you factor in the commute) than to figure out how to write a novel.
Anita, the protagonist of The Goddess Effect, finds herself in a similar situation soon after her arrival in Los Angeles. It's not L.A.'s fault. It's not the fault of the Goddess Effect—the workout at the center of the novel, which was inspired by many that I've endured in my infatuation with boutique fitness. Anita and I reached out for validation when we couldn't find it from within and latched on to the promise of being transformed, of feeling successful because we'd seen a hint of definition in our abs.
Completing the manuscript took years. It required me to commit to working on the book, or at least thinking about the book, for a chunk of time every day, without interruptions. I'd turn off my WiFi, I'd let texts and phone calls go unanswered. I started at 30 minutes; four months later, I was up to four hours. I turned down some journalism assignments; others, I parlayed into research. (A workout retreat I attended for a Bloomberg Businessweek assignment ended up informing the retreat where Anita finally realizes what the Goddess Effect is all about—spoiler alert: it's not good.)
I still worked out, sometimes twice a day, especially when my world-building hit a wall. In regulars at Body by Simone and an Equinox kickboxing class, I found physical manifestations of two main characters who I would picture in my head as I wrote (having never gotten to know them, I don't know if they shared the characteristics of my characters, beyond sheer moxie). Many times, when I threw a right hook, I pictured triumphing over agents who'd turned me down or steered me wrong.
I'd love to say that selling The Goddess Effect cured me of my addiction to working out, being praised, and gravitating towards an "easy" activity for the satisfaction of checking it off a list. It didn't. (I've been known to write "run" on my notepad after logging a few miles just so that I can cross it out.) But now, beneath that, there are other prompts: "get to next chapter," "three hours on book." Getting to cross of one of those? There's no feeling like it.
_________________________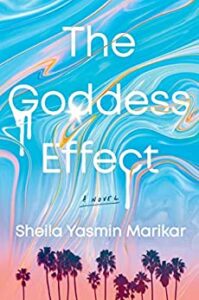 The Goddess Effect by Sheila Yasmin Marikar is available now via Little A. 
---